10 Best Motorcycle Lift Table – Reviews & Guide 2020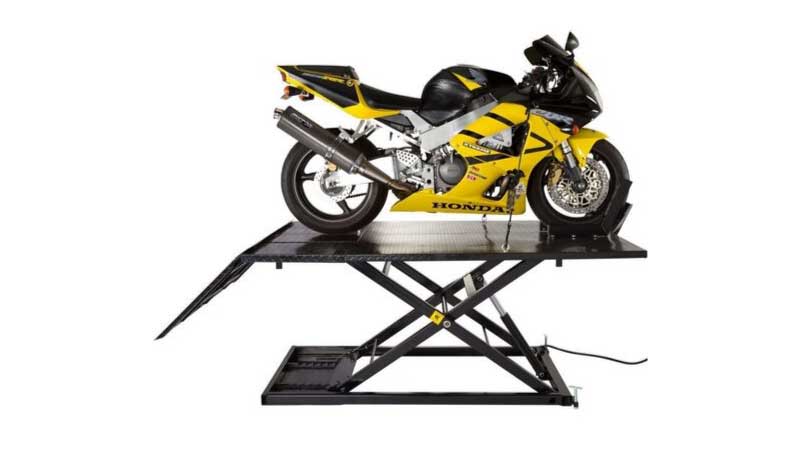 When doing routine maintenance or repair on your motorcycle, you'll need to have easy access as well as a good view of all its components. However, this will force you to kneel or bend to obtain the best access.
A motorcycle lift table is designed to make your life easier. It enables you to lift your motorbike to a suitable height where you can easily access all its parts without straining or struggling.
We have done research on the best motorcycle lift table you can get on the market today based on the previous users' feedbacks, quality, ease of use, and affordability. Below is our final list of the top models that'll make your life easier.
What's a Motorcycle Lift Table?
For the sake of starters, a motorcycle lift is a piece of equipment designed to hold your two-wheeled motorcycle in an upright, stable position for hassle-free repair and maintenance. A typical lift table assumes a flat plate made from steel metal, with a textured surface and some locking mechanism for holding the bike in place.
As you can easily guess, the textured surface of a lift table helps prevent slippage of your bike when working on it for a safe working environment.
Likewise, the ramp/locking mechanism secures the bike in an upright, stable position for even safer repairs.
Once you have secured your bike on the textured surface, you can then raise the table to a suitable height which you feel comfortable working on your bike.
Note that different lift tables utilize different lifting mechanisms for height adjustments. This explains why you'll find different types of lift tables on the market today—namely hydraulic, air, scissors, and electric lift tables.
Other than repair, you can also use your lift table as a safe storage space for your bike, say during winter. The table will prevent your tires from losing pressure, and you'll find your bike the way you left it at the end of the season.
Keep in mind that different lift tables are also designed to lift varying weight capacities. So, you'll need to choose an appropriate table that can safely lift your bike's specific weight.
Best Motorcycle Lift Table Reviews:
1. APlusLift 1500LB Air Operated ATV Motorcycle Lift Table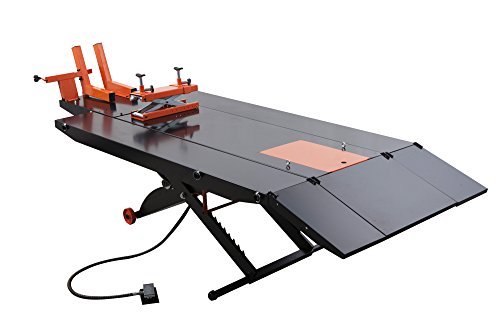 Kicking off our reviews is this APlusLift 1500lb motorcycle lift table. This is one of the most popular lift tables among bike shop repairs as well as individual bike owners. It has a truly impressive lift capacity of up to 1500lbs, enabling it to lift a wide variety of motorbikes.
The extremely sturdy lift table is constructed using heavy-duty steel. On top of this, it features a black powder coating which shields against rust for extra durability.
This lift table features a unique design, where it allows you to adjust its table length in 3 stages: 84, 97, and 110 inches, to suit your preferences. It also allows you to lift your motorcycle from as low as 7 inches to as high as 33 inches—granting you the flexibility you need to work on your bike comfortably.
The 7-position safety locking system ensures your bike firmly stay in place as you work on it.
To help you hassle-freely move this table around, it features 2 front wheels. It also has an adjustable front stop to lock it in position during use.
As a BONUS, this comes with a service jack with a maximum lift capacity of 1000 pounds and up to 15-inches height lift.
With up to 2-year warranty on all the parts, you'll have peace of mind knowing that you can always reach out to the owner for repairs/replacements in case of any issues.
Highlighted Features:
2. Black Widow MC-JACK Steel Motorcycle Jack
This Black Widow also comes with a durable steel construction plus an elegant, black powder coat finish for maximum strength and durability. Although it has a pretty lightweight design (at only 28lbs), it's capable of lighting bikes as heavy as 1100lbs for comfortable and safe repair and maintenance.
This table allows you to lift your motorcycle from 2.75 inches up to 16.25 inches, so you'll have an easy time setting a more comfortable working height. Using 2 adjustable extenders, you can even lift your motorcycle 3 inches higher to suit your needs.
We also like that this model has a spacious rectangular platform measuring17.8" long by 6" wide to comfortably accommodate your ride.
As you closely study this platform, you'll notice it features a jack foot on each side to ensure maximum stability. Moreover, it features rubber padding to help prevent scratches or slips, which can cause injuries to you.
Operating this scissor lift is a breeze. You simply connect the hex handle (included in the package) to the hex nut and start turning to lower or raise the table to your preferred height.
Highlighted Features:
3. Auto Lift 1000M Motorcycle Lift
If you're looking for an industrial-grade motorcycle table lift for use at a bike shop, this Auto Lift model will make a great choice. Simple as it might look, it packs a powerful punch and can lift motorcycles as heavy as 1000lbs. It's soo versatile enough to lift ATVs, jet skis, snowmobiles, and more.
The air-powered lift is constructed using industrial-grade steel metal for the ultimate strength and longevity. It also boasts of an elegant powder coat that shields it from rusting and corrosion.
Using this piece of equipment, you can lift your bike to a maximum height of 30 inches, allowing you to set a comfortable height for working on your motorbike. Yippee, no more bending or kneeling!
It also presents you with an extra-large platform (measuring by) which is sure to comfortably accommodate a wide range of vehicles at your shop.
Like in other high-end lifts, the platform of this lift table comes with a tire verse to help stably secure your motorbike for a safer working environment.
Highlighted Features:
4. Titan Ramps Hydraulic Motorcycle Lift Table
If you're looking for something with excellent weight lifting capability, this Titan will not disappoint you. The highly popular can lift motorcycles with a weight of 1000lbs, yet it doesn't cost you an arm and a leg.
Like the other top-rated lift tables out there, this lift features sturdy 11-gauge steel construction, which translates to high strength and durability. Couple this with the bright red anti-corrosion powder coat finish that covers this table and you have a lift table that lasts for generations.
One thing that separates this table from the pack is its compact design. This makes it a great option for riders with smaller bikes or space. The lift offers you a pretty versatile height lift range from 8.5 to 34 inches.
Instead of rubber, this table uses diamond plating surface to prevent your bike from slipping or sliding when working on it.
Operating this table is easy. It comes with a bi-pedal hydraulic system which helps you gently raise the table…and the release pedal which slowly lowers your bike to your preferred height. Thanks to the included wheel vise and stop plate, your motorcycle will remain securely held in place as you concentrate on doing your maintenance and repair tasks.
Keep in mind that this lift table has a FREE service jack and rear drop out panel, both of which add to your overall convenience. It's covered by a 1-year warranty to give you peace of mind when using it.
Highlighted Features:
5. Black Widow Extra Wide Air/Hydraulic Motorcycle Lift Table
If you're still looking for a professional-grade lift table, this is another great choice for you. The pneumatic lift table is powered by compressed air and requires a minimum of 90psi.
Constructed from durable and long-lasting steel, this table comes with a pretty impressive lift capacity of 1500lbs. This enables it to easily lift almost any bike you can imagine.
It comes with an incredibly spacious 78" L x 47" W platform which allows both small and large students to fit on it comfortably. Like our previous model, this lift has diamond plate platform to prevent slippage and increase your bike stability. With the rear drop-down service panel in this lift's platform, changing your motorcycle tires becomes easier than ever before
Note that this lift will raise your motorbike from 6-3/4" to a maximum height of 33-1/2", allowing you to select a suitable position where you have access to your bike's components.
You'll also enjoy a number of safety features on this lift table, including wheel clamp with vise, adjustable support legs, and safety locks. All these work as a team to help you load and firmly secure your bike on the table.
Apart from motorcycles, you can use this professional-grade lift to raise your lawnmower, ATV, etc.
Highlighted Features:
6. Rage Powersports Air Operated Motorcycle Lift Table
Also featuring on our motorcycle lift table review list is the Rage Powersports air-operated lift table. The product acts as sufficient proof that a high-end lift table doesn't have to cost you all your life's savings.
Construction from incredibly strong and durable 11-gauge steel, this lift table will last for an extended period of time. It boasts of a maximum lift capacity of 1000lbs—enabling it to lift almost any motorcycle on the market. The rustproof black paint coat covering it further ensures maximum durability.
The lift comes with a large platform (measuring 78.75" L x 24" W), which makes it suitable for lifting the small, medium-sized, and large bikes. The platform also has diamond plated surface, which helps increase the traction between your motorcycle tires and the surface for increased stability and reduced possibility of slippage.
The 24-inch approach ramp promotes easy loading while the oversized wheel clamp helps secure your bike to prevent it from falling. With the 11.5" x 21.75" rear drop panel, working on your bike's rear-wheel becomes even easier.
Other cool factors that come with this table include multiple safety lock positions, wheel dolly, adjust front support legs and a front maneuver system.
Highlighted Features:
7. Extreme Max 5001.5083 Hydraulic Motorcycle Lift Table
If you're looking for the best motorcycle lift table for the money, this is it. The incredibly compact lift table has a maximum lift capacity of 1100lbs, so it'll lift a variety of motorcycles with ease.
Like all the other lift tables featured on this list, this table is designed using heavy-duty, long-lasting steel with excellent resistance to grease, oil, and dirt for maximum sturdiness and longevity. What's more, it comes with a smooth, shiny finish which protects the metal from corrosion and rusting, further extending its lifespan.
The lift table provides you with a large platform measuring 15.2 inches by 9 inches. And like in the other tables we've discussed before, this platform features a rubber padding to prevent slipping, increase stability, and protect its paintwork. You'll appreciate this table's center-left design which helps expose most parts of your bike for easy maintenance or cleaning.
Once you have mounted your bike, you can raise it from as low as inches to a maximum height of 14 inches. this is to mean you'll have a flexible height range to help you work on any part of your bike comfortably.
You don't have to be a skilled motorcycle mechanic to operate this piece of equipment. You just need to rotate the metal sleeve to raise or lower the scissor lift. The included instructional manual will come in handy in case you get stuck.
Highlighted Features:
8. Goplus 300lb Motorcycle Lift Table
Goplus 300lb Motorcycle Lift Table is the perfect option for lifting small motorcycles, light dirt bikes, and ATVs weighing around below 300lbs. It fits your bike from 15 inches to a maximum height of 38 inches, eliminating the need to stoop or kneel when servicing your motorbike.
After achieving your desired height, you can use the included locking bars to secure the height to ensure the lift doesn't drop with accidental pressing of the pedal and cause injuries.
Though not as big, the lift's platform is spacious enough to accommodate your small motorcycle (to be exact, it measures 18" by 14"). It also comes covered with rubber padding to increase the bike's stability, preventing it from slipping or sliding when you're working on it.
Like all the other lift tables we've featured on this list, this model is also constructed from durable steel metal for maximum durability and longevity. The convenient foot pedal makes lift table incredibly easy to operate (raise or lower the table).
Highlighted Features:
9. Generic Hydraulic Bike Motorcycle Lift Table
If you're still looking for the best motorcycle lift table for Harley, this is a great lift worth considering. It lets you hassle-freely lift the heaviest Harley Davidson motorcycle for easy repairs and maintenance jobs.
The lift comes with a super-strong steel frame, which gives it the strength it needs to stay out when lifting bikes under 1000lbs.
The lifting platform itself boasts of a diamond plate which is synonymous with enhancing traction between the motorcycle tires and the table surface for greater stability and reduced slippage issues. The platform measures 26.6 inches wide x 87 inches long, so it's spacious enough to accommodate bikes f different sizes. When you add the 26-inch long loading lamp, it becomes even roomier.
Don't forget that this lift will raise you Harley from a low height of 8 inches all the way up 28 inches, which is well within what you get in most of the other models out there.
For easy maneuverability, this lift comes with 2 front wheels measuring 3.5 inches each, and 2 retractable rear casters measuring 1.5 inches each. The rear drop panel promotes easy, struggle-free access to your bike wheels.
Highlighted Features:
10. Pit Posse Scissor Floor Jack Lift Table
The last product in our motorcycle lift table reviews is a scissors-type lift table. The good thing about scissors tables is that they're usually lightweight and compact, making them suitable for users who want something more portable.
Though it may look simple, this Pit Posse lift table has a professional-grade deigned with oil-resistant, heavy-duty gauge steel construction.
We like that this lift offers you an excellent adjustable lifting range of 13 to 36 inches. Its rectangular platform measures 13.75" by 16 inches, making it large enough to accommodate your motorcycle. Note that this platform is covered with a thick rubber protective layer which protects the paintwork from chipping. Not to forget the safety lops that hold your bike securely and firmly during repair.
The drain hole right at the middle of this table facilitates a clean work environment.
With a maximum weight capacity of 300lbs on top of a compact design, this table will make a great choice for motorbike repair shops and bike owners with limited space. The caster wheels make the lift table easy to move around your bike to access it at different angles.
REMEMBER…this lift is covered by an extended warranty of up to 2 years plus a full money-back guarantee.
Highlighted Features:
Here's What To Look For Before Buying:
Materials
Look for a lift table made using quality materials. This is important as it gives the bike the strength and durability it needs to lift your bike's weight for an extended period of time.
Most of the lifts you'll get on the market today are made using steel, one of the strongest and most durable materials.
On top of this, the lift should be covered with a coating that's resistant to rust, dirt, dust, oil, and grease.
Above all, ensure the lifting platform comes with a rubber padding to help prevent slippage or sliding of your motorcycle when working on it.
Size
The size of the raising platform of a lifting table is one of the key things to consider when looking for a perfect lift table.
As you already know, the platform assumes the shape of a rectangle, so its size is determined in terms of length and size.
If you've got a larger bike, then you'll need to look for lift tables with extra-large platforms, say over 100 inches long and 80plus inches wide.
The exact opposite applies for smaller bikes.
However, keep in mind that the size of a lift table doesn't relate to its lifting capacity in any way.
Some models feature a small platform but have greater weight limits of over 1000lbs.
Capacity
Different motorcycle lift tables are designed to lift different amounts of weight. This can range from as low as 300 pounds and as high as 4000 pounds.
That said, you should make sure the model you choose should be able to comfortably lift your motorcycle and remain stable.
We suggest that you pick a lift that has a slightly higher lift capacity than your bike' weight.
Lift height
One of the key reasons why you want to buy that lift table is to help lift your bike off the ground for easier maintenance and repair work.
Again, different lift tables can raise your motorcycles to different heights. Most of them have a minimum height of 3 inches and a maximum of 30 inches.
The more extended the lift height range a lift table comes with, the more flexibility it gives you in terms of raising your motorcycle to a comfortable height.
Safety features
Working on a bike that's raised to a height of 30 inches is a seriously risky affair.
The last thing you want to imagine is the bike sliding or falling off and crushing you down. Or the bike falling off and sustaining serious damages.
Luckily, you can avoid these incidences by looking for a lift that comes optimized with safety features like locking mechanisms, side extensions, rubber padding on the lift platform, etc.
Frequently Asked Questions
1. How much does a motorcycle lift table cost?
The cost of a lift table depends on the type of lift, build quality, manufacturer, and the set of features it comes with.
For less than a hundred bucks, you can find a compact lift table for your home garage. These models are usually scissor-type and have smaller lift capacity.
If you want a larger lifting range, larger platform, and plenty of safety features, then you'll need to spend well over $100.
Higher-end models will cost you over $1000 and offer you premium quality and features.
2. Can I use my lift table to lift other things apart from motorbike?
Yes, it's possible to use your motorbike to raise other equipment or vehicles such as ATVs, snowmobile, lawnmowers, etc.
BUT…before you do that, you'd want to check that the equipment doesn't exceed the maximum weight limit of your vehicle.
Also, ensure the platform is large enough to accommodate the size of the equipment you want to lift.
Some manufacturers also list other things that you can lift with your lift table. Be sure to look out for this info.
3. How do I take care of my lift table?
Taking proper care of your lift table is crucial if you want to extend its lifespan.
One way to show care to your lift table is to keep it clean at all times. Wipe off any dirt, oil, grease that might have been left on the platform.
Regularly dust your lift's mechanism and remove any debris deposited in the locking notches.
Look for loose nuts and tighten them immediately.
Lubricate all your lift's moving parts using the right lubricants for smooth raising or lowering of your motorbike.
Make sure you consult your user manual to gain more insights on how to take care of your specific motorcycle lift table.
Final Verdict
A motorcycle lift table is a godsend piece of equipment for motorcyclists and repair shops. It makes your life easier by lifting your bike to a suitable working height while securely holding it for a safer working environment.
This way, you'll have a great view and access to all your bike parts, and working on them will be much easier.
When looking for the best motorcycle lift table, make sure you look for a well-built model that feels strong and durable. Also, ensure the table is capable of lifting the weight of your bike.
If you're tired of stooping and kneeling when working on your motorcycle, grab one of the top-rated motorcycle lifts we've featured above for safer, more comfortable maintenance routines.
See Also: