The Best Synthetic Motorcycle Engine Oil Brand Reviews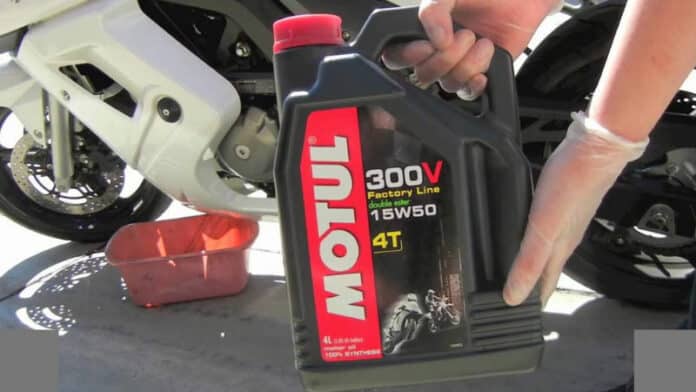 Motorcycle engines are tough and resilient; they can withstand intense pressure and temperature for prolonged hours with ease. However, it'll run only as good as the quality of your motor oil.

Your choice of engine oil can either make or break your riding experience. Each bike is different, and each engine needs something special. In this guide, we've listed our top engine oil choices from which you can determine and select the right option for your motorcycle.
Do Motorcycles Need Special Oil?
Yes, motorcycles need special oil based on the design of the bike. There is an old TVC slogan, "Oils ain't oils!". It is true for bike engine oils because it has different constraint than cars. The primary purpose of a car engine oil is to lubricate the inner mechanism of the engine.
Apart from lubricating engines, motorcycle oils have the function to lubricate the gearbox also. It must be formed with dedicated technology for the best protection of your bike engine and gearbox.
However, motorcycle oils are formulated to deliver extreme protection against viscosity loss.  In addition, the oil needs to ensure balanced friction toward the wet clutch; otherwise, it will cause slippage.
Benefits of Timely Oil Replacement
Regular oil changing is essential to maintain the smoothness of the engine. Oil changing generally means draining out and replacing the old, contaminated oil with fresh and clean engine oils. Regular oil changing keeps the motor clean and running smoothly.
It is prevalent to mix up debris particles from the engine's parts with the engine oil. But if you do not replace the oil regularly, in the long run, it will affect engine performance and will create disturbing noises.
Clean oils also reduce engine friction enabling the bike to get longer fuel mileage. Also, as a conscious rider, you should not wait till the last drop of oil to be consumed. It creates excessive heat in the engine, leading to severe accidents.
The Best Synthetic Motorcycle Engine Oil Brand: Reviews
You have to be careful while selecting the right motorcycle engine oil for your bike. The requirement of the oil can be different based on the model and engine condition of the motorcycle, but you do not need to worry much.
From the following section, you can choose any of them as per your preference.
1. Shell Rotella T6 Full Synthetic 5W-40 Diesel Motor Oil
Shell Rotella T6 is considered the best synthetic motorcycle oil for your precious motorcycle. It is also renowned for offering the best fuel efficiency. You can easily save some money for less fuel consumption without damaging the engine.
If you are already tired of the engine noise because of your contaminated oil, you will be happy to know that it offers the best protection of the engine against harmful residues.
Accordingly, this synthetic-based oil is designed with cutting-edge multi-tasking dispersant condiments to safeguard the engine from dirt. For long term protection, it is supposed to break down due to heat. It resists viscosity loss and demonstrates outstanding shear stability.
The emission system is designed in a way so that it protects the environment. It is designed with low ash formulation to ensure less air pollution and blocking of exhausts. This oil is suitable for multiple vehicles, from tractors to classic cars! So, if you own multiple vehicles, you can use the oil for everything.
Another benefit is, it works pretty well in a variety of weather like in extreme cold or extreme heat. It is less expensive than other motorcycle oils; a gallon will cost only below $20 and can be used for a long time. This is a good deal because the other synthetic oils available in the market are expensive.
Likewise, the availability of the product is excellent; you can find it even in remote areas.
2. Royal Purple 36250-6PK HPS 20W-50 Synthetic Motor Oil
Royal Purple HPS 20W-50 is a high-performance synthetic motorcycle oil. Like traditional oils, it is not made from crude oil. It is suitable for both cold and hot temperature. The SAE viscosity rating is 50 in average temperature, but 20 on cold condition.
It is also important to check the vehicle manual to ensure you are choosing the correct oil weight. A quart of this synthetic motorcycle oil will cost you between $15 to $20, which can be costlier than traditional engine oils.
However, in spite of being expensive, this oil promises outstanding mechanical performance and escalated gas mileage. It is specially designed for heavy-duty modified engines to boost the performance.
This oil is also formulated with a high level of Zinc anti-wear composite, which makes it a unique blend than the other oils. Royal Purple HPS oil can endure higher pressure with increased viscosity. It has strong sealing between the piston ring and cylinder wall to enhance the horsepower for better riding experience.
Accordingly, the oxidation stability ensures fuel efficiency and lets you drive without needing to change motorcycle oil frequently. In one hand, it saves money, and on the other hand, it creates a less adverse effect on the environment.
Another exciting feature is the advanced synthetic solvency. It protects the engine from debris and keeps it neat for smooth, noise-free performance. You can enjoy the smoothest ride as it lubricates the parts very well and cools the engine for durable performance.
3. Castrol 06116 POWER1 V-TWIN 4T 20W-50 Synthetic Motorcycle Oil
Castrol 06116 POWER1 Synthetic Motorcycle Oil is specially engineered for massive engines like Harley Davidson motorcycles for ensuring smoother performance. The fully synthetic formulation provides even oil flow all around the parts, on different temperature.  
Castrol 06116 POWER1 Synthetic Motorcycle Oil is specially engineered for massive engines like Harley Davidson motorcycles for ensuring smoother performance.
It is led by an air-cooled, V-twin engine which ensures reliable protection against thermal and viscosity collapse at a hot temperature.
At advanced protection, this oil delivers proven wet clutch performance.  To promise the best service, it has API SL and JASO MA 2 certification. It is suitable for four-stroke motorcycles, specifically SAE 20W 50 engines.
But manufacturer's recommendation should be followed according to the model you are using.
Similarly, it keeps the engine protected for a long time and can run longer miles without any disruption. It helps to keep the engine cool even in high temperatures and smoothens clutch engagement. Four-stroke racing bikes require special oil because of heavy usage.
This oil has proven performance on heavy engine motorcycles regardless of the temperature outside.
The engine runs smoothly, and a frequent break does not seem to hamper the smoothness. It is specially engineered to reduce engine noise and ensures smooth gear changing along with the protection of the gearbox. It can run up to 4500 miles without needing to refill or replace.
Sometimes, it is an issue to have a hard time starting the engine in cold temperature. Nevertheless, you will not face any cold start problems with this oil refilled.
4. Mobil 1 10W-40 High Mileage Full Synthetic Motor Oil
If you are struggling with your old engine but not ready to buy a new one, this oil can do the miracle for your machine.  It is the best 10W40 motorcycle oil to offer you a full mileage. Mobil 1 10W-40 Synthetic Motor Oil is engineered to provide exceptional engine protection.
It has self-cleaning technology to reduce floating debris in the oil. It comes in a 5 qt container. You can use it repeatedly to provide the best support to your vehicle. It is not magic; it is just basic science how it keeps your engine protected.
Similarly, it reduces dirt and sludges to keep the internal parts clean and smooth. Thus, it enhances the engine life of motorcycles. This product also comes with a seal conditioner which keeps the engine sealed in extreme condition and prevents any leakage. Therefore, the risk of fatal accidents due to oil leakage is low.
Accordingly, Mobil 1 10W-40 is designed to use on multiple engines like vans, motorcycle, SUVs, and sedans. The package is very lightweight, around 9.5 pounds only.
In addition, it is also cost-effective as you can use the same container for a more extended period without needing to buy one now and then. The price is also competitive with other regular oils. So, you do not need to pay a big amount of money to get the added benefits. This oil is perfect for high mileage motorcycles.
5. HONDA 08C35-A141L01 Honda Pro GN4
Honda Pro GN4 Motor Oil is specially designed to meet the particular requirements of motorcycle and ATV engines. This special oil has been developed slowly by years of research and development. One of the best benefits it ensures is viscosity stability.
Normal oils break off the oil too much and cause excess oil consumption.  But this oil will save you a good deal of money. Also, it maintains the pure form of the oil and offers shear resistance.
Likewise, another common phenomenon is the crumbling of the engine due to dirt in the engine oil. Often time residues from metal parts get mixed with the oil, leading to a bumpy riding experience.
You can blindly trust this motor oil as it promises to prevent debris in the oil and ensures a smoother performance to avoid any unpleasant riding experience.
It works great both in engine and transmission as it has additives but ensures that there are no additives. If you own a light-duty cooler running motor, it will be the best match for your water-cooled bike. It is a quality product from a trusted brand, and you will enjoy extra mileages from your ride.
The bike will run smoother with no annoying noise. Once refilled, you can go up to 4000 miles. Another good news is you can avail a gallon for below $30, which is a very budget-friendly choice compared to the other oils.
6. YamaLube All Purpose 4 Four Stroke Oil
It is blended mineral oil which is suitable for motorcycles, ATVs, and scooters. This product promises clutch performance stability. Daily use produces debris and tear, which hampers the performance of the motorcycle. If you use this oil, you will be assured to protect the engine from the dirt of daily use.
YamaLube is a perfect blend of mineral-based oil and ultraclean additives which offers more fabulous and frictional properties. JASO MA is the highest certification for motorcycle engine oil rating. YamaLube All-Purpose Four-Stroke oil successfully meets the requirements of JASO MA standard.
This product ensures safety and proper wet-clutch performance. You do not need to spend much to buy this. One gallon container will cost below $30 only. That can be used year long. The container comes with an easily readable marker so that you can check quickly to make your next purchase plan.
Moreover, this oil provenly improves clutch performance. If the correct film and friction between the clutch plates are not maintained, the gear shifting becomes rough.
However, you can get rid of such troubles by installing this engine oil. It amazingly operates great both in cold and hot temperatures. If you are looking for protection and extended life of the engine, you can easily trust this oil.
Overall it is a good value for money. It will give a smoother riding experience with guaranteed protection of the engine.
7. Lucas Oil 10702-PK6 High-Performance Synthetic 20W-50 Motorcycle Oil
If you are a speedrunner, you can consider it as the best oil for motorcycles. Years of research and development has resulted in the production of Lucas Oil 10702-PK6, especially for the racing industry. It is not just a motorcycle oil; it is a racing oil!
When you are on track or the street, it can undoubtedly outlast up to 4 times than other regular oils. In general, the function of motor oil is to lubricate, clean, and cool engines. According to the viscosity level and components, engine oils are of different types.
Lucas 10702-PK6 is a high performance fully synthetic oil. No crude oil has been blended with it. That is why it offers superior performance than other blended engine oils. It is cost-efficient as you can enjoy more exceptional gas mileage. You can avoid the loss of over buying the same product.
It also provides reduced engine wear at extreme condition. No matter if it is hot or cold outside, you do not need to compromise with your riding experience. Due to its complex manufacturing process and superior quality, this oil will cost you higher than other regular engine oils.
A pack of six, 1-quart bottle will cost between $110 to $120. Even though you need to count some extra money but it is worth every penny. You can easily run up to 5000 miles without needing to refill.
Apart from lubricating, it also cools down the engine for a smoother performance. You will enjoy the plain gear shifting without any noise or extra effort. The oil stays fresh for a long time, and you will be surprised to see the clean condition of your engine.
8. Maxima (349128) Premium4 10W-40 Motorcycle Engine Oil
Losing viscosity is one of the main weakness of most of the engine oils. As a result, the engine loses its strength at an early stage and requires frequent oil changing. Maxima Premium 4 is a fantastic product. It is a superior blend of petroleum base stocks, advanced anti-wear, and anti-shear additives.
Moreover, it is suitable for all types of 4 cycle engines. No matter if your vehicle is air-cooled or water-cooled, you can be assured of maintaining the viscosity level by using this oil. It features advanced additive technology which gives the assurance of highly stable long-lasting motorcycle oil.
If you are installing this oil, you do not need to worry about the weather condition also. It is formulated with additional anti-scuff additives which provide extra support in extreme condition to control the load and peaks.
You can consider it the best motorcycle oil for a wet clutch and enjoy the best smooth start of the engine without any extra effort or annoying noise. It happens because it is engineered with the all-weather formula to reduce friction and engine temperature.
Also, you do not need to take any extra care of the engine; the oil will do its work. Accordingly, Maxima Premium 4 has a proven track record of their said benefits. It is Turbo certified and already exceeded the requirements of JASO MA certification.
However, quality always comes with a price! 1 gallon of Maxima Premium 4 usually costs between $25 to $30, but once you make the purchase, you can use it for a long time because of its durability.
9. Valvoline Advanced Full Synthetic 20W-50 Motor Oil
Valvoline Synpower is a full synthetic oil which delivers subsequent performance kick. It supports the vehicle to offer its peak performance. This product is engineered with advanced artificial technology, which keeps the engine clean and protects from waste particles.
As a result, you get to enjoy the mesmerizing smooth ride. It is compatible with all high performing vehicles like BMW, Lexus, Volkswagen, Volvo, and Porsche.  
Moreover, it promises to deliver an extended engine life by reducing wear and oil break down. Three major causes stress the engine, such as heat, deposit, and wear. But Valvoline Synpower continuously fights against these three factors and offer the nest protection to the engine.
Likewise, this fully synthetic engine oil is engineered with anti-wear additives, which keeps the oil durable and clean for a long time. It also shows extraordinary performance in extreme condition. This oil maintains the protection barrier by keeping the engine cool if the temperature rises.
Furthermore, it gives outstanding protection against friction and wears. You will surely feel the difference in the noise-free performance of your engine. It is also formulated with extra dispersants which mitigate the debris, particles, waste in the engine oil.  
It is sold as a quart of 6 packs which usually ranges from $55 to $60, but the benefits presumed from this oil is worth every penny. The oil is undoubtedly superior to other conventional oils. It uses premium quality friction modifier, which makes the oil more slippery and allows increased gas mileage.
10. Kawasaki 4-Stroke Motorcycle Engine Oil
This oil is specially manufactured for 4-stroke motorcycle. Every bike owner dreams of prolonged engine protection. This Kawasaki 4-Stroke Motorcycle Engine Oil offers superior engine and bearing wear protection.
This means the oil will keep itself clean from debris and particles to provide a smooth engine experience.
You can be assured of the prolonged engine life as it comes with protection. After a few usages, most of the regular oils losses volatility, but you can be stress-free as it is engineered to maintain the viscosity of the oil. The price is also reasonable.
One gallon of this particular engine oil will cost from $25 to $30, but you have to keep in mind that it is not synthetic oil, it is conventional oil. Typically your motorcycle can run up to 2000 miles without needing to change or refill.
Apart from protecting the engine, it keeps lubricating each corner of the machine to ensure a noise-free transmission. The packaging weight is 7.85 pounds, which are not unreasonably burdensome. Besides, it can be used on scooter and snowmobiles also.
It is specially designed for wet clutches, so you do not need to worry about that fact. In that sense, if you are looking for a hassle-free riding experience, you should give this oil a try. Noise-free and prolonged engine performance is the key benefit from Kawasaki 4-Stroke Motorcycle Engine Oil.
How to Get the Right Motorcycle Oil
Before you finalize on the best motorcycle oil for your bike, you need to take consideration of few factors for making the right choice. Just because the oil has 5-star review does not necessarily mean to be the perfect match for your motorcycle. You can consider the following points to get the right motorcycle oil:
Type of Oil
Based on the machinery of the engine, the need of oil might be different than others. There are mostly three kinds of engine oil: Conventional, Synthetic, and Semi-synthetic. Conventional oil is made from crude oil and suitable for old or vintage motorcycles.
On the other hand, synthetic oil is a blending of various components. It is comparatively expensive but ideal for modern engines. Semi-synthetic oil is a hybrid of conventional and synthetic oil. It is mostly suitable for high-speed motorcycles.
Longevity
Oil longevity usually refers to how long a full tank can run without needing to refill again. Quality comes at a reasonable price. You have to keep in mind that the oils which have proven longevity record, can be pricy.
However, your bike is a valuable asset of yours, and you would like to take the best care of it. Rather than buying cheap oils, it is better to go for oils, which have longevity. It will rescue you from the hassle of changing engine oil frequently. In that way, it will be cost-effective also.
Cleaning Competency
The smoothness of your motorcycle largely depends on the internal cleanliness. A significant amount of debris and junk get mixed with the engine oil every day, in amounts you cannot even imagine. Neither it is possible to see the wastes from outside nor can they be cleaned manually.
However, the only way to clean is to change the oil completely, which is time-consuming and also expensive.
At the same time, there are few superior quality oils in the market which have the self-cleaning capacity to keep the engine clean by protecting from the debris produced inside. The cleaner an engine is, the better will be the service.
Price
Another criterion to judge the right oil is the price of the product. The cost of fuel varies on the quantity, workability, and features of the product. Some oils have exceptional longevity. One unit can be used for a long time. Such superior oils are usually expensive, though.
If any oil is costly, the price has to be justified with the service offering. The quantity is another critical consideration. Also, the container must be big enough to cover multiple refills.  
Although the price is not the only thing that influences your buying decision, it plays a vital role in decision making. Many oils also come with the offer of multiple containers. Such offers can be cost-effective and used for a more extended period.
Compatibly
Engine oil is like the blood of our body. If your blood group is B+, you cannot intake any other blood types. Engine oil for motorcycles also works in the same way. It depends on the type of engine oil, which is suitable for the motorcycle.
Some engines are ideal for conventional oil only whereas some are the perfect match for synthetic oil.  So, you need to follow the manufacturer's instruction before putting engine oil. If the wrong kind of oil is refilled, the engine will leak that oil at a certain point. That is risky and also causes a waste of money.
Viscosity
Viscosity level is another factor that you should be looking for. The term viscosity usually means the speed of oil flow. If the viscosity level is lower, the oil will run faster and smoother. But a high level will do the opposite and slow down the oil flow.
As a result, the machines do not get enough lubrication leading to the noisy engine. The starting of the engine also becomes rough, and extra effort needs to be given. Therefore, you should look for the oils which have lower viscosity level to enjoy the smoothness of your bike ride.
Reviews
The review can be an exciting source of your decision making. If you are extremely confused between the oils, you can quickly take a look at the review section. It is the best way to get an honest opinion from the users' perspective.
You can quickly get an idea of the positive and negative impacts of the oil you are targeting to buy. Also, you can predict which fuel is more suitable for which engines. As people from different backgrounds share their neutral experience, you can get vast information within a short time.
But of course, a review cannot be a significant source of deciding your engine oil. You can use it as a supportive tool in an extremely confusing condition.
Type of Motorcycle Oils
Based on the engine type, the requirement of oil is also different. You should keep in mind that motorcycle engine oil is not generalized. There are 3 different types of oils based on the production component and workability. The details are discussed below for your convenience.
Conventional Oil
Conventional oil is natural oil extracted from the deeper grounds. It is also known as mineral oil. In general, these oils are made from crude oil. Different additives such as a detergent are added to protect the engine from debris and junk.
If you are aimed at keeping your engine clean, conventional oil should be your first choice. It also benefits in friction modifier. This means it helps to keep the mechanical parts lubricated enough for smooth operation. But the problem is, it breaks down very easily and has less longevity.
Hence, it is not suitable for high capacity engines. If you have a vintage or vert old engine, you can consider conventional oil.
Synthetic Oil
Synthetic oil is the opposite of conventional oil. This means it is not a natural oil but one that is artificially created by human. Crude oil is also used in synthetic oil but not as a base material. It is used as an additive. Viscosity level is an essential consideration for any kind of engine oil.
Likewise, synthetic oil has a low level of viscosity, which means it keeps the engine smoother and runs faster. The overall efficiency of the engine is also developed through synthetic oil.
The only thing that might hold you back is the high price. If you are short on budget, synthetic oil might not be the right fit for you.
Semi-Synthetic Oil
If you are confused between natural and artificial oil, semi-synthetic oil can be a wise choice for you. It is a blend of conventional and synthetic oil. Therefore, you can enjoy the goodness of both through semi-synthetic oil.
You can use it on high-speed motorcycles to enjoy the smoothness like synthetic oil. At the same time, you can get the benefit of a cleaner engine for a long time as that provided by conventional oil.
Engine Oil Changing Tips
Regular changing of engine oil is crucial to ensure the longevity of your engine. It is best if you can do it by yourself rather than going to the professionals every time. It will save you time and money.
If you have never done it before, there is nothing to worry about it either. It is not a complicated process. In the following section, you can find the step by step oil changing process.
Materials Needed
Oil Changing Location
Firstly, choose a convenient location for oil changing. The convenient location is any place away from dust and contamination. Then you need to drain the oil.  If the oil is warm, it is easier to remove it faster and saves time.
But as a first-timer, you better start with cold oil to avoid any accidental oil burn. Then you need to clear the access of the plug by removing extra parts. Put the drain pan underneath the socket and remove the cap with the help of a wrench.
Take off the Oil Filter
As soon as the oil is drained, you need to take off the oil filter. It should be tight but removable by bare hand. If you are unsure, you can use a wrench to take it out.
You can also check the owner's manual to get a guideline on the plug removing process. Then take a clean cloth and wipe the filter neatly.
Refill With Engine Oil
Then it is time to refill the filter with engine oil. First, check if the bike is on level ground to get the perfect measure. With the help of the funnel, start pouring the engine oil. Do not rush while inserting the oil.
Go slow and keep checking the oil level. If you pour too much exceeding the required level, you must drain out the excess amount of oil.
Right Amount of Oil
Double-check if the oil is poured to the right amount. If the level is correct, put back the plug on the filter. Again, clean the outer area to remove the oil splits while pouring. Then go for a short drive to check if there is any leakage. And you are done!
You are good to go to carry on oil changing by yourself from hereon. You might feel uncomfortable at the beginning, but with practice, you can become a pro.
Biker Rights also has a detail article on fuel stabilzer for motorcycle
Q. Why is it necessary to change the oil?
It is necessary to change the oil to maintain the smoothness of your engine. Engine oil lubricates the different part of the engine and helps to keep it fresh.
But many debris and particles are created inside which is not visible and not possible to clean manually. That is why it is important to change the oil to ensure the smoothness of the ride.
Q. Can I use car oil in a motorcycle engine?
No. The purpose of the two oil is entirely different. The function of car oil is to lubricate the multiple moving parts inside.
On the other hand, the purpose of motorcycle oil is to keep the engines lubricated only. At the same time, it also functions in cooling the engine and protecting the gearbox. Using car oil will not fulfill these purposes.
Q. Is there any difference in refilling time-based on the oil?
Yes, the frequency of your engine oil changing will depend on the type of oil you are using. If you are using conventional oil, you have to change the oil after every 2000 miles. But if it is synthetic oil, you can run up to 6000 miles without any change.
Q. What does viscosity mean?
Viscosity means the speed of the oil flow. Lower viscosity level is expected as it ensures faster and smoother flow. Higher viscosity level brings the opposite result, but it depends on the requirement of your engine's viscosity level.
Q. Is mineral oil and conventional oil the same thing?
Yes, conventional oil is also known as mineral oil. It is the natural type of oil which is extracted from the soil. The main component of it is crude oil.
Best Motorcycle Oil Review: Conclusion
No matter how cool your bike is, it is no use if the performance is not smooth. Smoother performance vastly depends on the type of oil you are using. Nevertheless, there is no need to stress yourself out.
The top 10 motorcycle oil has already been reviewed in this article, along with some tips and tricks. So, you can just spend 5 minutes having a quick look on the list and choose the right oil for your mechanical beast.
See Also: