10 Best Motorcycle Phone Mount Reviews 2020 – Guide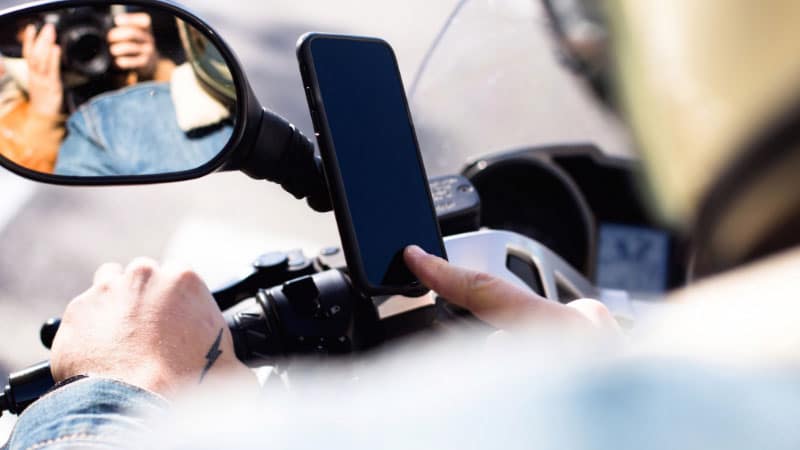 Motorcycles require unwavering attention. You must always keep your hands on the handle to ensure your safety. However, there are still urgent phone calls and texts you need to attend to.
You might also need your phone to check the map, listen to some music, or even tell the time. Therefore, you need a phone mount. These can keep your phone secured and accessible hands-free.
This is why many motorcyclists scramble to get their hands on the best motorcycle phone mount. As such, we have designed this comprehensive guide to help you find the perfect mount for your motorcycle.
Benefits of Using a Motorcycle Phone Holder 
There is an excellent reason why so many people keep a phone mount on their motorcycles. It is because of the numerous benefits these mounts offer. Let us go over some of the many ways these enrich your experience.
Checking Your Calls on the Go
You can keep your phone close without using your hands, and you do not have to reach into your pockets anymore. The moment a call comes, the screen will illuminate; notifying you immediately. You can then decide whether it is worth picking up.
Read Messages Safely 
Suppose you are expecting an urgent call very soon or a text, a phone mount would prove to be very useful in times like these. If you had a phone mount, you could quickly check the message without any risk.
Easy Navigation
Using a GPS on a motorcycle is not as simple as it is on a car. It requires you to check your phone too frequently. However, with a phone mount, you can use navigation apps almost as quickly as you could in a car. You can easily keep track of where you are going without sacrificing your safety.
10 Best Motorcycle Phone Mount
Now that you have some preliminary knowledge, let us recommend you some excellent mounts. Once you go through this list, you will find the best motorcycle phone mount for you.
1. Roam Universal Premium Bike Phone Mount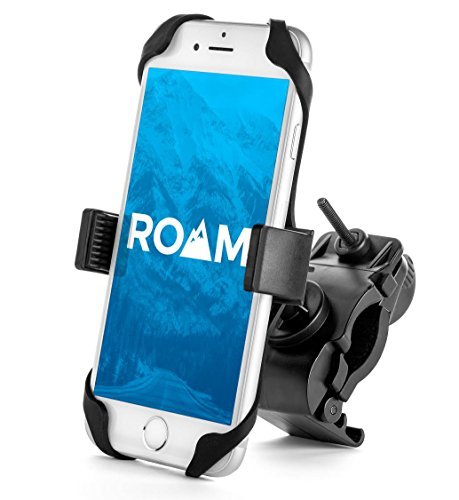 Security is probably an essential feature of a phone mount. You want to have the most secure mount while you ride at high speeds. Roam understands this significance and offers a mount that locks your phone in place. Each edge of this unit is designed to prevent your phone from slipping.
The little gaps in each corner keep the phone hooked in place, and the sides establish a firm grip on your phone. However, the Copilot employs a silicone net that keeps the phone locked with the right amount of tightness. The net is also capable of adapting to different sizes; being able to secure a phone that is 3.5 inches wide.
It will not matter how well it can secure a phone if the quality is subpar. However, we can assure you with absolute certainty that this mount is made with high-quality plastic. If you do not believe us now, you will when you touch it. The plastic feels smooth and hard; capable of withstanding lots of weight.
While most phones would stop here, the Copilot does its best to enhance your experience even more. This unit comes with a spectacular 360 degrees rotation option. The rotation option allows you to freely move and adjust the angle of your phone at your convenience.
Are you worried your bike's handles are too big? Do not worry. The Copilot ensures that it can attach to a wide range of handles. It can attach itself correctly to 7/8 inches to 1-¼ diameter handles. Also, it is very easy to install.
2. TaoTronics Bike Phone Mount Bicycle Holder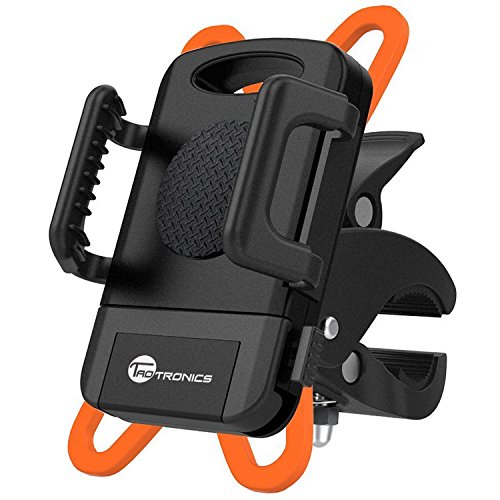 Our phones are one of our most valued possessions. In case we must strap it onto a plastic holder while we ride at high speeds, we need it to have a firm grip. The mount must feel like a throne that welcomes our phone with loving arms, never letting go. TaoTronics does precisely that and more.
It is made with a plethora of components to embrace your phone. Even though this secures every corner of your phone with a reliable and sturdy plastic net, TaoTronics makes sure to provide further security. Its cradle is made of non-slip rubber; preventing any scope of the phone slipping off.
The center of the unit also possesses a silicone pad. These pads add friction to your phone; this keeps your phone more secure. With all that, you can ride at high speeds without worrying about you losing your phone anymore.
This kind of attention to detail regarding security is what makes TaoTronics such a reliable brand. However, the simple installment is what wins the hearts of most riders. A lot of riders do not like handling these holders. They find it hard to adjust, remove, and reattach.
As such, this unit has an excellent clamp that is easy to use. Removing is also a simple endeavor; it has a quick-release button that simplifies the process immensely.
Are you having trouble watching the phone? Does the angle seem inconvenient? Well, this model has an excellent 360 degrees rotation option. You can adjust the cradle however you wish. This unit makes sure to keep the phone in the position you have left it in. This is indeed a great value deal.
Moreover, the security it offers is phenomenal, and the easy installation makes it a superb choice for beginners. Make sure you do not overlook this.
3. Bike & Motorcycle Phone Mount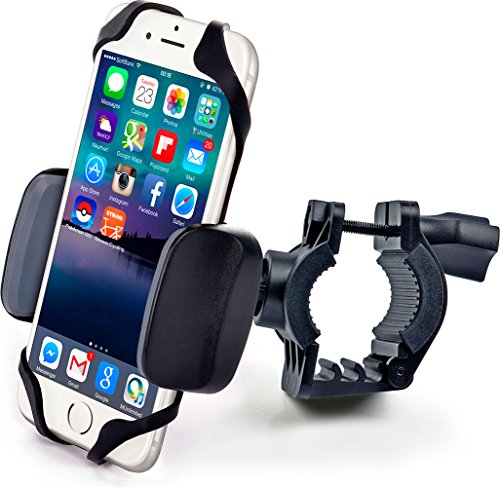 Where do we start with this one? Should we mention the high security, the shock absorption, the wide capacity, or the anti-tremble feature? All these features are superb and make this phone worth its price. However, its ability to correctly attach to any tubular handlebar is what makes this something very special.
What do we mean by this? This mount has the most substantial clamp amongst its contemporaries. It can fit perfectly onto handles as small as 0.6 inches, to as large as 4 inches. This item comes with four adjustable sizes that help it to mold into your bike.
And this feature allows it to become a part of your motorcycle; preventing any kind of trembles from getting in your way. Speaking of trembles, we already mentioned how this unit has shock absorption. The silicone net provides a very secure grasp on your phone, without straining it. This keeps the phone shockingly still.
Its ability to keep your phone completely even regardless of the speed makes it a stronger contender for the best motorcycle phone holder.
This unit is quite welcoming. Its tight grasp does not take away from its ability to accommodate phones of different sizes. The silicone net stretches elegantly. It even leaves room for you to charge and insert an audio jack.
Finally, we must mention its eloquent design. The mount looks just right; fit to look highly stylish on bicycles and motorcycles alike. Its sleek design makes it very versatile. You can easily match it with whatever bike you have. The ability to deliver so much security while still looking sleek makes this an excellent choice.
4. Metal Bike & Motorcycle Phone Mount
A lot of us have a hard time relying on plastic. Can you blame us, though? When the going gets tough, during hard crashes, plastic seems to crack. Plastic is harder to wear out, but in terms of pure durability, it cannot beat metal. CAW.CAR Accessories perfectly understands this concern.
As such, they have manufactured a superb metal holder to guarantee your endurance. There are a lot of advantages to a metal mount. They have superior durability. This unit takes all the benefits of metal holders and elevates them to the next level. Metal components extend the grip.
These stay tight without damaging the phone. This is due to the soft rubber grips that keep the phone in place. You can extend and abuse the hands without worrying about it losing its elasticity. Instead of keeping the net bare, CAW.CAR Accessories decided to conceal it within the cradle.
This enhances its longevity and capacity. It leaves the hooks out so that you can easily take it out and apply it onto your phone. The silicone net has just the right elasticity to secure your phone without stressing the device.
Moreover, this unit offers you a true 360 degrees rotation. Its sturdiness is baffling. The nozzle turns smoothly when you move it manually. However, it stays perfectly still while you ride. This makes it perfect for people who want to ride fast.
The grip is perfectly suited for long rides. It will not disappoint in its durability either. Along with its excellent longevity, this model deserves its reputation. It could easily be the best cell phone holder for motorcycles on the list.
5. Bike Mount, IPOW Universal Cell Phone Bicycle Rack Handlebar & Motorcycle Holder Cradle
Let us introduce you to a smooth and elegant model that is also capable of its durability. It is very minimalistic in style. The grips and net barely ever get in the view of the screen. This makes navigation incredibly easy and accessible. You can see each route with utmost clarity.
This is because IPOW made sure to cover the bare minimum. The net secures the phone while only covering a portion of the screen. It is less noticeable if your phone has bezels.
A lot of people are afraid of these types of designs. This is because they are concerned that the lack of overt security might cause the phone to slip. However, that is not the case with this spectacular model. The unit does an excellent job of keeping your phone secure. This is because of the material and design.
The clamps are layered with soft rubber that prevents the phone from vibrating. It employs a silicone butterfly band that can ensure a solid grip on your device with ease. Good luck trying to shake your phone out of this one.
IPOW placed a good deal of emphasis on the compatibility of the holder. They made sure that most devices would easily fit. It is almost amazing how well it can fit each device.
Do you think attaching mounts is hard work? You will not anymore after you have tried this product. The unit does an excellent job of streamlining the installation process. It lets you attach one through intuition alone. The process is quite simple, and the model assists in elevating its ease of access.
6. Ram Mounts RAM-B-149Z-UN7U Handlebar Rail Mount
In the world of the best motorcycle phone mount hunting, you get what you pay for. You will get high-end models if you pay for them. Likewise, if you want a high-end mount, you must be ready to pay for it. It would be pointless if the holder you are getting could not justify the price.
However, Ram Mount's masterpiece, the RAM-B-149Z-UN7U justifies every penny of its worth. The first thing you will notice about this holder is that it does not look like any of the previous ones. Instead, it takes an esoteric X-shape. This is a state-of-the-art spring load system.
You might worry that this could be potentially risky. However, Ram Mounts made sure that it is completely secure. The holder expands just enough and then perfectly locks your phone with its excellent rubber coated tips.
Do not underestimate this unit's strength. It is forged from the finest stainless steel; keeping it durable and rustproof. This item can also handle any sort of abuse without losing functionalities. The clamps are meant to support bigger phones, and it supports them the best it can.
If you still do not trust the power of its spring load system, it also comes with a tether. You can easily attach it onto the unit if you are planning to go on extreme rides. This adds to the versatility of this unique commodity.
Buying this holder is a legitimate long-term investment. It can last you ages without any signs of wear. You can rely on it for years to come without worries. Indeed, it is a strong candidate for the best motorcycle cell phone mount.
7. Bike Phone Mount for Any Smart Phone
We have shown off quite a few designs. Some are sleek; others are classy. This unit, on the other hand, has a lot to show off. It uses its network to create a colorful and unique aesthetic. The nets come in different colors for you to customize further, too.
You have the option to choose from green, red, and black. It makes the holder feel like it is yours. This unit has a lot more to offer aside from customizability. It employs a rubber surface to maximize its grip on your bike's handle. Afterward, you can shake it all you want; it will not come off.
It also comes with two metal bolts so that you can get the measurements just right. Moreover, it is made with both metal and plastic. The hybrid design has allowed it to be extremely viable for most usage. It maximizes the potential of each material and makes the most out of it.
This improves its durability and longevity. The claps can stretch immensely and accommodate a wide array of phones. So far, this phone sounds amazing, right? What if we told you that it is also extremely cheap? Yes, we have moved on from a very costly holder to a budget one.
However, do not let its price fool you. The value this unit offers is simply stunning. Furthermore, the multitude of features and capabilities it shows is enough evidence. You are getting so much out of this for so little.
Mongoora blew it out of the park with this one. It never hurts to try it since it is priced so low. Another noteworthy detail is that the producers are proud and confident enough to offer a lifetime warranty. This may just be the best phone mount for a motorcycle at this price.
8. Roam Universal Premium Bike Phone Mount for Motorcycle
For this entry, we will be looking at Roam again. As stated before, Roam is an incredible brand that offers high-quality and reliable holders. This unit is no different. Before, we covered the Copilot. Now we will be covering its successor, the Copilot slim. This is not to say that the Copilot is not viable anymore.
The slim adds onto what the standard addition had, to make an excellent new holder. Let us start by examining the design. From a glance, you will notice that the slim is bigger than the standard edition. Oddly enough, it weighs more than the standard edition despite being called the slim.
Regardless, the slim looks gorgeous. It has a reinforced clamp that secures the phone even tighter than before. You can now also choose between three colors, black, green, and red. This makes the Copilot slim feel unique.
Moreover, this model improves upon the silicone net as well. Instead of 4X, you can now get a whopping 5X elasticity. This allows it to hold smartphones as wide as 3 5/8 inches with unquestionable security.
Roam knows they made something special with this spectacular entry. As such, they are also offering a lifetime warranty. You can be assured that your phone is in safe hands due to their unwavering commitment.
The unit also hosts a superb clamp for the handlebar. It can attach to most tubular handles with ease. This has one of the most versatile handlebar capacities in the market. All in all, this is an excellent model that improves upon its predecessor in almost every way.
However, Copilot is still a solid model. So, make sure you consider the price of the two and pick one based on the marginal benefits you find.
9. BOVON Bike Phone Mount, 360°Rotation Silicone Bicycle Phone Holder
Hailing from Bovon, we get an intricate and modern-designed holder fit for any motorcycle. The first thing you will notice is that this unit does not possess any side clamps. Instead, it possesses a highly flexible silicone band. You must attach your phone by pulling on the bands as you place it within the minimalist cradle.
This helps enhance its durability and endurance. The pure silicone build will not break as easily as plastic. It also keeps the holder incredibly light. You will barely feel any additional weight on your handlebar. The silicone also helps absorb shock; keeping the phone still all the time. It also does not leave scratches on the screen.
The net is the highlight of this unit. It stretches to incredible lengths; allowing you to carry wide and large phones with ease. This enhances its capacity to hold larger phones. The band only covers the top and bottom bezels of your phone. This is best for phones without any side bezels.
However, if your phone is completely bezel-less, it will cover up a considerable part of the screen. The objective of this unit was to provide the utmost convenience. Thankfully, Bovon fulfills this elegantly. This unit is the easiest to install among the ones that made it to this list.
All you must do is wrap the belt around the handlebar and attach it accordingly. Of course, it does not offer the same level of security as the others. However, it is excellent if you do not intend to go on extreme rides.
Does this make the belt design bad? Of course not. It makes it more versatile. You can attach it to shopping carts, strollers, scooters or anything else with a tubular handle with ease.
10. RAM MOUNTS
To finish off our list, we bring back Ram Mounts one last time. As stated before, this brand is highly reputed for making high-end holders. They have not issued over 100 patents just for show. You can easily rely on them to provide the best mount possible. The brand's service is one of a kind.
You will not be able to replicate it with any other brand. Let us return to the X-shaped design. The spring load system is always reliable and secure. You can abuse it without worrying about wear. In fact, the entire unit is exceptionally durable. The material feels premium and hard to sully.
It combines stainless steel, rubber, and aluminum to make a top-notch mount. These models are made in the US. They spared no expense to make these, and it shows in the performance. The premium rubber tips will not secure your phone firmly. It absorbs and dampens shock and pressure; eliminating vibrations.
Moreover, you can customize these mounts in any way you please. You can move each point in the X-shaped clamps to hold your phone. The adjustability is just that sublime. Also, the grip will not come loose, even if it was violently shaken.
This unit is a lifelong investment like the model before it. You can rely on it to have your back whenever you need and ensure quality attachment. It comes with a backplate and harness tool for additional support. So, if you are looking for a phone mount you know you can depend on, then look no further.
What Makes the Right Motorcycle Phone Mount
All these different and viable options may be a bit overwhelming. The final decision rests on your shoulders to pick out the best motorcycle phone mount. For that, here is some vital information you need to know before you make your purchase.
The Material
Let us get the most obvious and most important aspect out of the way. The material is the penultimate factor for a good holder. If they have a chance to break off while you are riding, then they are frankly useless. You need something you can rely on because you are, after all, trusting it with your precious phone.
So, keep a note of the material. Make sure it is high-end plastic. In case it has a net, make sure it is durable and flexible. If you prioritize sheer durability, make sure you keep an eye on the metal models. You should also check how much weight it can sustain without wearing out.
Also, if the holder employs rubber, make sure it can keep your phone in place. You should go for silicone nets over rubber ones. It does not matter how many features the holder has, if it is made with poor quality materials, skip it.
Grip Capability
With the material checked, let us move onto the grip. You need to be very careful about the quality of the grip. Everyone wants a phone mount that can last. So, you should look for something that can retain its grip through rough use. Nobody wants to replace these every few months.
That is why examining the longevity of the grip is so important. You should also study the type of phones the holder is compatible with. Getting incompatible holders will result in a tragedy. Nobody wants that. Also, make sure the grip has more options.
Rubber clamps are nice, and rubber nets are adequate, but silicone ones offer a better grip. You could go for a magnetic phone holder for motorcycles as well. The X-grip design is very versatile and reliable, so make sure you consider that as well.
Handlebar Support
You can get the best holder in the world, but it will be ultimately pointless if it does not support your handle. So, check the dimensions of your vehicle's handles and try to go for a holder that perfectly suits it.
Of course, there are models that you can adjust to fit your size, but for maximum security, it is best to find a size that is just right.
For this, go through the mounts and check their specifications. Match up the specifications with your bike's dimensions. Do not forget to check the way the mount attaches to the handlebar.
Whether it uses a nozzle or a belt, make sure it can attach perfectly with your bike. You should remember that different methods of attachment garner different results. So, consider those before you make a choice.
Versatility
Many of us came to this list to find a dedicated mount for their bikes. However, many of us want to utilize these items for more diverse uses. It could be for a walk-on part with a stroller, or hands-free access to your phone while shopping.
These brands built phone mounts for numerous uses. So, keep your purpose in mind during your search for your holder.
Usually, versatility and ease of installment are correlated. They have to be capable of being removed and installed easily. This makes the holders more portable. So, keep the installation methods in mind. Judge how easy it is and how easy you need it to be.
Screen Cover
The holder will partially cover your phone's screen in most cases. This depends heavily on the holder and the phone itself. The easiest way to minimize screen coverage is by getting compatible holders. For example, using a big phone on a small cover will cause a lot of its screen to be covered up.
Keeping your phone covered like that risks causing scratches and damage. Therefore, you should go for a holder that minimizes the screen coverage. Some grips, like the X-grips, can avoid any kind of contact with the screen.
All of it boils down to how much of your screen you want to see while riding and whether you want to minimize the risk of scratches.
Aesthetics
This is probably the least important point. However, nobody wants a mount that does not match with their ride. Everyone wants something that compliments their ride and makes them look cooler.
Ultimately, the best phone holder for motorcycles is the one that suits your bike the best. So, choose whichever one that looks the best to you. It relies completely upon you as the choice is completely subjective.
DIY Motorcycle Phone Mount
Let us say that you found none of these mounts to be worth the price.
What can you do?
Well, it is possible just to make one yourself.
Of course, it is nowhere near as effective and viable as a factory-manufactured phone mount, but it is still an option. Follow these steps, and you should be able to make a DIY phone holder as well.
Take at least two rubber bands held together and place them under the handlebar.
Put the finger on both ends on the bands and bring it up to get two makeshift clamps.
Take your phone and place it inside each end of the rubber bands.
Examine how the phone has now attached itself tightly onto the bike's handlebar.
To prevent the bike and the phone from damaging each other, take a folded rag, and place it under the phone.
With that, you will be able to get a new and DIY phone mount. Of course, we do not recommend you rely on this method, but it makes for a good back up plan. Make sure your phone stays secure, and you should be fine.
Frequently Asked Questions
1. Will I be able to use these mounts on stuff other than bikes?
Of course! You can attach most of these to any tubular-shaped surface if the size is right.
2. I have an iPhone 4s, will I be able to use a compatible mount?
Most of the mounts on our list cannot accommodate a phone that narrow. However, there are a few mounts, like the TaoTronics unit, that are compatible with phones of that size.
3. Can I just make a phone mount at home?
Definitely. You can easily make a phone mount by following the DIY guide mentioned in this article. However, we do not recommend it for fast rides and strong weather conditions.
4. Are these only limited to phones?
No. As long as it is shaped like a phone, you will be able to attach it to the holders.
5. My phone is showing signs of damage. What is wrong?
Your phone will be damaged if it is too big for the mount. In those cases, you must upgrade to a more compatible cell phone mount.
Conclusion
There is a lot to know about phone mounts. However, after reading this guide, you now know everything you need. You still need to consider each option carefully. In due time, you will find the best motorcycle phone mount for your bike.
Related Posts: