5 Best Motorcycle Radar Detectors Reviewed (2021)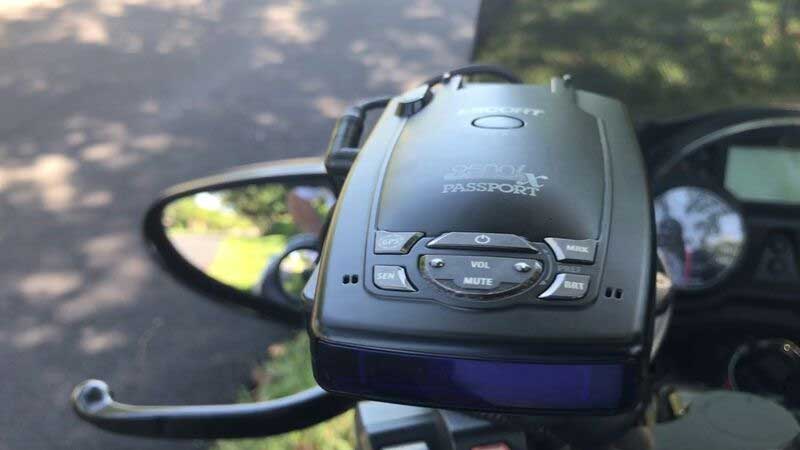 Getting a ticket for being 2mph over the limit is a real bummer. Even if you have the throttle hand of a god, it's hard to consistently stay below a certain speed limit. It gets worse if you ride a liter bike that houses over 200 extremely caffeinated horses.The best of the best riders succumb to this. If only you could detect the detector…Luckily, the gadget exists and it's called a Motorcycle Radar Detector. All you need to do is install it on your motorcycle, and it'll warn you of any cops and speed guns in your proximity. This way, you can lower your speed on time to avoid trouble.We went hunting for the best, most reliable radar detectors for motorcycles. Let's check out the 5 devices that we personally would consider investing in.
Best Overall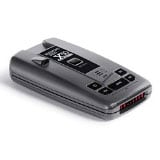 Best Value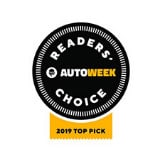 Honorable Mention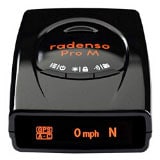 Where Should You Place a Radar Detector?
Placing a radar detector on your motorcycle can be unnecessarily complicated, owing to the fact that nearly all radar detectors feature a suction cup mounting mechanism.The cup might lose its suction and fall off due to the vibration produced by your bike.
Luckily, you can find motorcycle-specific radar detector mounts on the market which let you easily place the device in one of the following spots on your motorbike:
Handlebars: this is the most common mounting spot for a radar detector on most motorcycles. The perfect mount for handlebars should come with rubberized brushings to fit help reduce vibration effect on your device.
Brake or clutch area: This is the ideal place if you want your radar to be close and easy to reach or read. You'll need a pinch bolt mounting to help you secure the device in place.
Mirror: Using a specialized mirror mount, you can also place your motorcycle radar detector on your bike's mirror, where it'll feel stable, well-tightened, and safe.
Fork tube: This is the ideal mounting spot for most Yamaha, Suzuki, Kawasaki, BMW, and Honda bikes. It's also the easiest and fastest way to install radar detector in these bikes—you simply put a stem mount on your bike fork tube and attach the device, that's all!
Motorcycle fairing: This is the perfect installation spot for most cruisers and choppers which come with big fairings. Since fairings are usually made of plastic, they won't affect your device's functionality.
The Best Motorcycle Radar Detector: Our Reviews
1. Escort Passport 8500X50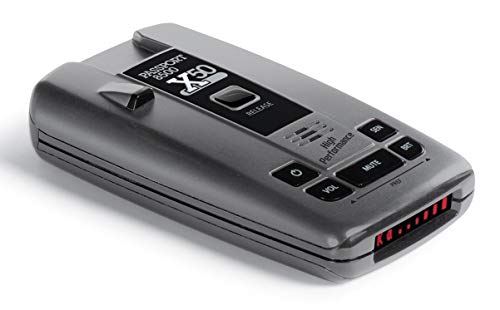 Opening our list of the best motorcycle radar detector reviews is the Escort Passport 8500X50. For those who don't know, Escort has been developing these devices since 1978.The Escort Passport 8500X50 is one of their most popular models due to its unwavering commitment to alerting you that a speed gun is around so you can react accordingly.Unlike most of the radar detectors out there, this model can pick all radar bands—including the X, K, Instant On POP, and Superwide Ka.It boasts a massive database (loaded with all the known speed gun locations through the USA) to ensure you don't miss any speed trap when riding your bike. This database is always being updated to ensure it included even the latest locations.If that's not enough, the radar detector also lets you easily add your own hotspots of the new surveillance areas you come across which aren't included in the database.Another thing that makes this radar detector popular is the real-time ticket protection, where other Escort users can share police locations so you'll be fully aware of all the incoming threats.With this Escort radar detector, you can be assured that you won't receive those false alarms which can put undesired distraction to your journey. It delivers 360-degrees protection and features multiple front and rear laser detectors for maximum accuracy.Overall, this is one of the most popular, most reliable radar detectors you can mount on your motorcycle. It does a great job tracking down speed cameras and police surveillance areas while keeping false alarms low so that you can have trouble-free trips and peace of mind.
Highlighted Features:
360-degrees radar detection

Automatic reduces false alarms

Detects X, K, Superwide Ka, Instant On POP bands

Huge speed gun locations database

Accurately warns you of nearby speed guns

Easy-to-read LED display
2. ESCORT MAX360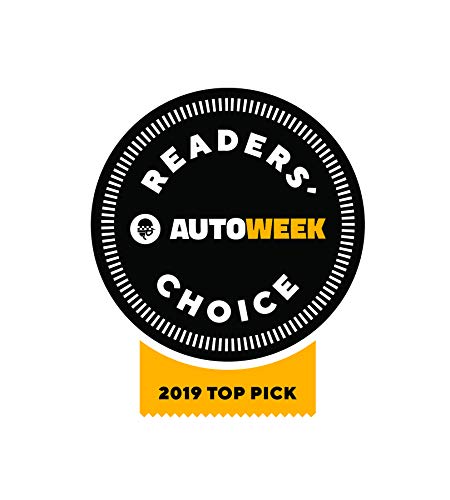 Next up, we have another radar detector from Escort. Like its sibling above, this device also delivers high-performance radar and laser detection to ensure you don't land into the hands of police surveillance.The model comes packed with premium features such as intelligent speed sensitivity which enables it to automatically adjust to your speed for the ultimate precision and false alert elimination. The anti-false technology utilizes the power of GPS and exact frequency to filter out false warnings from moving in-vehicle technology sources, so you only get TRUE warnings.Just like Escort Passport above, this model also boasts of Escort's expansive database of thousands of pre-loaded police surveillance locations, keeping your game ahead of the cops. Plus, it also lets you add your own "hotspots" as you discover them.You'll get to enjoy the Escort Live function, where you receive real-time warnings of nearby speed guns from fellow users of the Escort radar detectors.Since this radar detector will give can also deliver warnings in the form of crystal-clear voice alerts, you can enjoy hands-free operation. And this lets you keep off the screen and focus on the road ahead of you for your own safety.Don't forget that this device also features radar and laser antennas at both front and rear parts and has 360-degrees protection to increase the precision, meaning you'll never miss a single nearby speed gun.If you're looking for a motorcycle radar detector that is super-easy to mount, operate, and locates signals with maximum precision, the ESCORT MAX360 will fit your needs.
Highlighted Features:
Patented anti-false alarms technology

360-degrees protection

Real-time ticket protection

Unique voice warnings for hands-free operation

Thousands of pre-loaded surveillance locations

Backed by Escort's 1-yr limited warranty
3. Radenso Pro M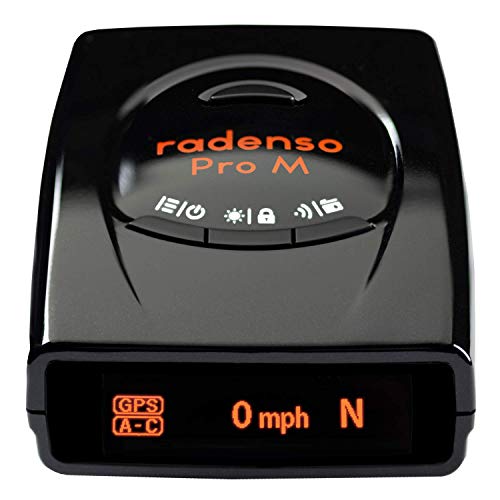 Our 3rd motorcycle radar detector review spot goes to the Radenso Pro M Radar Detector. Radenso might not be one of those reputable brands in the field, but they have packed this particular detector with the perfect combination of features and performance to warn you of ALL the possible threat ahead of the road.One of the coolest things you'll get from this detector is a super-long range. It features top-of-the-line antennas which can sniff trouble from miles away, giving you enough time to prepare for what's ahead. Moreover, this device can detect even the latest in camera enforcement tools, including MultaRadar (MRCD/MRCT) and Gatso RT, significantly minimizing your possibility of getting caught.Even better, it features a database of pre-loaded red light and radar camera locations all over the USA, letting your detector warn you when you get near them.No more false alerts! This detector also features GPS lockout function which excellently mutes radar and laser warnings from non-police locations, ensuring you don't get bothered or distracted by false alerts along your trip.You'll also love the "Low-Speed Mode" which lets you mute X and K-bands if traveling below a preset speed.And if you don't want the police RDD (radar detector detectors) to track you down, this device has got you covered. It comes integrated with advanced shielding science which makes you remain completely invisible to Spectre IV/Elite and VG-2, for worry-free travel.Keep in mind that this radar detector will present you with both audio and visual warnings, which ensure you don't miss a single alert. The OLED screen will even display multiple threats at the same time.
Highlighted Features:
Extended range sensitivity

GPS lockouts block false warnings

Detects Ka, K, X, MultaRadar (CD, CT), and Gatso

Extensive red light & speed camera database

Supports voice alerts

Highway, city, & auto sensitivity modes

1yr Radenso manufacturer warranty
4. Adaptiv Technologies TPX 2.0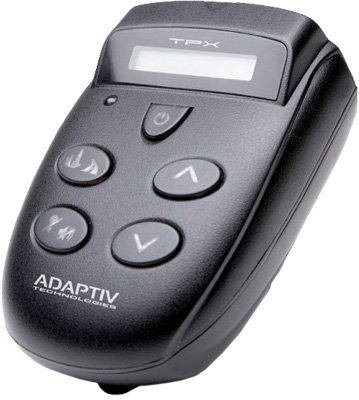 If you're looking for a motorcycle-specific radar detector at an affordable price tag, this is it. This detecting device is a complete upgrade of its predecessor, where Adapativ addressed all the weaknesses of the previous model, including the radar detection performance.One thing that makes this model 10x better than the previous version is the increased sensitivity it comes with. It'll give you warnings of both laser and radar signals from far away so that you can act accordingly and avoid driving right into the trouble. False alarms are also minimal with this detector for total peace of mind when riding.Because this detector is specially made for use with motorcycles, it comes with a weather-protected design to enable it to assist you in detecting all nearby surveillance locations in all weathers.Unlike the earlier model, this upgraded version comes with buttons that you can easily operate with your motorcycle gloves on. The LCD screen too is easily readable, even in direct sunlight.Like the previously discussed models, this tool also delivers both visual and audio alerts. This means if you miss the screen when it lights up, you'll still get the warning via the audio alerts. The detector even comes with a 3.5mm auxiliary out which lets you seamlessly integrate it with your motorcycle comms system.The detector comes with a universal mount plate adapter with standard APMs hole pattern to facilitate easy, hassle-free mounting on different styles of bikes.
Highlighted Features:
Detects all radar & laser brands

Audio and visual alerts

Backlit control buttons

Universal mount plate adapter

Audio jack for connecting with comms
5. Uniden DFR7 Super Long Range
Uniden DFR7 signs off our list of the best radar detector for motorcycles. This is the perfect radar detector for you if you're looking for an affordably priced model that delivers above-average performance and false alarms filtering.One of the key benefits you'll get from using this device is its extremely long range. This means it'll alert you of every speed traps from a mile away, ensuring you never get pulled over. The device even comes with built-in GPS and offers 360-degrees protection, which grants it an insane level of accuracy—helping wipe out false alerts along the way.Not just cops, this detector will also help you avoid getting snapped by those red light or speeding cameras when speeding. They'll give the warning that a camera lies ahead, so you can make the necessary adjustments and save your ass in time.And if you're riding your motorcycle over the top speed allowed in a given city or at the highway, this detector will also warn as you approach the speed limit. This is an excellent way to help you play safe on the roads. Remember you can turn off this function at will.If you want value for money in a motorcycle radar detector, get this Uniden DFR7 today.
Highlighted Features:
Super-long range laser/radar detection

MAX speed warning system

Ultra-bright, easy-read OLED display

Red light and speed camera alert

Audible voice alerts

DC charging cable included
What To Look For Before Buying?
Radar detection performance
The primary reason why you want this device is to warn you of nearby police surveillance spots, to save yourself from being pulled over for overspending.That said, the first thing you should look for in a motorcycle radar detector is its detecting performance.Look for a model that can easily pick up all the signals used by law enforcement officers. A device that picks up Instanton POP, Superwide Ka, K, and X radar plus the 6 bands of laser is a great choice.Models that provide you with a pre-loaded database of all surveillance locations across the USA is also a plus as they ensure you don't miss any speed trap along your trip.
False alert filtering
One of the most common problems motorists experience with radar detectors is false alert filtering.This is because these devices pick up additional signals apart from police speed guns, like the speed signs on roadsides, radar-based collision avoidance systems, automatic door openers in drugstores, and so on.Models which come with different modes also help adjust the sensitivity and selectivity of receiver based on your riding environment.For instance, Highway mode reduces selectivity, while City mode adjusts your device to filter out common signal sources in urban environments.A device that comes with built-in GPS can do a great job at filtering out these false warnings by automatically switching between various depending on your vehicle's location.
Red & Speed camera alerts
Another great feature to have in a motorcycle radar detector is the ability to warn of you any red light cameras as well as speed cameras ahead.This will give you time to prepare and adjust your speed to avoid earning a speed ticket and paying hundreds of bucks in the process.As you might have noted, all the models in our motorcycle radar detector review list above have red camera and speed camera alerts.
Detection range
This one contributes to the overall performance of a good motorcycle detector:Make sure the device you buy can sniff signals from a good distance, say one mile away.The longer the detection range, the more time you'll have to adjust the speed of your vehicle.
Quick Tip: Motorcycle radar detectors can easily distract you when on the road. To avoid this, we suggest that you look for a model that offers you both audio and visual alerts. This will help you keep your eyes on the road for maximum driving safety.
Frequently Asked Questions
1. Is it legal to use a motorcycle radar detector in the US?
The use of motorcycle radar and laser detectors is generally allowed in the US as a device that helps drivers beware of their driving speeds.But remember the traffic rules vary from state to state.At the time of writing this post, only 2 states ban the use of motorcycle radar—Virginia and Washington DC.Of all the remaining states that allow the use of this device, some lay out certain restrictions for them which you need to know before you starting using your radar detector.For instance, California prohibits mounting your radar detector on your vehicle windshield.Make sure you understand your state laws regarding the use of a radar detector before using one to avoid getting into trouble.
2. Can police radar detect that I'm using a radar detector?
Yes, the police can use the radar detector detectors (RDDs) to identify a driver using a radar detector. A good example is Virginia, where radar detectors are illegal, and cops have been using RDDs to detect these devices.Keep in mind, though, that not all radars might get detected by this RDD.While still at it, an experienced traffic cop can easily tell if you're using a radar detector.Mount your radar detector in an unobstructed spot, say the handlebars, is the easiest way of telling the cops: "Hey, I'm using a radar detector!"
3. Does the police radar work in rainy weather?
Yes. Though heavy rains might show some slight impacts on your radar range, it doesn't affect its accuracy in any way.LIDAR (or laser guns), however, will be heavily impacted by this weather since they work on an entirely different principle than the radars.
Final Verdict
Nearly all motorcyclists have a weakness of letting their bike speed get out of their hands. This can feel good until you get pulled over by cops and get slapped with a speeding ticket which costs you money.Grab one of these radar detectors today for peace of mind in your countless future trips with your motorcycle.
See Also: