10 Best Motorcycle Stand Reviews 2021 – Buying Guide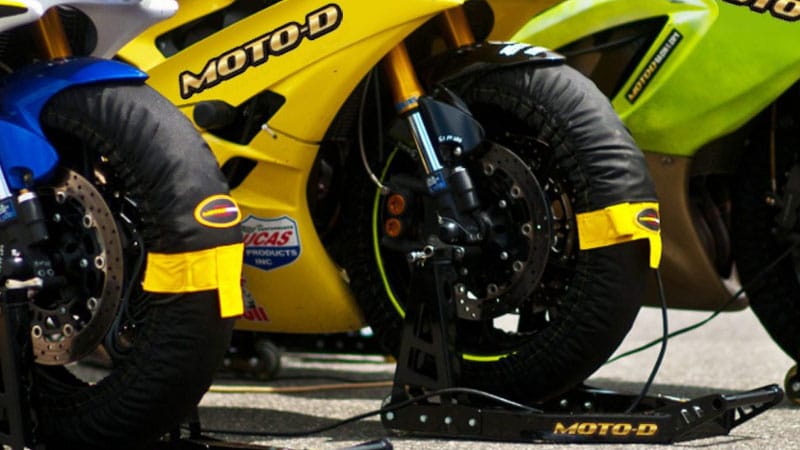 Proper cleaning, maintenance, storage, etc. are some of the key rituals you must perform on your bike to keep it in perfect working conditions.
However, doing any of these things on your bike when it isn't well balanced or supported is not only hard but also a risky affair…you don't want to imagine your 5000lbs plus baby falling on you!
This is where the best motorcycle stand comes to your rescue!
It keeps your motorcycle "grounded"—fixed and balanced—allowing you safe and easy access to its brakes, tires, and wheels for maintenance and cleaning.
Life just got easier, right?
Now, in the below post, we'll delve into more details about the various motorcycle stand types and styles to assist in your buying process.
We'll also look at some of the best stands you can find on the market today.
How to Use Motorcycle Stand?
(i). How to use the rear motorcycle stand:
The rear stand is designed to lift your bike from the swingarm. The most popular models lift your bike using small spools that you need to mount on each side of your bike's swing arm (most bikes already feature the taps where you can easily install these spools).
Other models allow you to lift your bike from under the swingarm.
NOTE: Avoid moving your bike while the stand is on for safety reasons. Even though some stand styles allow you to push/pull your bike a bit, we still recommend you to avoid doing it.
(ii). How to use the front motorcycle stand:
Only when you have successfully installed the rear stand (and ONLY then) should you consider installing the front stand.
Using the front stand is just as easy as the rear stand.
Depending on the style of your front stand, it can lift your bike from under the steering head or from the bottom of the forks. The former method is great in that it lets you easily remove the forks for maintenance. The latter is much easier to use but doesn't allow you to remove the forks.
This is how to use a stand designed to lift under the steering head:
And for the front stand that lifts under the forks:
WARNING: If you're using both the rear and front stand, you MUST start by putting the rear one in place. No motorbike is stable with the front stand only. Chances of tipping over are quite high! And when you're done with maintenance, be sure to remove the front stand first.
10 Best Motorcycle Stand Reviews:
1. Venom Sport Bike Motorcycle Front & Rear Combo Wheel Lift Stands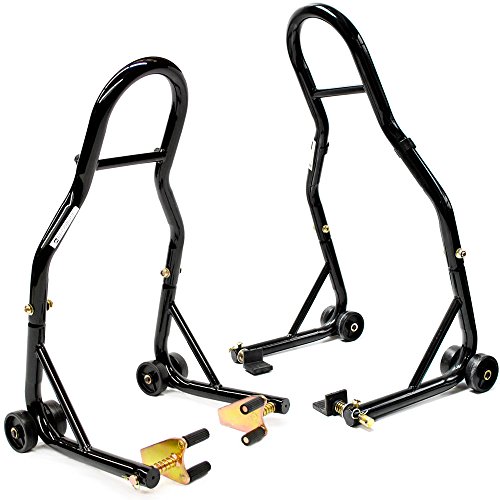 If you prefer using both the front and rear motorcycle stands, this set of rear spools plus front fork will be an excellent choice for you. It allows you to safely lift the rear and front of your bike at the same time for hassle-free repair and maintenance.
Both the rear and front stands are made from high-grade steel metal to enable them to withstand regular use and all sorts of abuse without any signs of tear or wear—for years and years to come.
The rear stand, in particular, comes engineered with a force ratio that translates to easier handling anytime you wish to repair, clean, or store your bike. As for the front stand, it features under-fork rubber-coated adapters. These help ensure your forks don't suffer from scratches or damages during the lifting process.
And unlike most models which feature only 2 wheels, these two stands come equipped with up to 4 legs to ensure easy maneuverability and enhanced stability on different terrain settings.
Highlighted Features:
2. Safstar Rear Wheel Spool Stand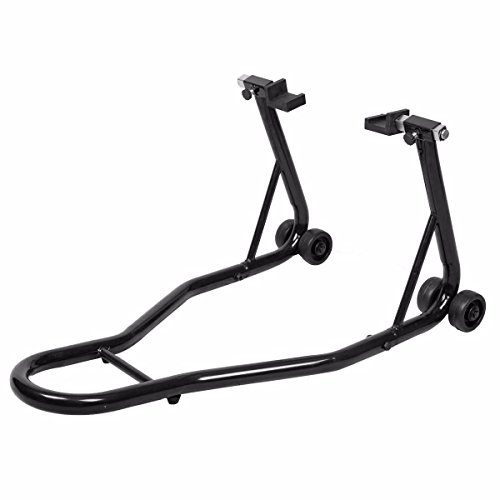 The beauty of a rear-wheel stand is that you can use it alone to lift your bike and perform all the maintenance tasks like cleaning, changing and removing tires, and more. This Safstar Rear Wheel Spool Stand is of the best-rated rear stands you can find on the market today.
Despite going for a steal price, this stand provides you with some cool features that ensure hassle-free maintenance of your bike. It comes with a durable, welded steel construction which enables it to hold up to the weights of different bikes for years without getting torn or worn up. Even better, it features a glossy black finish which is resistant to rust and corrosion.
The easy to install and operate stand is also designed to be easily adjusted to fit most sports bikes. This is good news for riders who own various motorcycles or repair shops that deal with a wide range of bike models.
If you want a rear motorcycle stand that gives you the real bang for your buck, we highly recommend you to consider this Safstar stand as one of your top choices. From sturdiness to ease of use, universal fit, and fair pricing, this stand is hard to beat.
Highlighted Features:
3. Venom Motorcycle Triple Tree Headlift Front Wheel Lift Stand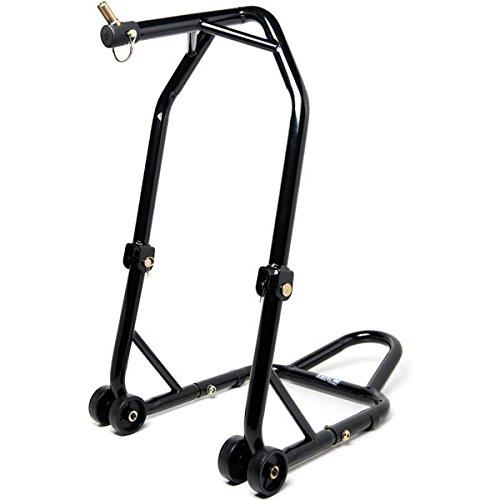 Confused about which stand to use for lifting your motorcycle's front wheel? Well, we suggest that you check out this Venom Triple Tree Headlift front wheel lift stand for safe and easy repair, maintenance and even storage of your bike.
If you have used other front wheel stands before, you're already aware that some models can restrict you on the kind of repair/maintenance job you can carry on your bike. But this stand is unique in that it gives you full access to any part—whether you want to completely remove the front tire for wheel repair, fork maintenance, and so on.
What's more, this stand comes with up to 5 triple pins included in the box to ensure it can work with virtually all the sports bikes out there. These pins include 0.704" (18mm), 0.668 "(17mm), 0.645" (16.5mm), 0.588" (15mm), and0.507" (13mm).
Like all its siblings, this Venom is constructed using extra- heavy-duty steel metal, which translates to extended life and durability regardless of the conditions you use it. It's also incredibly easy to install and use for everyone.
Highlighted Features:
4. Excel PST-004 Gold Universal Triangle Motorcycle Stand
This is probably the most cost-effective motorcycle stand you can find on the market today. Featuring a nicely built form and a lightweight design, this stand cost you less than 20 bucks but offers you remarkable features and features for a great performance.
Just like the high-end stands, this model features heavy-duty steel construction to enable it to hold up to the weight of any bike and last long, even with daily use. On top of it, it features a zinc coating which shields the metal from rust and corrosion for maximum longevity.
Note that this stand comes with an incredibly compact and lightweight design, so you can easily take it with you to the trail
What's more, its welded tip is designed in such a way that it can fit virtually any motorcycle ranging from 80cc to 500cc ground pounders. As long as you use this stand to lift bikes within this range, it'll allow you safe and easy access to your bike parts for cleaning, maintenance, and even storage.
Highlighted Features:
5. CHN FW-1 Front Wheel Stand
Also appearing on out top motorcycle stand review list is the CHN FW-1 Front Wheel Stand. The stand might seem simple and flimsy at a glance…but don't judge it by its looks. It's popular among riders for a reason.
This stand is constructed using heavy-duty steel metal to reinforce it tenacity and grant it the strength it needs to keep your bike lifted while you work on it. It's incredibly easy and straightforward to assemble, even for beginners.
Riders go bonkers about the stand's phenomenal ability to fold out to enable you to lift your motorbike by the front steering head tube—ensuring maximum access to all the parts for struggle-free repair, maintenance, and cleaning.
Because this front stand comes with a kit of 5 of the most popular sized head lift pins (including 13mm, 15mm, 16.5mm, 17mm, and 18mm) to ensure you have the right pin for working with your specific bike model.
Don't forget that this stand features up to 4 wheels for increased stability when using it on various terrains.
Highlighted Features:
6. Tusk Motorcycle Wheel Balancing and Truing Stand
Your bike's wheel maintenance just got easier with Tusk Motorcycle Wheel Balancing and Truing Stand! If you're primarily concerned about balancing and truing your bike wheels, we highly suggest that you get your hands on this pro-grade wheel balancer and truer today.
One of the key features that enable this stand to perform its job exemplary well involves the adjustable frame rails. This means you can customize the rails to fit the wheels of different sizes (up to 21 inches), allowing you to balance and true just any bike.
Another exciting thing about this stand is its fantastic ability to center everything up! Its secret lies in the center shaft which features wheel centering cones—measuring 15mm tapering to 32mm…plus it rides on up to 4 bearings to eliminate friction for smooth performance.
For professional-grade wheel truing, you can fully trust the wheel's adjustable rim pointer.
Don't forget that the stand features a leveling bubble and adjustable rubber feet at its base to make it level on all terrains for exceptional balancing results.
Overall, this is a quality tool to have as a motorcycle rider. With all features and functions you need to balance, lace, and true your motorcycle wheel, this is an extraordinary stand that will offer you an exceptional value, whether you use it at home or your motorcycle repair shop.
Highlighted Features:
7. MOTO-D Swingarm Front & Rear Motorcycle Stands
Still looking for a dependable rear and front motorcycle stands combo? If yes, this MOTO-D is another excellent choice for you. Unlike the other combo that popped up on our motorcycle stand reviews earlier, this model is constructed using aluminum for maximum durability while keeping its weight to an incredible low.
Unlike most of the stands out there that feel wobbly and come with exaggerated price tags, this stand feels pretty stable and is incredibly easy to use. It has undergone recent upgrades like incorporating front roller design to promote easy front wheel lifting.
The most recent update involves the adjustable width turn knobs and universal fitment design. This means you can use this stand to lift all the modern sports bikes with rear swingarm spools.
The brand behind this stand constantly keeps upgrading it based on the previous users' feedback to ensure it satisfies all your unique needs and expectations. This, along with unmatched stability and easy-operation, is probably the reason why the stand enjoys wild popularity from riders all over the globe!
Highlighted Features:
8. ALPHA MOTO All in One Front Or Rear Universal Motorcycle Lift Stand
You haven't found a special motorcycle stand until you use this all-in-one model from Alpha Moto. Believe it or not, this stand has a 3-in-1 design, which means you can use it as either front or rear stand, in up to 3 ways!
Yes, you can use it in 3 ways. Firstly, you can use it as a rear motorcycle stand with the L-shaped adapters for bikes with no spools; or as a rear stand with V-shaped adapters for bikes with swing arm spools; or as a front stand with pin lift adapters which you underneath your bike forks.
Keep in mind that all these adapters needed to enjoy using the multi-purpose stand are included in the package at no extra cost.
The stand itself is constructed using heavy-duty steel metal to enable it to withstand regular usage and all forms of abuse and last a lifetime. It's also worth noting that the stand is fully adjustable to promote the fitment of various sports bike—ranging from 125cc all the way up to 2000cc.
Apart from the adapters, the package also contains all the nuts, bolts, washers, and hardware required for a successful installation. And even though it comes with no instructions, assembling it straightforward and fast for you.
Highlighted Features:
9. Trackside Rear Paddock Stand
If you're looking for the best motorcycle rear stand, you can't go wrong with this Trackside Rear Paddock Stand. We picked this stand given its great versatility—it can work with the spool as well as flat bottom sided swing arms—enabling it to work with multiple motorcycle models.
Like all the other stands that made it to this list, this paddock stand is also made of quality materials, male a heavy-duty 38mm steel tubing plus a tough, durable coat for maximum durability and longevity.
It comes equipped with dual wheels, which makes the lifting process smoother. It lifts your bike stably and securely so that you can focus on the maintenance, repair, or cleaning work.
While most stands feature a permanent handle, this Trackside presents you with an easily retractable handle so that you can easily remove it for easier storage or transportation of the stand. The multi-fit support bracket that gives this stand its versatility is included in the box.
Highlighted Features:
10. MaxxHaul 80401 Regular Motorcycle Wheel Cleaning Stand
Finally, on our best motorcycle stands, we have the MaxxHaul 80401. If you find it hard to give your baby's tires and rims a thorough clean due to lack of balance and support, this stand is made to solve your problem for good.
The stand is straightforward and easy to use. It eliminates the need to move your bike back and forth to reach the different areas of the rims. Not only cleaning. The stand will let you hassle-freely conduct other maintenance tasks such as checking tire pressure, finding air valve system, chain maintenance, and more.
You never have to worry about your bike tipping over while working on it. The stand features 6 non-slip rubber feet plus diamond knurled rollers that increase grip-ability and hence your bike's stability.
As you can easily guess, this top-rated motorcycle stand speaks quality inside out. It boasts of a high-quality aluminum frame which will not corrode and rust easily…and is easy to clean.
Above all, this stand features a genuinely compact design plus it feels as light as a feather (at only 4lbs)— making it easy to store or transport to any place.
Highlighted Features:
What To Look For Before Buying?
Durability
This is probably the most important thing to look for in a motorcycle stand. The quality of materials used to construct a stand directly affects its performance.
You don't want to buy a stand made from cheap materials that shakes and wobbles, or even bends, under the weight of your motorbike.
Look for a stand made from quality materials like heavy-duty stainless steel for exceptional durability.
If you want a stand that's lightweight and durable at the same time, consider aluminum stands.
Above all, ensure the metal is coated with a rustproof and corrosion-resistant cover to ensure maximum longevity.
Safety
You want to look for the safest stand that holds your bike securely when you're working on it.
A stand that can't support and balance your bike is a recipe for tipping, wobbling, and the risks that come with all these misfortunes.
Look for models that come with stable wheels that solidly ground the bike so that it doesn't move an inch during maintenance. Models which more with up to 4 wheels are great for achieving unmatched stability on different terrains.
Some stands even come with adjustable rubber feet to for enhanced stability.
TIP: Check what the users are saying about how the stand you want to buy holds up when supporting a motorcycle. These feedbacks will give you firsthand on the level of safety of the stand you're eyeing.
Brand
Sometimes you have to take the easiest way to find a quality product that guarantees the ultimate performance and customer satisfaction.
And that path involves purchasing from the top brands.
That said, some of the top brands for motorcycle stands include Pit Bull, Woodcraft, and Venom.
These are US-based companies that 100% manufacturer their stands in the US for unmatched quality and dependability.
Other features:
Frequently Asked Questions
1. Are motorcycle stands universal?
While some motorcycle stands come with adjustable design to allow for universal fitment to most sports bikes, some stands work with specific types of bikes.
It's, therefore, important for you to check the manufacturer's recommendation on the types of bikes that work with your stand.
2. Do I need to use both the front and rear motorcycle stands?
Not really. In most cases, you can use the rear stand to lift your bike to allow you to safely and easily access all the parts for maintenance, repair, cleaning, and so on.
If you want to check the front wheel and forks, however, you might need to use a front stand as well.
BUT…remember that you can't use the front stand alone as it makes your bike more vulnerable to tipping. You first install the rear stand and then the front one.
What if you want to store your bike to prevent flats in winter? Well, in that case, we advise you to use both the front and rear stands to raise both wheels off the ground to ensure they all survive through the harsh winter weather.
All in all, the front stand is usually optional in most cases.
3. Can I use the center stand alone when working on my bike?
It's not recommended to use the center stand when carrying out maintenance jobs on your vehicle.
As the name suggests, this stand extends from the bike's center, and it lifts your entire bike's, eliminating the need for a rear or front wheel. It's also permanently fixed on your bike, so you can use it anywhere, anytime
Unfortunately, a motorcycle lifted using only the center stand isn't quite stable, and chances of falling or tipping over are quite high.
We still urge you to use the front wheel (plus the front stand, if necessary) to carry out repair and maintenance on your bike.
Final Verdict
A motorcycle stand is a must-have tool if you want to carry out your bike's maintenance, repair, and cleaning the easiest and safest way.
It helps you lift your bike while keeping it supported and balanced so that you can enjoy safe and easy access to all its parts for struggle-free maintenance.
The best motorcycle stand is one that's made of durable materials to enable it to hold up to the weight of your bike regularly and last for years. It should be easy to assemble and operate. And should be lightweight for easy storage or transportation.
If you want to make your bike maintenance easier, order one of the popular motorcycle stands we've just recommended to you above.
Pit Bull Fork-Lift Front Stand
The fully-faired design of sport-bikes, and their usual lack of a center stand can make routine maintenance a pain. Pit Bull Fork-Lift Front Stands go a long way in reducing that pain.
As the name would suggest, this Pit Bull stand raises the front end by wedging under the front fork arm bottoms. The physics of the raising action involves the leverage of the handle and the movement of the contact wheels. Simple and effective.

An added bonus of the design is that it eliminates metal-to-metal contact, so there will be no scratching or gouging as you raise your bike. The rubber wheels also mean that you will not scar up your garage floor.

There are some telling comments from Cycle Gear's customer base. One user said, "I have heard so many great things about these Pitbull stands. All of them are true. They are very easy to use. Excellent for preventative maintenance on your bike. Very stable, the bike will not tip over while on this stand."

And how is this for a solid testimonial? "I use these in the garage for general storage and at the track. They are so solid. Don't even think about buying any other stand."

The stand runs about $150 and works on most-sport bike designs.
See Also: