10 Best Motorcycle Storage Sheds – Reviews & Buying Guide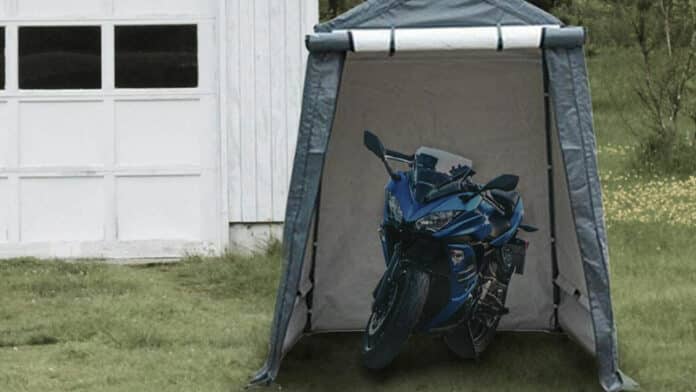 No garage? No problem!
If you don't have garage space where you can safely house your baby when not riding it, you'll like how great alternative a motorcycle shed can turn out to be. It shields your bike from elements and theft and keeps it in clean condition.
The recent months have seen a flux in these storage units due to high demand. This poses a challenge when trying to choose the best motorcycle storage sheds for your bike from the numerous units.
Our team of research experts has analyzed dozens of motorcycle sheds based on their unique features, material quality, customer feedback, and sales statistics. The results from this research enabled us to compile the 10 top-best storage sheds available for you below.
What size shed do I need?
Motorcycle sheds come in varying sizes, so the first thing you should ask yourself before buying that shed is whether you're getting the right size.
Choosing the right size of a shed for your bike boils down to these 3 factors:
1. Amount of space available
The first thing to consider when deciding on the right size of a motorcycle shelter is where you wish to place it in your home. You want to ensure you have dimensions of the dedicated area so that you don't end up buying a model that can't comfortably sit in the available space and leaving you frustrated.
2. Number of bikes
The best motorcycle sheds size for you should also comfortably accommodate all the bikes you have. If you only have one bike, then you can look for a small shed that fits a standard bike, say a 5x10ft. If you have more than one bike, however, you'll need to invest in a bigger shed, say 10×10ft. or 10×15ft.
3. Your budget
Your budget will also affect the size of the shed you buy. The bigger models usually come at a higher cost compared to the smaller ones. If you only need to store one bike, there's no need to invest in a huge model that requires you to dig deeper into your pockets.
However, keep in mind that the budget of a shed isn't solely affected by size but other factors such as the quality of materials, brand, construction process, etc.
PRO TIP: In addition to the above 3 factors, you should also keep in mind that you'll need extra space for sagely putting or removing the motorcycle from your shed to ensure it doesn't get caught up and scratched along the way. You should also account for the space needed for storing additional motorcycle gear, e.g., helmets.
10 Best Motorcycle Storage Sheds:
1. Lifetime 6405 Outdoor Storage Shed
Our listing starts with this outdoor motorcycle storage shed from Lifetime. 100% made in the USA, this shed measures 8 by 10ft. And features quality construction that ensures safe storage for your motorcycle for years to come.
One of the most notable features of this shed is its high-arched, steel-reinforced doors. These offer you a pretty wide opening (4 x 6ft. high) so that you can easily get your bike in and out of the storage unit without any hassles. Moreover, the doors are lockable to ensure the security of your valuable possession.
You'll be awed by the amount of natural light inside the shed, all thanks to the 4 large skylights it comes fitted with. You'll also appreciate the 2 screened vents that ensure the shed stays well ventilated, 2 corner shelves for placing your gear, and shatterproof windows for enhanced security.
The unit's floor boasts a high-density polyethylene floor that doesn't easily crack, peel, or chip under the pressure of your ride. The surface is also resistant to slipping, oil, and stains. As for the roofing, it comes with a steep design to allow water and snow to drain quickly.
Assembling this shed is fairly easy, though it might take some time if you're not as handy. All in all, the process is easy, and anyone can handle it.
Highlighted Features:
2. Quictent Heavy Duty Motorcycle Shelter Shed
The Quictent Heavy Duty Motorcycle Shelter shed is a well-fitted shed with a retractable cover and can accommodate any motorcycle. It will appeal to all kinds of riders.
Manufactured using a black heavy-duty powder-coated aluminum 1mm frame, the shed can handle strong winds and is rust resistant.
The shed's cover is made from oxford fabric with a polyethylene lining. Therefore, it can protect your motorcycle from harmful ultraviolet rays, and it is water-repellent.
The shed has threaded ventilation windows to ensure adequate airflow inside the cover and avoid moisture accumulation. The mesh openings allow airflow while preventing dust entry.
Quictent equipped the shed with a TSA code lock for better security. Yes, the lock may not be the toughest, but it provides an extra layer of protection. It's better than not having any lock.
Remember to properly anchor the shed in the ground, especially if you live in an area that experiences regular strong winds.
Highlighted Features:
3. Keter Factor 8x6 Large Resin Outdoor Shed
You don't need to own a garage to store your motorcycle safely. This motorcycle outdoor storage unit offers your bike protection similar to that of a garage. It's made using heavy-duty polypropylene resin material that doesn't absorb water, making it resistant to rotting and rusting.
The shed features strategically placed vents that facilitate free air circulation in and out of the shed to ensure your valuable possessions get plenty of fresh air and stay in a top condition. You'll quickly notice the 2 shelves inside this shed where you can safely place your riding gear and other tools/accessories.
You'll have peace of mind knowing that no unwanted hands can get to your motorcycle and gear, thanks to the lockable doors that come with this shed. The included window ensures plenty of natural light enters this light so you won't feel lost in a dark and musty place when you get inside this unit.
The heavy-duty resin design of this shed enables it to withstand all types of climate and resist peeling, cracking, or denting due to exposure to elements. Simply put, this Keter motorcycle shed is designed to serve you forever.
Highlighted Features:
4. ShelterLogic 8' x 8' Shed-in-a-Box All Season Unit
On a tight budget? If yes, this economically priced outdoor motorcycle storage shed is for you. When fully assembled, this unit measures 8' x 8' x 8', which translates to sufficient space for storing a standard bike while leaving enough space allowance.
The unit is designed to last a lifetime. This is agreeable given its all-steel metal frame that feels incredibly tough and durable. This frame is also coated with a premium powder-coated finish to prevent rust and corrosion, peeling, or chipping.
Unlike most of the motorcycle storage solutions in its price range, this unit is designed for use in all seasons. It features an extremely tough triple layer woven polyethylene cover that's heat sealed for the ultimate water-resistant. It also comes treated for fade resistance for increased longevity.
The interior of this unit features a high-profile white color that helps with illumination so that you can easily spot what you're looking for. A double zippered door panel plus a back panel are included in this unit for privacy and security.
Highlighted Features:
5. Mophorn Motorcycle Shelter Shed
Mophorn produces numerous motorcycle accessories, and they have a positive reputation for only releasing quality products.
Their motorcycle shed stands true to its reputation. It is made from durable components, and it comes at a reasonable price.
The shed's mainframe utilizes galvanized steel poles, slotted together and joined to two base plates. If you seek to fix the shed in a particular location permanently, you can bolt the base plates into the ground.
The shed has soft anchors for a temporary location that will provide adequate support.
Additionally, the Mophorn motorcycle shed has a covering made from hardened 600D polyester material. The cover protects against wind, dust, and ultraviolet rays (UV) and is waterproof.
The stand has adequate space. It measures 41.5" in width, 106.5" in length, and 61" in height. 
It can accommodate different types of motorcycles. However, riders with larger cruiser motorcycles with addons or extra luggage may feel squeezed.
Hence it would be advisable for such riders to compare their bike's dimensions with the shed before making a purchase.
Mophorn takes security seriously. Thus their shed has a lock arrangement to keep your bike secure from thieves.
The shed also has windows on both sides, allowing for sufficient air circulation.
Highlighted Features:
6. Arrow Yardsaver Compact Galvanized Steel Storage Shed
If you're looking for the best motorcycle storage shed that will fit in limited spaces, consider this model from Arrow as one of your top options. It comes with horizontal paneling that enables it to easily fit in narrow, hard-to-fit areas or against the wall of your house.
The shed measures 4x10ft. When fully set up and has a capacity of 38sq.ft. This is more than enough space for storing your motorcycle while leaving enough allowance for wiggling.
The outdoor metal shed is made using electro-galvanized steel and treated with zinc to resist rust and corrosion. It also features UV resistant steel panels that shield it against rotting and extreme weather.
You'll also note the shed's sloped steel roof that's designed to reduce water pooling while offering easy storage for tall equipment and gear. The double swing doors provide hassle-less entry/removal of your bike and other tools. Since the doors are pad-lockable, you don't have to worry about thieves getting hold of your ride.
Assembling this shed is quite easy as it comes with pre-drilled and pre-cut parts. You can choose to place it directly on the ground, concrete, or wood platform. The neutral exterior eggshell looks enable this to blend well with most home exteriors and lawns.
Highlighted Features:
7. The Bike Shield Motorcycle Cover Shelter Storage
If you live in an apartment and don't have any garage space available, you can count on this portable motorcycle garage to keep your baby safe and secure. The easy, self-enclosing shelter comes ready to cover your motorcycle and protect it against damages and harsh weather such as rain, sun, dust, etc.
The motorcycle tent features a highly durable fabric coated by a heavy polyurethane coating on the inside. This coating exhibits excellent water repellent properties on the outside to ensure 100% waterproof motorcycle shelter.
All the 16 installation square pipes, cross plate, and locking system are also galvanized to promote durability.
Note that both sides of this tent come with ventilation windows to dehumidicate the inside of the shelter and allow free airflow in and out of it.
Thanks to its "No contact" exhaust pipe and cover design, you can park your bike as soon as you stop riding it. No more waiting for the exhaust pipe to cool down! Note that this motorcycle shield works with nearly all motorcycles from popular brands, so there's a good chance it will work for your specific bike model.
Highlighted Features:
8. Rubbermaid Roughneck Storage Shed
This is, doubtlessly, one of the best motorcycles sheds ever built! It's not only designed to introduce good looks to your backyard but to withstand all weather conditions and ensure your bike and other valuable tools and equipment are safe and secure come rain come sun.
Rubbermaid injects iconic durability in the construction of this motorcycle storage container. This is seen in the use of double-wall construction using an all-weather resistant material for maximum strength and ability to withstand exposure sot elements.
What's more, it boasts an impact-resistant floor for added durability. Keep in mind that the shed material doesn't rot or rust; it's also dent and leak-resistant, making it 100% maintenance-free.
If you always live in fear that someone might get away with your ride while parking it outside, this shed is made to give you peace of mind. It presents you with steel-reinforced doors that are lockable to keep off thieves.
Other cool features of this shed include 2 windows that allow natural light to easily enter and illuminate the entire space. And rear vents that allow fresh air to circulate around your bike.
Highlighted Features:
9. LIFETIME 6402 Outdoor Storage Shed
It's in the DNA of Lifetime manufacturers to designed good-looking and long-lasting storage shields. And this Lifetime 6402 outdoor shed is no exception. It'll offer shelter to your bike and shield it from elements and unwanted hands for years and years.
You'll appreciate how spacious room this unit is to ensure your motorcycle stays comfortable in there.
It comes with a durable and robust design. This is characterized by a dual-wall high-density polyethylene panels plus steel wall supports. The wall is UV-protected to prevent signs of fading due to exposure to weather.
On the sides of this shed stands shatterproof polycarbonate windows that allow light to illuminate the interior.
If you're looking for a motorcycle shelter with floor, you'll also be pleased to note that this unit comes with a wall with slip-resistant design to ensure your own safety when inside there.
The screened vents allow fresh air to slip into the storage unit for dehumidification to ensure your bike stays in top condition.
As for the roofing, the shed features a high-pitched steel-reinforced roof that facilitates quick drainage of water and snow. And like most units discussed above, it boasts steel-reinforced doors that are lockable to keep thieves off your motorcycle.
Highlighted Features:
10. Duramax Sidemate 4'x8' Vinyl Storage Shed
If space is an issue in your home, you'd want to consider this unit as the ideal motorcycle outdoor storage for you. This is because it comes with a unique design that enables it to easily fit in tight places, such as on narrow corridors on the side of your house. It features a 6ft. height, which makes it ideal for HOA height restrictions.
Despite being able to stand on the side of your home, this shed will offer you plenty of storage for safely accommodating your motorcycle. And when not storing your bike, you can use it to hold other items such as lawnmowers, garden equipment, bicycles, etc.
The shed is made using all-weather durable and long-lasting vinyl resin material that doesn't require any maintenance. It features an equally sturdy roof structure made from durable metal that has been tested to support up to 20 lbs./sq.ft. snow.
Note that the unit's wide (30-inch) door opens on either side of the shed to allows for hassle-less putting in or removal of your bike. And like most of the other storage solutions discussed above, this door also is pad-lockable to enable you to keep your bike safe from thieves.
How To Buy Motorcycle Storage Sheds?
As you set out to shop for the best motorcycle storage shed, you need to have some prior knowledge on how to choose the right model for you. This way, you won't get overwhelmed at the sight of numerous sheds and end up making a wrong choice.
Below, we'll outline the top aspects to focus on when looking for your bike's shelter:
Ventilation
This one assumes the first position for its immense importance. Why is that so? You wonder.
Condensation will occur when you park your motorcycle inside a tent or shed.
Condensation is how matter changes from a gaseous state into a liquid state. It mostly happens when moist air inside the shed cools off and turns into water droplets.
If you don't take immediate action, the moisture may lead to corrosion and rusting of your motorcycle.
Consequently, your bike will have dulled paintwork or even develop costly mechanical problems.
Because of this, you need a unit with mesh or vent windows to facilitate sufficient airflow within the shed. 
These ventilations will keep your bike rust-free and dry throughout.
Some sheds even have built-in fans, though they may be expensive.
Size
Motorcycle shed manufacturing companies design their units in different sizes to meet the storage needs of various riders.
It wouldn't be ideal to buy a shed covering only half your motorcycle or one you can't even get in while the bike is inside.
Hence you should get a shed that provides adequate space. 
Start by looking at the space you have, whether in your backyard or front lawn, the size of your motorcycle, and the number of motorcycles you have.
A quick tip: Measure your motorcycle's height, length, and width and compare them to the dimensions of the shed you want. Don't forget to allow for wiggle room in the measurements.
So that you will be able to walk in and out of the bike shed without much hassle.
Weather protection
The top reason you want to buy a motorcycle shed is to protect your bike from the weather elements, which can cause much damage.
You should take time and find a shed that can withstand the winds, heavy rains, snow, and hot sun.
Start by looking at the type of materials the shed is made from. 
If you choose to go for a permanent structure, pick one made using premium quality plastic or steel. Such materials will withstand all weather conditions.
For portable motorcycle sheds, check that the cover fabric is dust, water, wind, and ultraviolet resistant.
Additionally, the material must be tear-proof to avoid holes that could lead to condensation. Which you already know will lead to mechanical issues.
Ease of assembly
While looking for a motorcycle shelter, you need to consider how long it will take to set it up or take it down.
No one wants a product that will put them through lots of trouble while assembling. 
Some are easy to set up, some are complicated, and others are difficult or may need professional assistance. The choice is up to you.
However, to avoid extra costs and time wastage, we recommend choosing a product with all the required accessories for installation.
Additionally, the shed should have a well-written, easy-to-understand how-to-set-up guide. 
Some sheds usually have estimated setup times written on their boxes. Yes, most may be misleading, but they can give you a picture of what to expect.
You can also read a few customer reviews about the product before making a purchase.
Indoor vs. outdoor
You will have to decide whether to go for an indoor or outdoor shelter. Here the choice will vary concerning your particular needs. 
For starters, if you have a sizeable garage but need a shelter to keep dirt and dust away from your bike while in storage, you can buy a light indoor bike shed.
An outdoor bike shed will be more practical for riders without garages. 
It will act as a mini garage and protect your motorcycle from harsh weather conditions and thieves.
Permanent vs. portable
Following our previous point about outdoors and indoors, you will also have to choose between a portable or permanent motorcycle shed.
Permanent sheds require a dedicated location around your house, like the backyard. These structures are secure and can withstand all four seasons, providing your motorcycle with all-around protection.
People in colder areas prefer permanent sheds for their ample protection against harsh weather.
However, permanent bike sheds are hard to set up, require more space, and are expensive.
On the other hand, a portable shed is better suited for riders seeking a temporary solution and has less working space.
These sheds are easy to carry around, especially if you are always on the move. Plus, they are cheaper and take little time to assemble.
Unfortunately, portable motorcycle sheds have a couple of drawbacks. They may not handle weather elements efficiently and are easy targets for thieves.
Other factors:
What should a motorbike shed be made of?
The type and quality of material used to make a motorcycle shed directly affect its ability to protect and secure your bike. Different types of materials are used to make different motorcycle shelter models. And each material has its highlights and downlights.
Let's look at the most common materials used to make these sheds and their good and bad sides.
Wooden shed
These sheds combine the strength and simplicity of wood to offer your motorcycle a home where's is safe from elements and thieves. One benefit of sheds made from wood is that they come at incredibly affordable rates compared to units made with other materials. However, you might have second thoughts about investing in wood sheds, given that they're vulnerable to termites and require regular maintenance.
Metal shed
If the security of your bike is a priority, then you should consider going for a metal motorcycle shed. Top manufacturers who make these types of sheds use long-lasting steel metal to make units that last a lifetime.
As expected, these models usually come with a locking system that ensures no unwanted access to your bike. Some models even come with a way to clamp your bike to the floor to make it even harder for thieves to take it away. Besides security, metal shelters also do a great job keeping elements such as dust and moisture off your bike.
However, keep in mind that sheds in this category can be quite expensive for you. Don't be surprised when you find a metal shed on the lower end of the price ladder costing around $900.
Plastic shed
A plastic shed is doubtlessly the most popular type of shed among motorcycle owners looking for a permanent structure. It acts as the intermediary between the wood and metal sheds. It offers you a cheaper alternative to metal while lasting longer and providing better security than wood.
A high-quality plastic shed will withstand various weather conditions and keep your bike from elements all-around the year. They even come with lockable doors to help enhance the security of your bike.
But the level of security offered by these sheds is still way below that of a metal shed, so we still insist that you consider a metal unit if you think you possess one of the most valuable motorcycles.
Tent motorcycle storage
The sheds under this category are usually made from heavy-duty fabric with weather-resistant properties. And are usually favored by bike owners looking for a portable storage solution for their bikes. They usually collapse into a compact size for easy carry to any place.
They're also easy to set up and uninstall, making them a convenient travel accessory for you.
Some of the tents are designed to cover the bike only while others feature a floor. The latter will offer better protection to your motorcycle.
Unfortunately, you don't expect these tents to be as durable and secure as the other models mentioned above. Some might not be able to withstand critical weather conditions, leaving your bike exposed to elements. It's also easy for a thief to break into the tent and get hold of your bike.
Maintenance Tips
If you're planning to buy a motorcycle storage shed or have one already installed in your home, the following maintenance tips will help you take care of it and make it last beyond your expectations.
Inspect the shed for breakages
Once in a while, you should inspect your motorcycle shed for any breakages. Detecting those small cracks or shingles and fixing them in time will help prevent them from developing into bigger problems. Key areas to inspect include windows, doors, walls, roof, floor, etc.
Look out for leaks
Apart from breaks, you should be on the lookout for possible leaks around the shed. The last thing you want is a single drop of water finding its way into your shed and landing on your motorcycle and promoting rust. Carefully inspect all the areas where leaks are likely to occur, including the roofing, corners, floor (yes, water can get into your shed from the ground), seals, windowpanes, walls, and so on.
TIP: Discoloration on your shed wall or ceiling may be a good indicator that water is leaking into your shed. Darker patches indicate drips.
Check the ventilation
A well-ventilated shed is a key to ensuring your motorcycle stays protected from moisture resulting from condensation. Make a point of regularly inspecting your shed vents to ensure they're working alright. Eliminate any debris and grime that might be blocking them and affecting their functionality.
Clean the exterior
You should also make an effort to clean your motorcycle shed once every year, regardless of what material it's made of. This is a good practice that helps eliminate dust and grime. It also helps remove mildew as well as stains before they become permanent. If you go with the power wash option, stick to a low pressure setting to avoid damaging your shed.
Clean the interior (floor)
Cleaning the interior is as simple as sweeping the floor thoroughly. This doesn't take much of your time but will go a long way in keeping the shed tidy. Pests prefer settling in areas that stay untouched for long, so cleaning your floor regularly will make it hard for them to stay inside your motorcycle shelter.
Repaint the siding every few years
After around every 5 years, you should consider giving your shed siding a touch-up. This is especially true if you're using a wooden shed. The painting will help the shed reclaim its glory and last longer. You'd want to use an oil-based paint to seal up all holes to ensure no pests finds its way in.
Keep it pest-free
The last thing you want to see in your motorcycle shed are pets crawling around. You may not have them now, but they'll show up with time if you don't take the necessary precautions outline below:
Inspect the shelving system
If you're lucky to have a shed that comes with some shelving system, then you know how helpful it is for keeping your riding gear and other bike accessories organized. It's crucial to inspect these shelves regularly to ensure they stay in good condition. If they start sagging or developing any tear and wear signs, be sure to fix them ASAP.
More maintenance tips:
Securing and Locking Your Motorcycle Shed
Motorcycles are expensive, so you can't compromise on security. If you keep your motorcycle in a shed, what measures can you put in place to ensure some thief doesn't break in and steal your bike?
1. Upgrade the Door Lock
If you bought a shed instead of making one yourself from scratch, the locking system is probably subpar. In the case of a wooden shed, the lock may be either a "tower bolt" or a "hasp and staple" locking mechanism.
Hasp and staple: a hinged "hasp" attached to the shed's door folds over onto a "staple" (looped) which is secured to the door frame.
Tower bolt: a metal rod on the door which slides across to anchor in a cylinder-shaped cradle secured to the door frame.
Both these two locking mechanisms are good enough to shut the shed door. However, you must pair them with a padlock. Note that the padlock is usually not included in the shed purchase.
Still, the padlock may not be enough security, because the locking mechanism is likely secured to the shed using simple wood screws. If the thief comes along with a screwdriver, he can easily remove the woodscrews, step into your motorcycle shed, and take your motorcycle.
Tower bolt locking system is the one which uses wood screws. As for the hasps and staples locking, the hasps provide protection for the screw fittings. That means a thief can't unscrew them. However, simple wood screws are relatively weak, which means the thief can easily rip out the entire locking mechanism out of the door using a crowbar.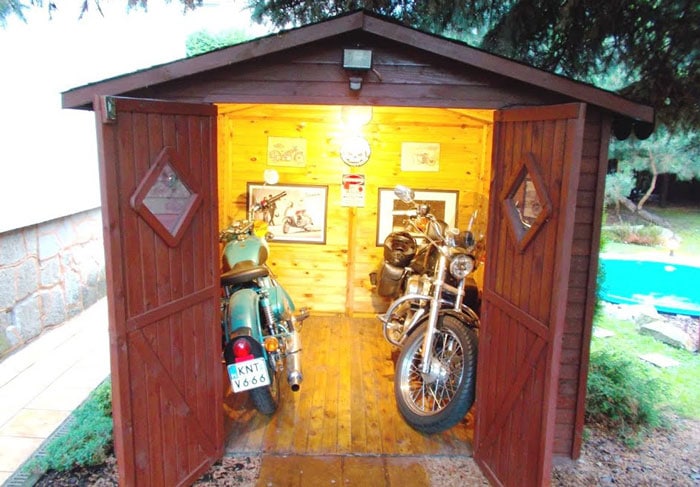 Option one: Carriage bolts
This is where the upgrade comes in. Take out the wood screws and instead use carriage (or coach) bolts. These ones penetrate through the entire piece of wood until they protrude on the other side, where you should secure them with a nut and washer. If you want extra security, you can add super glue to the nuts once they are in place.
The beautiful thing about carriage bolts is that their heads are smooth and therefore impossible to unscrew. Furthermore, they make ripping the fittings out of the wood a lot more difficult.
Option two: Metal plate
An extra or alternative upgrade would be securing a metal plate to the back of the door. This makes it impossible for a determined thief to cut out the lock.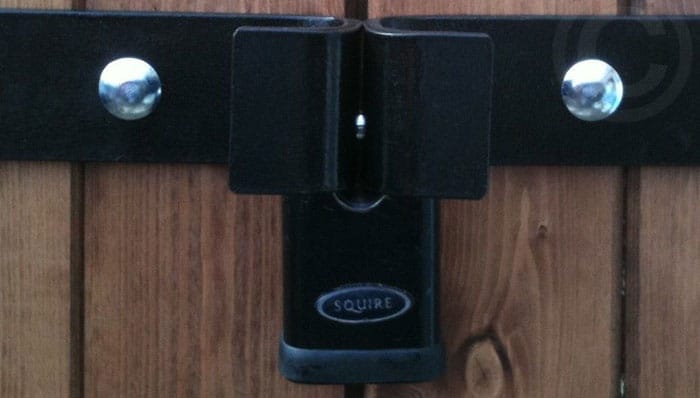 Option three: Replace locking mechanism
If you are using a hasp and staple mechanism or tower bolt, we have already mentioned that they pose a security risk, especially if you have cheap and flimsy ones.
You should replace these flimsy locking mechanisms with something heavy duty. It should ideally be a lock certified by Sold Secure.
Unfortunately, even heavy duty hasp and staple locks use simple wood screws. If that is the case, you will have to upgrade that to carriage bolts as we have described above.
Option four: Pick your padlock carefully
The best option for a padlock is a closed (also known as shrouded) shackle padlock. That's because the shackle is hard to crop.
As with the lock, you want a padlock that has a security certification, ideally from Sold Secure.
You should ensure that the shackle is not too thick to fit through the staple, lest you buy a padlock you can't use.
Option five: Add extra Locks
For extra security, you can add extra locks at the bottom and at the top of the door. This will ensure an intruder doesn't succeed in prying it open or splitting it at either end.
You can also consider adding a shed bar which spans across the width of the door.
However, beware that too many security measures might make a thief believe that what you are storing in the shed is really expensive and therefore worth putting in more effort to acquire.
2. Upgrade the Door Hinges
As is the case with the lock system, the door hinges of the wooden shed you bought are probably secured to the shed using simple wood screws. As we have shown, such screws are easy to either unscrew or to simply pry the hinges off the door using a crowbar.
The same solution we provided when talking about lock systems will work here too: remove the screws and replace them with carriage bolts.
Cheap hinges can be hammered, removing the pin that holds the hinge's two parts together, which then enables the thief to simply pull the door outwards. In good hinges, the pin is well protected. If your hinges look flimsy or cheap, you should take them out and install heavy duty alternatives.
It goes without saying that you should upgrade both the hinges and the lock. If you do only the lock, then the thief will target the hinges – and vice versa.
3. Secure the Windows
The windows are a weak point because thieves can easily gain access by smashing the window. Not all sheds have windows. To secure the shed windows, there are a number of options to consider:
You can get rid of them entirely. Board the windows up using thick plywood from the inside.

You can spray on-glass frosting on the window, which ensures people outside can't see what's inside by looking through the window.

You can add reflective film to the window from the inside – this enables you to see outside but prevents people who are outside to see into the shed.

Curtains are also an option.

However, most of these options don't stop a thief from breaking in. To do that, you can build or buy lockable shutters for the windows.

You can replace glass windows with shatter-proof styrene panes – laminated glass is also a good option.
4. Motorcycle Alarm Lock
Another safety option, not on the shed per se, but on the bike itself, is a motorcycle alarm lock. A motorcycle chain lock is an alarm system which produces a loud sound that scares off thieves and alerts you that someone is trying to take your bike.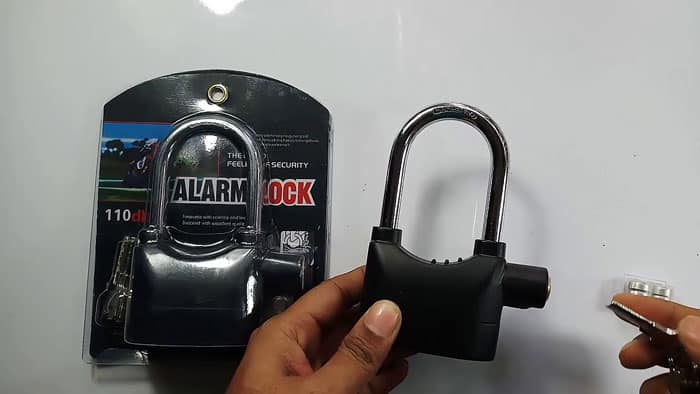 A determined thief will come prepared for the job, so you should always make sure the measures you take to secure your bike are effective. In the end, the bike belongs to you and how much you value it is up to you.
Frequently Asked Questions
Q: Is shed ventilation necessary?
Yes, ventilation is a necessity. Proper airflow will prevent condensation, which can cause rust in critical motorcycle parts from occurring.
Q: What should a motorcycle shed be made of?
The primary material for a shed will largely depend on a rider's situation. A plastic motorcycle shed will serve you well if you have limited space or a tight budget.
They are affordable, easier to assemble or dismantle, and somewhat durable.
On the other hand, a shed made from metal or wood will be a better option if you have the space and funds. They are versatile and long-lasting. Plus, you can keep other items in them.
Q: Why do I need a motorcycle storage shed?
A motorcycle storage shed is crucial if you don't have garage space where you can store your bike when it's idle. Parking your motorcycle outdoors not only exposed it to elements and risk damage but also makes it easy prey for thieves.
By storing the bike in a shed, you not only keep it from being exposed to elements, but you also secure it against thieves and keep it clean and in top working condition.
Also, if you're traveling far from home, a portable shed will help protect your bike from elements and hide it away from prying eyes of thieves.
Q: Can you build your own motorcycle shed?
Absolutely! If you have the basic building skills, necessary materials, and time to spare, then you can erect your own motorcycle shed from scratch.
The advantage of coming up with your own shed is that you're in control of how you want it to look lie its size, materials to use, place of installation—everything!
But the advantage of buying a ready-made unit is that it'll save you a lot of time, plus it comes with all the natural benefits of a typical motorcycle shed.
Q: How much is the motorcycle storage shed?
The cost of these storage sheds can vary widely depending on the aspects such as size, manufacturer, construction materials, and unique features.
You should expect to spend a minimum of around $200 for a simple model with all the basic features. And about $600 plus for a higher-end unit with better safety and protection and cool features.
Q: Will bike rust when kept in a shed for long?
One of the functions of a well-made motorcycle shed is to keep off elements such as moisture from reaching your bike.
As you already know, moisture is a key ingredient for the formation of rust and corrosion. If you invest in a quality shed, therefore, you don't have to worry about rust catching up with your motorcycle, no matter how long you put in there.
If possible, you might want to check on your bike once in a while just to ensure it's in good condition.
Final Verdict
You don't have to keep stressing about where to keep your motorcycle, especially if you lack garage space. A motorcycle shed can accommodate your bike and keep it protected from harsh weather elements and away from unwanted hands.
We have listed the best motorcycle sheds and their features and provided expert advice on choosing one that suits your needs. Hopefully, you will pick one from our comprehensive list.