10 Best Motorcycle Tie Down Straps – Reviewed Thoroughly 2020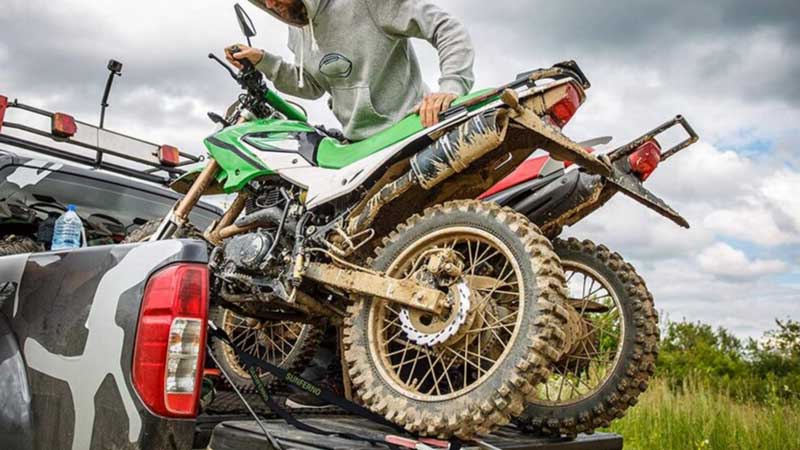 Not sure which is the best motorcycle tie down straps for securely and safely holding down your precious baby for transportation?
If yes, you have come to the right place.
Our research team has taken dozens of motorcycle tie-down straps through complex analysis—based on their types, sizes brand, cost, and previous customers feedback.
We have concluded that the 10 tie-down straps below are the most reliable you can get on the market today.
How Do You use a Strap?
As you already know, a motorcycle tie down strap helps you safely hold down your beloved motorbike for easy transportation in your truck or trailer.
It helps ensure your bike doesn't keep shifting and tipping during the journey…or even falling off the truck—preventing it from sustaining costly damages.
Now, using these straps isn't hard as you might be thinking.
Below, we'll take you through a generalized guide for using any strap to safely secure your bike for transportation.
Remember to put back the kickstand to see if it'll be protected during the trip or needs adjustments.
WARNING: We strongly warn you against attaching the straps to your handlebars as this cause huge damages to your motorcycle.
Ensure all the straps are well (evenly) tensioned, the ratchets are closed, the ties are secure, excess straps are tied up safely, and the kickstand is way up above the trailer floor.
TIP: A well-secured bike should cause minimal bike movement and more trailer motion when shaken. If the opposite happens, that's a RED flag!
10 Best Motorcycle Tie Down Straps:
1. AUGO Ratchet Tie Down Straps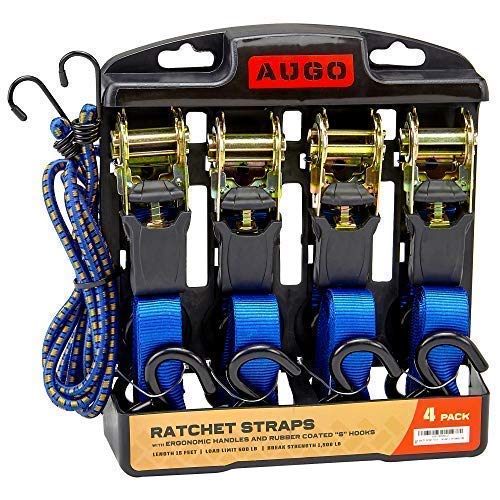 You can now travel with peace of mind and entirely focus on the road knowing that your motorcycle is safely secured in your trailer with these Augo straps. The straps are designed with industrial-grade standards, giving them the strength they need to hold your bike in place.
These Augos are designed to withstand everyday tear and wear, and won't easily fray…even with regular use.
We love the extended length of these straps, with each measuring up to 15 ft. long. This ensures that you can use them to use tie down motorcycles of different sizes—from the smallest to the tallest.
Another fantastic thing about these straps is their S-shaped hooks, which feature rubber coating to help prevent possible scratching of your bike.
Overall, this is one of the best tie down straps deals you can get on the market today. The full package features 4 straps, so you have a set for both the front and rear of your bike. Several accessories are also included in the box, like the 2 hi-quality bungee cords, for your own convenience.
Highlighted Features:
2. RHINO USA Soft Loop Motorcycle Tie Down Straps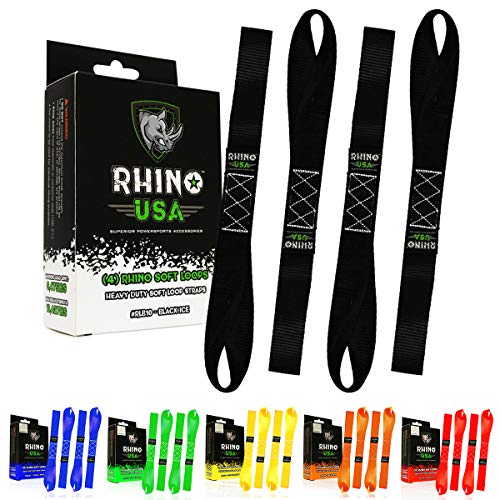 Rhino USA is a trustworthy brand that has made a name for itself by consistently manufacturing quality products across the whole of the US. They accompany all their products with 100% satisfaction or your money back, which makes their tie down straps a risk-free investment.
These particular tie-downs feature new and improved build quality, which makes them superior to all their competitors. They're designed using a unique polyester/silk webbing blend—translating to the softest but toughest quality you've ever seen.
Moreover, these straps have been lab-tested and shown to have a maximum breaking strength as high as 10, 427lbs! This simply means there's nothing the straps can't handle.
Regarding size, these straps measure 17-in long by 1.65-in wide, plus 3.5-in premium diamond stitching section which ensures extra security and peace of mind.
Unlike the straps with S-hooks, which can easily damage your handlebars or swing arms, these soft straps will offer exceptional protection to your paint and chrome. And will let you create tie-down points even in tight areas where hooks can't fit.
Highlighted Features:
3. AUGO Soft Loop Tie Down Straps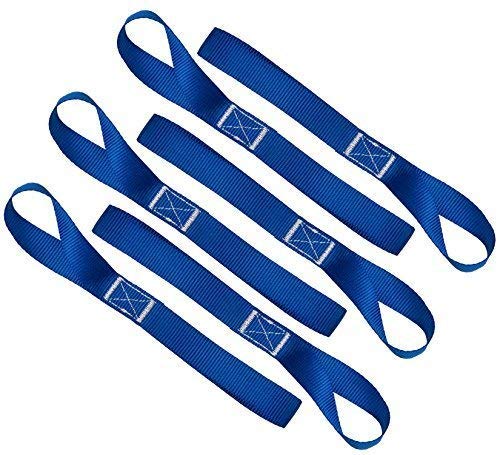 Who doesn't want the real bung for their buck? This Augo pack right here is a value pack. It comes at an incredibly low cost while offering you up to 6 tie-down straps that you can keep on hand and use when the need arises.
Like our previously discussed tie-down straps, these too feature top-quality construction for maximum strength and durability. The heavy-duty strap is constructed using quality polyester for extremely durable, long-lasting performance. Mind you; it features a truly impressive load capacity of up to 15000lbs and a maximum breaking strength of 4,500lbs.
The fact that these are soft loop straps, with no hooks, means that it'll also help preserve your bike condition and prevent the possibility of scratching.
Using these straps is straightforward…each strap is designed to wrap around and inside itself, creating an instant soft tie-down point where you can easily attach your S or J-hook. The straps can work with any type of tie-downs you have at hand.
Because this is a multi-use tie down straps, you can also use them to secure your ATV, UTV, scooters, wheelchairs, dirt bikes, lawn/garden equipment, and more.
Highlighted Features:
4. RHINO USA Motorcycle Tie Down Straps
Like the previous Rhinos, these straps are also built to the highest quality standards and have been lab-tested for a maximum break strength of up to 3328lbs. So, you can drive with peace of mind knowing your motorcycle is well secured and safe through the trip.
The heavy-duty straps feature an extra-long (8feet) and thicker design (1.6-in thick) to give them the strength they need to handle different loads. Thy boas of stainless cam buckle tie down set w/integrate soft loops, which some bikers prefer to the ratchet straps.
Note that the full bend S hooks come chrome coated and feature spring-loaded keeper clips for the ultimate safety.
Just like all its sib lings, these Rhinos are also incredibly easy to use and will easily fit around all designs of handlebars, swing arms, tight spots, frames, and other tricky areas where regular hooks have a hard time getting into.
With 100% manufacturer satisfaction guarantee, you can buy this package with confidence, knowing that you can always return it if it doesn't meet your needs.
Highlighted Features:
5. Sunferno Ratchet Straps Tie Down
Unlike the average tie down straps which break down after 6 months, this professional-grade Sunferno has a maximum hugging potential of 2500lbs and up to 1250 load capacity—enabling it to survive through years and years of use.
Even better, these tie-downs are customized to be incredibly easy and safe to use for you. They feature rubberized hooks and handles, which protects not only your hand but also your precious trailer from getting scratches that can leave it looking ugly.
Another thing that sets these tie-downs from the rest is their unique hook design. While most straps feature open hooks, these Sunfernos come with closed hooks to prevent the webbing from slipping off the hook when you're driving. This will surely give you peace of mind knowing that your motorcycle will stay in place no matter how rough the road gets.
Keep in mind that the straps' webbing has UV-resistant material plus strong sewing pattern for lifetime use.
Since this package comes with 4 straps, you'll always have an extra set that you can give you to your very best friend.
Probably the best part about the manufacturer behind this high-quality tie down straps is how they go the extra step and offer you a 30-day money-back guarantee, so you don't need to be skeptical when buying it.
Highlighted Features:
6. FORTEM Ratchet Tie Down Straps
If you're tired of cheaply made tie-downs that get loose after only a few uses, it's time to upgrade to sturdier and more durable straps. And these FORTEM Ratchet Tie Down Straps are among the best motorcycle tie down system you can get for unsurpassed strength and longevity.
So, what makes them far superior and safer than most of the competition?
The secret lies in the super-sturdy polyester net webbing which offers exceptional resistant to abrasions and weather (it barely absorbs water which can lead to rot, mildew, and molds). And unlike nylon, this web is highly stretch-resistant. What's more, the straps feature weather-resistant stainless steel hooks which further enhance their durability.
To keep it simple, these straps deliver an impressive maximum load capacity of 500lbs and a break strength of 1500lbs.
The webbing comes with high-visibility green color which you can easily locate. The straps have a total length of 15ft. to enable them to safely secure cargo of any size into your truck or trailer.
The complete package features 4 sets of tie-down straps (4 metal ratchet buckles, 4 soft loop straps, and 4 heavy-duty hook straps). All these come in a convenient carrier bag for easy carry.
Highlighted Features:
7. RHINO USA Ratchet Straps Heavy Duty Tie Down Set
Delivering an exceptional break strength of up to 5208lbs (lab-tested), this heavy-duty tie-down set is a true RHINO when it comes to securing your premium motorcycle and other heavy equipment for safe and secure transportation.
The 4-pack set comes with a total of 4 straps, each measuring 1.6" by 8'. While they might not sound like the longest straps, they'll still clamp down various sizes of motorcycle bikes without compromising tensile strength.
Note that all the straps boast of virtually indestructible PolyBlend webbing, which has excellent anti-abrasion, anti-wear, and ant-stretch properties. The coated S-hooks come with safety clips which further enhance maximum security when trailering your precious cargo.
The complete package also included up to 4 soft hooks which help ensure the straps don't leave any dents or scratches on your paint or chrome. The hooks feature chromoly coating for extra durability. And have padding to prevent scratching of your motorbike.
Highlighted Features:
8. Tank Straps Motorcycle Tie Down Straps
Tank motorcycle straps give a whole new meaning to motorcycle tie down straps. They deliver unparalleled maximum webbing break strength of up to 10,000lbs, making them one of the few most robust straps currently available on the market today.
100% made in the USA, the manufacturer uses 1st quality polyester yarn, which is a stride above the commercial and industrial grade models. This explains the reason for the straps' extremely high break strength and lower stretch factor.
These straps feature a unique endless loop design, with no hooks to move in and around your motorcycle. This goes a long way in ensuring your bike doesn't obtain scratches during the clampdown.
With a safety lock ratchet system, you can rest assured that these loops won't loosen up or pop, no matter how aggressive the bumps might turn out to be. The hardware (buckle) too, has an exceptional break strength of 4,400lbs, further enabling the straps to withstand the heaviest tie down jobs.
If you want the strongest tie down straps that can withstand thousands of lbs, without any stretch signs, get these Tank Straps today!
Highlighted Features:
9. PowerTye 1½" x 6½ft Heavy-Duty Ratchet Tie-Downs
Also a 100% genuine product of USA, this PowerTye is another set of motorcycle tie-downs that are made of quality materials in and out—from the webbing materials to the ratchet assembly, hooks, —everything!
The 6.5ft long tie downs have a maximum break strength and load capacity of 3,000lbs and 1000lbs respectively, making them ideal for securely holding down a wide range of motorcycle sizes and weights.
Most of the straps out there come with metal hooks…but these tie-downs take a completely different path with the carabineers. And if you ask bikers who have used these tie downs before, they'll tell you that these are far much more superior and reliable than typical metal hooks.
The soft ties integrated into the straps also do a great job of keeping away the metal hooks from your bike. This ensures your motorcycle doesn't get any scratches during transportation.
Don't forget the rubberized handles and release lever which feels more comfortable in your hands…and make ratchet adjustments faster and easier.
If you transport motorcycle commercially, or simply want something to transport your precious cargo safely and securely over long distances, pick this straps set.
Highlighted Features:
10. Premium LOCKDOWN Ratchet STRAPS
Last on our list of the best motorcycle tie downs, we have these premium lockdown ratchet straps. These straps measure 15 feet each and have a maximum break length of 3372lbs—enabling them to safely haul your motorcycle and other precious cargo like ATVS, bikes, kayaks, and more.
The straps boast of heavy-duty webbing construction which can withstand loads up to 1686lbs over and over again, without stretching or losing their tensile strength. These straps appear wide and have a thickness almost twice of what you find in other straps for extra strength and minimized stretch.
We like that these straps come with double J-hooks design plus extra-large stitching reinforcement—which work closely to ensure your motorcycle remains securely anchored throughout the trip.
For your own convenience, the straps' handles and release levers feature large molded finger-through design. this makes them feel comfortable and offer you extra leverage when using them, for proper tension of the straps.
Apart from the ratchet straps, this package comes with BONUS soft loop anchoring straps for added support.
Highlighted Features:
What To Look For Before Buying?
Type of tie downs
The two most popular types of straps include the cam buckle and ratchets.
Ratchets are preferred due to the excellent levels of sturdiness and tension they deliver. Cam buckle straps are also reliable when it comes to securing your motorcycle…but they're way below the ratchets.
What type of tie down straps to buy should depend on your unique needs and preferences.
Materials
When you think of all the abuse and harsh weather elements that these straps go through, it only makes more sense that they should be made of superior quality materials.
That said, the most common materials you'll find on the market include nylon and polyester.
Nylon straps are more affordable, but they won't serve you for long.
For maximum strength and longevity, we suggest that you go for polyester straps. These might be a bit pricey, but they're the best in terms of resistant to abrasion, stretching, and harsh weather elements.
Break strength & load capacity:
Each tie down strap comes with its unique break strength and load limit. These aren't just fancy figures as they speak a lot about the capabilities of any given strap set.
As for the break strength, you want to get a strap which comes with as high break strength as possible. In most cases, this value is 3 times the load capacity or so.
The weight of your cargo should help you determine the ideal load capacity. Ideally, you want to get straps whose load capacity is higher than the overall weight of your bike.
For instance, if you own a 600lbs. bike, go for 1000lbs load capacity or more.
Length
The size of the motorcycle you wish to strap down should dictate what length of straps to get.
As you might have noted in our reviews above, most of the straps have a length between 8 and 15ft. Needless to mention, taller bike models will require longer straps.
While length if primary here, we also advise you to check other dimensions like the width and thickness (broader and thicker straps offer better tension and last longer).
WARNING: Don't sacrifice quality for money when shopping for tie down straps. In the end, you'll have to pay much more for your motorcycle damage than what you saved when you settled for the cheap tie downs.
Frequently Asked Questions:
1. Are motorcycle tie down straps universal?
NO. The tie down straps come with varying break strengths, load capacities, lengths, and materials qualities.
For this reason, they have totally different capabilities when it comes to clamping down your bike.
Don't just use any straps to hold down your bike. Instead, check their load capacity and break strength to ensure the straps will withstand your bike's weight.
Also, taller bikes will require you to use longer tie downs.
2. How should I store my tie-down straps?
When not in use, proper storage of tie down straps is crucial to ensure they continue working and to extend their lifespan.
Experts recommend that you separate your straps from the assembly, fold the webbing neatly with the help of industrial-grade band during storage
NEVER store your straps when they're moist to avoid damaging (weakening) the webbing.
3. How many straps do I need to secure my motorcycle properly?
In most cases, you might only need to tie down the front part of your motorcycle. This means you'll only need 2 straps for the job.
Adding an extra strap to make it 3 won't hurt.
Using 4 straps to clamp down your motorcycle is real overkill, so if you don't trust 2 straps, go ahead and strap 4 of them—i.e., both the front and the rear of your bike.
Final Verdict
You don't want to take chances when transporting your costly and delicate investment. You want to get the strongest, most durable ratchet straps to help you securely and safely hold down your bike in the truck/trailer during road trips.
These straps come in varieties, and choosing the perfect model could be confusing as hell. That's why we have tailored this guide for you to help you easily navigate through these varieties to the most suitable straps for your specific motorbike.
If you order one of the 10 best motorcycle tie down straps that we have carefully picked for you above, you'll have peace of mind knowing that you'll get your bike as you tied at the beginning of the trip.
See Also: