10 Best Motorcycle Wheel Chockes – Reviews of 2020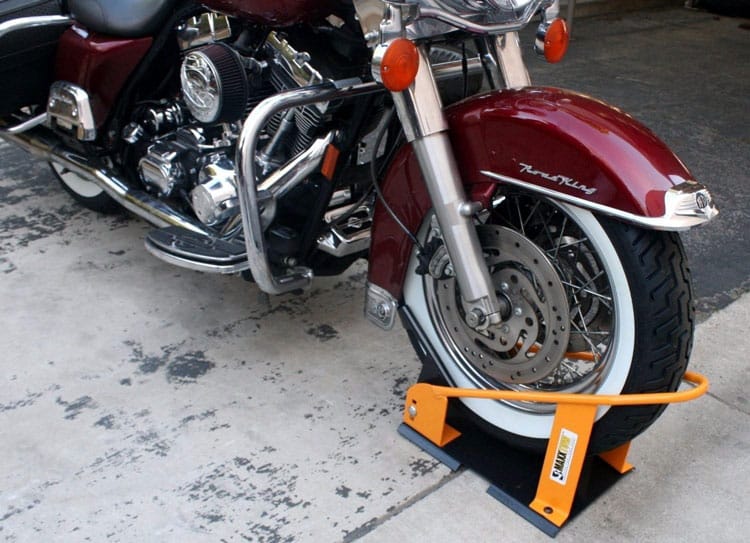 If you own a motorcycle, then you'll eventually find yourself in need of a motorcycle chock. This is a mount for wheels that allows you to prop your motorcycle upright for hassle-free maintenance or transportation.
Motorcycle chocks come in varying qualities, with some being sturdier and more reliable than others. This is one of the reasons why motorists should choose the best chock available to them.
In this post, we take a look at the best motorcycle wheel chocks the market has to offer. We also discuss important features to look for during your search.
What Are Motorcycle Wheel Chocks Used For?
As previously mentioned, motorcycle trailer chocks are used to hold a motorcycle in place during transportation and repairs.
Most motorists rely on their emergency brakes for this task, but the tool offers irreplaceable peace of mind.
That said, just how important are the best motorcycle wheel chocks?
10 Best Motorcycle Wheel Chock Reviews
1. Extreme Max 5001.5010 Standard Motorcycle Wheel Chock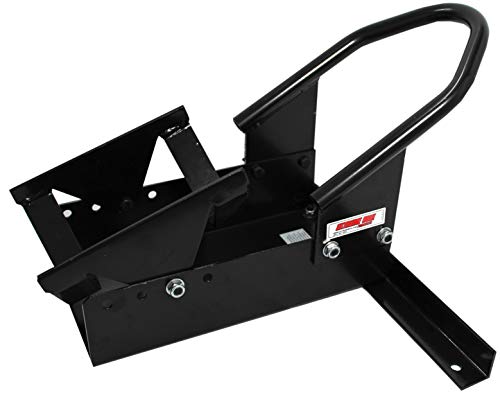 Our pick for best motorcycle wheel chock is the Extreme Max 5001.5010, a product that boasts a brilliant design and matte finish. It is an easy-to-lock chock that automatically locks the front wheel as it is driven into it. The chock is built to last a long time with steel and has a matte black coating that adds to its visual appeal.
It is designed with the probability of transporting multiple motorcycles at once, hence the ability to take up minimal space. This efficiency doesn't compromise your bike's stability during repairs, storage or transportation. The chock is incredibly flexible and can hold 17-21 inch wheels, thanks to multiple rear wheel cradle adjustments.
Also included is a solid front cross bar and boot that provide optimal stability. Bolting the chock together is easy and beginner-friendly. While this product is a standard issue, you can also opt for the deluxe version. The latter comes at an additional cost and includes tie downs, ratchets, metal hooks, safety clips etc.
Highlighted Features:
2. MaxxHaul 70075 Motorcycle Wheel Chock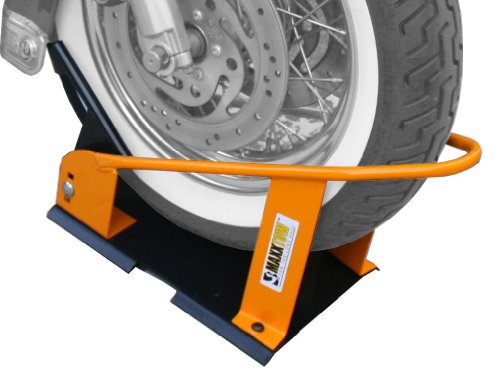 Motorcycle wheel chock reviews wouldn't be complete without a close look at the MaxxHaul 70075. Its ability to cater to wheels of varying sizes is its most appealing feature. It comes with three position brackets that fit most standard motorcycle wheels. Like most chocks, this one automatically locks a motorcycle wheel once rolled into it. It's not hard to use and one person can get the job done.
This is a great choice for someone who wants optimal reliability and stability without breaking the bank. It is reasonably priced and the universal design makes it applicable for most motorcycles. The solid construction is achieved with heavy-duty steel and powder coat finish that increases rust resistance. This ensures a secure hold on your motorcycle and prevents accidents. It also allows for outdoor installation.
Setting up is easy thanks to the included bolts, which you can use to fix the bottom plate to any platform. The pivoting cradle allows users to effortlessly load and unload their bikes.
Highlighted Features:
3. Condor SC-2000 Trailer-Only Chock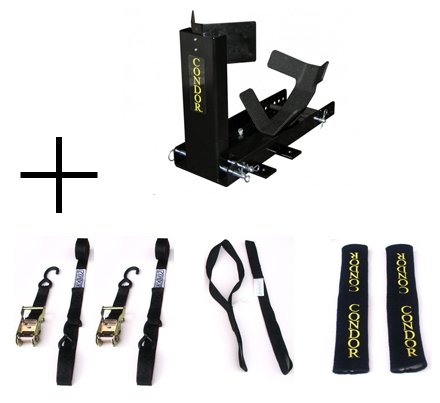 If you are shopping for a motorcycle trailer chock, the Condor SC-2000 is a perfect choice. As a trailer chock, it is capable of securing motorcycles in an upright position on nearly any platform. It can support motorcycles weighing up to 3000 pounds. The chock also accommodates front and rear wheels in sizes 14-22 inches.
A major highlight is the patented locking mechanism that secures motorcycles in an upright position. The adjustable cradle is compatible with different bike types, ranging from dirt bikes to sport bikes. Even with such a high capacity, this chock doesn't require a lot of effort to load and unload.
There are a couple of tie down straps that provide added security. They assemble and release with ease. Over tightening the straps is unnecessary and as such, you don't have to worry about damaging the suspension. Storing the breeze is easy since all you have to do is fold it down.
Highlighted Features:
4. MaxxHaul 70271 Adjustable Motorcycle Wheel Chock
If you are looking for a high capacity motorcycle front wheel chock, the MaxxHaul 70271 is worth considering. It has a maximum capacity of 1800 pounds. Even with such high strength, this chock is incredibly versatile and doesn't require assistance. It features an adjustable wheel locking system that fits wheels ranging from 15" to 22" in size and 3"-5" in width. That's quite the variety of motorcycle wheels.
The chock boasts durable construction with steel and corrosion resistance coating. This allows for outdoor installation and lasting reliability. The cradle offers six adjustment positions, thus added versatility. It also provides unrivaled stability and security.
The MaxxHaul 70271 is a self-locking chock that mounts on any flat surface. It utilizes your bike's weight to keep itself upright. The anchor points provide extra security.
Highlighted Features:
5. Dragway Tools 1500lbs Fixed Motorcycle Front Wheel Chock
The Dragway Tools 1500lbs Fixed Motrocycle Front Wheel Chock is a great purchase for someone who needs smooth operation. It is ideal for storage, trailer use and requires minimal maintenance. You can use it on a trailer, pickup or any flat surface. The chock fits most standard front motorcycle wheels in sizes 16-21 inches. This makes it a perfect fit for sports bikes and lager ones like the Harley Davidson.
It boasts durable construction with high grade alloy steel for stability. It also lends more strength, allowing for a maximum capacity of 1500 pounds. A single individual can easily load and offload a motorcycle using this chock. It is designed to lock and hold the front wheel in an upright position.
There is a safety latch that ensures the bike doesn't back out during transport. The chock automatically releases the wheel when you pull back on the bike. There are two adjustment holes on the upper shoe that offer added versatility. Also featured are four rubber feet, which provide a firm hold on the ground.
Highlighted Features:
6. GoPlus Adjustable Motorcycle Wheel Chock Stand
This is an incredibly reliable motorcycle wheel chock that offers great features at an affordable cost. It will keep your motorcycle in an upright and stable position during storage or transportation. It boasts a sturdy design that includes steel bars for optimal stability and strength. All of the metal parts are powder coated to prevent corrosion for years to come.
Highlights include a pivoting bracket with a V-shape. It accommodates most standard motorcycle tires ranging from 76mm to 130mm. The bracket is held in place by a central round bar that also allows for adjustments.
The GoPlus Adjustable Motorcycle Wheel Chock uses a patented locking mechanism to secure your bike in an upright position on any flat surface. It is extremely strong and can support up to 1800 pounds. You can park heavy-duty motorcycles or fully loaded bikes without a problem. The crossbar features two bolts that provide added stability even when parking on angled surfaces.
Highlighted Features:
7. EGO Bike Heavy Duty Motorcycle Wheel Chock
This is a powder coated motorcycle wheel chock built with strength and stability in mind. It offers great features at a reasonable price. It can accommodate 15-22 inch diameter wheels that are 76-130mm wide. It is built to last long with solid steel and a powdercoat finish that increases weather resistance.
There are two eye loops that allow for convenient strapping. The free stand design of this chock makes it easy to mount on a trailer bed, truck, floor or any other flat surface. Like most models on this list, this one automatically secures the wheels.
It is adjustable, hence a suitable choice for most motorcycle wheels. The chock is quite strong and boasts a load capacity of 1800 pounds. This is a great purchase for someone who is always in a hurry and doesn't want to bother with the small details.
Highlighted Features:
8. Kafe Motorcycle Wheel Chock
If you want performance and reliability at an affordable price, the Kafe Motorcycle Wheel Chock is a good contender. It is specially designed for hauling v-twin/cruisers, scooter motorcycles, street bikes and sports bikes. It is reasonably priced, and doesn't require special tools to install.
Highlights include tension bars that are fully adjustable to accommodate wheels of varying sizes. The bars also anchor the chock against pickup and trailer sidewalls from 51" to 87" wide. This chock boasts sturdy construction with aluminum, a material that's known for its light weight. It is incredibly strong and weather resistant.
The lightweight design makes this chock easy to carry around, and so does the convenient carry handle. Installation is easy thanks to the included manual.
Highlighted Features:
9. Pingel Series E Track Wheel Chock System WC65EF
There are multiple reasons why the Pingel Series E Track Wheel Chock System made it to our list of best motorcycle wheel chocks. For starters, it is entirely made from heavy duty, thick walled steel material. At only 12.5 pounds, it is lightweight compared to others out there and easy to carry around.
It installs and secures easily on recessed and floor mounted Series E tracks. You don't have to worry about your motorcycle backing out during transportation either. It allows you to locate your motorcycle anywhere along the track for secure positioning. The chock accommodates most standard wheels and takes up minimal space.
Also featured is a lustrous chrome finish that not only improves weather resistance, but also lends visual appeal. The aluminum mounting place improves longevity while quality fasteners ensure a secure hold. This chock system accommodates wheels up to 6.5" wide.
Highlighted Features:
10. Baxley LA Trailer Motorcycle Wheel Chock
The Baxley LA Trailer Chock is a pretty and practical product that will easily become a family heirloom. Made up of heavy duty steel, it is certainly designed to provide years of reliable performance. Its crinkle finish lends a great appearance.
The chock only weighs 28 pounds. Thanks to its steel construction, it can support fully loaded motorcycles. It adjusts to fit wheels ranging from 80mm to 180mm wide. It has a smaller base that provides additional room for your bike while being compact enough to store multiple bikes side by side.
This is a great chock for enclosed trailers and compact spaces. The wheel cradle is about 13" long and rubber-capped feet provide added stability by reducing movement on the truck bed. Installation is easy and a single person can use the chock to secure a motorcycle.
Highlighted Features:
What To Look For Before Buying One?
Choosing the right motorcycle wheel chock is just as important as purchasing the best motorcycle jump starter for emergency situations.
In this section, we give you important tips to keep in mind during your search…
Stability
This is one of the most crucial features of a wheel chock because with it, you can leave your motorcycles unattended for weeks and not worry about it falling over.
A chock with ample support makes it easy to store your motorcycle in winter and save plenty of space.
While bikes come with a side stand, working on angled bike can prove tricky and dangerous. The good news is that the best chocks offer reliable support. Some even have bolts for mounting on hard surfaces.
Longer crossbars provide better stability without taking up too much space.
Transport chocks
Chocks are not created equal and as such, some are better suited to transportation than others. Some are quite stable and heavy while others provide enough support to prevent accidents on the road.
Chocks specially designed for transport are almost always meant to be mounted on a surface. You can use bolts and screws to mount them on a truck bed.
Attaching the chock to a large plywood board would provide better stability. Chocks with straps offer a secure way to keep your motorcycle in place for the long haul.
Construction materials and durability
Most motorcycle wheel chocks have steel frames and base plates. This is a good material choice since steel has a good strength-to-weight ratio and is affordable.
Go for stainless steel as other types of steel could be vulnerable to corrosion. Aluminum is also a great choice for motorcycle chocks.
It is lighter and more expensive compared to steel. Other common materials include extruded rubber, which is more affordable and bulkier.
Size, capacity and weight
You may opt for a larger or smaller chock depending on your particular needs. The ideal chock should be able to fit the front wheel of your bike and ensure it doesn't move side to side.
You should also take the frame size into account. A sturdier and wider base will come handy if you have a heavier bike.
Most motorcycle chocks can handle more weight than that of most bikes. An 1800-pound capacity chock is more than sufficient for just about any bike out there.
As for the actual weight, you should consider a heavier chock. It would come handy for permanent use when parking a vehicle.
Adjustability
Choosing a model that can fit most motorcycle wheels is in your best interests. The last thing you need is to purchase a new chock every time you upgrade your motorcycle wheels.
Some models have an adjustable cradle that changes their width while others simply adopt a V-design, which is compatible with most wheels.
A good option would be to purchase the chocks with an adjustable cradle. Depending on the model, you can switch to between 3 and infinite number of positions.
Look for pivoting brackets as they offer easier locking. They use the bike's weight to lock the wheel in place.
How Do I Get My Motorcycle Out Of Wheel Chock?
Using a motorcycle chock is quite easy and doesn't require special skills. Rolling the front wheel onto the pivoting cradle automatically locks it in place. To get your motorcycle out, simply roll it back.
Frequently Asked Questions:
1. What is a motorcycle chock?
It is a reliable tool that secures your bike when parked. It has a solid metal plate that attaches to the floor with screws and bolts, as well as a frame with bracket that holds the bike in place.
It is user-friendly, and often used for repairs, transportation and storage.
2. How does a motorcycle chock work?
The working mechanism of a chock is simple. Once you put the front wheel over the pivot, the pivot flips over to the back end of the wheel and locks it in place.
Depending on the manufacturer, some pivots have a simple design and others come with an integrated spring.
There are those that have adjusting screws for different wheel diameters. Motorcycle chocks can be mounted on just about any flat surface.
3. Should I buy extruded rubber chocks?
It really depends on your preferences and intended use. Extruded rubber chocks come in a pyramid shape and are an affordable solution that offers reliable support.
The downside is that rubber deforms at high loads. Additionally, it doesn't perform well in extreme temperatures.
We recommend purchasing a steel or aluminum chock. Both materials are durable, affordable and can hold their own under heavy loads.
4. How do I install a motorcycle chock?
This depends on the particular model and intended use. The good news is that with most models, installation is easy.
All you have to do is bolt the mounting plate to a trailer bed, garage floor etc. Some models are heavy and wide enough to provide reliable support without being bolted to a surface.
Final Verdict
As long as you own a motorcycle, you'll always find a motorcycle wheel chocks helpful when conducting repairs or transport your bike hassle-freely.
Now that you've gone through our motorcycle wheel chock reviews, making an informed choice should be easy.
Regardless of your preferences or budget, you can't go wrong with any of the above models.
But knowing what you want is half the battle and the buying guide section will offer you tips on how to easily narrow down your choices and pick what's best for you.
Related Posts: