10 Best Motorcycle Windshield – Reviews and Guide 2020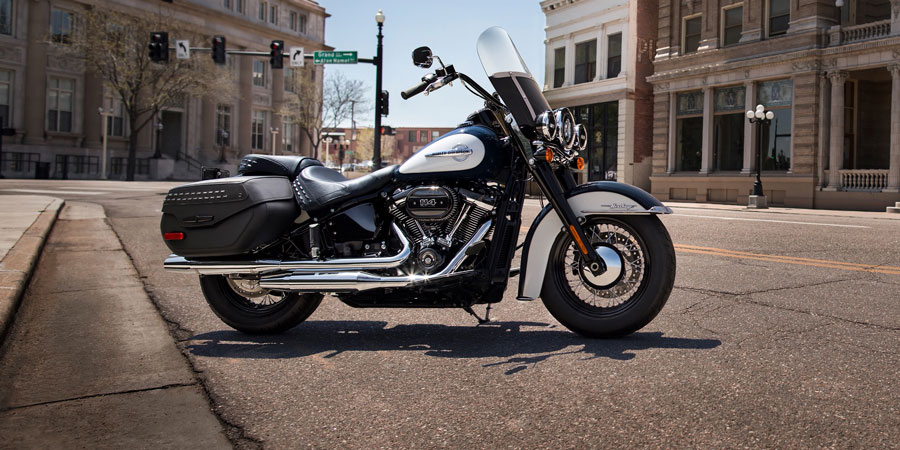 You haven't felt the full wrath of windblasts until they try throwing you off course when riding on the highway…
…and making every inch of your body feel fatigued after long rides.
Simply put, windblasts are plain pissing!
Gladly there's a way to avoid it.
And it involves mounting a windshield on your motorbike—to push away the wind from your chest.
It also shields you from bugs, rocks, debris, etc.
That said, the hardest part about windshields is choosing the perfect one for your bike from the multiple options on the market.
In our A-Z best motorcycle windshield below, we'll spill out the secrets on the critical steps to finding the most effective windshield for your bike.
Plus, we'll give you a bunch of the best-performing windshields currently available at the market.
Let's do this…
Do Motorcycles Need Windshields?
We really get it…a windshield isn't the sexiest accessory you can mount on your motorbike.
And this might make you keep wondering if you really need to install some big, clunky piece of plastic on your motorcycle.
The truth is, if you want to enjoy more comfortable, less tiring rides, then you need to invest in a good-quality motorcycle windscreen.
As we've just mentioned in our intro above, this add-on comes designed to effectively push the wind away from your body. As you might have experienced before, riding without a windshield gives the wind a clear way to heat your chest. And for you to counter this and remain upright, you'll need to keep your back stiff.
By trying to maintain this posture, you'll be stressing your back and neck muscles—causing you to feel fatigued (wind fatigue).
The windshield saves you from this hell, allowing you to enjoy more comfortable rides, without getting easily fatigued.
An added benefit of using a windshield is that it shields you from the pesky bugs or the gravel, rocks, and other flying debris. It can even protect you from rain when riding in wet weather.
And yes, your windshield will magically reduce that droning wind noise so that you can hear more of your engine's sound.
Are you still doubting the need to install a windshield on your motorcycle?
10 Best Motorcycle Windshield Reviews:
1. Slipstreamer S-06C Motorcycle Windshield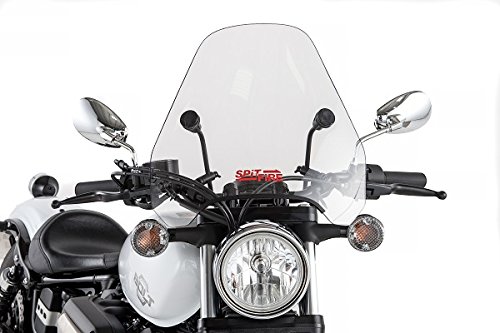 For some time now, Slipstreamer has been consistently releasing some of the best motorcycle windshields into the market. As one of their latest models, this Slipstreamer S-06C dictates distinctive looks and streamline protection—all in one fairing.
What really sets this shield apart from most of its competition is the fact that it can work with both round and square headlights…unlike the majority of models that only work with the round headlights. The fact that it works with both 7/8/-in and 1-in handlebars makes it even more versatile.
Another thing to note about this windshield is that you can fully adjust it to your desired high and even angle to suit your preferences. As you're probably aware, not many windshields will allow you to do soo much customization.
The windshield spells quality in and out. All its accessories are made of quality anodized aluminum, as it's standard across all the Slipstreamer products. Keep in mind that the hardware is made of lightweight aluminum so that they won't add any weight to your bike.
Highlighted Features:
2. Slipstreamer S-06 Spitfire Shield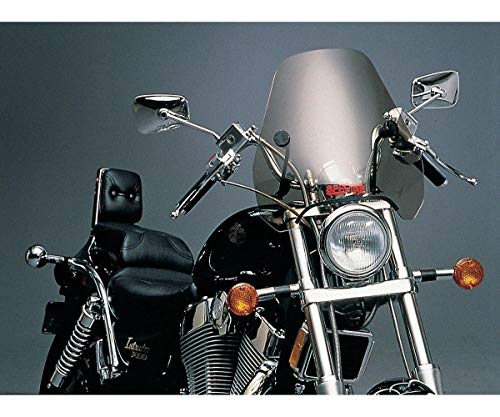 Here comes another Slipstreamer windshield. Like it's brother above, this is a top-quality windshield that mounts easily on your bike to offer you a devastating style plus excellent protection.
The Slipstreamer S-06 Spitfire Shield is not only easy to install, but you can also remove from your bike in seconds. This makes it a great choice for people who don't want a permanent windshield for their motorcycle. Keep in mind that this shield also works with both round and square headlights, just like its brother above.
Another thing that makes it a hit among riders lies in its construction quality. It features fully anodized aluminum hardware for unmatched durability and longevity.
Because it's designed using acrylic material, the shield itself too has great durability and excellent resistance to bad weather. Note that it's also fully adjustable, so you can easily customize it to fit your specific preferences. It sits approx. 15 inches above the headlight and includes spacebar to fit 7/8-inch handlebars easily.
Highlighted Features:
3. Slipstreamer S-06T Motorcycle Windshield
Another one from Slipstreamer! As you can see, this famous brand dominates our list with its top-rated windshields that comes designed to take the wind off your chest when riding on the highway.
This particular Slipstreamer comes in an appealing smoke design, which makes it look genuinely appealing on your bike.
Like all its brothers, this Slipstreamer S-06T boasts of 100% anodized aluminum hardware which are resistant to bad weather, highly durable, and long-lasting. This means you'll get the best value for your investment.
Mounting it on your bike is incredibly easy, even for starters, thanks to the included instructions. Likewise, taking it off your bike doesn't require any expertise.
Don't forget that this shield also works with both the round and square headlights—which simply increases the range of bikes you can mount it to. It works with both 7/8" and 1" handlebars. And allows you to fully adjust its height and angle for the best windblast protection experience.
Highlighted Features:
4. Memphis Shades MEP8548 Ghost Windshield
If you're looking for the best aftermarket motorcycle windshield that you can look over, without affecting your visibility, this is it. Mind you, Memphis Shades is also a popular name among motorcycle owners for its highly reliable models—with a super-stylish look and maximum rider protection.
100% made in the USA, this shield not only offers you excellent visibility but also efficiently manages to diffuse the wind flow to keep your speed unaffected.
Regarding the compatibility, this shield works with ALL the Memphis Shades batwing fairings.
It's designed using Lucite material which translates to superior durability and ability to hold up to bad weather and any form of abuse. The ghost color makes it look really appealing on your bike. Installing and uninstalling the Memphis Shades MEP8548 shield on your bike is a breeze.
Highlighted Features:
5. EGO BIKE Motorcycle Clear Windscreen Windshield
For the Honda motorcycle owners in the house, this Ego Bike windshield model is the best deal you can find on the market today. Don't get me wrong, though…this shield can work with a variety of other bikes apart from Honda models.
The top-quality, mid-sized fairing provides stunning looks while adding an excellent degree of protection to the bike rider. It's incredibly easy and fast to mount on your bike. It works with both the 7/8-inch and 1-inch handlebars.
Keep in mind that this windshield lets you customize its height as well as angle so that you can obtain the perfect mount for the ultimate protection of your chest from the windblasts.
Highlighted Features:
6. Krator NEW Black & Smoke Quarter Fairing Windshield
As you already know, some windshields are specially made for specific bike types. And this Krator brand NEW motorcycle windscreen is designed for the Harley Davidson bikes, choppers, cruisers, trikes, café racers, and project bikes.
Probably the most notable thing about this shield its is custom black with smoke looks which instantly turns your bike into a beauty. Not just looks, this shield also comes fully dedicated to keeping your chest safe from the wind. It features a robust ABS plastic construction which enables it to withstand various types of abuse and last longer than most of the models out there.
Like most of the models we've previously discussed, this shield is hassle-free to install and uninstall from your bike. So, if you want a windscreen that you can easily take off when going for shorter rides, this Krator will do just fine.
Keep in mind that the model comes with two-position adjustability for increased flexibility. Even better, you can easily change the fairing with detectable models.
Highlighted Features:
7. Slipstreamer SS-10-C Motorcycle Windshield
It's Slipstreamer one again! The SS-10-C Motorcycle Windshield acts as another proof of the company's unique craftsmanship that combines looks and functionality in one product.
One of the top features that place this windshield giant leaps ahead of other models in its price range revolves around its quick-release mounting system. This makes the mounting and dismounting job an easy and quick task for you. The included instructions make the installation even easier for you.
We believe that this is the perfect model for riders who prefer larger windshields. It measures 20¼-inch high by 8-inch wide, which translates to larger glass for extra protection—as many riders prefer. What's more, it has a unique design that helps offer better protection to your upper body, even when cruising at high speeds
Just like all its siblings from Slipstreamer, this windshield comes designed to fit both the 7/8-inch and 1-inch handlebars.
Highlighted Features:
8. Memphis Shades Demon Windshield
Memphis also shows up once more on our list of the best motorcycle windscreen reviews. This model is 100% made in the USA using the Lucite material, which means excellent clarity, excellent weather-resistant, and long-lasting durability.
As one of the few universal motorcycle windshields presently available at the market, this model will easily fit around almost any round headlight. It fits both the 1-inch and 7/8-inch handlebars. And measures 21 inches wide and 18 inches high above your bike headlight.
Remember…you can choose from the clear, solar, and gradient black, deepening on your unique preferences (i.e., the amount of visibility you'd like to enjoy).
Not just the shield, all its components/hardware come design using quality materials, namely polished stainless steel and CNC-machined billet aluminum for superior quality. The included instructions and hardware promote hassle-free and fast installation.
Highlighted Features:
9. Puig 4620H Light Smoke Universal Windshield
Did you know that Puig takes their windshields through a virtual wind tunnel test before releasing them into the market? This Puig 4620H universal windshield has undergone the same test to ensure it comes ready to meet your protection needs for a more comfortable ride.
The windscreen offers a precise fit and is compatible with all 8-inch round headlights. This is simply what you'll find in mots bikes, so there are chances your motorcycle will work with this windshield too.
Another exciting thing about this shield is its light smoke tinted design. As you already know, tinted designs ensure you have enough visibility when riding your bike while offering you protection from the sun rays.
Don't forget that this universal windshield is easy and fast to install/uninstall on your bike. The acrylic construction makes it feel super-sturdy while giving it a great deal of flexibility.
Highlighted Features:
10. Slipstreamer HD-0 Mini Police Windshield
Slipstreamer once more! We close our list of the top-of-the-line motorcycle windshield reviews with this mini police windshield from one of the most popular aftermarket motorcycle accessories manufacturers.
If you're like most riders, you're probably asking yourself why Slipstreamer decided to call this model a mini police shield. The truth is, the shield comes designed to replicate the original police shield.
One of the most remarkable features of this shield is the quick release mount which facilitates easy mounting and detaching. All the hardware that comes with this shield is made from anodized aluminum and stainless steel for rust/corrosion resistance and increased durability.
Just like we've seen in all the other Slipstreams above, this mini police shield can work with both 7/8-inch and 1-inch handlebars. It measures 15 inches high by 14½ wide.
Highlighted Features:
Things To Look For Before Buying
As we mentioned earlier on, the trickiest part about motorcycle windshields comes when you have to pick the right model for your bike from the multiple varieties out there.
Focus on the key features below to help you easily sail through the selection process:
1. Size of windshield
This is one of the key determinants of the type of windshield to get for your bike.
The size here means more of the height of your windshield than the width. The shields come in both short and tall models, and you need to know what size is right for your bike.
If you go with a too high shield, it'll affect your vision since you might be forced to look through it to see ahead. While this sounds fine, bugs and rain might pop up any time and seriously affect your vision.
And if you go with a too-short model, it might not give you enough protection. It makes the perfect stage for slipstream effect to occur—sending air up the shield lips and right into your face.
So, what's the ideal size for your motorcycle windshield?
We suggest that you get a windscreen that tops out at your nose level. This is the perfect height for enjoying good visibility while sending air over your head and not right into your face.
2. What material is it made of?
Though the windshields for motorcycles might look similar, they're usually designed using different types of materials—each having its own sets of pros and cons.
The most popular materials for windscreens include:
(i). Acrylic/Lucite
These are currently the most common windshields among riders, probably due to the friendlier cost they come with. If you're a casual rider and want to save money, acrylic is the way to go.
Keep in mind that this material can easily scuff or scratch…but you can easily restore its glory through buffing. The material also has a reputation for holding its clarity for long; it doesn't yellow or dull with exposure to UV rays or elements.
(ii). Polycarbonate
Windshields made from this material have a high level of durability and abrasion resistance compared to the acrylic models. They're also more flexible and will not easily shatter or chip. This makes them ideal for riders who take on roads with more debris and elements.
Unfortunately, this material can't be polished to restore its deep scuffs or scratches. Exposure to UV rays and elements can also cause it to yellow over time. Polycarbonate shields are costlier than acrylic models.
3. Check the mounting method
You'll also need to pay attention to the mounting method your windshield comes with.
We can categorize the mounting styles into fixed and quick release:
4. Keep adjustability in mind
Most riders don't acknowledge the importance of an adjustable windscreen until they start putting some miles on.
Sometimes you might wish you could customize your shield to help redirect the airflow. For instance, you can adjust your shield to get more airflow when riding on a hot day or less airflow when it's cold or rainy.
We highly recommend you to look for a windshield that comes with adjustable height as well as angle to allow for full customization.
5. Choose your preferred style and color
The beauty of motorcycle windshields is that they come in soo many styles and color options that you'll have enough room to get creative.
Needless to mention, all riders want a good-looking shield that enhances the looks of your bike.
Just browse through the various models at your exposal and try finding a model that appeals to your eyes. You might even consider something that matches your bike, riding gear, etc.
Let your unique preferences speak for you when it comes to style and color!
Frequently Asked Questions
1. What is the best material for motorcycle windshield?
The best material will depend on your budget and preferences.
The two common types of material used for aftermarket motorcycle windscreens include acrylic (also known as Lucite) and polycarbonate.
Acrylic is cheaper than polycarbonate and less prone to yellowing with long-term exposure to UV rays. Because acrylic is softer, it can easily develop scratches (though you can easily restore them through buffing).
Polycarbonate is more durable, abrasion-resistant, and more prone to yellowing. It costs more than acrylic.
2. How do I clean my motorcycle windshield?
Not taking good care of your windscreen might make it look scratched up and swirly over time.
When washing your windshield, avoid using, avoid using something abrasive or applying too much force as it can lead to the development of scratches. Use clean, soft cotton towels or microfiber to wash and dry your screen.
Avoid using paper towels or squeegees at the gas station as they can easily put scratches on your shield.
You should also avoid using force to remove any substances stuck on your screen. A safer way to do this involves moistening and loosening up the stuck substance to make it hassle-free to wipe off.
3. Can you tint motorcycle windshield?
Yes, it's a nice idea to tint your universal tinted motorcycle ​tintscreent to help reduce the sun's glare and make it easy for you to look through it.
Manufacturers are now producing tinted models into the market. If your current screen isn't tinted, you can easily do it at the comfort of your home, as explained in the video below.
4. How does a motorcycle windshield help in helmet buffeting?
A good windshield helps protect the wind from hitting your chest and head by funneling it around you. In other words, the windshield creates a wind protection pocket—helping minimize helmet buffeting and at the same time reducing wind noise.
Final Verdict
When riding your motorcycle for long distances without a windscreen, you'll feel the windblasts hitting right at your chest and head making you get fatigued quickly.
Investing in the best motorcycle windshield is your only hope to avoid this hell and enjoying more comfortable and less tiring motorcycle rides. The shield not only keeps the wind off your chest but also doubles as a great block against bugs, gravel, rocks, and other flying debris.
With all the crucial tips we have shared with you with above, we hope that you'll have an easy time sorting out the perfect windscreen for your bike from the numerous ​motorcycle windshield manufacturers list out there.
Our bunch of the top-performing shields also offers you the best models you can order today for maximum protection and stylish looks.
Related Posts: