The Best Naked Motorcycles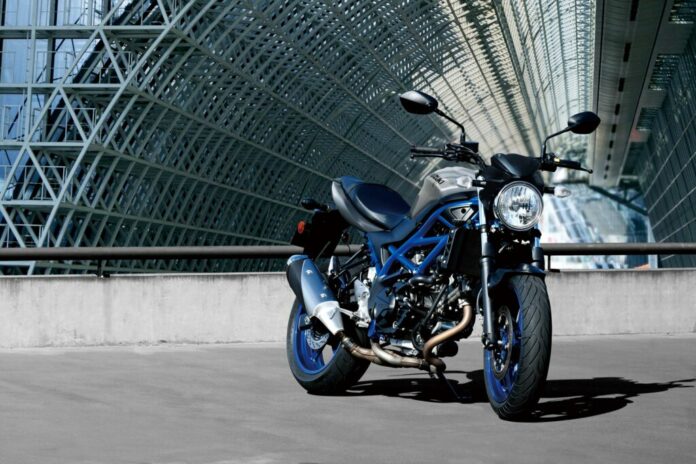 The modern naked motorcycle is basically a stripped-down and modified version of an existing sports bike. The engine is re-tuned for better torque at lower speeds, and the ergonomics are redesigned for an upright riding position with a lower seat and single-piece handlebars. The sports bike's full fairings and windscreen are removed to create an aggressive streetfighter-style aesthetic. 
Naked motorcycles are a popular market segment, especially for beginner riders, because they are excellent for daily commutes and short rides over the weekend. 
In this article, we review five of the best naked motorcycles in the market, and after looking at this list, I hope you will be able to decide which one suits you. 
Top Choice
Although every naked motorcycle reviewed here is an excellent choice depending on your preference, our top choice for beginner riders is the Suzuki SV650 standard motorcycle. It comes with a 650cc dual spark 90-degree V-twin engine that delivers superb performance, fuel efficiency, and versatility at an affordable price point. It has an attractive and minimalist street styling with a lightweight and slim construction suitable for commute, runabout, and club racing.
Here Are the Best Naked Motorcycles:
1. Suzuki SV650
The Suzuki SV650 is a mid-weight naked motorcycle that makes a fantastic entry-level motorcycle with easy handling, customization, and a smooth engine. The advantage of this bike is that, unlike a small capacity bike such as the 390 Duke, it will last beginner riders for much longer before they have to upgrade. 
Although it offers agile handling for commuting, it may be a little heavy at 196kgs for small people to handle in comparison to 149kg of the 390 Duke. However, it comes with a slim bodywork, and its seat height is the lowest at 785mm in its street bike class. 
The SV650 features a 650cc DOHC 90-degree V-twin engine that delivers 75 horsepower. It is BS6 compliant with smooth performance and excellent fuel efficiency. The bike comes with a 41mm conventional style front folk and a Link-type rear shock unit that gives a stable feel in varied road conditions. 
The SV650 styling is an attractive slim light design with attention to rider comfort and maneuverability. It comes with a host of bolt-on accessories to customize the bike to your taste. 
The first-generation model of the SV650 debuted in 1999, and it has a continuous run since then. The SV650 is a reliable standard bike with excellent engine performance relative to its price point and is versatile for commute and track. 
2. KTM 390 Duke
The KTM 390 Duke is a powerful yet agile streetfighter ideal for beginner riders. The 390 Duke first debuted in 2012 as a small displacement commuter motorcycle and has since gained worldwide popularity for its versatile design and powerful engine. 
It comes with a 373cc 44 horsepower engine with exceptional fuel efficiency that makes it ideal for your daily commutes. It also has a quick acceleration speed that will make your weekend runabouts exhilarating. It features dual-channel Bosch ABS brakes for safety, and while the bike is powerful, it is also lightweight at 149kg.
The 390 Duke comes as standard with a lightweight USD suspension that uses open cartridge technology to give you better motorcycle performance in all aspects of riding while also being easy to maintain. It also comes with a pre-installed 150mm spring that allows you to ride on any terrain. 
Beyond its superior performance, the 390 Duke features an attractive street style aesthetic that is ergonomic and comfortable. The sporty bike comes with upright handlebars that give you balance while you ride while the clutch and brake levers are adjustable and customizable to suit your riding style. Finally, it has one of the best multicolor TFT displays in its class that adapts its colors to suit its environment's lighting conditions.
The 2020 model has been upgraded from the 2018 model to conform with the BS6 emission norms, but it still retains its powerful engine. On the downside, its ground clearance has reduced by 24mm to 151mm, while the weight has gone up by 4kg.
3. Kawasaki Z400
The Kawasaki Z400 is the naked version of the Ninja 400 motorcycle, and it is a powerful alternative to the 390 Duke. It is similar to the Ninja 400, except that it features a flat handlebar for an upright riding position and no fairings.
The Z400 features a 399cc liquid-cooled DOHC parallel-twin engine that produces 49 horsepower. It also features a six-speed gearbox with an assist and slipper clutch that enables a lighter clutch lever pull for commuter riding. It has a highly responsive suspension system with a 41mm adjustable Showa fork at the front and a 5-way preload rear shock that is fully adjustable to suit your body weight. 
Aesthetically, the bike has the aggressive streetfighter style Z-series Sugomi design with a low positioned head, a crouching stance occasioned by the low-level seat, and an upswept pillion tail. Its agile steel trellis frame is minimalist, and it offers lightweight and easy handling. 
It comes with a wide handlebar that puts you in an upright back position that gives you better maneuvering control and a low 31-inch seat height that brings you closer to the ground.
The Z400 is a lightweight model at 165kg, making it one of the lightest twin-cylinder motorcycles in its class. One of the disadvantages of entry-level bikes is that new riders quickly outgrow their starter bikes. However, the Z400 has a potent engine that is more versatile which gives it more staying power.
4. Ducati Streetfighter V4-S
The Ducati Streetfighter V4S is a high-performance naked motorcycle based on the Panigale V4 superbike. It features a 1,103cc Desmosedici Stradale 90-degree V4 engine that delivers 208 horsepower against the Panigale's 214 horsepower. The V4S is aggressive, superfast, and the 2021 model comes in an attractive Dark Stealth color.
The Streetfight's engine is modeled around the core of the V4 MotoGP engine and is compact with outstanding fluid dynamics. The advanced electronic rider aids allow you to experience the motorbike's raw capacity on the road and the race track.
The V4S features a semi-active Ohlins suspension system with NIX 30 fork at the front and TTX 36 rear shocks and an Ohlins event-based steering damper compared to the non-active Showa Big Piston shocks and Sachs shocks of the V4 model. Ergonomically, it is the naked version of the Panigale with a revised footpeg position, wide handlebar, and a thicker 60mm foam seat for comfort in all kinds of terrain. 
The V4S comes with 3-spoke Marchesini forged aluminum alloy wheels with Pirelli Diablo Rosso Corsa II tires. It incorporates the Brembo Stylema monobloc calipers braking system supported by the ABS Cornering EVO system.
The V4S is a slightly higher spec model than the standard V4 Streetfighter. It is also lightweight, made possible by the electronic adjustable Ohlins suspension system, rims, and Brembo braking system. 
5. Triumph Street Triple RS
The Triumph Speed Triple S and RS models are Triumph's latest generation of naked motorcycles. Both models feature a 1050cc liquid-cooled DOHC 3-cylinder engine that delivers 148 horsepower. The 2020 upgrades include a 5-inch TFT full-color display and 5-spoke cast-aluminum wheels that give the models a more streetfighter-style aesthetic. 
However, the difference between the two models is in the electronics and the suspension system. The Triple S features four riding modes, while the Triple RS comes with five riding modes. The RS also comes with an Optimized Cornering ABS and Traction Control system, Inertial Measurement Unit, and Arrow Titanium silencers that are 9Lbs lighter than the standard Triple S model. 
The Speed Triple RS uses fully adjustable Ohlins NIX30 upside-down forks and TTX36 twin tube rear mono-shock RSU with Brembo MCS span braking system. It features keyless ignition (which is extremely hard to hotwire) and an electronic steering lock for safety.  Ergonomically, the motorbike has a forward riding position that ensures control and an aggressive aesthetic with a low profile and streamlined silhouette. 
Although the Triple RS is in the high-performance segment of naked motorcycles, the Ducati Streetfighter V4S delivers more superior engine performance.