Best Open Face Helmet for Motorcycles – Reviews 2020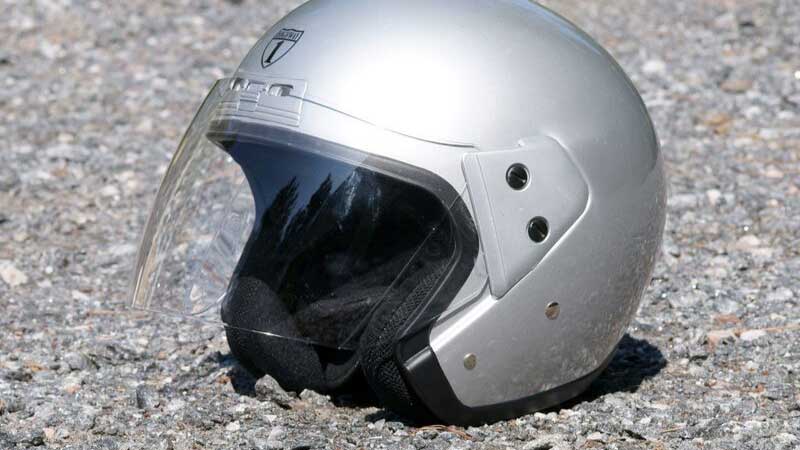 If you prefer riding your motorcycle while feeling the breeze and sun on your face, then an open-face helmet will do for you.
The best open face helmet also feels lightweight and provides you with a wider field of view than the full-face and modular helmets, all while keeping your dome protected in case of an accident.
That said, we have covered some of the top-rated open motorcycles helmets below to help you choose the perfect model for your unique needs.
How Should an Open Face Motorcycle Helmet Fit?
A properly fitting open face helmet is the secret to enjoying maximum protection while feeling comfortable all-ride long.
You have always heard that all you need to do is look for a helmet that matches your head size (circumference) and shape.
Right?
But that's not all.
You should go ahead and TEST that helmet before buying it to feel how it fits around your noggin.
The ideal helmet for you should offer you a snug fit that's not too tight, not too loose.
BEFORE you buy that helmet, put it on to feel how it fits.
A properly fitting helmet shouldn't press uncomfortably on your cheeks. It should leave no gaps between your temples and the brow pads. Its face shouldn't touch your nose or chin. And it shouldn't feel like it's tilted back on your head.
Try moving the helmet side to side or up and down with the straps fully fastened. If the helmet hugs your head snugly (i.e., it fits properly), you should feel your skin moving along with the helmet.
One more test…try rolling it forward. How does it behave? Does it agree to move forward?
If yes, it means it's too large for you and will probably come off in the event of an accident.
You don't want to imagine your helmet rolling forward with the chin strap still fastened in an accident!
Quick Tip: If you're buying your helmet online, you might not get a chance to try it before buying. But you can go to a nearby store and try a helmet that matches your head size and shape to ensure the one you're ordering online will fit correctly.
10 best open face motorcycle helmet reviews:
1. LS2 Helmets 569-3014 Open Face Motorcycle Helmet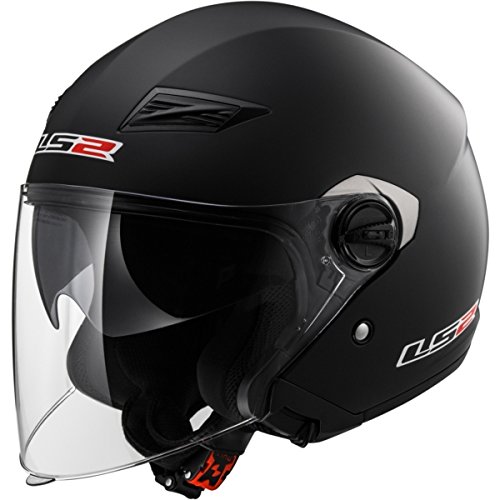 We start our best open face helmet reviews with the LS2 Helmets 569-3014 open face model. This helmet comes as a direct upgrade of the brand's ultra-popular OF569, with added features and functions, which makes it even more popular than the earlier version.
One of the most notable things in this new version is the built-in sun screen which flips up and out of the way. You can lower it hallway to keep off the sun's glare for an uninterrupted ride. When fully lowered, this shield will protect your face from the rain, debris, small rocks, bugs, and even wind.
The short-shift tool-less quick-release lets you easily replace this visor. The new, improvised slider mechanism allows you to easily raise/lower the visor with your gloves on.
Unlike other styles of helmet, this model will also offer an exceptional peripheral vision to allow you to see your surroundings without any obstruction.
Getting this helmet on and off is easy and fast, thanks to the DOT-approved quick release chin strap. The plush comfort liner on the interior is made of breathable material and makes your head feel comfortable for hours and hours. You can easily remove this liner for easy cleaning.
Remember, the helmet features an incredibly lightweight and durable kinetic polymer alloy. It meets/exceeds all the DoT and ECE standards and is covered by a 5-year warranty against all workmanship defects.
Overall, this is a great helmet for all serious motorcyclists who want the perfect helmet for touring, commuting, scooter helmet, or an all-around motorcycle helmet.
Highlighted features:
2. ILM Motorcycle Half Helmet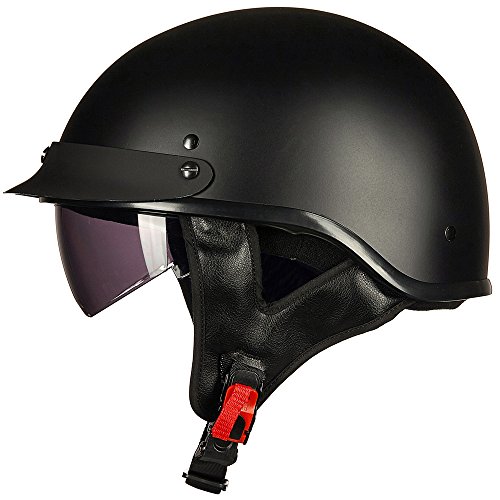 ILM open face helmet is an affordably priced classic half-helmet reminiscent of the early motorcycle helmets. It comes in matte black and glossy black options and will look sleek with just any bike. It's ideal for both male and female riders.
At only 2.03lbs, this helmet feels incredibly lightweight, so it won't feel like a burden on your head.
It comes equipped with a fully retractable, tinted sun visor, which helps save your eyes from the sun's glare. When not in use, you can easily retract the visor so that it becomes almost invisible in the overall helmet design.
The helmet also presents you with an adjustable, quick-release chin strap with sliders around ear-loops—allowing you to adjust it for the perfect fit. With a proper fit, your head will feel more comfortable, and you'll enjoy maximum protection.
Like all the other helmets from ILM, this open-face model meets all the DOT FMVSS.218 requirements, so you can rest assured it'll guard your head against injuries in an accident.
ILM open face helmet is a cool choice if you want a wallet-friendly helmet with sleek looks, and a sun visor to protect you from the sun and other elements.
Highlighted features:
3. Bell Custom 500 Open-Face Motorcycle Helmet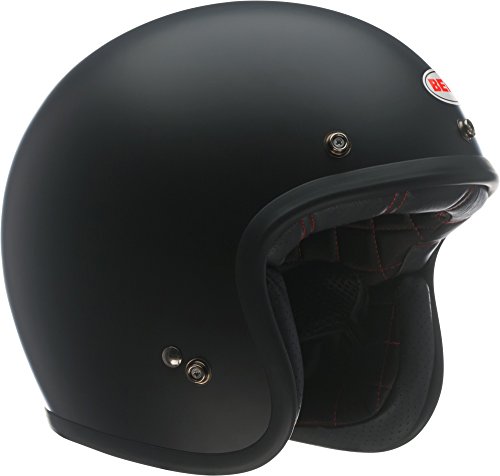 Bell is one of the most reputable brands in the world of motorcycle helmets. In our 3rd open face motorcycle helmet review spot, we have the Bell Custom 500 as one of the top-rated open-face helmet models presently available at the market.
This little lid is DOT and ECE approved…and is SNELL-certified, which makes it one of the safest helmets you can use for motorcycle riding.
Touting up to 5 shell sizes, this Bell Custom helmet allows you to easily find a custom fitting size that doesn't give your head that bobblehead or mushroom look.
For maximum comfort, the helmet comes with a quilted, contrast-stitched plush interior where your head can rest for hours and hours without experiencing any pressure points or discomforts of any kind. What's more, the helmet comes with a padded chin strap which contributes to your overall comfortable feel.
As for the air vents, they facilitate fresh air to freely in flow to cool your head without making those weird whistles and howls associated with other airflow systems.
It's also worth noting that this helmet provides you with an integrated snap pattern that lets you easily snap aftermarket visor or face shield of your choice.
Highlighted features:
4. YEMA YM-627 Open Face Motorcycle Helmet
If you're looking for the best open face motorcycle helmet that allows you to use your Bluetooth speakers and put on your glasses, this YEMA is a great choice. The helmet's interior comes customized in such a way that when you wear it, it leaves adequate space for accommodating your speakers and glasses.
The professional-grade motorcycle meets/exceeds the DOT FMVSS 218 and comes in an exciting, fashionable design that houses a list of advanced features that jointly ensure your head remains totally safe in the event of an accident.
Your comfort was well in the minds of the designers of this helmet! This is evident from the comfortable liner and pads it comes, which makes the lid feel like a sofa on your head. It also features fully adjustable air vents, which lets you create a customized constant flow of air to keep your head cool and comfortable.
If you wish to get an open face helmet that comes with an easily removable visor, this model has it too. It comes with a clear sun shield that you can easily remove using the integrated easy-use switch. No tools needed!
Other outstanding features of this helmet include the aerodynamic ABS shell, reinforced chin strap, multi-density EPS, and quick release buckle.
Highlighted features:
5. Daytona Helmets Motorcycle Open Face Helmet
This is a low-profile ¾ motorcycle helmet which comes with one and ONLY one intention—to protect your brain. It meets or exceeds DOT standards, which acts as sufficient proof that it indeed protects you or your loved ones in accidents.
If you've always been unlucky when it comes to getting an open face helmet that fits you right, today is your lucky day! This helmet comes in up to 3 shell sizes, which enables it to offer a snug fit for both small and big heads. It also presents you with a quick-release lock (with one finger release lever), which promotes easy detachment for easy helmet on or off.
The interior comprises of moisture-wicking fabric which keeps your head cool and more comfortable. And the included gloss black sun visor is sure to protect your eyes from the sun's glare, so you can clearly see the road ahead of you.
This Daytona defines a fairy priced is a no-nonsense low-profile badass that will make your head feel comfortable and protected when riding your motorcycle. The manufacturer even offers you up to 90 days hassle-free, No-nonsense guarantee if it doesn't meet your expectations!
Highlighted features:
6. HJC IS-33 II Open-Face Motorcycle Helmet
Appearing on our list of the top-rated open face motorcycle helmet reviews list is a product from HJC, another respected name in the helmet industry. Unlike the average priced models, this helmet features premium construction and features that put it in its own class.
One of the unique things about this helmet is the high-quality construction materials used. It uses advanced polycarbonate composite for the shell which feels feather-light. It also provides your head with superior fit and comfort using advanced CAD technology.
The helmet also features a single-density EPS impact absorbing liner, which boosts protection of your head from injuries.
If you prefer tinted visors, then you've got another reason to like this helmet. It features a smoke-tinted sun shield that will let you ride comfortably with the sun on the horizon. HJC also designed this visor in such a way that you can adjust it to 3 positions and retract it quickly to fit your needs.
The advanced channeling ventilation system will keep fresh air flowing in to flush heat and humidity out of your helmet for a comfier feel. The interior fabric also has excellent moisture-wicking properties and stays odor-free, wear after wear.
You won't feel any pressure on your ears or temples when wearing this helmet. It even leaves adequate room for your glasses and Bluetooth headset. The fully retractable sun visor plus duckbill visor makes the helmet incredibly versatile.
Highlighted features:
7. MMG 51 Motorcycle Scooter Open Face Helmet
For bike riders on a tight budget, here's another viable open face helmet with a wallet-friendly price. The model boasts of an extremely light, durable, and impact-resistant thermoplastic shell that gives you superior comfort. The shell has an aerodynamic design to ensure it doesn't affect your riding speed.
The helmet's interior is well padded and comfortable. It also comes with an elaborated ventilation system (comprises up to 6 vents), which helps keep a supply of fresh air around your head to keep it cool and comfortable.
Like all the models featured above, this helmet also presents you with a flip-up visor which you can easily raise or lower to fit your unique needs.
The fact that this helmet comes in a variety of sizes (from large to extra-large) means you'll get an excellent fitting model for your head. The D-ring with chin strap holder boosts your overall fit plus comfort.
On top of it all, this helmet is shipped to you with a FREE care bag, which is an unusual thing to get from most manufacturers. The sexy red color of this open face helmet makes it stand out from the pack!
Highlighted features:
8. 1storm Motorcycle Open Face Helmet
As our list of the best open face helmets draws near the end, we have this 1Strom motorcycle open helmet as you go-to helmet if you want value for money. It comes with high-end features and a low price, which makes it a great steal.
The outer shell of this helmet comes designed using ultra-lightweight, strong, and durable thermoplastic alloy. The ultra-lightweight part will make the lid feel like a feather on your head…you might even forget you have it on your head.
You'll love the advanced double shield design (inner smoked lens plus an optional outer clear, smoked, or tinted lens), which makes it incredibly versatile for various riding situations.
You'll be awed by the snug, comfortable fit it offers you. It feels snug even with the chin strap off, and doesn't lift or play side to side. It doesn't make your head feel like it's compressed. Of course, we courage you to fasten to quick-release chin strap as it's part of the process of wearing a helmet correctly.
As for the interior of this helmet, you'll discover heavy cushioning which takes your overall comfort feel even higher. And you can always remove the interior for easy cleaning.
If you study all the features that come with this open motorcycle helmet, you'll arrive at the same conclusion as many other users out there—it has fancy features for a lower price. This makes it the best model if you the real bang for your buck.
Highlighted features:
9. TORC T50C Route 66 3/4 Helmet
Torc T50C comes in a classic, super-slim design with retro looks (the throwback look). It also comes in a variety of custom graphic options—including stars, eight ball, skulls, and gold sparkles—making it your go-to model if you love stylish helmets.
The helmet's outer shell is made using advanced thermoplastic polymer alloy for a lightweight feel that contributes to your overall comfort. It also feels strong and durable and is DOT-Approved, so it'll keep your dome fully protected.
Motorcycle riders already using this helmet are crazy about its ultra-suede liner which looks like leather. This is due to its ability to excellently wick away moisture (your sweat) to keep your head dry and cool all-trip long. The cheek pads further enhance your comfort, and they're easily removable for easy washing.
Inside the box, you'll get a small peak visor (which is easy to install/remove). This helps shield you against the sun's UV rays. You'll also get a protective carry bag for easy carry.
Overall, Torc T50C is the ideal open face helmet for motorists who love stylish designs. Apart from looking stylish, the helmet also feels incredibly snug and comfortable on your head.
Highlighted features:
10. Core Vintage Open Face Helmet
Wrapping up our rollout of the best open face motorcycle helmets on the market today is the Core Vintage Open Face Helmet. As its name suggests, this model comes with a traditional ¾ helmet design—it looks like the helmets in the old movie "Easy Rider."
The helmet is constructed using a lightweight & durable injection thermoplastic alloy shell for a durable and robust feel. On top of this, it has a premium, scratch-resistant automotive paint finish for increased durability.
Note that the outer molded shell is combined with selected density polystyrene impact-absorbing liner to help absorb and disperse impact energy during a collision—assuring you of maximum head protection in a crash.
You'll love the helmet's plush and breathable black blushed nylon interior. It cushions and soothes your head, making you feel comfortable for long hours. The double D-ring retention system ensures a secure, comfortable fastening underneath your chin.
Since the vintage ¾ lid also comes with a 3-snap bubble sun visor, you'll be able to ride your bike comfortably when the sun is gazing at you. Still at it, the helmet has 5 snaps to help you easily add a variety of aftermarket 5 snap shields without any problems.
Highlighted features:
How To Buy?
If you don't have a clue where to start or what to look for when shopping for an open face helmet, this is your part.
We have outlined the key things to look out for to help you easily navigate the overwhelming world of motorcycles.
Key Features:
Materials
One of the most important things to focus on when buying a new open face helmet is the materials used to construct it.
From our list of top-rated models, it's crystal-clear that different models come with varying sets of construction materials.
Helmets on the lower end of the price ladder usually come with injection-molded polymer outer shells, which offer you a good balance between protection and affordability.
Polycarbonate is also a common material in mid-priced helmets. It offers better protection can have excellent fire-resistant properties, making it ideal for risker motorcyclists.
As you move high up the price ladder, you'll notice premium materials such as fiberglass composites, e.g., carbon fiber. These materials can absorb even more energy on impact, for enhanced protection.
Safety ratings
The main reason you're buying that helmet is to protect your head from injuries in case you get involved in an accident, right?
With this in mind, you should NEVER buy a helmet that isn't approved by the US Department of Transport (DoT).
The body lays out strict safety standards that must be met by motorcycle helmet manufactures for them to get their seal of approval.
Fit
You should also ensure you get a motorcycle helmet that fits you properly (snugly).
A poorly fitting helmet not only feels uncomfortable on your head but also offers you less protection in a crash.
To get the best fitting helmet, you need to measure your head circumference with the help of a tape measure. Then, look up for a model that matches your size on the manufacturer's sizing chart.
Taking your head shape into consideration will also help you find the perfect fit in a helmet.
Comfort
If you make the mistake of buying an uncomfortable helmet, it can easily distract you from focusing on your ride, risking your safety on the roads.
For a helmet to feel comfortable, it should offer you a snug fit (as discussed above). It should also come with a soft, padded interior to offer your head a cushioning feel.
Most brands are now using a moisture-wicking interior liner to help wick away your sweat for a dry, comfortable feel.
Adjustable and removable interior lining also contributes to your comfort.
Check if the helmet comes with a padded and adjustable chin strap to help you customize it to your preferred level of comfort.
Ventilation system
You should also consider leaning on an open face helmet which comes with an air vent system.
The vents help supply your head with fresh air and flush our heat and humidity inside the helmet when riding your motorcycle in heat weather.
Look for models that come with double vent systems starting at the front and end at the rear.
Helmets with adjustable vent system let you customize the airflow to fit your riding situations or environments.
Built-in visor
You should also consider if the helmet you're planning to order comes with an integrated visor.
What are your preferences in a built-in a visor system?
Do you prefer a little half visor that comes down just to the level of your eyes?
Or do you prefer a fuller model that covers your entire face from the sun as well as elements like wind, rain, bugs, etc.?
Be sure to ask yourself these questions when choosing a helmet.
Are you the kind of rider who doesn't fancy a shield system at all? If so, a helmet that features a removable or no visor at all will meet your needs.
Frequently Asked Questions:
1. Are open face helmets safe?
Open face helmets offer protection to your head and are allowed in all the states that require you to wear a helmet on the road.
However, the fact that they only cover your skull and leave your face open and exposed makes them less protective compared to the full face models.
2. Do open face helmets come with a visor?
This depends on the model you buy. Some brands include visors in their open-face helmets while others don't.
More and more brands are now integrating visor systems into their helmets, with the option of easily retracting it or replacing it with a shield of your own choice.
If you like the convenience that comes with a sun visor, you'd want to look for a helmet that comes with one.
But if you get a helmet that you really love but lacks a visor, you might consider buying it separately.
3. Can I buy a used open face motorcycle helmet?
No! Never! Don't even think of it!
Unlike the brand new helmets, a used helmet has a history which the owner might not tell you about.
It might have been involved in a crash before, and even though it doesn't show, deep inside its structural integrity has been compromised.
Risking your life just to save a few bucks doesn't make sense. Just get yourself a brand new helmet if you want the best level of protection.
Final Verdict
When looking for the best open face helmet, you'll come across varieties of models. Some have retro looks/feel. Others feature sun/face shield. Different models also feature varying construction materials, weight, and costs.
In other words, getting an open face that fits your unique needs and expectations will require a lot of effort and time. You'll need to assess different models to ensure you get one that perfectly matches your needs.
Check our list of the top-rated open face models above for your ideal helmet. We tailored this list to include a model that meets the needs of every motorcyclist, so you'll surely find your gem here.
Stay safe when you ride!
See Also: