5 Best Scooter Bearings Reviewed (with Buying Guide)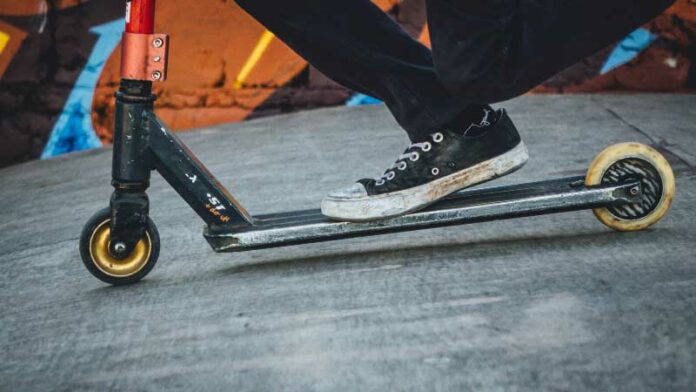 The more you ride your scooter, the more its bearings get exposed to tear and wear. Over time, the bearings take too much beating that it compromises the performance of your scooter. And at that point, your only option is to replace them with new ones to keep your scooter at its top performance.
Read our guide below to discover the best scooter bearings you can buy for your scooter today and keep it running at its maximum potential.
How many bearings does a scooter need?
Six bearings. A typical scooter requires a total of 6 bearings, two each wheel, and two in the headset. Needless to say, the main work of these bearings in your scooter is to reduce the friction of the wheel as it spins on the axle. And in so doing, they enable your scooter to roll smoother and quicker.
Unfortunately, these bearings tend to undergo a lot of abuse. And with time, they become torn and worn out. Worn out bearings are less effective; they producing the annoying crunching sound and lead to wastage of power due to the resistance they offer to smooth rolling. That's why it's important to replace all the six bearings with a new set whenever they get worn out.
Let's look into the best bearings you can get for your scooter today.
Our Best Scooter Bearings Picks:
1. Bones Reds Skateboard Bearings
Designed by best-selling skate bearing brand in the U.S.A., these Bones Reds makes it to our list of top-quality bearings that you can get for your scooter today.
The bearings come armed with single, no-contact, removable rubber shield that helps promote easy cleaning and minimal friction. They boast of a high-speed nylon ball that translates to higher speed and strength.
Even better, all the bearings included in this package come pre-lubricated with Speed Cream racing lube to make them ready to use right out of the box.
The manufacturer of these bearings is highly obsessed with ensuring these bearing meet your needs that they undergo double inspection before shipping and distribution. This ensures that you receive scoter bearings that give you the best in terms of effectiveness, sturdiness, and value for your money.
And to ensure you're getting the genuine products from BONES, they put the SKATE RATED sticker on all their bearings. If the bearings you order lack this sticker, then you should contact them ASAP for help.
Highlighted Features:
2. Yellow Jacket Premium 608, ABEC Bearings
If you're used to bearings that fall apart just after a few uses, then it's time to invest in these Yellow Jacket bearings. They're engineered to offer you the best in terms of durability, high-performance—all while being easy on your wallet.
One of the most notable things about these bearings involves its quality balls. These are designed using premium chrome steel to ensure smooth grinding and ultimate performance on your scooter.
Unlike most of the bearings in its price category, these Yellow Jackets have their cage made using high-speed nylon. And this enables them to yield greater strength and reduced friction. Not to forget that the stainless steel roller cage comes injected with high-speed race lube to ensure the bearings are ready to use right out of the box.
The bearings have even been tested against big name brands and have proved to glide longer distances at high speeds while standing the test of time.
Overall, these Yellow Jacket bearings will offer you value for money. Unlike their competition, which comes with exaggerated prices, this set comes at a pocket-friendly price while giving you the race performance.
Highlighted Features:
3. Bones Super Reds Skateboard Bearings
Here's another high-quality set of bearings, proudly made by Bones in the U.S.A. These aren't your typical bearings with a super finish. Instead, they're expertly designed bearings that boast of superior quality to ensure they take your scooter performance to the next level.
What makes them superior to most of the other sets out there? Well, this has something to do with the quality of individual components. To be specific, they feature high-quality steel races plus better quality and grade balls plus a superior surface finish. The result of this combination is a bearing that performs faster, quietly, smoothly, and lasts longer.
Like the other set from Bones, these bearings also come equipped with a single, no-contact, removable rubber shield to help minimize friction and ensure easy cleaning.
Don't forget that these Super Reds feature a black shield and laser engraving, so you don't confuse them with the original Reds. They come pre-lubed right out of the box to make them ready to use as soon as you receive them.
Highlighted Features:
4. Bigfoot Wheels L.E.D. Scooter Wheels
Imagine a set of scooter replacement bearings that shine bright light as you ride your scooter? These Bigfoot L.E.D. scooter wheels will not only make your scooter look awesome but will also promote your safety during night time ridings.
The wheels come armed with 3 super bright L.E.D. lights in each wheel that are capable of shining for 10,000plus hours. And these lights entirely rely on the centrifugal force as their source of power, so you don't need to keep replacing any batteries.
Besides illumination, these wheels are also made for top performance. They come fitted with the FAST, high-precision Abec 9 bearings, which are synonymous with unmatched speed, precision, and durability.
Even better, the two wheels feature a rounded profile plus super high rebound urethane that creates less friction to ensure faster speeds and improved control.
Remember that this set of wheels is straightforward to install on your scooter. They measure 100mm in diameter and have a standard size of 24mm width, so they'll easily work with just any scooter.
Highlighted Features:
5. V.X.B. 608Z Shielded Ball Bearings
Last, but on the least one, is this set of 8 ball bearings ideal for use as replacement scooters. The bearing comes in the form of a double-shielded miniature ball that measures 8x22x7.
Featuring a single row design, this bearing comes ready to support radial loads. It has a pretty good "revolutions per minute" (R.P.M.) limit of 34,000 with greased lubrication. This ensures that your scooter rolls fast for maximum performance.
Note that the bearings included in this set are made using carbon steel to offer maximum resistance to deformity under heavy loads and to ensure maximum durability. What's more, the bearing has a shielding on both sides to help keep lubricants in. The shielding also prevents contaminants from getting in and affecting its effectiveness.
Apart from scooters, you can also use these bearings on a skateboard, inline skates, etc. The bearings fit perfectly well on most scooters, and you'll have no problems with the installation, even if it's your first time installing them.
Highlighted Features:
Frequently Asked Questions
Q: Sealed vs. opened bearings: which ones to buy?
It depends. If you usually ride your scooter outside, then we recommend you to go for sealed bearings as they have better dust and dirt resistance. This means little maintenance.
Open bearings, on the other hand, are suitable if you plan to do indoor park rides. The main benefit of using this type of bearing on your scooter is that it rotates faster, so you won't have to use a lot of energy to get it rolling. Although they require some maintenance, they're incredibly easy to clean.
Q: Are scooter bearings the same as skateboard bearings?
Yes. The bearings you find on a scooter are the same size as those found on a skateboard. For most of the bearings sets we have discussed above, the manufacturers recommend them for application on skateboards, inline skates, and scooters. This means you can use skateboard replacement bearings on your pro scooter. However, be sure to check the specs of the bearings you buy to ensure they fit perfectly well.
Q: What does ABEC mean in bearings?
The ABEC are simply initials for Annular Bearing Engineering Committee. The ABEC refers to a scale that describes how well any given bearings convert energy into speed. The scale runs from ABEC 1 to 9. And the higher the number, the greater the precision, effectiveness speed possibility the bearings deliver. This means any bearing rated ABEC 9 is the fastest and has the highest effectiveness when put to work.
Final Verdict
Replacing your old, worn-out bearings with new ones will enable your scooter to continue rolling smoothly and quickly, giving you exceptional riding experience. Having shared with you our list of the best scooter bearings you can order today, we hope you'll have an easy time selecting the right set to keep your scooter running at its maximum potential.