10 Best Scooter Helmets in 2023 – Reviews & Buying Guide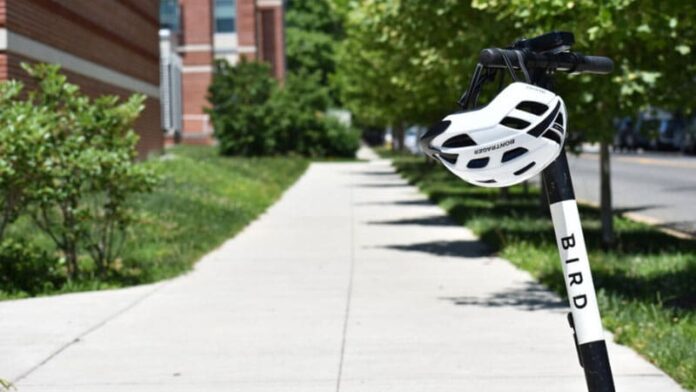 The best scooter helmets will protect your head in case of an accident. Do you really feel secure riding without a helmet on? The road is a dangerous place – one wrong move and you are flying.
Your head smashing against the hard road or a wall or the hard body of a car – not an image you want to imagine!
Let us help you pick the best helmet for riding!
How to Measure Scooter Helmet Size?
When you are picking the best helmet for scooter riding, one of the considerations to keep in mind is helmet size. You don't want to buy something that is either too big and loose or that is too tight and uncomfortable. You must measure the helmet size.
You can easily do this using a tailor's tape measure. The advantage of a tape measure is that it has the flexibility to wrap around your skull. Here is how you do it:
Step One
Take the tape measure and wrap it around the fullest (broadest) part of your skull. This is typically the area above your ears, about half of an inch above eyebrow level.
Measuring the size of your head like this is a tricky endeavor. Ask someone to help you carry out this step of the process.
Step Two
Helmets typically come with a size chart provided by the manufacturer. After taking the measurement for your head's fullest circumference, compare that measurement to the size chart.
Note that size charts are not the same. Each manufacturer provides a chart that is specific to its helmet models. You must therefore only use the chart provided by the manufacturer of the particular helmet you are considering.
Our Best Scooter Helmet Reviews
1. Razor V-17 Youth Multi-Sport Helmet
The Razor V-17 helmet is the best scooter helmet. It is also good for going skating, biking, or just about any other sport which involves the wearing of protective headgear.
Comfort is one of the most important things a helmet can provide, besides protection. The Razor V-17 provides a comfortable fit with its generous padding. That means your head feels perfectly suited for the helmet and the padding forms itself around the shape of your head. In addition, extra pads are included for the sake of fitment fine tuning.
The helmet also comes with adjustable straps and a secure buckle so as to make sure the helmet does not come off when you are on the move. It would be catastrophic for the helmet at the time you need it most – during a crash.
Keeping cool and breathing fresh air is also important. The helmet features 17 top and side vents for that particular purpose. They keep you cool on hot days.
Highlighted Features:
2. Triple Eight Dual Certified Bike and Skateboard Helmet
For the best moped helmet, consider this Triple Eight. You can also use it if you are a skateboarder or biker. To protect you in case of a crash, the helmet's construction features ABS shell and EPS foam liner. The EPS liner is excellent for absorbing the shock of impact. It is also built to provide a perfect fit.
To make the fit even more perfect, the helmet features two different sets of Sweatsaver fit pads. The pads are removable. In addition, they are moisture-wicking, which is very important because you do sweat a lot when riding in the sun.
The helmet comes in three sixes: XS/S and S/M and L/XL. That caters for heads of all sizes, from extra small to extra-large.
To ensure you are safe, the helmet features an adjustable chin strap that has a side-release buckle.  The chin strap ensures the helmet is well secured to your head and does not fly off at the worst possible moment (during a crash).
It is called dual-certified because it is compliant with both the CPSC bike and the ASTM F-1492 skate safety standards.
Highlighted Features:
3. JBM Multi-Sports Helmet
The best helmet for scooter riding if you want one for your kids. Children enjoy riding too, but we have to take care of them. Kids are prone to falls when riding because they may not have completely mastered the skill, so it is very important that children wear helmets.
 The helmet is great for a variety of sports not just scooter riding, cycling, rollers skating, and skateboarding.
It will fit head sizes between 50 and 54 cm – as mentioned, it's a kids' helmet. To ensure the kid can wear it comfortably and with a good fit, the helmet comes with and adjustable strap. Both girls and boys can wear the helmet.
The material used to make the helmet is tough: PV and PC. This should protect your kid in case he or she falls when riding. On the inside, the helmet features an EPS foam which is excellent for impact absorption.
Keeping your kids cool and comfortable is a priority. To help with that, the helmet features multiple vents. It also has a special aerodynamic design. In addition, the foam is breathable, thus reducing sweatiness. All these factors add up to ensure your child's head stays cool and well ventilated.
Highlighted Features:
4. Bell Qualifier Full-Face Helmet 
A full face scooter helmet will give you the best protection, since it covers your entire face. Open-face helmets only cover the top part of your face and leave the rest exposed. With this full face helmet, you are protected from the elements: wind, dust, debris, rain, and so forth. If you are involved in a crash, your entire face is shielded from direct impact.
The helmet comes with a padded wind collar which helps minimize wind and road noise. This helps you focus better on the road.
If you want to listen to music while riding, this helmet comes with integrated speaker pockets.
Sweat is inevitable. For that reason, a helmet's interior can be smelly and dirty if not washed. It can become a breeding ground for bacterial. To prevent that, the interior of this helmet is removable and washable.
Highlighted Features:
5. Retrospec CM-1 Classic Commuter Multi-Sport Helmet
This is a multisport helmet, so you can use it in scooter-riding, skating, biking, and even skiing. It is tested and approved, a CPSC-certified helmet.
The sizing is versatile, three different sizes, enabling you to find one that can fit you nicely. Furthermore, the helmets feature two sets of interchangeable pads. The pads provide a high level of comfort and fit for your head.
The helmet's construction includes fully-formed ABS shell and a high-quality EPS foam. The ABS shell is for external protection – it's the part that gets the direct impact during the crash. The EPS foam is for internal protection – it is the part that absorbs the shock caused on impact.
Sweat and heat can really make the riding experience incredibly uncomfortable. To keep you cool and ventilated during hot riding days, the helmet has a total of up to 10 vents. These vents provide ventilation, airflow, and comfort.
If you like you motor scooter helmets stylish, this one offers that with its selection of matter colors. It's up to you to pick the one that fits with your scooter and personality.
Highlighted Features:
6. SC Skateboard and BMX Helmet
The main reason people go for half-shell motor scooter helmets is that they are not claustrophobic at all. For someone who feels cloistered and maybe unable to breathe or relax in a full face helmet, a half-shell helmet will do. You can enjoy the breeze and direct sunlight and whip of the wind as you ride.
SC stands for "Skull Cap", and that is a fitting name for the helmet. That is because the helmet is designed to sit in a firm yet comfortable way on your head, almost as if it was a second skin.
In weight, the helmet is pretty light. It weighs 430 g, which means it's rather lighter than standard skate helmets.
With 8 air channels, the helmet is well ventilated. You can enjoy the cooling effect you need to ensure you do not get excessively sweaty. That generally leads to a smelly helmet – the good ventilation helps prevent or reduce that.
The helmet has a pretty robust construction. It is made using advanced in-mold technology. The hard shell is highly durably. The polycarbonate outer surface is welded firmly with an inner shell that is made from EPS foam. This robust construction helps ensure you are safe in the event of a crash.
Highlighted Features:
7. Retrospec Traverse H1 Helmet
The helmet has 10 vents, which ensures you have a perfect temperature regulation. Riding trips can get really hot and stuffy. The ventilation ensures you have constant cool airflow for the top of your head.
The ABS shell exterior is firm and unyielding. It protects your head well during a crash. Inside that ABS shell is the EPS foam interior which acts as a buffer for the shock of impact. Banging your bare head upon a wall or the road or the hard body of a motor vehicle is an experience you simply wouldn't want to have.
The helmet adheres to safety certifications such as the EN 1077-2007 (ski helmets) and CPSC 16 CFR, Part 1203 (bicycle helmets).
It also comes with a google clip, which ensures you eye wear stays attached. This is a helpful innovation, considering how glasses might fall of when you are on the highway. The helmet does not come with a sun visor, so you will definitely need sunglasses.
Highlighted Features:
8. Vega Helmets Warrior Motorcycle Half Helmet
If you are looking for a motorscooter helmet, this one from Vega Helmets is a great option. You can get it in a variety of sizes, from extra small to extra-large. If you prefer stylish, comfortable motorscooter helmets, this is it. It is small in size, light in weight, and provides a custom-fit. It is also packed with great features.
On hot, sunny days, the rays of the sun can blind you as you ride into the sun, causing you to not see the road ahead of you. That is dangerous. It can cause accidents. To protect your eyes from direct sunlight, the helmet has a drop-down sunshield. It also protects them from dust and insects, enabling you to ride without squinting or blinking.
The helmet adheres to the US DOT FMVSS 218 safety standards. Its construction features a highly dense, thick, EPS liner that will absorb impact in the unfortunate event of a crash.
The EPS liner is also fully vented and moisture-wicking. This gives you relief from too much heat and stuffiness on those really hot days.
It has a quick-release strap, which enables you to secure the helmet on your head. The strap is padded, which helps maintain comfort (doesn't cut into your skin).
Highlighted Features:
9. Base Camp Adult Bike Helmet
This helmet is certified by the US CPSC standards. It has been tested and verified and can therefore be trusted to keep your head safe when riding a scooter.
It features an adjustable chin strap. The strap ensures the helmet stays put and doesn't come off when you are riding – especially at the most dangerous moment. The adjustability helps you ensure that the helmet fits your head perfectly and comfortably.
Having a heavy weight on your head is not a comfortable or ideal experience. Fortunately, this helmet is lightweight.
It also has 9 air vents. This ensures cooling of your scalp. One of the pleasures of riding is feeling the wind whip through your air or hit your head. With a helmet, that is curtailed. The air vents ensure you at least get some cool air coming into the helmet to ensure your head doesn't get too sweaty.
The helmet will fit most adult heads, but it does not come in an Extra Large size. It can fit adults with head circumferences ranging from 21.65 to 24 inches.
Highlighted Features:
10. ILM Motorcycle Half Helmet
A full face scooter helmet is great for protection, but half helmets have their charm. A half helmet enables you to experience the open road more directly. Some of us like that: the taste of wind and sunlight. This ILM half helmet will protect the top half of your face while giving the lower part the freedom to nakedly experience the elements.
The helmet also has high-quality venting which ensures the top of your head is cool. This will ensure you don't get too sweaty as you ride in the scorching heat of the sun. If you sweat so much, the helmet is soon going to get dirty and start to accumulate germs. It will also have a foul smell. Venting prevents all that.
It has a chin strap to ensure the helmet does not fall of at the most crucial moment: the moment of danger, when you are about to crash. The strap is a quick-release type, so you can easily and quickly take it off.
For eye protection, it has an integrated sun visor. It shields your eyes from sunlight, wind, insects in the air, dust, and so forth. The sun visor is removable. You can also replace it if it gets damaged, or if you prefer a different one.
Highlighted Features:
What to Look for Before Buying?
Before you click "buy", here is a checklist you can reliably use to identify the ideal helmet for you:
Helmet Fit
The helmet should fit perfectly on your head. Too loose and it is likely to fall off or just feel uncomfortable because it will keep shaking when you are riding. Too tight and it will just feel plain uncomfortable and stiff upon your head.
You want something that is only slightly tight. The interior padding should be in contact with a large part of your head.
At the same time, you don't want "hot spots". These are the areas where the interior of the helmet exerts pressure on specific areas of your face or skull.
As time passes, the helmet adjusts itself to the shape of your head – what we call "breaking it in". At that point, it loosens a bit, just not to the point where it starts moving side to side.
To test if the helmet is too big, insert a finger between your head and the helmet interior. If the finger fits with ease, you should look for a smaller-sized helmet.
Safety Certifications
When picking a helmet, go for one that has safety certification from the appropriate bodies. You can do some bit of research on the certifying bodies to determine if the certification is worth anything. Biking forums are a great place to get search information from.
Weight
There are lightweight helmets and heavy ones. The heavy ones are great if you are looking for durability. Heavier typically means stronger. It also goes without saying that, being stronger and more durable, heavy helmets are better for safety. They will give your head better protection in case of a crash.
On the other hand, if you are going on long rides, a heavy helmet is going to cause great strain on your neck. In that case, a lightweight helmet may be what you prefer.
Helmets with thermoplastic shells fall in the lightweight category. On the other hand, helmets with ABS and polycarbonate construction tend to be on the heavier side.
Full Face vs Open Face
This is one of the big decisions when picking a helmet. Do you want open face or full face? One covers your face entirely and the other only covers your head and the top part of your face.
Full face helmets are generally considered safer because they protect your entire face. They protect you from wind, noise pollution, moisture, and debris. They also typically have a sun visor, so your eyes are protected and you don't need to use special glasses.
On the other hand, open face helmets are not claustrophobic. You can breathe fresh air as you ride. They give you a more enjoyable riding experience, if you are the kind of rider that wants to feel the wind on their face.
Visor
A helmet with a sun visor is always the best option. Bad vision on the road is dangerous, even fatal. The visor protects your eyes from dust, hard glare of the sun, wind, and so forth. Visors help you focus on the road.
Consider too the quality of the visor. Is it scratch-resistant?  That's very important.
Frequently Asked Questions
Q: What kind of helmet do I need for long rides?
If you are doing long stretches of road at a time, you might prefer a lightweight helmet. With a heavy helmet, you are bound to get exhausted and have neck strain.
Q: What kind of helmet do I need when I am riding with friends?
When riding as a group, you want a helmet that can help you communicate with the others. We recommend one that has a built-in communication device (like Bluetooth).
Such helmets make the group riding experience more enjoyable. It also makes the process practical and convenient because you don't have to use hand signals with each other. It is safe than cell phones. In addition, it ensures you don't get lost.
Q: Can I customize my helmet to make it a better fit?
Yes, if you feel your helmet feels too lose, there are things you can do to improve the fit. For instance, install thicker cheek pads or headliners in the helmets. This is possible because many helmets feature removable liners and pads.
Final Verdict
When picking out helmet, remember that safety is the most important consideration. Everything else is secondary. Guided by this principle, you are bound to pick the best scooter helmet that guarantees your safety when riding your scooter.