10 Best Scooter Locks 2023 – Reviews and Expert Buying Guide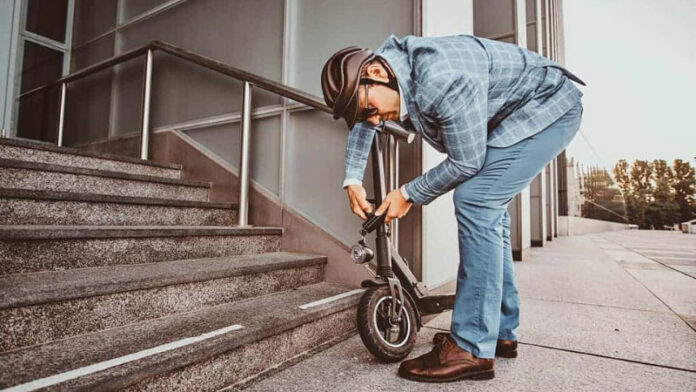 If you really love your scooter, then protecting it from thieves should be a high priority. Leaving your scooter outside with absolutely no protection is almost an invitation to thieves.
Using a cheap lock is no good either. Thieves will come equipped with tools to break or pry or jack or twist the lock and get at your scooter.
Scooter lock reviews are a great way to find out which are the best scooter locks on the market. The following is a selection of what we consider the best locks for your scooter or moped.
How Do You Secure a Scooter with Lock?
Before we get to the scooter locks reviews, let us consider the best way to lock a scooter. Do the following things:
Step one
If your scooter has a steering column, lock it.  This will ensure a thief can't push your scooter away from its parking spot. If the scooter is lightweight, though, the thief may simply lift the front wheel and thus beat the steering column lock.
Step two
Use a heavy-duty lock and chain to secure your scooter to a firm and immoveable object – for instance, a pole or a bike rack.
Never use objects that are too short because the crook can simply lift the scooter over the object.
You should also steer clear of any object that can be cut down. For instance, do not use street signs.
A determined thief won't quit easily, so make it as hard as possible for him to steal your scooter.
Step three
Whenever you lock your scooter, always ensure you reduce as much slack from the scooter's chain as possible.
Ensure the key hole is pointing down. This gives thieves a have a harder time when they try to pick the lock. It also reduces the amount of leverage the crook can gain when trying to break the lock.
Step four
Don't use just one locking mechanism. If possible, use two. When the job looks too difficult, the thief is likely to give up before even starting.
Installing an alarm system will also act as a deterrent to scooter thieves. The alarms are typically tilt activated or motion activated. Some models will even have remote notification which lets you know when someone is attempting to steal your scooter.
Our Best Scooter Lock Reviews
1. Titanker Bike Lock Cable
If you are looking for the best moped lock or the best scooter lock, consider this bike lock cable.  The lock cable is multipurpose: it works with scooters, mopeds, bicycles, skateboards, lawnmowers, sports equipment, gates, and so forth.
Picture this: a cable that features a 4-digit combination that has up to 10,000 possibilities! That makes your scooter, once locked, as secure as possible. The combination is pretty easy to set, so you can easily set your own personalized combination.
That means you can set a number that you can easily remember. Just make sure it is not a number somebody can guess.
The cable has protective PVC coating that makes it scratch-resistant. That makes the cable more durable. Furthermore, the flexible braided steel cable is highly resistant to cutting.
The length of the cable is just right. When a lock cable is too long, it may be too heavy or bulky, which is annoying. It can get in the way. On the other hand, a lock cable that is too short may be incapable of doing the job. This particular one is 4-feet long.
Highlighted Features:
2. Master Lock 8143D Combination Bike Lock
This 4-foot long combination lock is great for scooters too. What makes it one of the best scooter locks is its high-performance braided steel capable that makes it flexible, strong, and resistant to cutting and sawing.
Weather is always a problem to contend with, and the construction of this lock anticipates that. Sometimes you leave your scooter outside and it gets rained on.
For that reason, the lock has a protective vinyl coating that ensures protection from the weather. The vinyl coating also provides scratch resistance. Put simply, the lock is durable.
The lock has a self-coiling design, which makes it very easy to use. The importance of convenience cannot be gainsaid. The self-coiling design also makes the lock pretty easy to store.
To protect your scooter from theft, the lock features a 4-digit combination system. That means you do not have to carry a key around with you everywhere. All you have to do is remember 4 numbers.
Cable locks are popular because you can easily secure your scooter to a solid object. They are also lighter than chain locks, and keeping them clean is a breeze.
Highlighted Features:
3. Via Velo Bike U-Lock with Cable
To some, a U-lock is the best scooter lock. U-locks are super stronger and are invulnerable to sledge hammer or bolt cropper attacks. You can also use them with a chain or a cable.
This Via Velo U-lock comes with 2 keys that are not easy to copy. The keys are specially designed to enhance difficulty in copying. In addition, the lock is pick-resistant – it stops bumping and knocking. The lock cylinder is also pull and drill-resistant.
The U-lock has a double-bolt crossbar mechanism that is super-tough and provides protection against jacking and prying by a determined scooter thief.
A determined thief will come prepared with cutting tools. To counteract this, the U-lock is shackle steel hard. Furthermore, the U-lock features a 14 mm thick rubber casing and heat-hardened steel shackle that is highly resistant to leveraging and cutting.
The U-lock comes with a 1800 mm woven steel cable that is quite flexible and has a PVC coating.
Highlighted Features:
4.  Kryptonite Keeper 785 Integrated Bicycle Lock Chain
Scooter chain locks are also an option, like this 33.5-inch bicycle lock chain. Some chains are weak and are no deterrent for the determined thief, but this heavy-duty lock chain is practically unbreakable. It features 7 mm four-sided chain links constructed from 3T manganese steel.
The chain is secured directly to a hardened deadbolt. That makes the chain invulnerable.
In addition, the lock chain features a disc style cylinder that is resistant to drilling or picking.
You get 2 stainless steel keys that are ergonomically designed to minimize torque. The ergonomic design also ensures the keys don't break or bend.
Protection from the elements is an important factor to consider when purchasing a scooter lock. Can your lock withstand the elements?
For that reason, this lock chain features a nylon sleeve that is a) weather-resistant, and b) scratch-resistant. Even with exposure to torrential rainfall and extreme heat or humidity, this lock chain stays strong and durable.
Highlighted Features:
5. Kryptonite New York Fahgettaboudit Mini Heavy Duty Bicycle U Lock
U-locks make the best moped locks, and they are excellent for scooters too. This particular lock features an 18 mm hardened steel shackle.
It also features hardened double-bolts that engage the two ends of the shackle. This increases the holding power.
The lock comes with three keys. That means if you lose one key, you still have two more. The keys are made of stainless steel. As a bonus, you get one replaceable key fob.
You also have the option of register the keys online in the Key Safe Program. This is to ensure you can replace your keys in case you lose them.
A burglar may use twist and single-cut style attacks when trying to do away with the lock and get to your scooter. This lock prevents that with its "pass-thru" crossbar design which ensures protection against such attacks. In addition, the lock has a disc-style cylinder which is resistant to picking or drilling.
Being exposed to the elements can lead to the lock becoming dusty and dirty, especially on windy days in a dusty area. To protect against dirt and debris, the lock features a sliding dust cover.
Highlighted Features:
6. Bell catalyst U-Lock
We have already established that U-locks are among the best moped locks and scooter locks out there. If you live on a campus or a high-crime area, this Bell Catalyst U-lock can give you security you can rely on to protect your scooter.
It has a 8-inch hardened steel shackle. Even a super-determined scooter or moped thief will have a hard time when this is the lock he has to contend with.
One of the minor annoyances we have to contend with when we buy a lock is the inconvenience of having to carry it about. This lock's carrying bracket features a quick release that makes transportation so much easier. The lock is also lightweight, weighing only 2 pounds.
As protection from scratches, the crossbar and the shackle are coated with vinyl.
Highlighted Features:
7. Amazer Heavy Duty Combination Bike U Lock
This U-lock is built with 16 mm hardened, high-performance steel. It is solid and invulnerable to pulling or hitting attacks. The heavy duty, 12 mm steel shackle protects your scooter from thieves who try to compromise the lock with leverage attacks. Even armed with a bolt cutter, the determined thief will still fail to compromise this U-lock.
The shackle is coated with 3.85 mm PVC coating to protect the lock from scratches. In addition, the combination has a cover that protects it from dust and the elements.
The key-less convenience is something else! No carrying a key around – just remember a 4-digit combination and that's it. Furthermore, you are at liberty to set your own number combination. It's also worth noting that there are thousands of combination possibilities, so thieves are going to have a hard time trying to crack it.
This is a great advantage over key-using locks, because it's always possible for thieves to use a universal key. There is no universal combination! You can even change your combination often just to ensure your scooter is as safe as possible.
Highlighted Features:
8. Sportneer Bike Lock
Imagine a 5-digit combination lock that allows up to 100,000 codes. That is practically impossible to crack, so your scooter should be quite safe. That's exactly what this Sportneer bike lock provides. Best of all, you don't have to carry a key around with you.
The disadvantage of keys is that if you misplace your key or fail to carry it, you can't open the lock. With this lock, however, all you have to do is memorize 5 digits. This makes things so much easier, especially considering that you can easily seat and reset your own number combination.
Furthermore, this lock is built to last. The cable is constructed from 0.72-inch thick manganese steel. This kind of steel is so hard that hacksaws are useless for cutting it. Even drilling manganese steel will require extreme difficulty – with the use of diamond or carbide. As a result, your scooter is absolutely secure with this lock.
This is a multipurpose lock. The cable is long and flexible, measuring 3.2 feet long. You can use it to secure your scooter, bicycle, gate, lawnmower, tool box, or sports equipment.
Your lock will usually be exposed to the elements. To protect them from dust and rain, the chains are covered by a flexible cloth sleeve. It also protects the chains from scratches.
Highlighted Features:
9. Via Velo Bike U-Lock
Burglars will try all manner of tricks to do away with a lock just to get at your scooter or moped. With his Via Velo U-lock, you may breathe easier thanks to the heat-hardened steel shackle. The lock is quite invulnerable to cutting and leveraging.
The lock also features a double-bolt crossbar locking mechanism. What that basically means is that shackle is locked to the crossbar in two places. This provides protection against leveraging or twisting.
Carrying a lock around is tiresome. Imagine having to pack your scooter lock in a knapsack or a carry case. This is even worse when the lock happens to be on the heavy side. Fortunately, this lock comes with a mounting bracket. That provides convenient storage when you are riding. Note that the lock weighs 3.2 pounds.
When buying a lock for your scooter, you should consider durability, particularly in respect to the weather conditions. You want a lock that can withstand all sorts of weather, like this Via Velo U-lock.
It has a protective PVC coating that protects it from water, dust, dirt, and scratches. The lock also has a lock debris cover that protects the lock from dust and dirt.
Highlighted Features:
10. Kryptonite New York Faghettaboudit 1415 14mm Chain Lock
This chain lock contains 14 mm six-sided chain links which are built from 3T manganese steel. Manganese steel is so hard that it's what was previously used in prisons' window bars.
Manganese steel is also used in bullet proof cabinets, safes, and anti-drill plates. This kind of steel makes light work of hacksaw blades that attempt to cut through it.
It features a disc-style cylinder that has a reinforced, anti-drill, anti-pull protection system. A sliding dustcover protects the cylinder and helps it lasts long.
If you have more than one scooter or bike to protect, this chain lock is all you need for the job. The chain lock is 5 feet long. This comes in handy when you want to secure multiple scooters.
Highlighted Features:
What Makes the Perfect Scooter Lock?
Before you buy a lock for your scooter, there are things you will have to consider. The following are the features of the best scooter lock:
Visibility
One way to ensure your scooter doesn't get stolen is to simply let potential thieves know that your scooter is locked. A scooter simply parked out in the street is too great a temptation.
If the lock is visible from afar, most potential thieves will shy away. Only the determined thief will make an attempt. Ensure that the lock looks formidable and impossible to cut or break or leverage.
Weather-Resistant
When you leave your scooter locked outdoors, your lock will be exposed to the elements. All sorts of weather conditions will test its durability. The best scooter lock will be able to withstand rain, dust, and all sorts of weather.
Great locks are usually coated with something like PVC or vinyl which gives them protection against the elements. You don't want a lock that gets all scratched up or rusted after a short while.
Flexible Design
The perfect scooter lock has a flexible design that makes it multipurpose. You can use it not just for a scooter but also a bike, a gate, a fence, a moped, or a lawnmower. You can also use it to lock multiple scooters, not just one.
Before buying a lock, consider if it is going to be compatible with your scooter. Ideally, go for a product whose length is adjustable.
Flexible design is also about weight. The ideal scooter lock is lightweight and foldable, something easy to transport. An even better convenience is one that features a mounting bracket, which provides storage for the lock when you are riding.
Protection Features
The perfect scooter lock has extra features to better assure you of your scooter's security. We mean features such as anti-drill protection and anti-pull protection. These two features are particularly essential if you park your scooter in a theft-prone area.
Another impressive extra protection feature is alarms. Some locks come with built-in alarms that are triggered when someone attempts to steal your scooter.
The sound produced alerts you that someone is trying to steal your ride and you come out to inspect. The alarm itself is enough to scare off a thief before he even gets the time to take his tools out. The louder the alarm, the better! 
Another advantage of alarms is that they can bring down insurance premiums.
Check out this article on best motorcycle lock by Joshua D. Mattie
Frequently Asked Questions
Q: What should I do to maintain my lock?
The answer we provide here is not applicable to all locks. A lock, being a mechanical device, requires lubrication. The lock's keyway is especially needful of lubrication. Using the lock regularly will ensure it remains flexible.
You can also put a bit of graphite powder into the lock's keyway. Do this after every three months. In case the lock is binding, use graphited penetrating spray.
Q: Are there any extra steps I can take to secure my scooter?
Place a cover on top your scooter, moped, or motorcycle top of the scooter. A lot of times scooters are stolen because someone happened to be walking by and saw the machine.
Covering the scooter will reduce the chances of a potential thief spotting it and attempting to steal it.
Besides, the effort required to strip a cover to examine your machine and see if it's worth stealing will scare off an undetermined thief.
You can also install alarms to provide further security. Alarms act as deterrents to thieves. Once the alarm goes off, the thief has no option but to escape.
Sometimes despite your best security measures, your scooter may still get stolen. That's why you should consider installing a tracker. A tracking system will greatly increase your chances of catching the thief and getting you getting your scooter back.
Final Verdict
Now that you know what to look for in a scooter lock, you can start shopping for one. Take your pick from any of the 10 locks we have reviewed. For maximum security, you can also buy an alarm and a tracking system.
Ensure the lock is made of strong, formidable, durable material that can withstand burglars and weather.