The Best Scrambler Motorcycle for an Off-Road Experience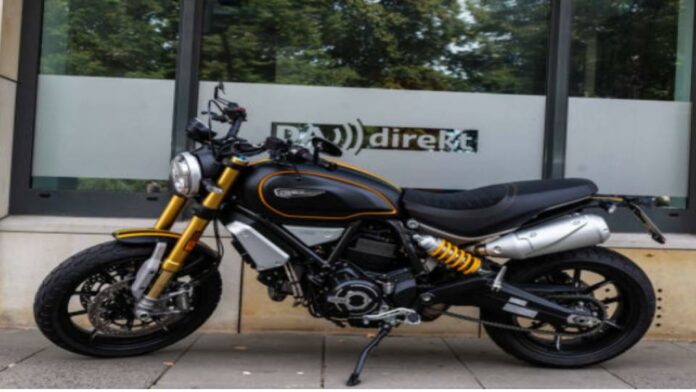 During the 1950s and 60s, scrambler motorcycles were the solution to what most riders needed but weren't in the market. Club racers started modifying their all-purpose bikes to race on a wide range of surfaces, including dirt roads and fields. And this resulted in the birth of a scrambler motorcycle. Built for the road and modified for the dirt, scrambler bikes continued evolving in the coming years as affordable and fun bikes with simple designs.
But the fad died eventually, with scramblers being forgotten for decades. Fortunately, retro is back in, and scramblers, much like bobbers, have made a comeback. But this time around, they are more about cool aesthetics and vintage looks than their on-and off-road performance.
In fact, many top brands took the trend seriously and started manufacturing some modern scramblers. The modern scramblers vary in engine power and design, but they are still reliable off-roaders. So, we took a look at some of the latest scramblers in the market and created the following review of the best scrambler motorcycle.
Top Pick
Our favorite is Triumph scrambler 1200 XE scrambler motorcycle, as it has everything you would ever expect to find in a scrambler. It's powerful enough to rival a huge percentage of the top scramblers in the market.
The Best Scrambler Motorcycles Are
1. Triumph Scrambler 1200 XE Scrambler Motorcycle — Best Overall
Triumph is one of the top manufacturers with deep roots in this style of bike. Starting with the TRS Trophy (the 1940s), the desert sleds, and the Bonneville-based scrambler (2006). Currently, they are the top dogs in the market, with their 1200 XE being the closest to the original scramblers.
With an adjustable front suspension and a 1200cc liquid-cooled engine, this bike can conquer dirt trails. This scrambler comes with an 81 foot-pound torque and 88 HP that can tackle a wide range of rough terrains. And with its 21-inch front wheel and Brembo braking system, this bike is ready for the dirt. Unlike the 1200 XC, the 1200 XE comes blessed with an extra layer of off-road capabilities, and it can compete with some serious adventure bikes. Unfortunately, the only negative thing about this bike is its price; Triumph scrambler 1200 XE is very expensive.
Specs
Verdict
Other than being the closest to the original scramblers, 1200XE has the power to tackle rough terrains.
2. Ducati Scrambler Desert Sled
The desert sled is the most versatile scrambler in the Ducati scrambler line. The desert sled was launched in 2017 when modern scramblers were street scramblers for café hopping. But unlike most bikes on the market, this line was initially created for the Californian desert. The desert sled was built to race in the Californian desert during the sixties and seventies.
Ducati changed the current scrambler market for all brands when they introduced a true off-roader. With its jacked-up front, this bike is distinctive from all the other scramblers in the market. For the 2019 model, Ducati gave this bike a tank with meatier aluminum side panels and spoked wheels on black rims. They also added a new seat with color-coordinated stitching.
Other than aesthetics, Ducati added adjustable Kayaba suspension and reinforced frames. They also added a new off-road mode that allows the ABS to disengage easily. But since its engine is air-cooled, there is no water jacket and therefore produces more heat.
Specs
Verdict
Ducati scrambler desert sled is a bike that will always have people come to chat you up. Therefore, it's not ideal for introverts.
3. Triumph Street Scrambler Motorcycle
The street scramble is actually one of the most common modern street scramblers available today. The new Triumph street scrambler comes with a power boost from 54 HP of its predecessor to 65 HP. This bike has experienced numerous updates from 2019, and this includes Euro 5 regulation compliance. The 2022 model kept the styling updates minimal and made slight revisions on the engine to lower its emissions.
So you won't see a huge change on the outside, as it retained its overall retro dimension and form. Together with its wide handlebar and 19-inch spoked wheels, the street scrambler guarantees you a memorable ride. The 900cc parallel-twin engine has a few modifications, like the secondary air injection system for the latest model. But despite the engine modifications, this scrambler hasn't lost its speed or power. But some riders have complained that it's not a proper off-roader because of its low ground clearance.
Specs
Verdict
Even though it has low ground clearance, this bike was designed for the streets. So if you are looking for a proper off-roader, you should stay away from this scrambler.
4. Indian FTR 1200 S Rally Kit
In reality, the FTR 1200S is an excellent street bike, but with the rally kit, it becomes a dirt animal. The new FTR 1200 S features a power 1200cc engine which makes it a great off-roader. The bike's riding position is upright, and it features a rear mono-shock and an inverted 43mm suspension (both adjustable).
To better tackle obstacles on its trail, this bike features a 19-inch front wheel. This can be easily upgraded to knobby tires and wire spokes. Its engine produces 120 HP, and to help you tackle tough terrains, it has a 6-speed gearbox. Add the Bosch stability control and Brembo brakes with ABS, and you're good to go. And to make it a real scrambler, you can add the rally collection kit. Some riders have complained that its high seat height can be quite intimidating; plus, it's quite costly.
Specs
Verdict
Even though it doesn't have the striking looks of Ducati, the FTR 1200 S looks unique and beautiful. Plus, its 1200cc engine can power through very rough terrains.
5. BMW R NineT Scrambler
The R nineT is a unique scrambler that can glide easily through rough roads and terrains. Its handling is balanced with its 1170cc engine producing powerful torque and an awesome sound. This air-and-oil cooled engine has 110 HP with a revised fuel map. With this bike's seat design you can ride easy and upright with your head held high.
What makes it ready for the dirt are the relaxing seating, rugged finishes, high-mount exhaust, and 19-inch front wheel. The non-scrambler parts on this unit are the street-biased rubber, traditional fork, and mono-shock. Luckily, these features can be replaced at a price. The R nineT looks stunning, but due to its weight, you should expect some compromise in the off-road department. But, it is slightly heavier and pricier than the R nineT Urban G/S.
Specs
Verdict
BMW R nineT scrambler is an excellent off-roader that comes with a powerful 1170cc engine. Its air-cooled engine produces more than enough power to tackle even the toughest terrains.
6. Norton Atlas Ranger
The 2019 Norton Atlas Ranger scrambler is a great contender in the lightweight class. It is the core platform for the Nomad and Ranger. Plus, it emulates the U.K. standard cruiser of the 1960s thanks to its dirt bike-style front fender and wire wheels. The wire cage over its headlight, kicked-up exhaust, and fly screen makes it stand out.
This scrambler comes with a 650cc liquid-cooled parallel-twin producing 85HP. This bike also features a 19-inch laced front wheel, skid plate, triple-disc Brembo ABS, and front inverted road-holder forks. What's not to like about this scrambler? And the fact that it has more power than Triumph Street scrambler and Ducati sled is a bonus.
The ride-by-wire throttle control on this ride connects your wrist to the bike. The throttle bodies have 4 injectors for feeding the twin cylinders. Plus, there is no rider or traction control mode, only the essentials. Unfortunately, it's not available in the United States.
Specs
Verdict
The Norton Atlas Ranger is an excellent bike that has helped revive the retro looks that every rider loves.
7. 2019 Royal Enfield Himalayan
Royal Enfield, the manufacturers of the Himalayan, claims that this is the only bike any rider will ever need. Well, this is a stretch from the truth; but this bike has a lot of great things going for it. It is an affordable bike going for less than $5,000 and displaces more than 300cc. Despite having higher displacement than a huge percentage of its competitors, this is not a fast bike. In fact, it produces less than 25 HP while weighing as much as a 600cc bike.
Most off/on-road bikes have long-legged suspensions that can take a pothole with assurance. But the only problem with most of them is the skyscraper seat. Luckily, this is not an issue with the Himalayan. This bike allows an average-height rider to place his/her feet on the ground while maneuvering at low speed. Unfortunately, its engine is not liquid-cooled; therefore, it will produce more heat.
Specs
Verdict
The Royal Enfield Himalayan is a powerful entry-level bike that is easy to control. And the fact that a new Royal Enfield Himalayan goes for less than $5,000 is a bonus.
Factors to Consider When Buying a Scrambler Motorcycle
Scramblers were designed to look like reliable off-roaders. But in reality, while they appear to be off-road-oriented machines, not all of them can tackle tough terrains. All in all, they are great bikes to ride and the best options for general off-road trips.
But with the numerous options available, choosing the right ride can be quite challenging. And that is because they vary in engine capacity, price, and design. So here are a few factors to consider when buying a scrambler:
Engine Capacity
By definition, scramblers are designed to handle tough terrains. Therefore, they have to be powerful enough to power through some of the roughest terrains available. And they have to do it without overheating. So the best scrambler should have an engine power of at least 800cc. They are heavy units, and without the necessary power, riding through certain terrains can be challenging.
Unfortunately, some bikes have even lower engine power. So if you are looking to tackle tough terrains, then you should go for a model with enough power.
The Size of the Front Wheel
Going off-road means tackling some tough terrains filled with rocks and small trenches. So your bike's front wheel should have a bigger diameter and wider sidewall. After all, a wider sidewall absorbs force better than the thinner ones. With a bigger front tire, you can crash into a pothole without damaging your rims.
Price
Scramblers are costly motorcycles that vary in price, with the cheapest being about $5,000. But the cheaper scramblers are less powerful and can't tackle off-road trails. Therefore, the more you're willing to pay, the higher the chances of getting a powerful scrambler. But this doesn't mean that the most expensive scrambler available is the best option in the market. So make sure you compare a few scramblers within your price range before making a decision.
Final Thoughts
With the numerous modern scramblers available, selecting the right option for you can be quite challenging. But with the above information, you can easily narrow your search for the best scrambler within your price range. You can get a powerful scrambler that is easy and fun to ride.
The scrambler that you can never go wrong with is the Triumph Scrambler 1200 XE. It is the closest to the original scramblers in design and powerful enough to power through any terrain. Plus, its liquid-cooled engine produces less heat.