10 Best Speakers for Harley Street Glide [Best Buying Guide]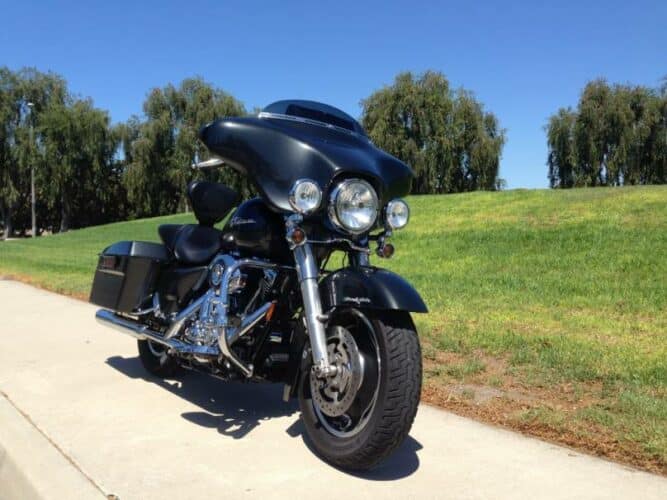 I evaluated 22 tools and narrowed the list based on people's reviews, Reddit recommendations, and online ratings.
I found that the Rockford Fosgate HD14-TKIT is the best Speaker for Harley Street Glide. It outdoes all its competitors with sound quality and provides pristine sound at cruising highway speeds.
There is a wide selection of after-market Harley speakers. This is why finding the right one can be challenging.
In this article, I shortlisted the top 10 best Speakers for Harley Street Glide, including an in-depth review of each system. I will also give a complete buying guide to help you pick the right product.
I have spent over 10 years reviewing Harley-Davidson motorcycle products. Therefore, I believe I can help you pick efficient and high-quality products.
At A Glance: Best Speakers for Harley Street Glide
10 Best Speakers for Harley Street Glide
Riding a Harley motorcycle while listening to your favorite music can be delightful. But you need a good set of speakers to get an enjoyable riding experience.
While a high-quality speaker set will upgrade your stock audio system, getting the perfect one is always an uphill task. The speaker systems below vary in features like watts and size but will give the best sound quality.
Pros
The 25 mm tweeters can fit into the fairing location.
Easy installation procedure with no skills required.
Constant power supply across different impedance.
It is water and weather-resistant.
Cons
It only comes with two speakers.
Installing audio upgrades to updated models of Harleys could be a challenging task. Rockford's stage 3 kit offers a solution to this. The kit is quick and easy to install with no modifications. Therefore, you don't need any specialty as every part bolts down to the OEM system fitting points.
There is no doubt why it earns the top spot on our list. The only drawback is that it could be expensive for some consumers. But this is nothing, as you get value for money.
The set has a 4-channel compact amplifier designed to output 400W to its vast 6.5" coaxial speakers. Paired with 25 mm dome tweeters, you're guaranteed quality sound even at higher speeds.
Important features
Radio flash: The radio flash balances the frequencies to give you an authentic sound. This deals with the default setup, which eliminates 24mhz from the sound system.
2-Year warranty: They come with a 2-year warranty to safeguard the life of your sound kit.
Easy installation: With its elegant design, the Rockford Fosgate HD14 is easy to set in place. You do not need modifications, such as drilling or cutting. The speakers also fit in perfectly in the fairing location.
Santoprene surrounds: The sound technology ensures maximum frequency output. It is effective for both low and mid-frequency ranges.
Weather resistant: The system has glass-reinforced polymer frames and a carbon-reinforced polypropylene cone. This makes them resistant to harsh weather conditions.
Power Handling: With a power output peak of 150 watts (75 watts for each speaker), the Fosgate HD14 offers you the best sound output, even at higher speeds.
Pros
The speakers are extra loud.
The speakers have less power consumption.
They are dust, corrosion, and water resistant.
They offer audiophile sound quality.
Cons
Speaker cables might take time to connect.
Rockford Fosgate TMS6SG is the best speaker option if you're working on a budget. These 4ohm speakers offer precise sound at high volumes with no sound deformation or other audio problems.
While they offer a good value for money, the investment may not be worthwhile if you don't ride quite often.
The full-range speakers are easy to install and fit well in the Street Glide speaker housing. The system is also accompanied by a 25 mm dome tweeter for clear highs and comes integrated with a phase plug.
Important features
Grills and mounting hardware included: The speakers come with mounting hardware and a grill. You do not need to purchase them differently.
Santoprene sound: The speakers provide the highest frequency output for bass and mids.
Easy to install: The installation procedure is effortless since the speakers fit in the Street Glide set. You do not need any modifications.
Carbon fiber reinforced polypropylene cone: These protect your tweeters from harsh weather conditions.
Strong bass sound: The patented technology improves the bass output and the overall performance of your speakers.
2-year warranty: It has a 2-year warranty to ensure you get the best out of your purchase.
Pros
It does not require modifications, such as drilling or cutting during installation.
Direct connect wiring harness hides your wires.
The kits bolt directly to the factory joint points.
Clear sounds even at highway speeds.
Cons
It needs you to flash the factory radio to use it.
The Fosgate HD14RGSG stage 3 kit is a 400-watt audio system built for select 2014+ Harleys. It has a frequency response tuned to prevail over the exhaust, road noise, and wind up to 75MPH.
This kit comes in black-injected molded plastic that completely blends with your bike. But the wiring harness is for select Street Glide models.
Rockford Fosgate HD14 RGSG comes with 4 high-performance speakers. They include dual 6" x9" speakers for the saddlebags and dual 6.5" speakers for the fairing. There is also a 4-channel amp and a complete installation kit.
Important features
Easy to install: The kit has a complete installation set and a wiring harness, making the installation process easy.
Better sound: It has four speakers powered by a 400W amplifier. You will get the best sound even at higher speeds.
Element ready: The kit design can withstand adverse environmental conditions. This protects them against dust, UV, corrosion, vibration, temperature, and water.
Heat control: The RFK-HD14RGSG kit has real-time thermal sensing to safeguard the amplifier. There is also a dual fan system that ensures the system stays cool.
Surface mount technology: You can mount the set with hidden cables to improve the aesthetics of the bike.
2-year warranty: The 2-year long-term warranty guarantees the best service to safeguard the life of your kit.
Pros
Easy installation procedure, plug n' play.
They may outlive some Harley models.
It rarely produces any sound distortions.
Sounds better than many factory speakers.
Cons
It produces better sound when used with an amplifier.
Hogtunes are well known for their parts when it comes to Harley parts. The Hogtunes 5.25" front speakers are the most cost-effective when upgrading an audio system.
These speakers come with vented magnets for an increased power handling ability. The magnets are specially designed and tuned to give better sounds at high speeds. However, the speakers work best with an amplifier.
Important features
Easy to install: The speakers have a simple and elegant design that is easy to install. It is plug n' play and comes with all the installation requirements.
Better bass quality and response: They have a 1" titanium tweeter playing at full volume resulting in a smooth and full sound.
Good sound quality: The speakers produce sounds that cut through wind and exhaust noise at highway speeds.
Heat control: The big vented magnet controls the heat by letting air in and out of the speakers.
20-year warranty: The speakers come with a long-term warranty of 20 years. This increases the longevity of your audio system.
Pros
Great quality sound output from the two 3-inch speakers.
The wired remote volume control makes it easy to control audio when riding.
They are water and weather-resistant.
They have the latest build technology.
Cons
They are not compatible with all Harley models.
The BOSS MC420B comes with dual 3-inch chrome speakers in the shape of standard motorcycle speakers. They fit handlebars with diameters ranging from 0.75" to 1.25", making them ideal for some Harley models.
The audio system kit has a powerful 600-watt amplifier and comes equipped with all the installation tools you need. However, their installation may need professional help.
These BOSS MC420B speakers are water and weather-sealed. They have a chrome finish which protects them from adverse weather conditions.
For audio playing, the AUX cable is on the side of the amp, making it easy to access. The system also has Bluetooth Audio Streaming. You can enjoy music from streaming platforms such as Apple Music and Spotify. 
Important features
Bluetooth Audio Streaming: You can enjoy your favorite music from various streaming platforms. The platforms include Spotify and Apple Music.
3-Year warranty: The product has a 3-year-long warranty if you buy it through Amazon. This is to safeguard your item and increase its longevity.
Weatherproof: It has a chrome finish which protects the speakers from moisture. The latest technology build also optimizes weatherproofing.
Mounting brackets: The installation kit comes with an adjustable mounting bracket. These brackets can fit 0.75" to 1.25" handlebars.
600-watt amp: The dual speakers withdraw power from the powerful 600-watt amplifier. The amp also has a wired remote volume control. This makes it easier to control your music even when riding at highway speeds.
Pros
The sound quality is crisp and clear, even when riding at high speeds.
They come with all equipment needed for installation.
The speakers are water and weather-resistant.
The grills are strong and won't bend under everyday stresses.
Cons
They have a low bass level.
Fostgate TMS65 features two 6'5" full-range parallel speakers with Santoprene surround sound. The speakers have a fortified polypropylene cone and close-packed Neodymium motor structure.
They might have lower bass levels than all the speakers on our list. However, they guarantee optimal frequency output and mid and low-frequency response.
The Fostgate TM65S has a phase plug integrated with an ultra-efficient 25 mm dome tweeter. Its speakers also hook easily with the stock speaker connectors and hardware.
Important features
Santoprene Surround: The system provides maximum frequency output in the mid and low-frequency ranges.
Element ready: It has Carbon Fiber Polypropylene to withstand adverse environmental conditions.
Discrete tweeter wires: The mount type lets you install the set with hidden speaker wires. This maintains the beauty and style of your bike.
Easy to install: The speaker mounts easily using the company's hardware. You do not need to drill or cut the motorcycle.
Better sound: It has an integrated dome tweeter and a phase plug to give crisp and clear sounds even at high speeds.
2-year warranty: This guarantees the best service for the speaker and the best value for money.
Pros
They can operate without an amplifier.
They offer deep bass with high fidelity.
The sound quality is clear and crisp at any volume level.
These speakers are durable as they undergo rigorous testing.
Cons
The tweeters' sound may be shrill to people having a sensitive hearing.
With the Patented Plus One woofers, the Kappa 62IX offers a strong bass and a clear sound output. The speakers deliver broader and smoother high-frequency responses.
The tweeters can be a bit shrill with high audio output. They are each tuned with outboard passive crossovers with audiophile-grade capacitors.
An optional ordinary speaker with a bandpass connector is available to upgrade the 2-way unit system into a 3-way one. This boosts the performance of the Kappa 62IX.
Important features
Dome tweeters: These tweeters provide a smoother and broader high-frequency response. The tweeters have a large voice coil with low distortion and are very reliable at high volumes.
3-way upgradability: The kit's 2-way component system is gap-selectable and can hold a midrange upgrade. This is achievable with an ideal tonal balance.
Ultra-high sensitivity: The high sensitivity offers higher output without overloading the system. This gives the Kappa speakers an excellent volume.
Good tuning: Individually tuned with output passive crossovers to provide high-quality sound.
Low impedance: The system has a high output 2.5-ohm design with low-resistance voice coils. The design lets the speakers draw watts from the amp for peak performance.
Pros
The template works very well.
Installation is straightforward and may take at least one hour per side.
It makes work easier as you get instructions to follow.
Cons
The rear speakers can get overheated if they don't have more room to breathe.
They will require modification since they are not plug-n-play.
The Rockford Fosgate TMS69BL14 allows the addition of heavy-duty rear speakers. They are compatible with the stock bag lids in 2014, and newer factory Harley-Davidson street glides. These speakers are easy to install with a plug n' play harness directly into the fairing audio kit.
The system features mid-range speakers and 25 mm tweeters with a high output audible at 70 plus mph. It also plugs into the Rockford Fosgate 4-channel amplifier to produce more power. But unlike other systems on our list, the Rockford Fosgate TMS69BL14 is not designed for use with factory amplifiers.
This kit suits riders who like playing loud music for longer durations. The speakers can provide a strong bass response and handle higher power capacity.
Important features
Strong bass sound: The coaxial speaker design is efficient, with high power handling capacity to provide HD audio and bass clarity. It can withstand high volumes without distortion.
Tweeter: Phase-aligned 25 mm tweeter integrates with 2-way speakers to produce high-pitched sounds.
Element seal: It has painted stamped steel speaker grilles with ASA plastic frame to protect against UV. It also has a clamping gasket design to protect against water and corrosion.
Easy to install: The kit has a pair of saddlebag harnesses that connects directly to the power amplifier. On top of that, it comes with all installation hardware and accessories.
Heat control: The polymer frame has a glass reinforcement to provide high-temperature protection.
Pros
The wiring harness works with the stock unit.
The kit has everything you need for installation.
It sounds loud, and the audio is very clear.
Their installation is a breeze.
Cons
The speakers may not withstand rain for too long.
This kit is a design for the 1998-2013 Harley-Davidson Street Glide. The Rockford Fosgate HD9813SG-TKIT has dual 6.5" full range direct fit coaxial speakers and compact chassis.
It fits the upper fairing speaker locations with a plug n' play installation. You can fit the system using the factory mounting hardware without drilling or cutting.
These speakers are good at blocking environmental elements such as corrosion, dust, and UV. However, they may not be able to withstand rain for too long.
The 400-watt front audio kit would be a good addition for people looking for more volume. It has a 4-Channel amplifier with class AD technology to draw current from the charging system for more power output.
Important features
Crisp, clear highs: The system has dual 6.5" full-range coaxial speakers and a 25 mm dome tweeter. You can get clear audio even when cruising at high speeds.
4-Channel amplifier: Unlike other models, this kit has a compact 4-channel amplifier that provides 400W power.
Plug n' play installation: Connect the wiring harnesses and bolt the speakers to factory attachment points. You do not have to drill or cut during installation. 
Element ready: It can withstand harsh outdoor environments like dust, water, and corrosion. They even have a carbon fiber-reinforced polypropylene cone to protect against vibrations.
Class AD amplifier technology: The amplifier can draw current from the bike's charging system to produce more power.
Cooling system: The dynamic thermal management enables the speakers to withstand high temperatures.
Pros
The kit comes with wires to hook to the speakers.
It has a lid cut-out kit to make installation easier.
The speakers produce decent bass and good highs.
You do not need an adapter to upgrade the system.
Cons
Modification is still required as you have to cut the lids.
The BOSS Audio Systems BHD14 upgrade is new to the market with new 6" x 9" rear speakers. Its stereo imaging is adversely improved, and the speakers can filter unnecessary sounds.
These speakers are suitable for those who want to install or upgrade saddlebag speakers. This is because most Harley street glides do not come with speakers installed at the back.
This full range 2-way speaker kit provides 300 Watts of power for each pair and can be an ideal option for powerful 600W amps. The speakers have 92dB sensitivity and can respond to 50 Hz to 20 kHz frequency.
The best thing is that you do not have to upgrade the amp to use the BOSS Audio System. The OEM amp already supports the four-channel model. You can easily install them into your existing factory bag lids.
Important features
Good sound quality: They are full-range 2-way speakers with up to 300W power. This makes them an ideal choice for powerful 600W amps.
Heat control: It has voice coils to enable the speakers to withstand high temperatures. The speakers can thus play for an extended period without breakage.
Tweeter: BOSS Audio BHD14 Systems provide one tweeter per speaker. These tweeters produce high-pitched sounds and different vocal frequencies.
Clear music output: The stamped basket offers a rigid platform for clear music output.
Poly injection cone and surround rubber: BHD14 6" x 9" speakers are long-lasting due to their polyurethane makeup. The material is durable and resilient to withstand wear and tear.
Warranty: You get a powerful platinum online dealer warranty for up to 3 years. The warranty makes it easy to safeguard the life of your sound kit.
---
Things You Should Consider Before Buying the Speakers for Harley Street Glide [Buying Guide]
Many manufacturers are now providing motorcycle audio system solutions. This makes it challenging to get the right speaker for your bike. Besides build quality, the best Harley speakers share some standard features. These include the speaker size, price range, and speaker wattage.
I, therefore, did some research and made a list for you of the things to consider before buying speakers for your Harley.
Full upgrade kits vs. speaker kits
If the full upgrade kit is within your budget, I highly recommend it. However, if your budget is tight, an upgrade kit would work fine if you need more or a little better sound. The Street Guide, for instance, comes with a subpar sound system and might need an upgrade.
Maximum speaker output
Every speaker has a limited output that determines the power it can take from the amplifier. The OEM amplifier may work with four-channel audio, but it can only output 300W of power, which isn't much. Going for a 150W quad speaker setup with this amp wouldn't make much sense.
I recommend going for speakers that do not exceed 100W if you do not want to change the OEM amplifier. However, if you're looking to replace it, go for a product with at least 300W and 600W if you're a highway rider.
Ease of installation
You should be able to get the new speakers to connect effortlessly. For Harley Street Glides, the best speakers are the easiest to install. The premium kits like the Rockford Fosgate fit seamlessly in the OEM housing with no special tools needed for installation. But, the budget kits are much tougher to install.
The installation procedure is always pretty simple and comes with the product manual. You can also check for videos of the steps or visit the manufacturer's website for the manual.
Two speakers vs. four speakers
Dual speakers cause fewer distractions and make you more focused on your ride. At the same time, a quad-speaker setup doubles the power output and enhances your listening experience. The four speakers especially come in handy when riding at higher speeds. Four speakers will use consume more battery power than two speakers.
Check out this article on the Best Lithium-Ion Motorcycle Battery by writer Joshua D. Mattie.
Loudness
The stock Harley Street Glide sound system is not loud, and you certainly won't be able to hear the music at high speeds. The engine's level, combined with the sound of traffic, will make it even more challenging. This is why you need to consider upgrading your Harley's sound system.
However, if the only concern is the loudness, you can go for Boss Audio System. Obviously, at times you will have to turn down the volume, but at least you won't have to strain to listen to the speakers.
Size of the tweeter
Tweeters can determine how a speaker sounds since they work as system parts. A more powerful tweeter means the music will be more audible and the speakers much louder. Also, tweeters block unwanted high-frequency sounds that could be a distraction.
Water Resistance
If you choose standard or indoor speakers for your bike, the chances of rain ruining them are very high. Most speakers have metal and plastic on the outside and neodymium magnets connected to iron metal plates on the inside. They thus need protection from water exposure. If not well protected, moisture might get into the electronic part, causing the speakers to short circuit. Fortunately, there is an assortment of waterproof speakers available for Harley motorcycles.
Ergonomics and Mounting Options
It would help to pay attention to the positioning of the control buttons. Awkward control placing may be difficult to reach, especially when riding. The buttons should be comfortable and easy to use by the rider, even when wearing gloves.
Additionally, handlebar-mounted speakers are great as they project sound in front of the rider. You can also check for speakers with Bluetooth connectivity. They could come in handy when streaming music or even turning on navigation services or GPS.
Frequently Asked Questions
Are motorcycle speakers water-resistant, and if so, how do you clean them?
Motorcycle speakers are usually water-resistant and thus not as susceptible to water damage. While most people ride bikes in ideal weather conditions, sometimes the weather can change and get stormy. Therefore, if the speaker is not waterproof, moisture will ruin it. Ensure the speaker is not exposed to harsh elements or submerged in water to avoid causing damage.
The best way to clean motorcycle speakers is with a pressure washer attachment or air compressor. But you first have to uninstall them from the bike. Also, if the rubber gaskets of the speaker cone have tough dirt, you can remove the dirt using a soft-bristled brush.
How do I install new speakers?
It is always best to let a professional install your motorcycle speakers. However, before replacing any of the bike's components, start by turning off the ignition. Then find the location you want the speakers to go on. The location of the speakers will vary depending on your preference.
Begin by attaching the speakers to the amplifier. The cords should be well labeled so you know which speaker to connect to. Then place the amp in a convenient place. You can set it under the hood or near the engine area. Next, take off the hood to expose the battery. Now connect the power cable from the amp to the battery. Some cords have U-shaped flat ends to make attachment easy.
When attaching the cords from the amp to the battery, ensure you connect ground to ground, negative to negative, and positive to positive.
What size speakers are in a Harley Davidson Street Glide?
The size of the speakers will depend on the model year. With the older models, they come from the factory with 5.25" speakers. But with the new models (2014+), expect to find 6.5" fairing and 6×9" saddlebag speakers.
How Many Watts Are Stock Harley Speakers?
The average factory speaker gives off an output of more than 100 watts of power for newer Harley Davidson Street Glide models. Each speaker unit can handle up to 150 watts when in good condition. However, the older models give off about 20 watts of power on each speaker.
Is the Street Glide Sound System Easy to Upgrade?
Harley Davidson Street Glide sound system is easy to install if the model is specifically made for your motorcycle. However, upgrading older models can be a bit challenging, and they are better off being installed by a professional. If you are looking for a simple upgrade, then avoid budget kits. They are usually meant to fit multiple models, thus tricky to install.
Final Thoughts
There are now more accessible options to upgrade the Harley Street Glide sound system. You can now get louder music and more bass, treble, and mids from the best Speakers for Harley Street Glide. Our top 10 picks all cater to different needs depending on your preference. We included speakers for Harley Street Glide that are high quality and durable, including those with more bass and have tweeters. The Rockford Fosgate HD14-TKIT is our best overall Speaker for Harley Street Glide. It is easy to install with no modifications required and every part bolts down to the OEM system. On top of that, it guarantees quality sound even at higher cruising speeds.