The Best Summer Motorcycle Gloves for a Cool and Comfy Grip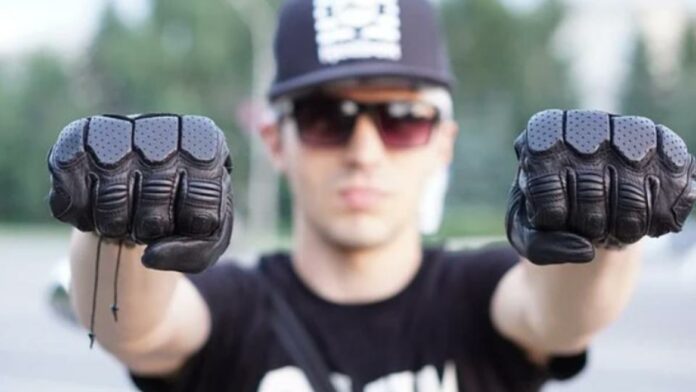 There is nothing more relaxing and fulfilling than taking a summer road trip with your bike gang. But with the temperature ever-rising, you need the proper riding gear that can protect you. After all, the clothing that you wore in late fall and early spring won't be comfortable enough under the scorching summer heat. Plus, you never want to forego the boots, jacket, and helmet just because of the heat, as they will protect you from serious injury during any mishaps.
You need the proper riding gear for the scorching heat, and this includes the right pair of motorcycle gloves. The best summer motorcycle gloves should be well-ventilated and ideal for hot sticky afternoons. So, after thorough research, we came up with the following reviews of the best summer gloves.
So let's dive right in…
TOP PICK
Our favorite is the Richa Rock Gloves, as it's durable and well-ventilated. This pair offers more than enough knuckle protection.
1. Alpinestars Men's SMX-1 Air Motorcycle Gloves — Best Overall
SMX-1 air gloves are touchscreen compatible and lightweight. This pair comes with molded knuckle protection for durability and protection. This pair is made from heavy-duty goatskin leather, nylon, and some 3D mesh inserts for proper airflow. Its unique suede reinforcement is paired with reliable foam cushioning for scuff resistance.
Another excellent feature of this glove is that the palm and thumb are reinforced without compromising grip control. The unique material between the thumb and palm is ideal for hitting the bike's controls. And the fact that they allow air to flow through them makes them the great riding gloves. But, generally, they are stylish, comfortable, breathable, tough, and thick. But some users have complained that it stains your hand when you sweat. Plus, the Velcro on its wrist might pop off when you're moving faster.
Key Features
Verdict
Alpinestars Men's SMX-1 Air Motorcycle gloves are a perfect pair designed for hot summer road trips. This pair is flexible; therefore, your finger can move freely while controlling the bike. Plus, they won't compromise on grip no matter how sweaty your hands are.
Overall rating: 4.5 out of 6
2. Dainese Blackjack Gloves
Even though they aren't the most advanced motorcycle gloves, they are the most popular on the market. In fact, many riders love them for their high-quality goatskin leather construction and Italian design. Available in brown or black, this pair is functional and stylish. Plus, they are designed for summer and spring riding when the temperature is high. Dainese gloves come with perforated pre-curved fingers that provide the needed ventilation. They also have soft inserts on the back and knuckles for impact protection.
Dainese gloves are comfortable, easy to wear and take off, flexible, and offer proper grip. They have high-quality stitching, and they are soft but still protective. But some riders have complained of too-long fingers in these gloves. Plus, they are a bit bulky, and if not careful, you may lose the feel of your throttle while making fine adjustments.
Key Features
Verdict
This Italian pair of vintage gloves is loved by most riders for its comfort and unique design. Therefore, you can never go wrong with this soft pair that is designed to protect your hands in summer.
Overall rating: 4.6 out of 5
3. Richa Rock Gloves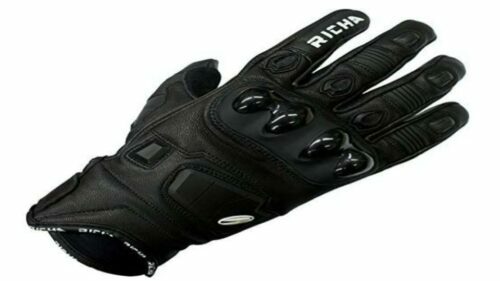 Summer is one of the few times in the year that any rider feels like shedding off some of his/her protection gear. But with the dangers associated with motorcycle riding, this might not be the best solution. After all, your protection is important, so make sure you protect your hands' impact regions using Richa Rock gloves.
These gloves are made from supple leather; therefore, they're very comfortable and fit perfectly. And to keep you from getting too warm in summer, this pair allows for proper ventilation. And to protect your hands in case of an accident, they have scaphoid, finger, and knuckle protection. This waterproof glove is perfect for the hot months. But some users have complained that the Velcro fastener is a bit fiddly.
Key Features
Verdict
Rich Rock gloves are a great pair with a simple design whose main aim is to keep your hands dry and safe at the same time.
Overall rating: 4.7 out of 5
4. Weise Streetfight Motorcycle Gloves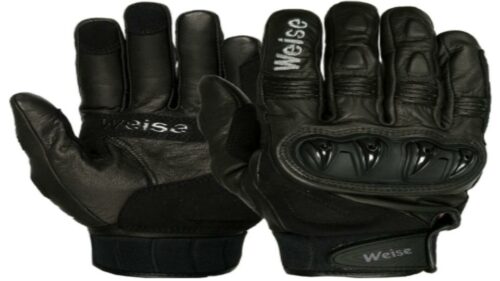 If you are looking for a pair of sporty-looking gloves that can provide both protection and comfort, this is the right option. These gloves are flexible and lightweight, thanks to the stretch panels. But they do have two layers of leather around the fingers and palms which lets you keep some of that badass style. 
This pair has numerous unique features to help you stay cool in summer. Some of these features include perforations in the leather and well-ventilated PU-knuckle armor.
Weise streetfight gloves are nicely built, high-quality gloves. But they need a little breaking in for your fingers to settle in comfortably. The stretch panels on top of the fingers and hand help with flexibility, while the chamude overlay panel on the palm improves grip. Unfortunately, some users have complained that the stitching is stronger in some places.
Key Features


Additional protection on the impact points


Additional protection on the impact region


A cumbersome knuckle protector
Verdict
Weise Streetfight gloves are flexible protective gear with a great grip. This durable pair is designed to keep your hands well-aerated in summer while keeping them safe in case of an impact.
Overall rating: 4.8 out of 5
5. Alpinestars Men's Celer v2 Leather Short-Cuff Gloves
Motorcycle gloves need to offer more than just protection; they also need to give maximum comfort and practicality. To protect the hands of a non-urban and urban rider, Alpinestars designed Celer gloves a few years ago, but discontinued production for quite a while, until they finally launched Celer v2 gloves. The new Celer V2 maintains its predecessors' goatskin chassis while upgrading their air-flow game.
Destined for riding in summer, spring, and fall, this pair fits the part, and the fact that it's affordable is a bonus. Plus, it is available in a wide range of colors and designs, so riders are spoilt for choice. To prevent finger rolls during an impact, Alpinestars added some poly-fabric reinforcements on its side. The glove's index finger is touchscreen compatible. Unfortunately, it doesn't have reflective piping for added visibility when riding at night.
Key Features
Verdict
Celer v2 glove is an excellent update of the Celery glove, which Alpinestars discontinued. The new celery v2 is easier to put on and offers more ventilation than its predecessor.
Overall rating: 4.4 out of 5
6. Kemimoto Upgraded Motorcycle Summer Gloves for M

e

n and Women
Summer riding is all about enjoying the cold breeze while cruising down the freeway. Since your safety is mandatory, you need reliable gloves that will keep your hands dry and make it easy for you to navigate. And Kemimoto had this in mind when they were designing these unique summer motorcycle gloves. Kemimoto made the knuckles and fingers of this pair using a super breathable material. Therefore, you can feel the wind as it penetrates your hands and keep them dry and cool.
You can operate your smartphone and other touch screen devices without removing your gloves, thanks to the unique fiber added to the forefinger and thumb. The glove palm features a shockproof SBR foam and non-slip material, which enhances your grip. And to show you how much Kemimoto believes in their product, this pair comes with a yearlong after-sale service. So you can easily contact them in case of any problem.
Key Features
Verdict
Kemimoto summer gloves are designed to keep your hands safe and dry all summer long. And thanks to the shockproof SBR foam and non-slip material, you can hold your bike's grip stably.
How to Choose the Best Summer Motorcycle Gloves
You can't wear your winter gloves in the summer lest your hands get cooked. The industry is currently flooded with numerous gardening gloves passing as motorcycle gloves. And without the right information, it's very easy to fall prey to widespread unethical advertising and lies. These gloves can never keep you safe when driving; therefore, you need the right summer gloves for riding under the hot summer heat.
But with the numerous options available, selecting the right pair can be quite challenging. After all, there are numerous factors you have to consider before settling on a specific pair of gloves. Some of these factors include:
Proper Ventilation
The summers tend to be very hot, with the temperature ever-rising; therefore, you need the right glove that can help keep your hands dry. Plus, riding with sweaty hands can be quite challenging and can affect your response and driving experience. So make sure the glove's fingers are well-ventilated, and the back of the glove must be well-perforated. With proper ventilation, your hands can remain dry and comfortable while you enjoy your trip.
Protection
Just because it's hot doesn't mean that you have to wear gloves with less protection. Remember, an accident can happen anywhere, and at any time, so it's always ideal to be on the safe side. So make sure the gloves you purchase have more than enough knuckle and finger protection. And the palms should also be well protected.
Flexibility
No glove should ever sacrifice flexibility for protection and comfort; after all, your safety will depend on your quick reflexes. So make sure your new riding gloves allow you more than enough flexibility for you to easily access the controls.
Durability
Riding a motorcycle is a lifetime experience; after all, most veterans have ridden their bikes for over a decade. Therefore, you need a high-quality pair of gloves that can serve you for a very long time. So make sure you look for a durable pair that can survive a fall and protect you at the same time.
Final Thoughts
Motorcycle gloves are mandatory when riding a motorcycle; in fact, it is part of the gear designed to protect you. So make sure you choose the right pair that fits you properly. After all, riding using a tight glove can be uncomfortable and even dangerous, as it would impede your ability to control your bike. They should allow enough movement for your fingers to move freely and snug enough to be secure.
The summer motorcycle gloves that can never disappoint you are the Richa Rock Gloves. These gloves are comfortable, flexible, and well-ventilated. Therefore you will never have to worry about sweaty hands when using this pair.