The Best Way to Lock a Motorcycle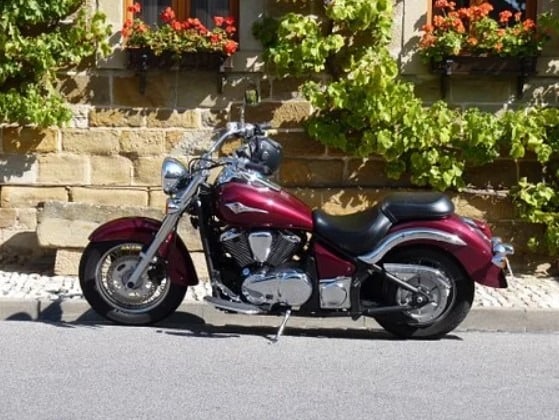 You've got your motorcycle well-parked in front of your house and you are confident that it is safe.
Not quite! You never know when a thief could come around and disappear with it all because you didn't invest in a deterrent. That can happen in seconds when you are not looking at your security cameras. So, why not make it a little bit more inconvenient for those that feel the need to steal from you.
In this post, I want to help you find the best way to lock a motorcycle. I have a few ideas for you, which I will discuss presently.
Best Ways to Lock a Motorcycle
Chain Lock
This is the most popular type of motorcycle lock on the market. There are two types of chain locks.
The first type is a combination of a chain and an integrated lock system that can be opened with a key or a passcode. If you choose a model that uses a passcode, then make sure the password is a five-digit resettable combination. This unique design will allow you up to one hundred thousand possible combinations. A five-digit lock is safer compared to a four-digit lock. Make sure the head of the lock is made of a smooth material that will help you turn the lock accurately and effectively without blocking.
The second type is made up of a chain with six-sided chain links and effective cinch loop circle link lock-ups for attaching your padlock. Make sure the links are thick enough for superior protection against bolt cutters. This unique chain design isn't complete without a heavy-duty padlock. The padlock should be a thick and hardened steel shackle along with a hardened double locking mechanism for ultimate protection.
How to Use a Chain Lock
Put in the passcode to open the chain if it is a combo chain lock. Simply insert a key and open the padlock to release the chain for a traditional design.
Slide the chain through the rim and lock. Find a sport underneath the tail fairing that will allow the chain to go through. This will help you to completely limit the movement of the rear rim.
Alternatively, you can lock one side of the chain with a padlock on one of the bike discs. The other side of the chain should be anchored to the ground or any other immovable objects within your compound.
Brake Disc Lock
Another great way to lock a motorcycle. This unique locking mechanism combines two security features into one advanced anti-theft device, a motion-sensitive electronic alarm, and a disc lock.
It is a simple theft deterrent that not only prevents the front wheel from rolling but also produces an alarm sound when someone tries to move your bike. The high-pitched squeaking noise will even wake you up from your dreams if someone attempts to move your bike. A brake disc lock usually has solid-state circuitry that is a high-performing and high-quality sensor that can detect even minor shocks.
You've also got subtle changes in the angularity of a disc lock. This means that once locked any movement in any plane will trigger an ear-piercing sound.
How to Use a Disc Lock
Add a battery to the device if it didn't come with one, which is a simple process. Use the provided Allen key to loosen the bolt inside the entry point to remove the bolt. Then remove the alarm module from the lock body to access the battery compartment. Install the battery and reinstall the battery compartment.
Insert one of the provided keys into the hole key and turn the key to open the lock. The best brake disc lock will not allow you to remove the key when the lock is opened.
Put the open lock into the disc brake and align it with one of the holes on the disc. Then turn the key to lock. Some models will produce a beep sound to let you know that the disc is locked and the sound feature is activated.
To disengage the lock is easy. All you have to do is put in the key, turn it to unlock, and pull out the disc lock.
U-Lock
Locking your ride can be as simple as turning the dial or inserting a key on a u-shaped heavy-duty combination. The best model will come with an 18-millimeter diameter shaft that is extremely resistant to leverage, sawing, prying, and any other form of bolt cutting. When you choose a u-lock with a dial system, make sure the dial is resettable for changing the combination whenever necessary. The long shaft allows you to be creative when locking your motorcycle.
How to Use a U-Lock
Install a ground anchor in your garage or where you usually park your bike. Make sure the anchor has a strong D-ring that will withstand strong pulling.
Dial-in the unlocking digits or use the provided key to open the u-lock. Then pass the shaft over the frame on the rear wheel. Make sure the frame is inside the u-shaped shaft.
Then insert the D-ring attached to the ground anchor inside the u-shaped shaft and press to lock. Make sure the ground anchor is located on the side of the motorcycle stand, which is usually on the left side of the bike.
Grip Motorcycle Lock
A grip lock is a highly visible motorcycle anti-theft device that attaches to the grip in the front brake of a motorcycle. It is uniquely made to help prevent unscrupulous bike theft.
This deterrent is usually made from thirty percent glass-filled nylon and embedded with three hardened steel inserts that are said to be extremely difficult to cut. This amazing device is adjustable for different handlebar diameters as well as the distance between the front brake lever and the handlebar. It usually comes equipped with spacers for the handlebar grip and the front part moves back and forth for easy adjustment.
How to Use a Grip Lock
Choose two rubber adapters (they usually come with the grip lock) that are compatible with your throttle grip and insert them into the handlebar. Alternatively, you can glue the adapters into place.
Gently push the sides of the adjustable sliders and move the lock into a position that offers the ideal pressure on your bike's brake lever. But don't squeeze the sliders too tight.
Once the lock is in place, close over and push it to secure the grip and the brake. This is a simple but very effective way of locking your motorcycle, especially when you are packed in front of a store or any other public place.
What are the Features of a Good Motorcycle Lock?
Here are the most important features that a best motorcycle lock should have:
Heavy-Duty Material
The most important thing in a motorcycle lock is the material. It should not only be durable but also rust and corrosion-resistant. Choose a material that will not scratch any part of your bike. The material must have undergone a wide variety of stress tests, using a bolt cutter, crowbar, hammer, and chisel, and freeze attack.
Portability and Ease of Use
Some locks are heavy-duty and highly reliable but incredibly heavy. A heavy lock (like a chain lock) will be a better option when using it at home. When you are away from home, you will be better off with a portable device like a grip lock and brake disc lock.
Final Thoughts
You need this information because you want to know the best way to lock a motorcycle. There are a lot of things that a thief looks for when planning to steal a motorcycle — from how easy it is to hotwire it to how quickly he can make it disappear. If you own an expensive Ducati Panigale V4 with that sexy red bodywork, you are going to catch more than the eyes of just jealous bikers. It is a rolling status symbol and someone may be tempted to steal it sooner or later.
So, you've got every reason to lock your bike. I have discussed a few good ideas starting with a chain lock. At home, you can effectively secure your Panigale V4 with a heavy-duty chain lock. You can make it even harder for thieves by attaching a chain lock to a ground anchor. 
When you are out cruising and decide to stop at a bar, restaurant, or supermarket, you can effectively secure your bike with a brake disc lock, grip lock, or u-lock. These three types of locks are highly portable. You can use a chain lock on the go but it is a little bit heavy to carry around.
Overall, a motorcycle lock must have undergone rigorous tests (freeze attack, crowbar, hammer and chisel, and bolt cutter) to defeat any theft attempts. It must be portable and extremely easy to use. If the lock has moving parts, make sure they move sleekly to eliminate the possibility of squeaking or jamming.