The Best Winter Motorcycle Boots for Warmth, Comfort, and Stability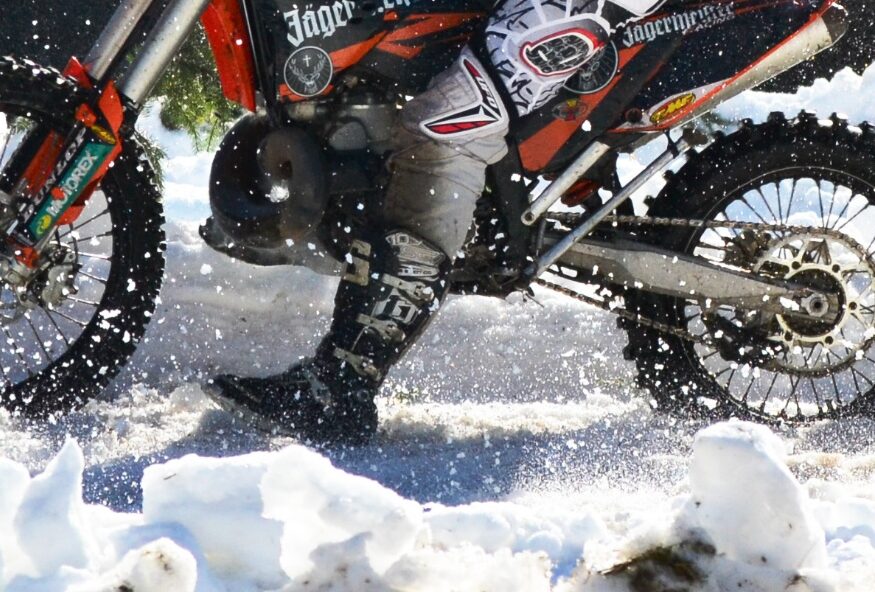 Great motorcycle boots help stabilize your feet and ankles and protect you from injury. The best winter motorcycle boots would not just do all that but will keep your legs and feet warm to boot.
It may be tempting to buy a cheap pair of street shoes that look like motorcycle boots, but please don't. As in all riding gear, you want boots that are designed to deliver maximum safety and comfort when covering all those miles in extreme conditions. The pair you go for must hold up well to protect you should you encounter any mishaps.
So, in my top selections, I have considered all the design features and materials you would want in your winter motorcycle boots.
Best Overall
Sidi Adventure 2
Best Value
TCX Rush
Honorable Mention
Sidi Aria
Top Pick
Sidi Adventure 2 Gore-Tex Boot is my top pick. It is an all-road motorcycle boot that is made up of Gore Tex. The footwear is insulated for cold weather and breathable for comfort. You get long-term waterproof protection and reinforced ankle support.
Here Are Our Best Winter Motorcycle Boots:
1. Sidi Adventure 2 Gore-Tex Boot — Best Overall
This is a great winter motorcycle boot for the entry-level everyday riders and sports commuters. You've got four color options and over five sizes to choose from.
Key Features
Full-grain microfiber
Flex system
Non-slip rubber sole
Shift pad
Velcro and replaceable buckle system
The first and most impressive feature of this boot is the gaiter, which easily adjusts to fit different riders. The gaiter is big, which is great because it prevents water from getting into the boot. The soft PU Velcro closure ensures there is no entry of dirt or rocks. The buckles feature one fixed point, making it easier for the shoe to adapt to your leg. The buckle, hook, and strap are replaceable.
For superior safety and racing performance in the cold winter weather, the footwear is fitted with a flex system for added flexibility. There is also a shift pad on the toe area that keeps wear and tear off the boot. The anatomically-shaped, shock-resistant heel cup helps relieve tension.
But here is the thing, the shoe may not be a great option for riders with a wider foot.
Pros
Large gaiter adjusts easily to a rider's leg
The shift pad helps prevent wear and tear when shifting
The heel cup is anatomically shaped and shock-resistant
The full-grain microfiber upper is anti-fade
Touring non-slip sole provides great traction
Cons
It may not be a great choice for riders with wide feet
Could be better with additional protection features
Verdict
Adventure 2 is designed to protect you from the cold, elements, and crashes. It is highly flexible and versatile.
Overall Rating: 4.7
2. TCX Rush Motorcycle Boot — Reflective Features
If you spend as much time on foot as you spend on your bike, you should take a long look at TCX Rush. It feels and looks comfortable out of the box.
Key Features
Synthetic suede upper
Water-resistant design
Reflective parts
Padded tongue and collar
Lace-up and Velcro closure
The upper construction features two main parts. One side is made of suede, which is nice and soft and it's going to give you a little bit of grip. The other side is made of synthetic leather, which is going to give you durability and protection. The toe and heel are reinforced for added protection. There is also ankle support on the inside of the boot.
You've got two vents on both sides of the shoe that will allow air to hit the water-resistant lining for superior breathability. The tongue and collar are padded for added comfort and protection.
On the bottom of the boot, there is a reinforced sole that is slip and wear-resistant. It provides revolutionary traction on and off the bike.
My major concern is with the sizes, they tend to run wide.
Pros
Classy design for riding and casual wear
Ortholite cushioning improve heat retention in the cold
Velcro closure makes it easy to acquire the ideal fit
Reflective parts improve visibility in low light
The hard-wearing outsole offers good traction
Cons
Some sizes may tend to run large
The construction is not entirely waterproof
Verdict
This is a great riding shoe for the money that's ideal for touring, cruising, and even off-road. It comes with enough features to keep you protected in winter.
Overall Rating: 4.7
3. Sidi Aria Gore-Tex Motorcycle Boot — Best Mid-Height Winter Boots
With Sidi Aria, you get style, comfort, security, and durability for cruising in the cold winter weather.
Key Features
Cordura and soft TPU
Double-stitched
Nylon composite inner sole
Zipper closure system and Velcro brand
Non-slip sole
This mid-height boot keeps you warm, dry, and comfortable thanks to the Gore-Tex membrane that regulates not only cooler temperatures but also improves breathability. It has Cordura in the main portion of the upper combined with a softer TPU for superior abrasion-resistance and impact protection.
I truly appreciate the various protection features installed on this boot, including protective ankle ball pads, heel and toe cups, and an internal shin plate. The zippered closure system and dual Velcro closure ensure a secure fit. The high-stress areas of Sidi Aria are double-stitched for strength and durability. The foot area is lined with anti-abrasion Cambrelle for added comfort.
What I don't like about the Sidi Aria is the limited number of available sizes.
Pros
The upper is highly abrasion-resistant
High-stress areas are double-stitched for strength
It's easy to acquire a secure fit with the zipper and Velcro closure
It is packed with several protection features
Toe shift pad prevents wear and tear caused by shifting
Cons
Limited sizes
Not for a wider foot
Verdict
Sidi Aria is designed to work in the elements for wherever the road takes you in the cold winter weather.
Overall Rating: 4.7
4. O'Neal New Logo Rider Boot — With Metal Shank Insert
For those of you out there on dual sports and adventure bikes, this boot could be a great option to get you from the tarmac and into the trails in winter.
Key Features
Metal shank insert
Injection-molded plastic plates
Heavy-duty Goodyear welt sole
Snap-lock adjustable
Air mesh interior
You've got a microfiber main construction throughout the entirety of this footwear with reinforced TPU to protect you against impacts. The metal shank insert; on the other hand, strengthens the shape and adds support. It comes with a reinforced toe, a metal toe guard, and a shifter pad, which all work together to reduce wear and tear when shifting and pulling. There is additional protection at the heel as well.
Towards the top of the Rider, you've got synthetic suede that is heat and abrasion-resistant and helps keep your foot warm. The cushioned insole helps retain heat in the cold winter weather.
The Goodyear welt sole adds strength and durability. The sole has a good amount of grip and excellent crash protection. The shoe has a four-buckle closure system, which is great because it is adjustable and snaps lock.
What I don't like about the Rider is the fact that it is not entirely waterproof.
Pros
Reinforced TPU protects against impacts
Shifter pad and metal toe guard reduce wear and tear
The synthetic suede is heat and abrasion-resistant
Cushioned insole improves comfort and warmth in winter weather
Goodyear welt adds strength and durability
Cons
It is not completely waterproof
Tends to run larger by half size
Verdict
Get excellent performance and protection in the cold weather roads and trails without breaking the bank with the Rider from O'neal.
Overall Rating: 4.5
5. Ad Tec Harness Motorcycle Boot — Best Full-Grain Oiled Leather
Ride in style while keeping your foot warm and comfortable in the cold weather with this incredible design from Ad Tec.
Key Features
Heavy-duty full-grain leather
Synthetic sole
High-quality cushioned insole
O-ring ankle harness strap
Goodyear welt construction
This uniquely designed riding boot doesn't feature many niceties, but a sleek, black, oiled full-grain leather. It is the strongest leather you could have ever wished for with great moisture and abrasion-resistance. There is a strap over the ankle that helps keep it comfortably in place even during long rides in the cold.
On the inside, you've got a premium quality cushioned insole that guarantees warmth and comfort. It pairs well with thick socks for added warmth during those chilly rides. It has a wide mouth for easy put-on and take-off.
But the thing is, they have a wide mouth but not so wide on the inside.
Pros
Highly abrasion-resistant and durable
The upper is oil-resistant and waterproof
O-ring ankle harness straps provide a secure fit
Goodyear welt strengthens the boot
Cushioned insole improves warmth and comfort
Cons
They may not be the best option for a wider foot
Could be better with additional armor
Verdict
This is a great boot for those looking for a simple yet durable full-grain leather construction and a very comfortable and warm cushioned insole.
Overall Rating: 4.5
6. Joe Rocket Meteor FX Motorcycle Boot — Best Double Stitched Construction
No matter where the road or track takes in the winter, Meteor FX will keep you protected from the wind and the elements.
Key Features
Split-grain leather
Double-stitched construction
Dry-Tech waterproof membrane
Rubber gear shift protector
Internally reinforced heel, toe, and ankle
The construction of this midsize shoe starts with the combination of a lightweight, double-stitched, split-grain leather chassis and a heavy-duty Dry-Tech waterproof membrane. The upper provides high abrasion resistance and good flexibility.
Internally protection continues with a reinforced heel, toe, and ankle. There is a large shifter zone around the toe area that prevents wear and tear when shifting and pulling. Getting the shoe on is remarkably easy thanks to the slip-on design. It also boasts an extensive range of motion due to the massive waterproof full-flex articulation panels along the front and back.
Also, you've got a low-profile toe box, non-slip rubber sole, and three hundred and sixty degrees of reflectivity.
What seems disappointing is the size of the mouth, which tends to be a little bit small for riders with a wider foot.
Pros
Split-grain leather has incredible abrasion resistance and flexibility
The waterproof membrane keeps your foot dry in humid conditions
The interior provides warmth and protection
The large shifter zone prevents wear and tear
Three hundred and sixty degrees reflectivity improves visibility
Cons
The mouth opening may be a little bit small for a wider foot
Could be more protective with a shin plate
Verdict
Joe Rocket Meteor FX is ready for the cold elements and the ride. Just make sure your foot fits effortlessly in the mouth.
Overall Rating: 4.4
7. Sidi Fusion Lei Motorcycle Boot — Best for Female Riders
Fusion Lei from Sidi is specifically designed for female riders to deliver warmth, comfort, and protection in the cold winter weather.
Key Features
Synthetic leather upper
Water-resistant liner
Removable arch support
Rubber sole
Elastic calf support
This boot is built around a woman's foot for a more tailored fit. The upper is constructed of synthetic leather for abrasion-resistance. It is lined with a perforated Teflon treated nylon lining for another layer of protection. There is a soft Cambrelle inner lining for a more comfortable layer.
This boot has a three quarter length zipper with a Velcro closure system along with a stretch panel for easier entry. You've got a fully encapsulated heel cup along with a heavy-duty toe shift pad. It comes equipped with ankle protective caps for another layer of protection. It also comes with a replaceable nylon toe scuff pad.
But here is the thing, the boot tends to run smaller, especially for women with a wider foot.
Pros
Designed around a woman's foot mold for a superior fit
All high-stress areas are reinforced with double stitching
Nylon shin deflector plate improves impact protection
Design and materials have good heat retention
Ankle protective pads improve protection in a crash
Cons
Sizes tend to run small
The price point is a little bit high
Verdict
This is a great boot for women that guarantees a great performance in cold weather. Just make sure you get a size that fits true.
Overall Rating: 4.4
Things to Consider When Looking for Winter Motorcycle Boots
If you are planning to cruise in the cold winter weather, you must dress for it. Gird yourself with a jacket, helmet, gloves, and a pair of sturdy, high-quality bike riding boots all specially designed for the cold.
The best winter motorcycle boots must be capable of protecting your feet from the elements to keep them dry and comfortable. Here are the key factors to consider:
Raised Shaft
Look for footwear that rises to mid-calf for superior protection. Boots that cover the ankle are not providing enough protection. A padded heel shaft provides comfort and also ensures the ankle socket is properly secured.
Material
Most winter motorcycle footwears are made of leather or a combination of synthetic materials and leather.
Always consider leather first before other materials because it is highly durable and breathable. It is easy to maintain or prolong the waterproofing and insulating properties of leather if it is waxed or treated. Regardless of the boot design, leather will conform to the natural shape of your foot for a superior fit.
You also need footwear that has a very durable and high performing sole. When you are riding in the cold, you want a sole that is oil and slip-resistant.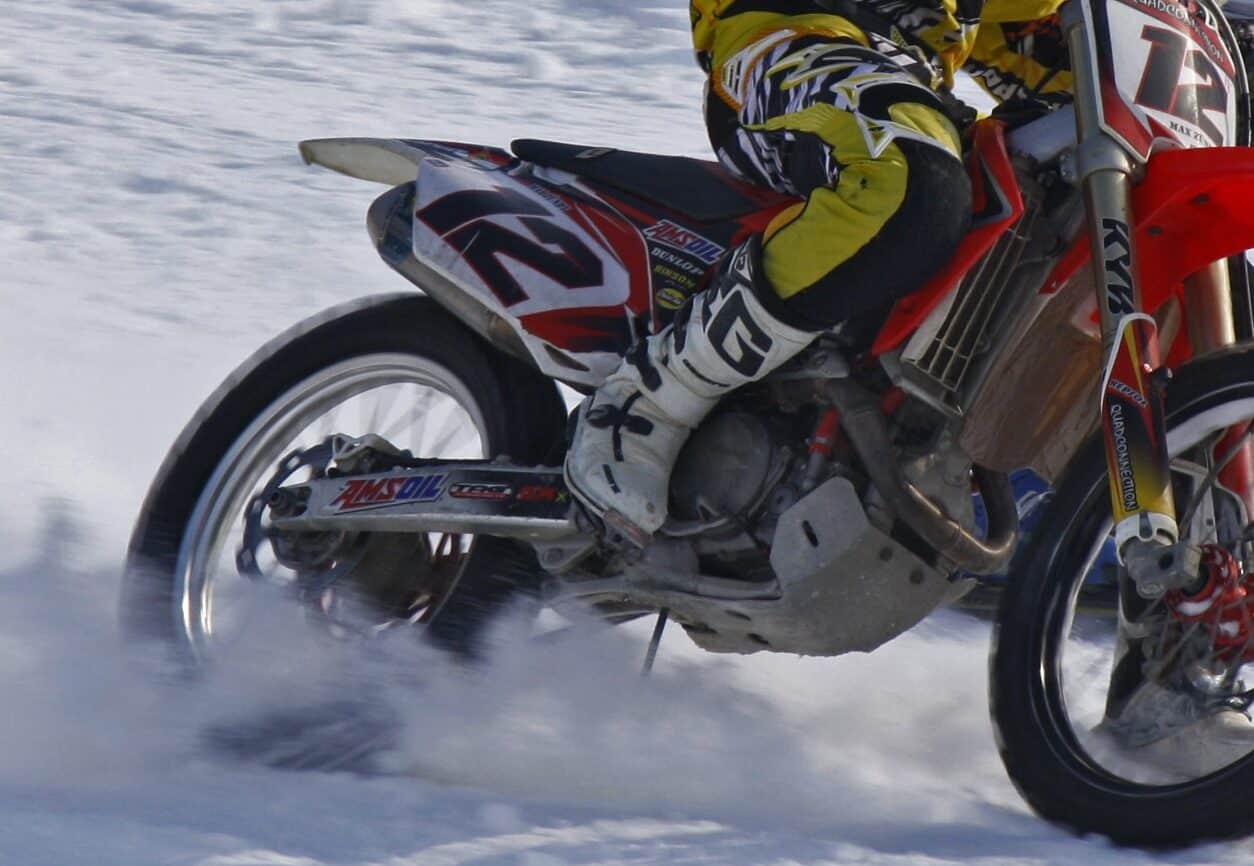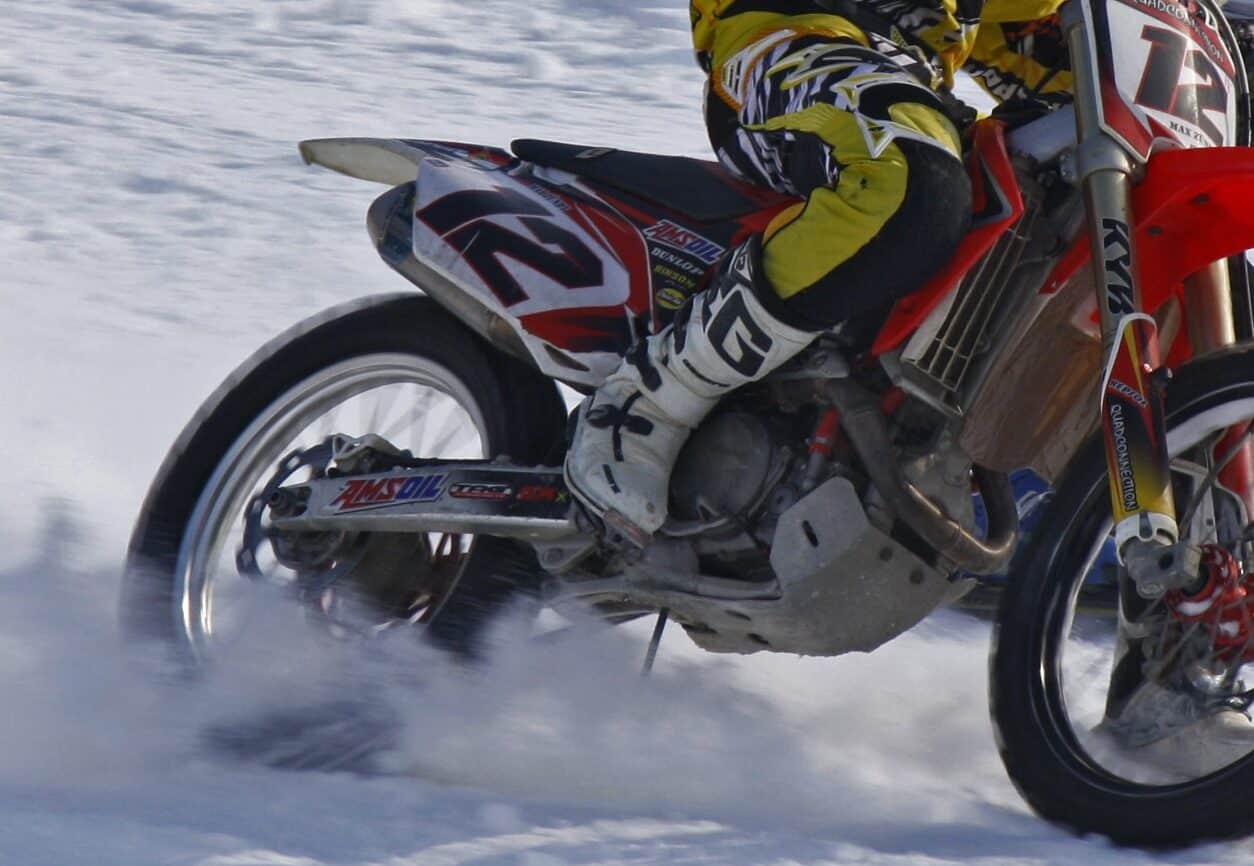 Choose the Ideal Size
The easiest way for measuring your boot size is with the help of a Brannock device. This device records three measurements, heel to ball length, length, and width.
The reasoning is that heel to ball length is more important compared to the total length. Where your foot is disproportional, this device can help you find the best overall fitting to accommodate the heel to ball length. The gauge contains an extra sliding side piece that has to be lined up to the ball joint, and pointer lines that marry up with winter motorcycle boot sizes on a scale.
Alternatively, you can make a footprint on a piece of paper or place a damp foot on a paper towel or outline your foot with a pencil. Measure the back of your heel to the end of the big toe, on each foot.
The ideal size should allow you to wear socks and still get a cozy and comfortable fit. Along the arch of your foot, you should feel gentle contact with the footwear. From the ball forward, there should be lessening contact, and your toes will be most content if they can wiggle freely inside the socks.
Test the fit by pressing your booted foot firmly against a wall. Check to see if the contact points remain relatively constant and if your toes stay free.
Armor and Protection
Apart from the aforementioned features, what truly makes winter motorcycle boots unique are the armor and protection they come with. The latest in high-tech riding footwear have plastic, carbon, or Kevlar protectors placed in fragile and high impact areas and thick ankle supports.
You will be better protected with footwear that is incorporated with a torsional control system. This is an exoskeleton that prevents the ankle from twisting. The boots should also have a metatarsal control system that will help prevent injuries that could otherwise occur when the toes and front of the foot are bent in a crash.
Break-In Time
To ease the complaints of poorly fitting boots, understand the critical importance of the break-in period required for your flex patterns to develop in new boots. So, consider a brand that provides a reliable break-in period.
Final Thoughts
For this roundup, the winner is Sidi Adventure 2 Gore-Tex Boot. This footwear is leather made, waterproof, and provides solid coverage for your foot, ankle, and lower leg. What makes this model stand out is the flex system that offers superior riding performance and safety. The rear support structure improves protection and flexibility.
It has a raised shaft that provides great protection from the wind, elements, and crashes. The combination of split-grain and top-grain leather makes the boot highly durable. The Gore Tex membrane; on the other hand, improves insulation and breathability. The boot is also reinforced with a PU shin plate, a shift pad, plastic ankle support, a shock-resistant heel cup, an elastic panel on the calf, and back reflective inserts for added protection.