The Best Winter Motorcycle Pants For Riding in the Cold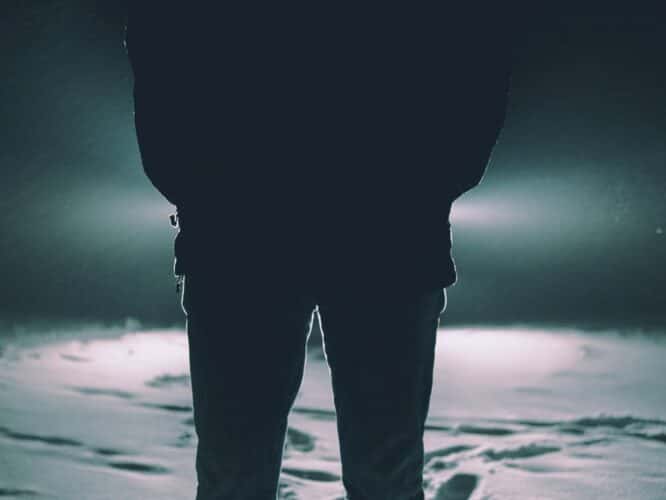 Your go-to pair of motorcycle pants or denim jeans will not provide the warmth and protection you need for a winter ride.
You've got to have the reinforced textile, windproofing, water-resistance, abrasion-resistance, protector armor, and state-of-the-art thermal insulation that you can only find in the best winter motorcycle pants. These features will give you the cold weather protection, comfort, and universal acceptability for winter riding.
You will need to do a little research to find the style and construction that works best for you. So, in my roundup, I considered all the essentials you would want your cold weather riding pants to have.
Top Pick
HWK Men's Motorcycle Pants are the most liked and the bestseller. They are all-weather riding pants with superior waterproof and windproof features. They are fitted with knee and hip padded armor, as well as 5H Scotchlite reflective piping for added visibility.
Here are Our Best Winter Motorcycle Pants:
1. HWK Men's Motorcycle Pants — Overall Best Winter Riding Pants
Match these pants with your motorcycle riding jacket for a waterproof and windproof touring setup that can keep you cruising through the winter.
Key Features
These riding trousers are made of 600D Cordura fabric, which is great because the heavy-duty textile has a good degree of thickness. Apart from being 100 percent waterproof, they come with a detachable lining for added breathability. When you remove the lining, micro-mesh air vents help improve airflow.
The pants are highly versatile thanks to the four external pockets. The pockets are zippered and waterproof to provide maximum protection in extreme conditions.
I truly appreciate the CE armored hip and knee protectors for superior impact protection in case of a crash. Your visibility is improved with the fluorescent green panels, reflective logo, and the 5H Scotchlite piping and reflective tape. You've also got extra-long side zips that allow for easy fitting over riding boots.
What I don't like are the sizes, they tend to run small, especially when you wear them over jeans.
Verdict
With these pants, you get a good bargain that works great for cruising in winter. Just make sure you get the ideal size when you plan to wear them over jeans.
Overall Rating: 4.6
2. Tour Master Venture Air 2.0 Motorcycle Pants – Best Dual-Stage Thermal Liner
If you are looking for textile overpants with superior double-stitched construction, look no further than this incredible model from Tour Master.
Key Features
These overpants are made up of 600D Armor-Link shell with polyester ballistic knee panels (1680D) for abrasion resistance, durability, and comfort.
The double-stitched construction improves versatility and durability. What truly makes the construction versatile is the two-stage aqua thermal liner. It has a waterproof level that prevents water from coming in and blocks the wind. Then there is a thermal liner level for increased warmth in cold winter conditions.
You've got uniquely designed expansion panels above the knees and at the rear waist for increased flexibility. Phoslite reflective piping and panels; on the other hand, increase nighttime visibility on those dark roads.
What's disappointing is the fact that the waterproof liners are not full length.
Verdict
The dual-stage thermal liner provides the ideal warmth, waterproof, and windproof performance in winter, while the double stitching makes the construction highly durable. 
Overall Rating: 4.6
3. Fly Racing Patrol Over-Boot Motorcycle Pants
These overpants are equipped with unique safety and cold weather protection features for off-road winter riding.
Key Features
They feature a multi-panel, ultra-durable 900 denier polyester construction, which is great because it has good abrasion and water resistance. Apart from being highly durable, this material is also resistant to shrinking and stretching. They have a great ability to retain heat to keep you warm and comfortable. There is a mesh comfort liner for keeping you cool in a warmer climate.
You've got fly closure for quick and easy adjustability of the waist. Reflective prints on both sides of the trousers increase visibility in low light.
The easily accessible zippered pockets provide adequate storage. Another good feature is the full leather inner lower leg panel that improves durability.
But here is the thing, the brand does not provide a sizing chart, which may be inconvenient for some riders.
Verdict
These trousers are great for off-road riding because they easily adapt to unexpected weather and extreme conditions.
Overall Rating: 4.6
4. Wicked Stock Motorcycle Riding Protective Pants
These incredible motorcycle pants from Wicked Stock are count as the best motorcycle rain gear, it designed to keep you dry and warm when the riding conditions are wet and cold.
Key Features
These riding pants are made of 600 denier nylon polyester fabric, which is great because the material is highly abrasion-resistant, windproof, and wear-resistant. The textile has an incredible capability of retaining body heat to keep you warm in colder weather.
The knee area is reinforced with 1680D matte polyester for added abrasion-resistance in a crash. On top of that, you've got CE rated foam hip pads and knee armor for added protection. I appreciate the fact that the knee armor component is height-adjustable, allowing for easy fine-tuning of the fit around your knees. The knee armor is also removable for added versatility.
The waist is equipped with belts and elasticated inserts, allowing you to effectively adjust fitment. You've also got straps at the cuff and knee for added adjustability and comfort.
But the thing is, the knee armor appears and feels bulky when seated, and the measurements on the size chart may differ from the actual product.
Verdict
Available in multiple sizes, these pants will keep you dry, warm, and fully protected from harsh winds in winter. Just be keener with the sizes.
Overall Rating: 4.3
5. ARD Champs Motorcycle Pants
Have you been looking for truly all-season wear? Look no further than the ARD Champs Motorcycle Pants.
Key Features
These incredible cold weather motorcycling trousers are available in six different waist sizes and one inseam size. The sizes range from 28 to 44 inches. You can wear them as a standalone option or size up and wear them as overpants.
From a material standpoint what you get is a heavy-duty 600 denier polyester construction that offers great abrasion, tear, and scuff resistance. The knee area is reinforced with 1680 denier polyester for additional abrasion resistance and protection. The seating area is fitted with a non-slip tactical grip textile for a firm riding experience.
High impact areas of the pants are strengthened with 1000 denier polyester Cordura stitching. You can also improve the impact protection of the hips and knees with removable padded armor. 
What I don't like is the position of the zipper on the back, which may not be compatible with some jackets.
Verdict
With this model, you get superior quality, warmth, and protection at a minimum price point.
Overall Rating: 4.3 
6. Xelement B7440 Black Leather Motorcycle Pants
Stay protected from the cold winter weather while you cruise those open roads with B7440 from Xelement.
Key Features


1.2 mm thick cowhide leather


Half-length inner liner


Zipper fly with button closure


Two side zipper pockets
Genuine YKK zippers
The trousers are made of premium grade cowhide leather, which is great because it is water, dirt, and wind-resistant. The leather is 1.2 mm thick, providing you with longer abrasion resistance and durability.
These overpants are available in nine different waist sizes, ranging from 30 to 50 inches. You can easily wear them over your denim jeans or riding pants. The YKK zippers are remarkably easy to use and they are extremely durable. These oversize trousers are also easy to take off when the cold winter ride is over. You've also got two side zipper pockets for securing your keys and wallets.
When it comes to fitness, you have belt loops on the waist for acquiring the ideal fitment. The leg opening allows for easy put on while wearing your motorcycling boots.
What's disappointing about these overpants is the fact that they don't come with hip pads or knee armor.
Water-, dirt-, and wind-resistant


At 1.2 mm thick, the trousers are high abrasion resistant


Available in multiple waist sizes


Side zipper pockets provide enough storage space
Waist belt loops help improve fitment


No hip pads or knee armor
Bottom parts of the trousers appear thin
Verdict
These leather pants are surprisingly warm and very comfortable. They fit snugly over regular or riding jeans.
Overall Rating: 4.3
7. Alpha Cycle Gear Leather Motorcycle Pants
If you have been looking for unisex winter motorcycle pants, look no further than the Alpha Cycle Gear.
Key Features
They are made of genuine cowhide leather that provides superior value for texture, abrasion-resistance, and warmth. The leather is sufficiently thick for warmth and durability.
The classic design of the trousers features high-quality stitching on the seams for strength and durability. You've got nine different waist sizes to choose from, ranging from 30 to 46 inches. There is a sizing chart that shows corresponding lengths and inseams for the various waist sizes.
With very strong belt loops, you can use a tactical belt to achieve good fitment. The two pockets on the front provide convenient storage for your phone, keys, and wallet.
What I don't like about these trousers; however, is the lack of reflective prints, logo, or piping for added visibility.
Verdict
Whether you are a male or a female rider, these leather pants will keep you warm and protected in cold winter weather.
Overall Rating: 4.3
8. Moto-Boy Waterproof Thickened Motorcycle Pants
These are decent quality pants with a high performing thermal liner that will keep you warm on those cold winter rides.
Key Features
These riding trousers are made of 600 denier Oxford fabric, which is great because the material is windproof and wear-resistant. They come with a removable thermal liner that improves both warmth and waterproof protection.
The knees come equipped with CE rated protectors, which provide good protection and high-impact resistance for your knuckles. Adjustable Velcro straps on the bottom and waist improve riding comfort. I truly appreciate the laminated logos and reflective details, which do a great job of enhancing visibility in low light conditions.
Another great feature is the accordion stretch panel on each knee for superior comfort of movement.
But the thing is, the available sizes can run small with tight waists.
Verdict
Boasting a 600D fabric and removable thermal liner with adjustable Velcro straps, the Moto-Boy pants are an effective and ergonomic all-weather option.
Overall Rating: 4.2
9. Alpinestars Raider Drystar Pants
Ride in the cold or wet winter weather with these incredible pants from Alpinestars. They are perfect for commuters as well as diehard sport riders.
Key Features
They come equipped with the Drystar membrane, which is great because it is waterproof and breathable. You've got a removable thermal liner that will keep you warm and cozy in winter. The pants are truly a sport fit for those who don't prefer overpants.
The knees are reinforced with CE rated height-adjustable protectors, which you can easily move up or down to match your height. EVA foam hip pads; on the other hand, provide much-needed comfort and protection. You've got dynamic stretch panels around the back of the knees, waist, and crotch for ease of movement. 
What's disappointing about these riding trousers is the sizing, which tends to run small.
Verdict
As long as they fit snuggly, these pants will provide warmth, comfort, protection, and style.
Overall Rating: 4.0
Picking the Best Winter Motorcycle Pants: Things to Consider
I wouldn't recommend just wearing a regular pair of jeans because they are not going to do much for you in the cold winter weather. Here are the most important considerations that will help you find the right pants.
Motorcycle Pants or Overpants
Cold weather riding trousers fit perfectly and they don't provide additional room for any other underpants.
Motorcycle overpants, on the other hand, are designed to be worn over other pants for protection, warmth, and comfort. To cover your jeans without putting on the big squeeze, overpants are built a bit big. Sometimes, overpants may just seem like overkill. 
When touring, the idea behind overpants is that you put them on when the weather is cooler and take them off when things warm up. So, it is a real convenience that overpants can go on and come off easily on the road without you having to remove your boots.
Textile Vs. Leather
Textile trousers are more versatile and low-priced. They do a great job of providing you with a three-season riding experience. What that means is you can ride with them in hot and cold weather conditions. Textiles are usually water-resistant or waterproof.
They keep you warm by adding layers on the inside. One thing I truly like about textile pants is that they do provide good abrasion resistance. You also have many color options and good stitching. The most popular textiles you can look for are Aramid and Cordura.
Leather motorcycle trousers for cold weather; on the other hand, are highly-priced but very durable. When compared to textile, leather has superior abrasion resistance. It gives better protection in the event of a crash when cruising the roads in winter.
Unlike textile trousers, leather ones can be repaired and re-used. You should probably look for full-grain leather trousers with perforated panels for better airflow.
Consider Denier or Thickness
Denier refers to a unit of measurement for the density or thickness of textiles used to create motorcycle trousers. A high denier tends to mean that the textile is thick, sturdy, and durable, while a low denier means the textile is sheer, soft, and silky. 
Denier ratings measure the mass in grams of nine thousand meters of yarn. They vary for different textiles. Winter textile motorcycle pants need to be more resilient. So, I suggest a rating that is not less than 600D.
Leather trousers are rated in thickness, which normally ranges from 0.9 to 1.4 millimeters. The thickness varies from one type of leather to another. I recommend a thickness range of 1.1 to 1.2 when looking for high-quality winter riding trousers.
Thermal Insulation
Whether textile or leather, the pants must have good thermal insulation. Therefore, consider trousers with thermal lining.
Armor and Safety Features
The best winter motorcycle pants are those that are equipped with protection and safety features. A dedicated pair of trousers should be at least 600D textile or full-grain leather construction. Hip protectors and armored knees will make sure that you are well-protected when you crash in winter. For nighttime visibility, choose trousers that have Scotchlite piping and reflective thread stitching.
Breathability
It typically means that the pores of the fabric are large enough to allow body moisture in the form of steam to evaporate. But they are small enough to hold in body heat and prevent liquid moisture droplets from penetrating the material. Go for riding trousers that come with a micro-mesh breathable membrane for superior ventilation.
Final Thoughts
For this roundup, the winner is HWK Men's Motorcycle Pants. These are great trousers for everyday riding in all-weather conditions, including the cold winter weather. Typically, these are going to be your three-season outfits. What truly makes them stand out is the fact that the pants can be used for motocross and motorbike riding.
The 600D Cordura textile is highly abrasion-resistant and durable. The trousers are waterproof and windproof. The micro-mesh lining improves venting and breathability for added comfort. The trousers are also equipped with hip and knee padded armor as well as 5H Scotchlite reflective piping (to keep you visible in the dark).