10 Best Women's Beach Cruiser Bikes Reviewed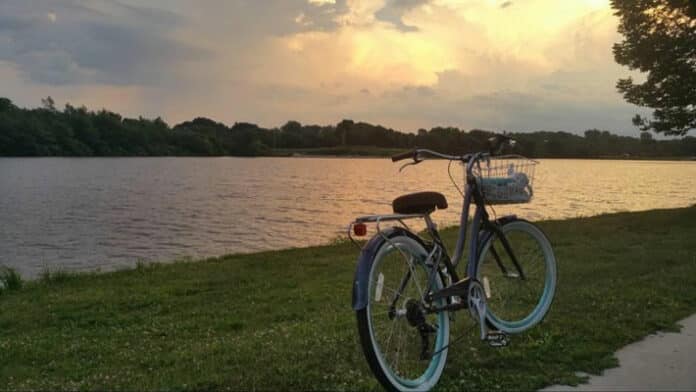 Do you fancy cruising the world around you? Whether it's cycling to the local grocery store, at the beach on the weekend, taking a scenic ride, or around your neighborhood? If yes, there's no better bike to give you a comfortable and relaxing ride than a beach cruiser.
That said, looks and style can be deceiving when it comes to choosing the best women's beach cruiser. These bikes have varying qualities, and knowing how to select the best model for your riding needs is crucial.
With close consultation with product managers and engineers, our research team spent days cruising around the market hunting for top-quality women's cruiser bikes with high performance, excellent comfort, extra features, and fair cost.
Below is our ultimate list of the top cruisers you can get on the market today.
10 Best Beach Cruiser Bikes For Women - Reviews:
1. Sixthreezero Women's Beach Cruiser Bicycle
Sixthreezero women's beach cruiser is the first model on our list of the top-rated women cruiser bike reviews. Designed this bike for 5 feet woman, this bike will offer you a relaxed and comfortable cycling experience for every occasion.
One of the top reasons why this bike soars in popularity is its high-quality frame. It's made using a durable, lightweight aluminum alloy frame. The frame also features an ergonomic forward pedaling geometry to enable you to maintain a relaxed upright riding position.
Another reason to love this beach cruiser is that it comes equipped with both front and rear handbrakes, giving you total control over the bike.
The cruiser bike comes with quality 26-inch wheels and 1.95-inch wide semi-slick tires that provide you with a cushioned and stable ride on various surfaces.
This bike is also a real beauty! It comes in a sleek, modern, eye-catching design characterized by high gloss chrome components plus a frame with glistering sheen. With the included rear rack, you can easily attach a basket, pannier, etc., when making a trip to your local grocery store.
Highlighted Features:
2. Firmstrong Urban Lady Beach Cruiser Bicycle
If you're looking for a beginner-friendly beach cruiser bike for her, try this Urban Lady. This is a single-speed model that comes with no cables hanging off or any complicated gear systems. And it's great for cruising in many environments, inducing around the town, at the beach, and anywhere else with paved path.
You'll love how easy this bike rides. It rolls smooth and pedals easy to ensure even beginners will have an easy and fun time sailing with it on different surfaces.
It boasts of an exceptionally comfortable oversized seat with dual coil springs to ensure you enjoy comfortable rides for longer hours. With its unique 2.125-inch tires, this bike is sure to absorb every single bump along the way to give you a smooth sailing experience.
Other notable features include wide handlebars with synthetic leather grips, a guard to protect your pant cuffs, and rear coaster brakes for easy stoppage. The 26-inch bike is suited for riders from 5 to 6ft. tall and comes 80% assembled.
Highlighted Features:
3. Kulana Hiku Cruiser Bike
This is a reasonably priced model that will make your weekends more fun than ever before. It comes packed with all the standard cruiser features and will let you enjoy smooth rides at the beach, short trips around your neighborhood, and on flatlands.
The cruiser boasts a classic steel cruiser frame that's incredibly sturdy and will hold up to repeated use without any signs of tear or wear.
You'll feel comfortable riding this bike, thanks to its easy-reach cruiser handlebars that ensure you ride in an upright and relaxed position, without straining. What's more, the bike features an extra-larger, wider seat with springs to boost your comfort—enabling you to ride for longer distances without feeling hurt.
As all the previous users agree, assembling this bike is the easiest part. It comes almost fully pre-assembled, and you just need to put together a few parts to get it ready for a ride.
And yes, this bike looks girly! It comes with attractive looks to meet your style needs. Its seat and handle grips match the bike color to let you ride in style. The colors painted on the frame gives the bike a feminine touch.
Highlighted Features:
4. Firmstrong Bella Women's Beach Cruiser
This bike comes equipped with all the smooth riding components like the other top-rated cruisers on this list. It also features an elegantly sleek and artful design, with front and rear fenders, a uniquely shaped thick top tube, and painted rims.
Built to meet the needs of various women riders, this cruiser comes in up to three speed options: single, 3-speed, or 7-speed. The single-speed is great for casual riding, while the 3-speed will make the perfect two-wheeled machine for long rides and climbing hills. And the 7-sped allows you to enjoy higher-intensity rides and go even farther distances than a standard cruiser.
Whether you're riding at high speeds or cycling down hills, stopping this cruiser will be pretty easy to control, thanks to coaster brakes it comes equipped with.
The Firmstrong Bella features aluminum wheels plus 2.125-inch wide whitewall tires that roll smoothly and easily and cushion you against all the bumps that get in your way. With its wide, oversized seat (with dual spring suspension), this cruiser will give you exceptionally comfortable rides for hours.
As one of the beach cruisers for women packed with extras, this model presents you with syndetic leather grips for comfortable riding and a guard to protect your pant cuffs from getting caught in the chain.
Highlighted Features:
5. Schwinn Huron and Mikko Adult Beach Cruiser Bike
Schwinn is a big name in the bicycle industry, no doubt! Priding themselves as America's most-loved bike brands, they have an extensive line of top-notch bikes, including ladies cruiser bikes like this Huron and Mikko model right here.
One of the top reasons that allow this bike to cruise in high popularity involves the top-of-the-line Shimano 7-speed drive train it comes equipped with. This offers you more dynamic gear options to fit your unique riding needs. The drivetrain also features twist shifter that promotes easy and fast gear changes, while keeping them (gears) out of the elements.
Built with your safety in mind, this bike also comes with a pretty intuitive front and rear liner braking system. These enable you to easily slow down or make stops on any environment.
Remember that this bike rolls on aluminum alloy wheels that are not only strong but also lightweight. And it comes with a well-padded cruiser saddle with springs to let you ride in total comfort. Its retro-style front and rear fenders will help keep dirt and mud away from your clothing.
Highlighted Features:
6. Huffy 26" Panama Jack Beach Cruiser Bike
If you're looking for the perfect gift for that special human in your life, think this Huffy 26" Panama jack single-speed beach cruiser. The 26-inch bike looks fabulous and is ideal for riders aged 13 years and up, or riders with a minimum height of 5 feet.
One area where the designers of this bike hit the mark was optimizing it for the ultimate comfort. Its frame design places the seat farther back with a lower center of gravity for more fun and comfortable ride. Its swept-back handlebars enable you to easily achieve that upright, comfortable riding position, with full leg extension.
As if that's not enough, this bike comes with a saddle with luxurious padding with dual springs for extra comfort. Mark you; you can easily adjust the handlebar and seat height to fit your riding needs.
This is one of the easiest to assemble for beach cruisers for women, thanks to its simplistic design. No gears or brakes to gamble with. And it comes partly assembled.
The Huffy has an incredibly sturdy but lightweight feel, thanks to its aluminum frame. The lightweight alloy linear pull brakes and machined alloy wheel rims work together to achieve a superior brake pad contact—resulting in smooth stopping power.
Bonus features that come with this bike include soft, cork-style grips for comfortable touch and a load of accessories including a beverage holder, wicker basket, and rear rack with bottle opener.
Highlighted Features:
7. Kent Oakwood Women's Cruiser Bike
If you want something that lets you cruise the world around you in style, this Kent Oakwood cruiser bike has got your back. This gorgeous bike enables you to cruise by the beach, to your local coffee shop, to the local grocery store, or even tackle the hills in your neighborhood.
Rated as one of the best womens cruiser bikes, this cruiser features a curvy, attractive aluminum frame with excellent rust resistance properties. It comes equipped with both front and rear fender, and an enclosed chain cover to protect yourself as well as your clothing.
The cruiser comes with a 7-speed handle gear shift. This means the bike can take you to ride farther distances than n single-speed models and cruise through tough hills with the ultimate ease.
With the Oakwood's swept-back handlebars, you'll enjoy a comfortable upright riding position. The comfy bumper seat makes your rides even more comfortable.
To ensure everything is under control, this bike presents you with front and rear side pull caliper brakes. Other features include quick-release seat post clamp, 36 spoke alloy rims, and stylish whitewall tires. The bike has an overall weight of just 40 pounds, so any lady can easily handle it.
Highlighted Features:
8. Raleigh Bikes Women's Superbe City Bike
Raleigh doesn't require any introduction to the cycling world. The company has been manufacturing top-of-the-line bikes for over a century. And it's no surprise that extensive line of products features top-notch ladies cruiser bikes, including this Superbe City Bike.
Raleigh designed this women's cruiser bike for women who crave a sense of style and have an appreciation for the finer things. The bike is truly an art of work and will stand from the rest of your friend's bikes.
Far from looks, this bike is a real performer. It boasts of the smooth-shifting 7-speed drivetrain, and you can shift the gears to fit your riding need by a simple flicking with your wrist.
The bike also features large, double-walled rims made from durable alloy. On top of this, the bike comes with Kenda 700x35c urban brown tires that give it a cute vintage look.
When you order this bike, you'll get a removable rear basket with handles to make your shopping trips more convenient. You'll also get leather grips that feel soft in your hands and a soft leather duals-spring seat that lets you enjoy hours of comfortable riding. The included brass bell completes the bike's signature style.
Highlighted Features:
9. Susan G Komen Single Speed Beach Cruiser Bike
Do you want to join your cyclist friends as they cruise to the coffee shop, around the neighborhood, to the coffee shop, etc.? If yes, grab this simple and affordable Susan G single beach cruiser today and become part of the gang.
The top reason why we feature this bike on our top women cruiser bikes review list revolves around the is the tig-welded steel frame and fork it comes with. This gives it an extremely sturdy feel and maximizes its longevity.
The single-speed cruiser comes equipped with coaster brakes to give you control over the bike and enable you to slow down or stop when necessary.
Putting together this cruiser bike is easy as pie. It comes semi-assembled, and you just need to screw the pedals, handlebars, seat, and the front wheel to make it ready for use. This is easy to do, even for an absolute beginner, and will take you an hour or so.
Its sufficiently padded cruiser saddle means you can ride this cruiser for longer distances without developing aches afterward. The high handlebars also promote upright, comfortable rides.
Highlighted Features:
10. Fito Women's Marina 3-Speed Beach Cruiser Bike
Our last spot for the best cruiser bikes for women goes to this 3-speed beach cruiser model from Fito. For starters, Fito is a well-known brand for its efforts in producing quality bikes and make them available to you at factory-direct prices.
This particular model from the company is a clear proof of what Fito can do. It comes with an extremely durable but lightweight aluminum alloy frame that has excellent resistance to rusting. This enables it to support users weighing up to 200lbs and withstand daily use for a more extended period of time.
Another cool feature you'll get from this bike is a 3-speed Shimano Nexus shifter & derailleur system. This enables you to cycle for even longer distances and go uphill, making your journey even more adventurous.
Because the bike comes with a classic cruiser style vinyl leather saddle, you're assured of comfy rides around town, by the beach, around the neighborhood, and more. What's more, the seat features twin spring suspension to cushion you against bumps and offer extra comfort.
Putting together the bike is a breeze since most of it comes pre-assembled. The whole assembly process for the remaining parts will take you anywhere around 45 minutes to an hour.
For a lightweight, easy to handle bike that doesn't cost you an arm and a leg, consider this Fito 3-speed beach cruiser.
Highlighted Features:
What Makes The Right Women Cruiser Bike?
As the popularity of cruiser bikes has gone up in recent years, so has the introduction of cheaply made models into the market. For this reason, you ought to take maximum caution when shopping for a cruiser bike to ensure you end up with the best model.
Here's what to look for when looking for the best womens cruiser bikes:
Frame
The first thing to look for in a women's cruiser bike is the frame material. Models made with durable materials will withstand regular use for longer.
That said, the two most common materials used for these bikes include steel and aluminum. As you can easily guess, steel makes a pretty sturdy frame, but it makes a bike heavier. Aluminum, on the other hand, makes your bike lightweight and durable. Aluminum is also rustproof, unlike steel.
If given a choice between steel and aluminum, then you should lean on the aluminum side for a lightweight and long-lasting cruiser bike.
Size
Another important consideration to make when looking for a cruiser bike is the wheel size. The bikes come with different frame sizes to fit riders of different heights.
The two most common sizes include 24-inch and 26-inch. The former is ideal for riders from 4-5ft tall while the latter being the perfect size for riders 5 to 6ft. tall (adult).
Note that if you get it wrong in terms of bike size, you'll end up with a bike that's uncomfortable and difficult to ride. Always use the manufacturer's sizing chart to determine the right size of bike for you.
Gears
You might also want to look for a bike that has gears, depending on your unique needs riding needs.
If you want a bike that delivers speed and enables you to take on the hills in your neighborhood, then you should go for a multi-speed cruiser. This can either be a 3-speed or 7-speed model.
If you want a simplistic cruiser bike for leisure cycling, however, a single-speed cruiser will meet your needs.
Brakes
Brakes are an essential part of your bike cruiser as they enable you to slow down or stop when riding at high speed or when cycling uphill. They give you control of your bike.
Single-speed bikes usually feature the coaster brakes, while multi-speed models come with handbrakes.
Coaster brakes are great in that they minimize rim wear and remain effective even in rainy weather.
Handbrakes, on the other hand, tend to produce less heat on the rim, reducing stress on your bike wheels. However, they might lose their effectiveness in bad weather and might require more frequent replacement depending on how frequently you ride your bike.
Comfortable saddle
A great beach cruiser is one that enables you to ride in total comfort. And one way to ensure you get a bike that grants you comfortable rides is checking that it has a comfortable seat.
The perfect seat should come with broader design, and with sufficient padding for a comfy feel. It should also come with spring suspensions to help smoothen out any bumps and shocks you encounter when cruising on various environments.
Accessories
Though not a necessity, it's also essential to look for cruiser bikes that come loaded with some extras. You'll find most of the manufacturers trying to woo to invest in their bikes by packaging them with bonus accessories such as a front basket for convenient transportation of your shopping, cup holders, reflectors, rear luggage rack, chain casings, front and rear fenders, headlights, and so on.
Is a cruiser bike easier to ride?
If it's your first time riding a cruiser bike, one of the things you might be thinking hard about is whether this bike is easy to ride for you.
Is it?
Well, the bike can be easy or hard for you to ride depending on the style of biker you have and where you intend to ride it on.
If you go for a classic single speed beach cruiser, then you'll have an easy time riding it on smooth, flat terrain. Its classic design—think vintage cruiser steel frame and high curved handlebars—will give you an upright and comfortable riding posture.
However, this bike will be for you to ride on the uphill as it has no gears. Plus, its steel frame might make it challenging for a beginner cyclist to handle. A classic cruiser is best suited for short rides around your neighborhood or town.
What if you want to tackle the tough hills with a beach cruiser? Well, this will be easy if you go for a bike that comes with gears, whether it's a 3-speed or 7-speed model. A multi-speed bike with aluminum frame feels much lighter and will take you where the vintage cruiser cannot. It's more touring-friendly.
Keep in mind, though, that cruiser bikes are usually intended for riding on smooth flat terrains. Riding them on other surfaces might prove quite challenging.
Frequently Asked Questions
Q: What are the best brands for women's beach cruisers?
Right now, the market has numerous brands to choose from when buying a ladies beach cruiser. And this makes it hard to narrow down your list of options. That said, some of the brands that have a proven track record of manufacturing quality and reliable bikes include Sixthreezero, Schwinn, Huffy, Firmstrong, Sun, and Raleigh.
Q: How fast can a beach cruiser go?
The average speed of a cruiser bike is about 3-5miles per hour. How fast your cruiser goes can be affected by the terrain type you're cycling on and your weight. Cruiser bikes with heavier frames might be difficult for beginners to cycle uphill. The same cruiser can move really fast when riding on flat terrain, with minimal wind.
Q: Are beach cruiser bikes good for commuting?
Not really. Cruiser bikes are intended for recreational use only. They usually come with a heavier frame, and this can limit you from covering a lot of ground, especially if you're a beginner. If you own a multi-speed model, however, you might use it for shorter commutes.
Q: Are women's cruiser bikes good for exercise?
Absolutely! Riding a cruiser bike is a good exercise that keeps you both physically and mentally fit. A great ladies' cruiser will help keep your spine straight, help you burn lots of calories, and even remove mental blocks. If you feel stressed out, just take your cruiser for a ride, and your mind will feel relaxed.
However, note that you might not enjoy these fitness benefits if you don't cruise frequently. For the best results, consider riding for about 20-30minutes every day.
Final Verdict
There's no better way to cycle the world around you than with a great beach cruiser. Whether you're cycling to your local grocery store, coffee shop, around your neighborhood, or by the beach on weekends, a beach cruiser is your go-to bike.
When choosing the best women's beach cruiser, don't go for just looks and style. Make sure you carefully examine different bikes until you find one that has a quality frame, fits you well, feels comfortable, and meets your unique riding needs.
Get your ideal bike today from the top-read models we have featured in this guide to experience the fun that comes with riding a beach cruiser.