The Best Lightweight Motorcycle Helmets for Women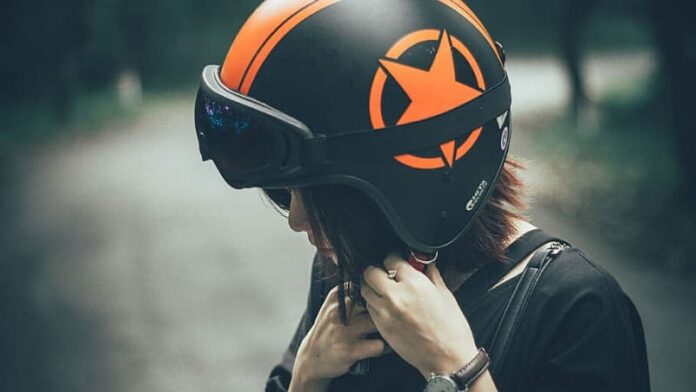 Whether you're a rider or a pillion; being on a moving motorcycle without a helmet is a complete no-go. If you're a woman looking for a helmet, we can understand how annoying it must be to find the right one.
You're probably wondering why they aren't as readily available as men's helmets. Two reasons:
There isn't really that big a difference between men's helmets and women's helmets
Manufacturing economics; there are more men buying helmets than women
Just buy any good helmet that fits you well
More women start riding motorcycles (fingers crossed)
Buy a helmet that is designed specifically for women
The latter is what we can help you with.

Research suggests that men and women have slightly differently shaped skulls. Women have a narrower jaw line, cheek bones and a rounder forehead when compared to that of men.

With that in mind, we're going to go out on a limb and tell you that buying a women specific helmet is the best choice for you.
The Best Lightweight Motorcycle Helmets for Women
1. Bell Qualifier
Riding can get monotonous, especially when you are doing miles over miles of dreary country roads. Some music helps break the monotony. This helmet comes with integrated speaker pads, so you can listen to something as you ride.

Over time, the interior of the helmet is bound to get dirty because of sweat and dust. To combat this, the helmet's interior is removable, washable, and anti-bacterial.

This ladies helmet features a click-release shield release system. The shields are resistant to fog, to scratches, and UV rays.

Furthermore, this helmet comes with a padded collar which minimizes distracting wind and road noise.
Highlighted Features:
2. Westt Rover
There's nothing like a lightweight helmet. At 2.4 pounds, this helmet is pretty easy to wear all day, without any neck pain.

Riding for hours in the sun causes it to get hot and stuffy inside the helmet. The Westt Rover features ventilation points which give you some respite from heat. The helmet is glasses-friendly, so people who have to have prescription glasses on at all times can use it safely.

Interestingly, this helmet has interchangeable side parts which feature three different colors. You can then match the helmet to the color of your clothes or your mood: black, grey, or blue.
Highlighted Features:
3. Vega Unisex
This helmet features a moisture-wicking liner that takes care of your perspiration. The EPS liner is also fully vented, which increases cooling. It is engineered with a thick, high-density EPS liner that is able to absorb low-speed impact.

This helmet also features a dropdown inner sunshield that helps you protect to your eyes from sunlight, debris, and bugs.

Please note that this helmet is suitable for low-speed use, we wouldn't recommend using it if you're going to do high speeds on a highway. If you're looking for an ultra-light helmet to wear while you ride a Vespa around town, this is the cheapest one you can buy.
Highlighted Features:
4. 1Storm
The helmet's aerodynamic design helps minimize the force of wind resistance and improves stability.

The helmet is made of enforced ABS shell and multi-density EPS materials. These materials are able to provide you with solid protection from impact, since they meet the DOT (US Department of Transportation) standards.

Being a full face helmet, there is a risk of the air inside the helmet becoming hot and stuffy. The solution the helmet provides is an ventilation system that features three front and two top adjustable vent switches. These vent switches give you the ability to adjust your intake of air as well as exhaust.

Cleaning the helmet is of paramount importance in matters hygiene. To help keep the helmet clean, the liner and pads are readily removable and washable.
Highlighted Features:
5. ILM
This ILM helmet is made of ABS shell and high-density EPS foam. It has been tested and meets the DOT's safety standards. It is a half helmet, which means it doesn't cover the entire face. It is lightweight, weighing only 2.7 pounds, so neck fatigue is unlikely.

Comfort is a matter of great importance when it comes to women's motorcycle helmets. This one ensures comfort for your ears with its comfortable and skin-friendly ear flaps.

The ear flaps do not squeeze around the face when you adjust the helmet's tightness using chin straps. It features a tinted, drop-down sun visor that you can easily remove and replace. You can buy the clear visor separately.
Highlighted Features:
6. Westt Vintage
For the best helmet for women, consider this vintage Westt helmet. At a weight of 2 pounds, it is super light. Some helmets are over 3 pounds heavy, so 2 pounds is a really favorable weight for your neck muscles.

Style is important for women riders and female motorcycle helmets are often treated as fashion accessories. This Westt helmet is built with style in mind – its vintage look is timeless and elegant. It features a smooth, matt black finish.

The sunshield / visor's material is quite scratch resistant which is good because no one likes to look through a visor that's all scratched up.

Furthermore, you also get washable padding, so you can keep it clean and germ-free.
Highlighted Features:
7. LS2 Street
The aerodynamic shell used on this LS2 helmet is built using a high-performance HPTT polycarbonate alloy. Weighing just about 3.62 pounds, this thing is pretty light.

The technical fabric liner ensures maximum comfort, so you can wear the helmet without fatigue, no matter how long your ride is. The liner features cheek pads that have been cut from a single, solid piece of high-quality foam.

The foam has been cut with 3D laser technology to ensure a perfect fit with zero "hot spots". This liner is fully removable, so you can take it out and wash it, for the sake of safe health practices. The appropriate method of cleaning the liner is to hand-wash and air-dry.
Highlighted Features:
8. YEMA YM-627
Riding in the sun will get your hot and stuffy, especially on long stretches of road. To keep you cool and comfortable, this helmet has a ventilation system. This system has fully adjustable intake and exhaust vents.

As a result, you get a constant flow of air while riding, and that ensures you stay cool. The fact that the vents are fully adjustable means you have control over how much air is coming in or going out.

The clear visor is easy to use and can easily remove it without having to use any tools.

The liners and pads are removable. Sweat and dust can grime up the interior of the pad, creating a hotbed for germs and bacteria to flourish. Washing the liner and pad is the hygienic and healthy thing to do.

The ¾ open face design shell has a wide visibility field that ensures you don't feel claustrophobic.
Highlighted Features:
9. YEMA YM-925
If you are looking for a helmet fit for motocross, the street, racing, ATV, dirt bike, Quad adventure, and so forth, this one is a good choice. It combines style and functionality. It features an ABS shell and multi-density EPS. It is therefore able to protect your head from impact while at the same time maintaining comfort.

Thanks to its ventilation system, you are able to keep cool even when riding on hot, summer days. The ventilation system consists of intake and exhaust vents that are fully adjustable. The adjustability of the vents ensures you have control over the air follow.

The sun visor system enables easy and quick change of sun visor without needing any tools. You can easily remove so as to install a clear visor.

The interior is comfortable. The liner and pads are also removable and washable, which is necessary for hygiene.
Highlighted Features:
10. GDM DK-120
This is the first Bluetooth-enabled women's helmet on this list.

You can pair it directly to devices such as your phone, iPod or a digital audio player. The most common use case for this feature is being able to take and make calls, and also listening to music while you ride. We do not recommend the latter. However, if you wish to listen to music while you're riding, we'd suggest that you keep the volume low enough for you to hear other vehicles.

The helmet has a flush-fit, side-coverless face which is scratch-resistant and UV-resistant, which means it is durable. It is also compound-curved and optically-correct.

The helmet is not very light – it weighs 4 pounds. It features an aerodynamic shell design that comprises advanced composite poly-alloy.
Highlighted Features:
Things to Check before Getting One
If you are looking for a women's motorcycle helmet, there are a number of things you should consider. Most women's motorcycle helmets reviews are sure to mention some of the following things:
Safety Certifications
Safety is an important consideration when you are buying a helmet. After all, the helmet's purpose is to keep you safe in the event of an accident.

You must always ensure that the helmet adheres to the set safety standards and regulations. These are defined by the US Department of Transportation (DOT), the Snell Foundation, and the Economic Commission for Europe (ECE).

In the US, the most important certification is from DOT, because no helmet is street legal until it has been Dot-certified. The DOT tests helmets by subjecting them to multiple impacts, striking at them with a spike.

They also do retention tests. DOT tests are not as rigorous as the two other organizations.

ECE tests do impact and retention tests too, but they also test their helmets for visor strength, deformation underweight, and abrasion resistance.

Snell is a non-profit organization and its certification is optional. However, Snell certification is highly attractive because they carry out more impact tests and exert greater force than the DOT and ECE tests. Snell revises its standards every five years.
Full Face vs Open Face
If your main consideration is protection, a full face helmet is the best option, because it covers your entire face. In the event of an accident, every bit of your face will be shielded from direct impact.

However, some riders want to feel the open road, the wind and the sunlight as they go. If that's what appeals to you, an open face helmet is what you need.

Furthermore, some riders are claustrophobic and having their nose and mouth enclosed in a helmet is a deeply uncomfortable feeling. Such riders too will prefer an open face helmet to a full face helmet.
Fit
It is key that the helmet fits nicely on your head. Choose the helmet that fits best. If a helmet is loose, there is a big risk of It coming off during a crash, leaving your head naked and vulnerable to direct impact.

Furthermore, a loose helmet will tend to move around a lot. It will buffet, creating neck fatigue problems, tension in the neck. The bottom line: a loose helmet will result in an uncomfortable experience.

If you are uncomfortable, you will find it hard to concentrate on the road as you should. In addition, if a helmet is too big, it can reduce in protection value by 30%.

A helmet that fits loosely also increases the noise level. In a street environment, that is very dangerous.

On the other hand, there is such a thing as a too snug fit, whether motorcycle footwear or headgear! That is when the helmet is so snug that it becomes uncomfortable. It is so snug that the padding moves against your skin.

When picking a helmet, don't fit your face, fit your head! If it's too loose or too tight or uncomfortable in any way, think twice.

Don't feel embarrassed about trying out a helmet and then not buying it. That is all part of the process.

Never go for second-hand helmet. It will have conformed itself to the head shape of the previous owner.

As a result, the inner impact shells have shaped themselves to fit someone else's head and that means there could be a spot where you head moves.

For a nicely snug fit, you need a new helmet that will conform itself to your particular head shape.
Color and Design
You want to be visible on the road. Motorcycle riders are more vulnerable than drivers in the event of a crash, because drivers are at least protected by the car's body. The rider's entire body is exposed to direct impact.

One way riders can ensure they are safe on the road is to wear helmets that call attention to their presence. If drivers can see you, chances of an accident happening are fewer.

A lot of accidents that happen to riders are caused by riders emerging from side roads. If a rider wears a helmet with vivid colors, the driver will spot him or her and thus avert an accident.
Ventilation
When you are riding in the heat of the sun, you need some good, clean airflow to stay cool under the helmet. That's where ventilation comes in.

You also need to have some control over the amount of air coming in and out. This comes in handy when its cold and rainy and you want to close off the vents.
Removable Liners
Hygiene is key. You should be able to remove the pads and linings of the helmet and wash them. Otherwise, sweat and dust and dirt will comingle and create a fertile environment for bacteria and germs.
Frequently Asked Questions
Q: What is the most protective type of helmet?
The most protective type of motorcycle helmet is a full face because it protects your entire head and face from impact. It protects your nose and jaw. It protects your eyes from the impact of debris flying through the air.
Q: Can I use a football / skating / cycling helmet instead of a motorcycle helmet?
Technically, you can, but it is not at all advisable. In the first place, football helmets are not certified by DOT, ECE, or Snell. They have not undergone the necessary tests.

The kinds of impacts a football helmet protects you from are mild compared to the type of impacts you can expect when you get into a crash while riding. That means a football helmet won't give you enough protection if you are involved in an accident.
Q: What is the best motorcycle helmet standard?
DOT is the standard for helmets in the US, and ECE is the standard in European countries. Snell is a non-profit organization, but its tests are tougher and more rigorous than the tests done by DOT and ECE.
Snell certification is optional. If your motorcycle helmet certification, you can rest assured that it has passed some extra tough safety tests.
Q: What is the best kind of helmet for a long ride?
For a long ride, you need a helmet that is lightweight, so it doesn't cause neck fatigue. You want it to be nicely snug, so it's comfortable. You want one that gives you great protection, so ensure it adheres to safety standards.
A full face helmet is a great choice because it will give protection to your eyes and entire face from wind, rain, dust, and debris. A full face helmet will also protect your ears from rushing wind.
Check our women's motorcycle helmets reviews above to get a variety of choice helmets.
Q: Can my helmet enable me to listen to music while riding?
Yes. You can buy a motorcycle helmet communications system – otherwise known as a comms system. This device is mounted on the helmet. It comes with speakers and a microphone.
Not only can you listen to music, but you can also communicate with fellow riders who have compatible comms systems.
Final Verdict
Depending on how you use it (or if you are involved in any crashes), a helmet should be good for about 3 to 5 years. It is therefore important that you invest carefully. A good helmet is comfortable, it looks good, but above all it protects you.

People have lost their lives in accidents. Picking out an appropriate helmet is a serious affair. We trust that the guidelines we have provided here will prove useful when you are picking out a motorcycle helmet.
The Best Female Specific Motorcycle Helmet: Schuberth C3W
After working at a motorcycle shop I got used to telling women, "No there isn't such thing as a female specific helmet." Well now I shall eat my words. Schuberth, a German company has been around for over 70 years, has always focused on innovation and product development and now has presented the world with a helmet specifically designed for women.
I always figured a head is a head, which may vary from person to person, but I didn't think there was a definable difference between men and women (besides generally women's heads are smaller). According to Schuberth's research women have both different head and facial shapes. Not only are women's heads smaller but they also have a narrower facial structure. This helmet also claims to be the smallest, lightest, most compact "flip-up" helmet on the market.
Beyond the special women-specific design the helmet also offers other, high quality helmet features like memory foam padding, a micro-fiber, antibacterial, hypo-allergenic liner and a aerodynamic shape to increase stability and preventing buffeting.
You may have discovered many helmets sizes are adjusted through the interior fit, meaning a small helmet may use the same outer shell size as a large helmet. This causes smaller people obvious annoyance of a bulky helmet, even if it fits the "correctly." While you may not want to jump on this new product immediately, it is a interesting product release and hopefully something that turns into a trend. Products like these undoubtedly have the power to make women's riding experiences not only more commutable, but also safer.