Can You Ceramic Coat Exhaust? How Much Does It Cost?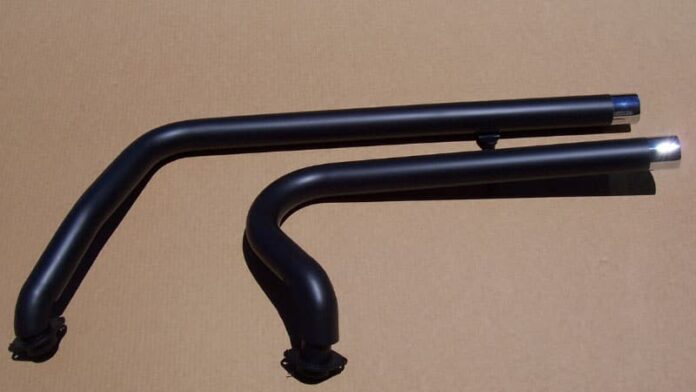 Coating your exhaust with a high-temperature ceramic spray is the new trend in the aftermarket motorcycle exhaust market, as it significantly heightens the overall performance.
Fuel and exhaust systems last much longer and more efficiently when ceramic coats are used, due to its ability to protect the machine against corrosion, rust, and extreme heat exposure.
A standard ceramic coating might not be as budget-friendly with prices usually ranging from $500 - $2,000, depending on the part you want to coat.
This article will help you understand the advantages and importance of applying the high-temperature ceramic spray to your exhaust and turbo components.
How Much Does a Ceramic Coating Cost? 
The low heat coat is the most budget-friendly option in the market. Especially used for valve covers and rear end housings, this is mostly used as a tool for damage control and restoration.
And the medium heat coat is best applied to advance the performance, even covering lean burning engines from the extreme heat. It is usually applied to turbo parts and headers or slightly low heat areas providing adequate protection.
Moreover, the high heat coating is generally the most expensive option, usually applying to drag racing or diesel-powered vehicles. This also takes care of the internal heating and combustion of the pistons.
Although a proper high-temperature ceramic coating might have you spending a couple extra dollars, considering the long time advantages of the ceramic on your exhaust, it is well worth the price.
Advantages of Ceramic Coating
A ceramic coat is the most important product you can invest in for your gear, as it not only makes it last much longer by working as an exhaust wrap, but it also keeps it at peak performance for much longer than expected.
It also is an advantage if you consider the looks to be an important component for your gear. So, if you're planning to keep your gear at its peak for years, then it's always best to invest in a coat despite the expenses.
Provides Protection 
As the exhaust system and turbo are undercarriage parts, it gives them a lot more exposure to grime, debris, and other chemicals. It ends up being collected in the exhaust, creating oxidants and corrosion.
Areas with high saltwater content can also be a major factor if you're living near the ocean that makes the pipes develop rust and crack after a couple years.
A high thermal ceramic coating also protects the undercarriage from developing heat overtime from the engine. This might lead those areas to degrade, even causing strong metals like titanium to be affected after a while.
The exhaust gases tend to be extremely corrosive, which can cause internal damage as well over time. And the coat helps built-up moisture and gases exit the pipes or burns it off. A ceramic coat can help protect the headers and exhaust system, parts that are more exposed to toxic contaminants like road grimes and debris.
And a coat can certainly lengthen the life span of your gear.
Thermal Cycling 
The turbo housing can get extremely hot during use, and if it doesn't properly exit the pipes, then over time, they can become brittle and eventually break down.
High-temperature diesel ceramic coating can easily mask that heat and let it cycle properly before exiting the gear. It also maintains a cool surface temperature for the metals of the turbo housing.
There are curves on the header in the pipes, which can collect the excess heat over time and break down the internal systems.
And the coat helps the housing retain the heat inside and process it, leading to quicker hole-shots as the turbo spools at a faster pace. So, a coat can easily cycle the remaining heat and moisture from the pipes.
Gives a Good Appearance 
Headers usually tend to have significant discoloring near the bends of the metal and the twists, this is usually used to heat exposure over time, which often affects chrome headers.
A high-temperature coating helps the metal absorb heat much faster and effectively, leaving no loss of coloring, easily improving its appearance.
There are specific styles available for your gear, such as matte finish, blackout, or even aluminum coating. Regular coatings like chrome and powder tend to be more sensitive to heat and prone to more overall damage.
Unlike other paints, the ceramic coating offers a great finish alongside the constant protection from outside chemicals. You can also apply the coat in other areas for a more uniform look.
The cost of a standard ceramic coat should set you back around $500. But depending whether you're hiring a professional, what vehicle you're coating and the quality, it should range from $1000-$2000 only.
Keep Your Exhaust Pipes at Their Peak with the Best Ceramic Coat! 
Ceramic coats should be considered as an essential investment to your gear, as it offers a multitude of long term advantages whilst keeping the style of your motorcycle!
Know which type of high-temperature ceramic coating to buy before making your purchase, especially if you're looking to save couple bucks!