Can You Ride a Dirt Bike on the Sidewalk?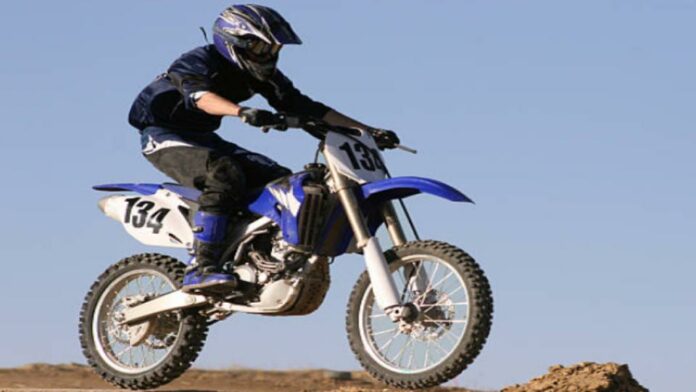 Driving a dirt bike off-road must be among the most thrilling adventures of a lifetime. There's always the temptation to ride on a city street or a sidewalk when you don't have time to plan a biking vacation or visit a riding park.
Can You Ride a Dirt Bike on the Sidewalk?
No, you cannot ride a dirtbike on a sidewalk. It is illegal and dangerous for pedestrians. Dirt Bikes are meant to be ridden on off-road terrains like mud and dirt. They also do not have safety features like mirrors and warning horns to alert pedestrians when you are behind them. Therefore, you can't ride a dirtbike on the sidewalk. 
Let's look at dirt bike laws and the penalties for the decision to ride on a sidewalk starting with:
Why Riding on the Sidewalk Is Illegal
Riding on a sidewalk is so appealing. Before you give in to that urge, read the dirt bike laws in your state because it's most probably illegal to ride on your neighborhood street.
First, these bikes aren't safe in inhabited areas because they're too fast. You'll not know when or how a person walks out of nowhere and bumps into your bike when you least expect. These are racing bikes meant for terrain obstacles, not running across streets with human traffic.
Plus, these bikes don't have the street safety accessories like warning horns and mirrors, so you have less control over how you ride. You'll not know how to warn people before you run into them. These are the minimum requirements for motorized traffic, and since dirt bikes are for racing off-road, they don't have them.
The sidewalks are for slower traffic that's non-motorized. Therefore, riding a motorized vehicle risks the lives of pedestrians and riders. It makes no sense to have the section for such traffic taken over by dirt bikes. 
Secondly, the wheels on your bike are for off-road terrains like mud and dirt, not sidewalks. 
Texas bike laws prohibit riding on paved surfaces or public roads. You can only enjoy this activity on designated trails.
Penalties For Flouting Laws and Riding on Sidewalks
The first and obvious penalty is a ticket. You may also have your bike impounded or towed and attract a fine. 
You may also be violating laws on insurance by riding without it on city streets. Another possible violation is riding without a license plate using an off-road vehicle that shouldn't be on the highway in the first place. If you already have a license plate, you may also get a ticket for no registration if your state requires it.
The total cost of these penalties, including the impound fees, will make you think twice before riding on a sidewalk. 
Let's look at the dirt bike laws in different states to understand the situation awaiting you when you drive on a sidewalk.
Philadelphia
You'll pay $2,000 and have your bike confiscated for endangering residents by riding in public space.
Florida
It's illegal to ride on public roads, streets, and highways in Florida. You also attract penalties for damage to public lands.
Massachusetts
This state prohibits riding on public ways or across a highway with controlled access. When crossing a highway, you're to make a complete stop. Further, if you ride on private property, you need written consent from the owner if within 150 feet of the property.
Maine
It's not different in other states like Maine. If you violate the ATV laws, a civil offense attracts a fine of up to $500. You don't need registration to ride on leased or private land. If it's not your land, you need permission from the owner. You can only cross controlled-access highways with proper registration.
It's illegal to ride on a public way for motorized vehicles or sidewalks unless you're doing so to cross and without obstructing traffic from either side.
When Is It Okay to Ride a Dirt Bike on a Sidewalk?
Some states have exceptions for when you can have your dirt bike on the sidewalk.
One such exception is when you're walking or pushing, not riding your bike. For example, you may have to walk your bike on a sidewalk when the engine fails. 
You may use it on a sidewalk in an emergency for your safety or that of others. In such instances, you'll have no choice but to take the best route to safety as you call the cops for assistance.
You can also ride it on a sidewalk on private property when you have the owner's permission. 
New York has a few circumstances when you can drive across the highway. For example, you can stop to avoid obstructing traffic behind you, then cross. But, you can only cross a divided highway at an intersection with another street, and it's illegal to cross an interstate highway or parkway.
Where You Can Ride a Dirt Bike
Some states have an age restriction, and others require every rider to have a training certificate or a supervisory requirement for minors. There are also sound restrictions and requirements for spark arresters. 
For example, a rider should be 14 years old, have liability insurance and registration to ride in New Jersey. Riders under 18 years must enroll in a safety course, and the ones under 16 years shouldn't ride a bike with an engine capacity of over 90 cc. But, a rider under 18 years doesn't need a safety certificate when riding in special events or operating it as part of farm operations on public land or water.
In New York, you must wear a helmet, protective clothing, and a face shield. Your bike should have a brakes system, a muffler with federal standards, a spark arrester, tires without cuts or bulges, headlight, and taillight.
You may also need to make your bike street legal by adding a few accessories. That's the standard in some states like Washington. You'll need a license plate for easy identity as you cruise through the streets. Plus, you'll need steering, an exhaust system, breaks, and the right wheels for paved roads. You're also to install front and rear lights and a rearview mirror.
After adding these accessories, your bike needs an inspection before licensing. These processes make it legal for use in everyday activities like transportation. These modifications are expensive and may add weight to your bike. Therefore, sticking to off-road riding sounds like the best solution.
It might feel like there are limited riding venues as there are so many laws and regulations.
But, legal places to ride your bike are:
State Bike Trails
You'll have the freedom to enjoy riding for as long as you want. The only restrictions in such trails are the types of bikes allowed in each state and the requirements. For example, you may need a registration sticker, membership fee, full riding gear, and adhere to the exhaust sound level limit. There are also regulations on the age of riders and the ones that need adult supervision.
Motocross Tracks
They are more advanced, offering tracks with obstacles to test your riding skills. For example, in California, you can ride in Cahuilla Creek Motocross, Lake Elsinore Motorsports Park, and Hangtown MX. Washington also has an array of motocross tracks like Riverdale Raceway and Washougal MX Park. If you're a beginner, start on motocross tracks with minimal obstacles.
On Private Property
You'll have the freedom you crave when you ride on your property. Of course, you'd need plenty of space in your backyard for this activity. If you do so in limited space, you risk violating state laws for noise and air pollution. Thus, confirm what your state says about riding on private property.
In New York, a child under 16 years can only ride without adult supervision on land owned or leased by the parent or guardian.
Even when riding on private property, you still need registration. For example, Massachusetts requires you to register your bike whether you'll ride it on public or private property. On top of that, riders under 18 years should undertake a recreational vehicle and responsibility program. The ones between 14 and 16 years ride an engine capacity under 90 cc and only under adult supervision.
FAQs
Why are dirt bikes not street legal?
That's because their design suits off-road riding. Thus, these bikes don't have the accessories to make them safe for riders and other road users. For example, they have wheels for city streets or a horn to alert road users. Plus, they don't have a license plate.
Is it legal to ride dirt bikes on the street?
No, it's illegal in most states unless the bikes are street legal. That's the process of adapting the design to motorized traffic requirements, such as adding a license plate, front and rear lights. Once you do that, you turn the bike into a dual-sport dirt bike that you can use as transport in the city.
Final Thoughts
Dirt bikes are for off-road use. Therefore, though the laws may vary in some states, generally, it's illegal to ride them on a sidewalk, a public road, or a neighborhood. Even though you have a license or registration to ride off-road, it doesn't guarantee freedom to use it on a sidewalk.