Cardo Vs Sena: Where Do They Differ Actually?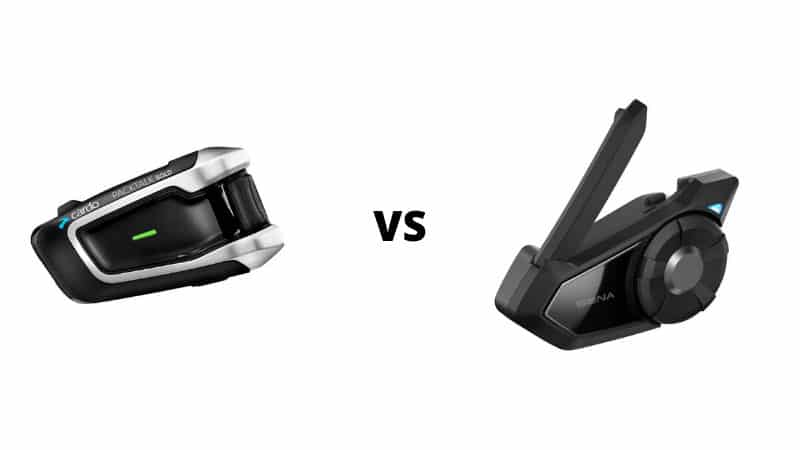 As technology continues to grow rapidly, its impact has been felt far and wide, even in the motorcycle riding world.
One specific area where a strong impact of technology has been felt in the biking world is how bikers communicate. The birth of motorcycle intercom and Bluetooth communication system has made it possible for fellow riders to stay connected and have fun riding time together.
Amid all these developments, two companies—namely Cardo and Sena—have emerged as the leaders in the production of top-of-the-line motorcycle intercom systems. And their race to clinch the top position doesn't seem to slow any time soon.
In this post, we'll get deeper into the intimate details of each brand and its products to help bring out their differences and make it easy for you to decide which one to choose.
Cardo
As we have just mentioned above, Cardo is one of the leading manufacturers of motorcycle intercom systems. They have a wide range of products designed to meet the needs of different motorcycle riders.
Since discussing all their products will take us forever, we decided to review their most popular product—the Cardo Packtalk Bold—to give you a clue what Cardo's products are like.
Packtalk Bold is a high-end intercom system and, without a single doubt, Cardo's best product at the time of writing this post. The system provides you with a whole list of unique, top-end features and functions that translate to an outstanding performance.
The system comes as an upgrade to the Packtalk, Cardo's first DMC model. It features major improvements such as voice-activated operation, mesh technology, and JBL audio system, making it one of the most sophisticated bikers' communication devices ever made.
Key features of Cardo Packtalk:
Dynamic Mesh Communication (DMC)
This is one of the major upgrades of this motorcycle intercom. For starters, the DMC is the next-generation technology in bike communication systems.
It involves connecting the riding buddies in something like a web so that riders can disconnect and reconnect at any time without affecting the rest of the group.
This is a BIG leap in biking communication from the traditional Bluetooth connection models—where if one rider lost connection, the rest of the group would break up.
Even though this system features the DMC technology, it also comes with built-in Bluetooth capability to enable you to pair it with BT systems from other brands.
Longest range
The intercom system provides you with a pretty long communication range of up to 1600m (or 1 mile) in ideal conditions. And up to 1000 meters in real-life conditions.
Natural Voice Operation
Another outstanding feature of this Cardo revolves around the natural voice operation function.
Your voice just got empowered!
With this function, you can operate the intercom system without moving your hands an inch; you simply give it voice commands, and it executes them automatically.
Using this feature doesn't require you to be a geek of some kind. It's always ON, so all you have to do is say "Hey Cardo," followed by the voice command you want it to execute, e.g., mute audio, volume up, next song, battery status, and more.
However, keep in mind that shouting tends to distort your voice and make it recognizable when using this voice operation.
JBL Audio system for exceptional sound quality
Another feature that keeps this motorcycle intercom ahead of the pack lies in the JBL audio system it comes integrated with.
Cardo decided to partner with JBL, the high-end speaker manufacturer, to improve the audio quality of their Packtalk Bold—fine-tuning specially for use in motorcycle helmets. This makes them the first intercom manufacturers in the industry to make such an enhancement.
With these JBL speakers, you'll not only get to enjoy super-clear communication with fellow riders, but you'll enjoy truly pleasurable music listening experience.
Additional features: smart audio mixing, built-in FM radio, long-range (up to 1600m) connectivity, and allows up to 15 riders to connect.
Pros:
Cons:
Sena
No genuine list of the top-rated motorcycle intercom reviews will fail to feature the Sena 30K. This is owing to its great features and the high level of popularity it currently enjoys amongst motorcycle riders.
Featuring a sleek and compact design, the Sena 30K is also a top-end motorcycle communication system that features the superior Mesh Intercom communication technology. This allows an unlimited number of riders to connect.
The system also boasts of a pretty extended communication range of up to 1.2 miles in open terrain, though this range can be affected if you're riding in mountain terrains, just like in the case of Cardo.
Key features of Sena 30K:
Sena's Mesh Intercom Technology
Sena developed this technology to give you a whole new biker-to-biker communication experience.
When engaging in public conversations, the Mesh intercom allows you to instantly communicate with as many as 30k users (or unlimited users, as most riders like to call it) without necessarily pairing headsets.
And if you want to engage in private conversations, the intercom lets you pair a network of up to 30k headsets, where the riders can join and leave the private group anytime without affecting the rest of the participants' connections.
Needless to say, this advanced communication technology beats Bluetooth systems in that the riders can still enjoy smooth communication even if one of the connected riders goes out of range.
The system will automatically search and reconnect the rider when he/she comes back within range.
Bluetooth 4.1 connectivity
Just like the Cardo intercom, this Sena also offers you Bluetooth connectivity in addition to the Mesh technology we have just discussed above.
This enables you to easily pair the system with your phone, music player, or even GPS. Moreover, the Bluetooth capability means you can also connect Sena 30K to universal Bluetooth intercoms that lack the Mesh.
Extra-long connection range
This Sena boasts of an extended communication range that runs up to 1.2 miles on open ground. This takes it 0.2 miles higher than what we say in the Cardo system.
Remember, it facilitates this range for up to 30K riders. For a group of riders, things get even better as they can enjoy communication range extending up to 5 miles!
Keep in mind, though, that for you to enjoy these extended ranges, you must be riding on a clear line of sight or open grounds without distractions such as trees, mountains, canyons, buildings, etc.
Excellent sound quality
When using Sena 30K, you'll be able to hear other riders through the mesh network clearly.
The sound produced by the system's speakers is louder and clear compared to what you get with a regular intercom. The audio quality is soo good that you'll feel as if you're communicating when standing next to each other.
Not just communicating, the great sound quality also enhances your listening experience for your favorite tracks or FM radio. The system has plenty of volume to help you adjust the audio for clarity at high speeds.
The Sena features a smart volume feature that automatically lowers the volume when you slow down your motorcycle.
Pros:
Cons:
Card vs Sena—Our Verdict
From the above discussion, we can all agree that both Cardo PackTalk Bold and Sena 30K are fantastic products. And they'll meet the communication needs for different motorcycle riders.
Cardo, in particular, ticks the boxes for all the categories, including mesh technology, long battery life, auto-reconnect, and good range. Sena ticks most of these categories as well. It boasts of limitless users, public mode, mesh technology, and rich list of accessories it comes with.
But Sena has one major letdown in that it doesn't have a waterproof label. So, if you plan to ride in rainy weather, buying Sena might be a risk.
Keeping in mind your unique needs and requirements will help you decide on whether to go with Cardo or Sena.