The Best of the Cheapest Dirt Bikes (And Buying Guide)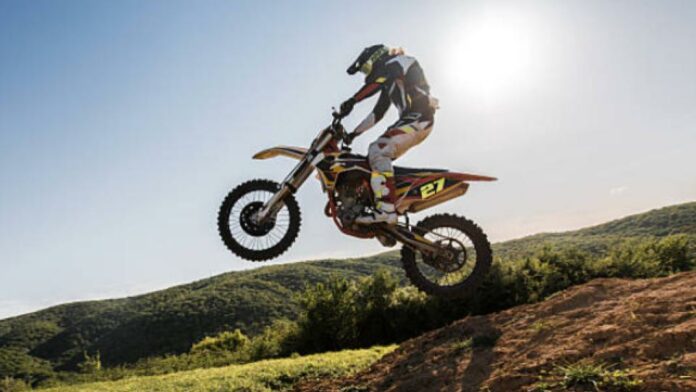 The thrill of riding a dirt bike is no longer just for professional circuit racers. You too can experience first-hand how awesome it feels.
The dirt bike's popularity exploded after people started riding them regularly for their daily trips and their off-road adventures. Sure, that's a good thing, but this popularity also caused a surge in the demand and prices of dirt bikes.
So if you're not blessed with deep pockets, or if you simply want to get a starter dirt bike and don't want to spend much, selecting the right model can be pretty challenging.
But don't worry because we're here to help.
Keep reading as we round up the cheapest dirt bikes you can get on the market for that extra thrill.
Top Pick: X-PRO 125cc Dirt Bike is our top pick. This dirt bike is designed with excellent features such as a 4-speed transmission and a 125cc engine, which are sure to exceed your expectations.
Buying the Best of the Cheapest Dirt Bikes to Make You Shine
Getting a cheap bike does not mean sacrificing quality. More companies getting into the market to meet the soaring demand have all sorts of quality models designed for good value for money.
These top seven economy dirt bikes will make you stand out.
1. X-PRO 125cc Dirt Bike — Best Budget Dirt Bike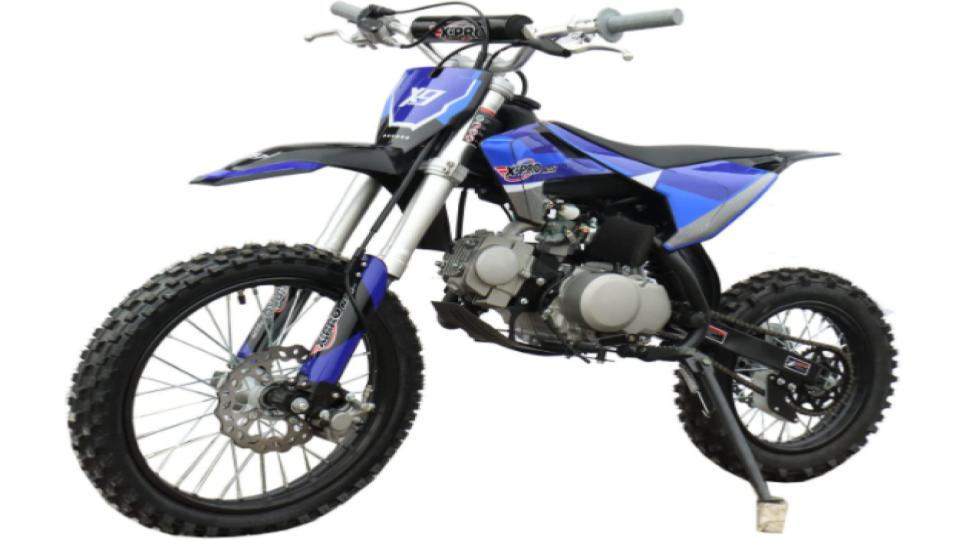 ​Coming first on our list is the X-pro dirt bike, a model designed for super-performance. It comes with a 125cc engine, which will be enough for the maximum thrust you need on the trails.
The powerful engine works well with the cradle-type steel tubes, which are strong yet light to allow jumps that make every moment exciting.
Although Moto Pro designed this bike for high performance on trails, it will also be an excellent pick for regular use. With its 4-speed transmission, we found the cycle equally effective for adventure and everyday commuting.
The controls are also easy to use, and even a newbie looking to hit the trail can expect good performance within a short while. However, it will be good to start by developing the right skills before going to competitions with the X-pro dirt bike to ensure better performance and safety.
To conquer muddy and rough terrains out there, a good dirt bike should have enough ground clearance. This is why Moto Pro designed this bike with 17-inch/14-inch front/rear wheels. So you can have the confidence to race through every terrain no matter how rough it is.
The high ground clearance has made the bike one of the top choices for new riders who want to try their hands on real competitions. Some even opt to stick with it as they turn pro because of the slick design.
Specs 
125cc engine displacement.
17-inch front wheel and 14-inch rear wheel
Manual 4-speed transmission
Cradle steel tube frame
Pros
Powerful
Steel frames for extra strength, stability, and durability
Available in five different colors
Light-weight construction
Cons
Not ready out of the box; needs assembly
2. Apollo Original Dirt Bike X18 — Runner Up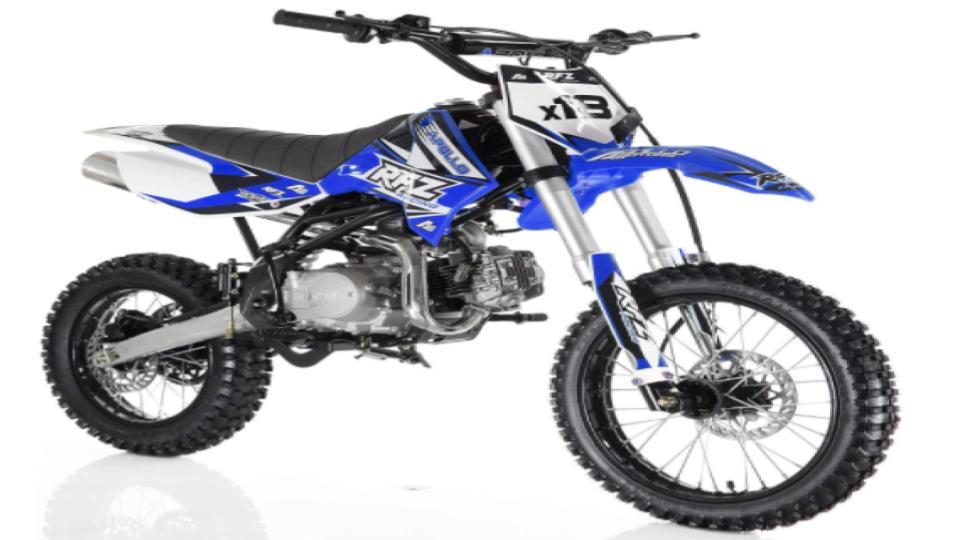 ​If you mention the name Apollo, riding enthusiasts will tell you one thing: it is one of the top brands out there because of quality and customer value. This, you can see with most of the bikes from the company, such as this Apollo Original Dirt Bike X18, a powerful model liked by both newbies and veteran riders. We found its design particularly intuitive because of the high elevation, strong engine, suspension, and controls.
Apollo's engineers know exactly what a dirt bike should have: a powerful engine and strong suspensions. This is why they designed the X18 with a 125cc four-stroke single-cylinder engine.
The engine develops enough torque, around 7,500 RPM (revolutions per minute), and you can easily overcome even the most challenging trails.
Another feature that makes X18 stand out is its unique suspension. It features an adjustable 750mm front suspension and 320mm non-adjustable rear suspension that helps to absorb most of the shocks from uneven terrain. If you choose to use this bike on paved tracks or urban roads, the ride will be equally smooth.
Specs 
Engine displacement of 125cc.
Gross weight of 180.8 lbs.
Hydraulic disc brakes
Fuel tank capacity of 4.7 liters
Pros
High ground clearance
Strong and durable
Easy to use controls
High ground clearance with 14-inch wheels
Efficient air cooling system
Lightweight construction
Cons
Recommended for adults only
You might incur additional costs to assemble the bike
3. Apollo AGB-37 – 125cc Dirt Bike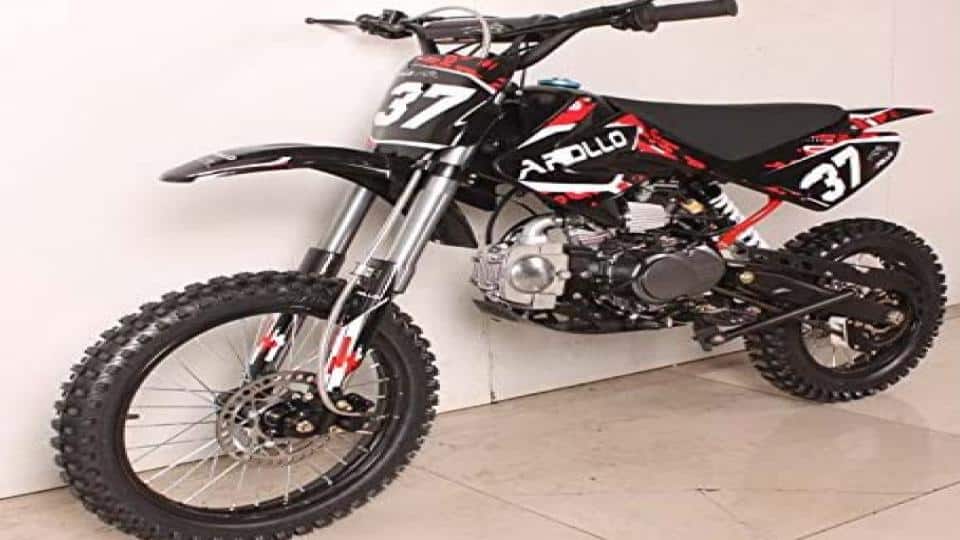 ​Apollo makes our list again with this AGB-37 – 125cc, a dirt bike designed for beginners. You will love its moderate power, which does not intimidate amateurs.
If you are looking for a pit bike, this model will be perfect. So, whether you plan to head to the trails alone, with friends, or to just unwind after a long week at work, AGB-37 will not disappoint.
Now, let's get under the hood of this very popular bike.
This bike is pretty big, but both adults and youth should be able to handle it pretty easily. The seat is positioned 32.28 inches from the ground, and most people can control the movement easily. The dirt bike also stands out because it is designed using high-quality steel that makes it light and durable.
The AGB-37 boasts of a 4-stroke single-cylinder 125cc engine, which delivers a maximum torque of 9.0/5500 RPM. With all this power, the bike can hit a maximum speed of 55.89 mph when riding on flat terrain. It also features an air-cooling system that helps to keep the motor cool when dashing at top speeds or doing climbs.
The bike uses knobby tires that provide firm traction. In addition, it features hand-operated front brakes while the back brakes are responsive to make it easy to stop and control the speed easily.
Specs
Fuel tank capacity of 3.5 liters
Real/front tire of 12/14 inches
Engine displacement of 125cc
Manual starting system
Pros
Available in red and black colors
Strong and durable
Easy to handle for beginners
Can work well for both trail and city riding
Strong suspension
Cons
Some skills needed to assemble the bike correctly
Carburetor issues
Might not work best for competitions
4. Lifan X-Pect EFI Motorcycle Bike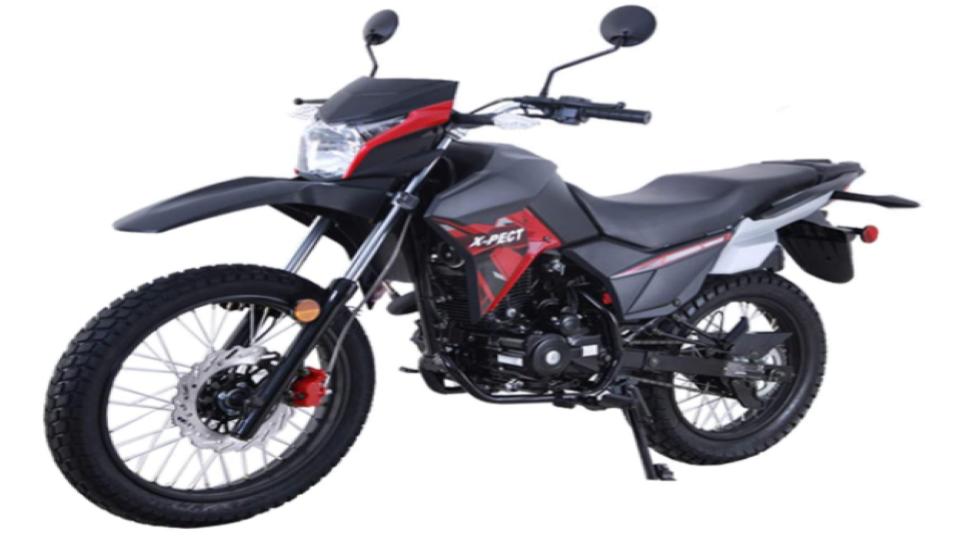 ​When buying a new dirt bike, especially for the first time, there is no doubt that the thoughts of having to assemble every part can be daunting. Although most bikes come in parts and buyers have to assemble on their own, you now have a way out with the Lifan X-Pect EFI Motorcycle Bike.
This bike is very convenient because it comes 95% assembled. So, all that's left to do is attach handlebars, side mirrors, and just a few more things. You can be ready to hit the road minutes after delivery!
The most notable feature of Lifan X-pect is its high-performance EFI engine. It uses an advanced engine control unit that intelligently interprets data from different sensors in the bike. For example, ECU determines the exact amount of fuel that should be delivered to the injector at any specific time for better fuel economy.
Another incredible feature is the LED running lights. When compared to the standard lights, LED lamps are smaller and lower in power consumption. They also deliver more brightness and return longer service life. Therefore, you can count on the X-pect to illuminate your way when riding in foggy or poorly lit areas.
Specs 
Engine displacement of 200cc
Net weight 286 pounds
Maximum torque of 13.8 N.m/6500 RPM
Air-cooled
Pros
Comes 95% assembled for you
Uses patented Lifan X-pect Li-Ion batteries
Uses LED lamps
No carburetor issues
Impressive fuel economy because of its EFI engine design
Comes with a two-year binding warranty
Cons
5. Kawasaki KLX 110 
Kawasaki makes some of the top-of-the-range bikes such as the Kawasaki Ninja 1000 model, one of the fastest models today. But did you know that Kawasaki also makes cheap and high-quality dirt bikes?
One of the models which work best for newbies is this Kawasaki KLX 110 dirt bike. It can also be an excellent choice for anyone who plans to take off to the off-road trails for adventure.
The Kawasaki KLX 1610 is a four-stroke dirt bike with an engine capacity of 112cc. Indeed, this might not sound much, but it offers an impressive output of up to 8.0 Nm at 4000 RPM. However, this might be the perfect power for a beginner to go on the road for the first time. For example, if you want to introduce your son to dirt bikes, a high-power model might not be a good idea. So, go for KLX 110.
KLX 110 is made with a steel frame and firm suspension for extra strength and stability. Although it will handle most terrains well enough, muddy tracks and high jumps can be pretty challenging. So, if you want to start making longer jumps, hitting higher speeds, and other complex maneuvers, upgrading to a bigger model, such as our first and second picks, might be a good thing.
Specs 
Drum brakes for both rear and front wheels
Fuel tank capacity of 3.81 liters
Maximum power of 7.3PS at 7,500 RPM
Displacement of 112cc and one cylinder
Pros
Low seat and power make it excellent for newbies
Easy to handle
Strong and durable
Impressive fuel economy
Cons
Not very good for jumps
Not recommended for tough dirt bike competitions
Small engine of 110cc
6. Yamaha TTR 50 Dirt Bike 
If you are a fan of dirt bikes, there's no doubt you started somewhere. So, what is the best point for a beginner? The best answer to this is Yamaha TTR 50 dirt bike.
This is one of the cheap dirt bikes you will find out there, and it best suits a young rider getting used to biking. Even riders as young as 12 can work with this dirt bike and progressively develop their skills.
One of the most noticeable features of this dirt bike is that it has no kick start. Yamaha did their homework well and correctly concluded that most young teens might not be strong enough to kick start. Sure, some can, but my kid tried and could not get it right. Now, you might ask, "what if the battery dies?" Well, you can always do a push start, and vroom you go!
The TTR-50 is 21.5-inch tall, really short, right? This design is meant to ensure young riders can easily touch the ground with flat feet when not racing. Otherwise, most of them would come crashing every time the bike came to a stop.
When it comes to the weight, we felt the bike was a bit heavy at 126 pounds. However, that is the range of most 4-stroke 50cc bikes. If it feels heavy for your kid, it might be a good idea to have them used to it before going out in the woods. You can also check out our reviews of the best dirt bikes for kids.
Specs 
4-stroke 50cc air-cooled engine
3-speed automatic clutch
Spark arrestor
Height of 21.5 inches
Pros
Comes with a throttle stop for speed control
Easy to control with only three gears
Strong and durable
Cons
Suitable for young riders only
Small engine makes it less suitable for more challenging trails
7. Honda CRF 110 F Dirt Bike
The last bike to make our list is this Honda CRF 230 F, a model liked by newbies and some enthusiasts alike. It is a high-quality dirt bike designed using top-rated materials, good suspension, and impressive speed variability.
With all the advanced features, this bike would easily rival the more expensive rides.
This bike is powered by a four-stroke 110cc (single cylinder) engine, which we found impressively strong, especially for beginners. It is developed to deliver power that is strong enough to power newbies off-the-road.
If you want to introduce your son or daughter to dirt bikes, this model comes with a throttle adjustment that you can use to speed, depending on the experience.
Just like with cars, one of the most challenging things for new dirt bike riders is interacting with the clutch. Honda CRF 230 F comes with an automated clutch to address the challenge, implying that you can focus on building other skills as the bike handles the gears. This is why more people are finding it easy to get into bike riding, courtesy of CRF 230 F and other automated models.
Specs 
4-stroke engine
Drum front and rear suspension
Electric starting
Telescopic front suspension
Pros
Engine is tuned to fit the needs of new riders
Uses an automated clutch that's easy to operate
Electric starter makes it easy to start
Cons
May be too heavy for some new riders
Might not be perfect for expert riders
Buying Guide 
Dirt bikes are designed to be high-jump heroes, especially on off-road trails, but their performance differs depending on the model. So, have you identified the perfect choice? If not, this guide is prepared for you.
Check it out as we list the basic types of dirt bikes and some useful tips for buying:
What are the Main Types of Dirt Bikes? 
Well, you cannot simply come into the dirt bike shop and grab the first one you see. It's a mistake that will lead to disappointments. Instead, you need to determine why you want the dirt bike and then learn about the main categories.
Here are the four main ones that you need to know about:
Trail Dirt Bikes: These dirt bikes are made for off-road trails and come with unique features, such as a wide-ratio gearbox and lightweight chassis for top-notch performance.
Competition Dirt Bikes: These dirt bikes are designed for both short and long races and work for riders of all levels. The most popular are the supercross and motocross dirt bikes.
Adventure Dirt Bikes: The adventure dirt bike will work best for those who fancy going out into the wilderness for leisure or fun.
Dual-Sport Dirt Bike: These dirt bikes are designed for running both on and off dirt trails. Unlike most trail-only bikes, dual-sport bikes are street legal.
Remember that no matter what dirt bike you pick, it is a must to always wear protective clothing when riding.
How to Select the Right Cheap Dirt Bike 
Once you know the type of dirt bike for you, the next step is to identify the perfect model before placing an order. So, here are the main things that you need to look for when selecting the best budget dirt bikes.
Motor and engine
Whether the dirt bike you are selecting is for a beginner or a professional, the engine is a top thing to think about. For a beginner, a dirt bike with a two-stroke engine should be enough to generate ample power for regular riding on trails or roads. If you are into challenging competitions, such as Motocross, a more powerful four-stroke dirt bike will be a better option.
Tire Patterns 
What type of trails will you be riding on? Whether they are muddy tracks, steep terrain, or rocky sections, the tire patterns might make all the difference.
The slippery or rough trail calls for tires that grip the surface for better traction. So make sure the treads or studs are large and firm enough for better performance. 
Brake Mechanism 
When rushing through rough trails with a dirt bike, whether for fun or during competitions, the brakes will come in handy for your safety. With good brakes, you can bring the bike to a halt at any point in the race. Remember that you also need to practice using the brakes correctly.
Some good brake systems for dirt bikes include the hydraulic braking type and the disc brake model.
Construction and Design
If you're buying a bike, whether for adventure or competitions, you wouldn't want to head to the repair shop just after a few days or weeks. This is why you should put a lot of thought into quality construction and design. Bring your focus away from aesthetics, such as the graphics printed on the body. Instead, check in detail the bike's construction and quality. A good dirt bike should be built with high-quality materials for enhanced durability.
When checking quality, you might also want to stick with brands that are known for bringing quality bikes. Good examples are Kawasaki and Honda and X-Pro. The brands that make the dirt bikes we have discussed in this post are all outstanding, and you can trust them for quality and top-notch performance.
Final Thoughts 
To enjoy every moment on dirt trails or adventure, your dirt bike doesn't have to be expensive. The dirt bikes we have reviewed in this post should give you the bike-riding experience that you seek. They are designed by top brands, feature the latest technology, and have been proven to deliver top performance. So, whether you are looking for a cheap bike to compete on the trails, head off to the woods for adventure, or introducing your son to dirt bikes, these bikes will not disappoint.
While we vouch for all the seven cheapest dirt bikes we reviewed on this post, X-PRO 125cc Dirt Bike stands out from the pack. Every component of the dirt bike is designed with the user in mind. Its advanced features, including lightweight construction and 4-speed transmission will deliver more than you can expect.
You might also want to check out our best dirt bikes under 500.