Choppertown: The Sinners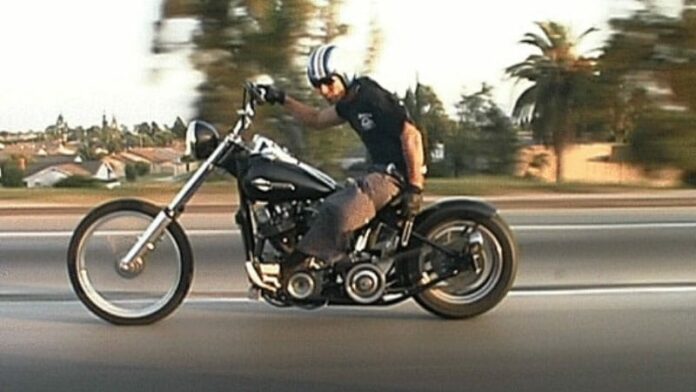 Choppertown: The Sinners, paints a realistic picture of what it means to be a biker — no mean feat, considering how negative the image of bikers tends to be in America. From drunken slobs to violent outlaws, movies, television shows, books, and newspapers have created a fictional image of a motorcyclist that so many people have accepted as real. Choppertown thus provides a valuable service by dispelling all the falsehoods and revealing the truth.
Choppertown: The Sinners, presents the culture of a southern Californian motorcycle club called "The Sinners." The club revolves around motorcycles and the movie revolves around a build. There isn't exactly a narrative to the movie, but as the club bands together to build an inexpensive motorcycle from throw away parts for fellow Sinner Kutty Noteboom, members give interviews and the viewer is exposed to the world of Choppertown.
Love and Choppers
Choppertown is a biker movie on the outside, but on the inside it's arguably a story about the bonds of friendship and community. It's also perhaps in some ways a love story — the love a person has for building something with their own two hands (and the hands of their friends).
Kutty Noteboom is a motorcycle rider and punk rocker who really wants to build a new chopper but doesn't have tons of money or resources. What Kutty Noteboom does have is great friends, resourcefulness, and a real knowledge of motorcycles. He and other members of the Sinners motorcycle club hit the junk yards, learn how to improvise, and demonstrate how much people can accomplish when they work together.
The motorcycle in Choppertown is a vehicle — literally and figuratively — for learning, teaching, and friendship.
No School Like Old School
So what's it really like to be a biker? There are a lot of mechanic-themed reality TV shows these days and all of them have a bright, shiny, new look to them. But that's not what living in garage bay is really like, is it? Choppertown is a greasy movie with greasy mechanics — the Sinners don't put on airs trying to look freshly scrubbed and sponsored by large corporations. That's part of what's real about them and thus what's real about this documentary.
It's also a matter of being "old school" — the work that they do on cars and motorcycles belongs more to the 50s and 60s when young people were custom building hot rods in their garages instead of spending big bucks to have it done for them. The results are "old school" as well; Kutty Noteboom acknowledges that while the custom motorcycles he makes are new, their look makes them appear like older classics.
If you want to know How to Start a Motorcycle Club?, visit here.
Praise for Choppertown
Pretty much everyone who has seen Choppertown: The Sinners, has offered nothing but praise for it:
Cycle World says: "Forget the so-called 'reality' chopper shows on TV. This is the real thing."
BSH Magazine writes: "Quite simply the best documentary ever made about custom bikes."
Hot Bike added: "This film captures the true reality of motorcycling."
American V-Twin Magazine writes: "Choppertown is up there with the giants as a potentially life-changing classic."
The Horse Backstreet Choppers writes: "KICK ASS! An inspirational portrayal of today's true chopper heroes."
VIDEO Clip from Choppertown: The Sinners,