Cruz Tools – Basic Tool Kits for Motorcycle Riders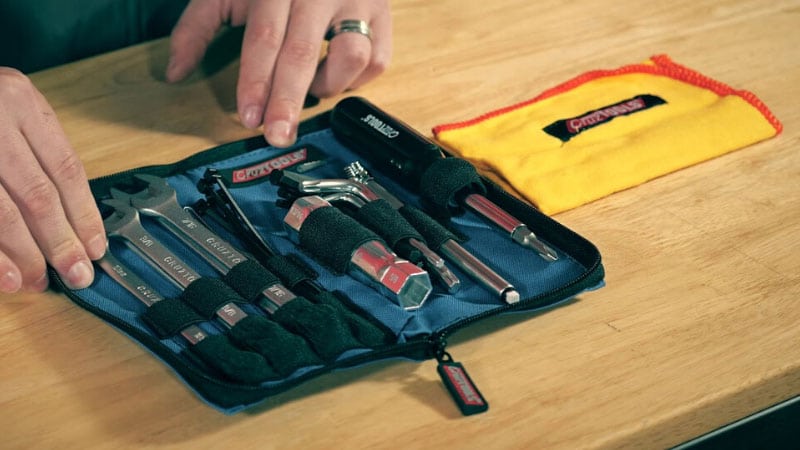 ---
GIFT LISTS
---
Top Budget Gifts
Something like the Cruz Tools Econokit M2 Tool Kit should be a part of every motorcycle rider's basic pack. If you ride often, you will, or already have, run into a situation where you need to make a quick roadside fix.
Bolts come loose, wires come unplugged, and tires go flat. With a good tool kit a small problem can stay a small problem and the Econokit M2 from Cruz Tools provides the bare minimum to help you deal with the most common problems you're likely to encounter.
Be Prepared While You Ride
Every motorcyclist should have a some sort of decent tool kit on their motorcycle. No matter how great your garage is, you can't carry it with you while you ride — not even for short rides. So you have to have something prepared to carry with you. CruzTools solves this problem by offering plenty of kits in varying sizes, prices, and purposes. Depending on what you want to spend and what you need, you can get complete kits or over sized multi-tools.
The Econokit line from Cruz Tools is the least expensive while still providing a basic minimum of tools you can use. An Econokit also has the advantage of being relatively small and lightweight It's is small enough to carry around, throw in a tank bag, or just leave it in your saddlebag for when you least expect trouble. It's also light enough that you won't feel overburdened, even if you going on a long ride that requires carrying a lot of other baggage as well.
The Cruz Tools Econokit M2 Tool Kit comes with:
You can get a deluxe version of the EconoKit which also includes:
Praise for Cruz Tools
Because of how much value and usefulness are provided by Cruz Tools, it's received a lot of praise in every industry where they have created tool sets. Here's a sampling of what motorcycle riders and critics have had to say about Cruz Tools — including the Cruz Tools EconoKit line:
"Inside we found everything we hoped we would never need...we are ready to fearlessly ride off to Sturgis." -RoadTech Teardrop Review in V-Twin, September 2010

"This comprehensive repair kit...provides everything necessary to diagnose and repair wiring problems…" -EconoKIT EL1 kit in ATV Magazine, May 2008

"So to our thinking the RoadTech H3 improves the functionality of both the EconoKIT and the MiniSet, and is very close to being the perfect road trip tool bag." -Review of RoadTech H3 in Thunder Press, February 2007

"We've considered CruzTOOLS' EconoKIT tool kits for motorcycles among the most complete carry-on tool kits on the market...and now even better...take along the EconoKIT H1 as a riding partner." -Review in Iron Works, August 2003

"Harley-Davidson motorcycles are mostly ready to roll right off the assembly line, but one serious omission is a factory tool kit. Correct this oversight with one of these new EconoKIT H1 or H2 tool sets from CruzTOOLS." -New product section in Motorcycle Product News, March 2002

"You wanna be prepared, but you can't justify $75 (or more) for a quality, portable toolkit. Enter CruzTOOOLS' new EconoKITs...Worth every penny." -Gearbox section of MotorCyclist, August 2000
Cruz Tools as Gifts
For anyone on a budget, the Cruz Tools Econokit M2 is the perfect gift, whether for yourself or for someone else. But if the $40 price tag for the Econokit is still a bit more more than you want to spend, you should check out the Cruztools Outback'r. This motorcycle made multi-tool is a perfect stocking stuffer and will become a permanent fixture in just about any rider's saddlebags.
Cruz Tools H2 Tool Kit