Dirt Bike Camping: The Ultimate Guide to Your Next Outdoor Adventure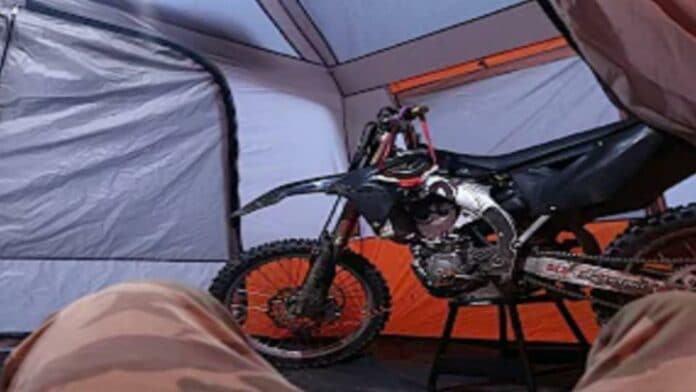 There are lots of sports and outdoor activities that dirt bike riders love, but one that deserves the buzz is dirt bike camping. Basically, it's an outdoor adventure that combines dirt biking and camping, so it's a great opportunity to enjoy the thrill of dirt biking, and at the same time, appreciate nature and develop life skills while camping. 
With dirt bike camping, you can tackle the trails at night or at dawn, in time to catch the beautiful sunrise. If this is something you might want to try on your next trip, then, you better keep reading. 
What Is Dirt Bike Camping?
Generally, dirt camping means camping with your bike at the place where you are dirt biking. You can camp at a popular trailhead, lodge, or even in the mountains. You can even camp at a beautiful remote site you discovered with your pals while dirt biking and then resume your trip the next day.
Why Should You Try Dirt Bike Camping?
There are plenty of reasons why you should try dirt bike camping. If camping is something up your alley, then it's perfect for you. On your dirt bike, you can explore the outdoors and discover some of the best camping spots along the trail or the mountains. Plus, the idea of dirt biking at dawn and enjoying the sunset at the top of the mountains is simply amazing. So here are a few reasons why you should try camping with your dirt bike:
You get to bond with pals and family members who love dirt bikes.
You get to challenge yourself in the mountains when things go wrong.
It will allow you to test the limits of your dirt bike. 
You get to camp in some of the most beautiful and even remote places, some of those places you may discover while dirt biking. 
You can develop new skills along the way. 
You can enjoy some unique outdoor food with friends and family members. 
Dirt Bike Camping Vs. Dual Sport Camping
These types of camping trips may seem similar, but they're really not. With dirt bike camping, you can haul your dirt bike to your destination and then enjoy your ride. So, you can carry a sleeping bag and a tent and go explore the mountain leaving your truck or RV at the parking lot. You can always go back to your RV in the evening or look for a nice camping spot and pitch your tent. If you're well prepared, you can even explore the mountain for days on your dirt bike.
On the other hand, dual-sport camping means loading your street legal dirt bike or dual sport bike and riding all over the state. You can stop and pitch your tent in numerous camping spots in different locations every day and have fun. The only difference between dirt camping and dual sport camping is that you have to haul it to the trails or mountains with the previous. 
You won't require an RV or a truck with dual-sport camping. Since dirt bikes are not street legal, you can't ride them on the road.
What Is the Best Dirt Bike for Camping?
When it comes to picking the right dirt bike for your next trip, you should consider your skill level and riding style. Plus, you'll be doing lots of riding during this camping trip, so be sure to get a comfortable and reliable dirt bike. This eliminates just any motocross bike. Don't get me wrong; I am not saying that you can't use your motocross bike for this trip. But you will have to do some modifications for it to be durable and comfortable in the mountains.
Therefore, your best option is an enduro bike or a trail bike. Their engines are powerful and smoother, while their suspensions are softer. These features will make it possible for you to ride long distances without getting tired. 
Riding motocross bikes on tough terrains can be quite hard, especially with their stiff suspensions. The abrupt power of motocross bikes makes it challenging for beginners.
There are lots of dirt bikes in the market for camping, and you can get either four strokes or two-stroke bikes. The KMT 250XCW is a famous 2-stroke bike that can come in handy when camping. One of the best options for beginners is the KLX230R. This bike is easy to ride, comfortable and ideal for folks who don't like the idea of dealing with a carburetor.
What Should I Pack for My Next Dirt Bike Camping Trip?
Before you leave your house or RV, there are a few things that you may need to bring with you. But since dirt bikes don't have a huge storage compartment, you have to pack light. Therefore, you need to pack as if you're going to the wilderness. 
If you plan to go back to the camping ground or the lodge, then there are some things you may not need to take with you. Some of the most important things that you may have to pack for the dirt camping include:
Camping Tent
When it comes to dirt camping tents, most bikers always wonder what the right tent size for the trip is. What size will be less stressful and more comfortable for camping? Well, there are lots of factors you have to consider when picking the right tent, including:
How many bikers will be joining the trip
The duration of the camping trip
The size of the dirt bike's rack
If you will be sharing the tent with other riders
The climate
The climate will play a key role when picking the right tent design and size. Consider all the above things when picking the right tent since you will sleep in it for a few days. 
Features that make a great camping tent include double stitching, reinforced corners, and taped seams. Also, experienced campers believe that the right tent should be weightless and portable. The right weight for a camping tent should be about 8 pounds.
Some of the best dirt camping tents in the market that I have used in the past are Harley Davidson and the Vuz Moto motorcycle tents. These tents have an innovative design and are the right size for bike camping. Plus, they can serve you for a very long time and can accommodate two people.
Sleeping Bag
If you have ever gone camping before, then chances are that you already own a sleeping bag. If you don't have one, please read on. 
Generally, sleeping bags come in a wide range of sizes and shapes, with most of them having some unique features. But, the more features you get, the more costly it will be, so you should also consider your budget.
If the weather is too cold where you're headed, then you should get a sleeping bag that can keep you comfortable and warm. But if it's hot, then you should just carry a blanket. No matter the weather, you should ensure that the tent is waterproof. If the sleeping bag gets wet, then it will be a hassle to dry it.
Sleeping bags have become quite compact in the last couple of years, which makes them perfect for dirt camping. 
Some sleeping bags can fit the palm of your hand; therefore, they are very easy to carry. These compact sleeping bags are perfect for strapping to the dirt bike and camping anywhere on the trails or the mountains.
Backpack
Since your main goal is dirt bike camping, then you already know that you need a backpack. The right backpack needs to be big enough for all your gear, and it's best if it comes with straps and buckles for attaching some items. The more stuff you pack in your backpack, the better. 
Luggage Rack
Generally, dirt bikes are not designed for carrying luggage, so they don't always come with a lot of storage room. So you may have to rig up a storage rack to keep your gear safe when biking. Luckily, there are lots of luggage racks in the market that can help you carry more luggage. But make sure you get the right luggage rack for your dirt bike.
Cargo Net
If you can't find a saddle bag or luggage rack, then you can purchase a cargo net. Cargo nets are universal, and they can come in handy when preparing for your next camping trip. A cargo net can help you carry more gear for the trip, even if you have a backpack. It can also help you separate your food from your gear.
Saddlebags
If your luggage rack doesn't fit the dirt bike, then you can go for a saddlebag. Saddlebags can be easily tossed over the back part of the dirt bike to create more storage space. Most saddlebags come with an expandable compartment for providing extra storage space. 
If it has a pouch under its main compartment, then it's the right option for your trip. A reverse zipper can help keep dirt and oil out of your saddlebag. A saddlebag can help create an extra storage space for your next camping trip, even if you have a bag.
Extra Fuel
It's always a good idea to carry some extra fuel for a dirt biking trip. But you have to first estimate how far you're willing to go. This will depend on your dirt bike's specifications, but it's always a great idea to have a gallon of fuel with you for the trip.
Water
Another crucial thing that every biker should carry for any trip is a lot of water. Some biking trails have water, but it's recommended to carry some water for the trip. So, you should have a hydration pack for some clean water and create space for it in your backpack or luggage rack.
Cooking Supplies and Food
Since you will pitch your tent every evening, you need to carry some food and cooking supplies. Whatever you carry depends on your preference, but you should have at least a foldout grill in most cases. A foldout grill can help you cook some food over the campfire.
The amount and kind of food you carry will depend on the number of days you plan to camp. You can carry pre-cooked food and warm it over the campfire. Most folks prefer the experience of making their food when camping.
You can also carry some pre-made snacks like Pancakes, etc. if you are going for a short period of time.

Dirt Bike Camping Tools
Even though your dirt bike is well serviced or new, it's essential to take precautions. You may end up riding on tough terrain or get a puncture. Therefore, it's good to come prepared. Make sure you carry a fully packed tool kit with everything you may need in case the bike gets damaged.
Another thing you shouldn't forget is your bike's spare parts. It is illogical to go dirt biking on new terrain without some spare parts. So make sure you get the required spare parts for your dirt camping trip. Some essential things you may need to do include changing the tire and even repairing a puncture.
Dirt Bike Camping in the Wilderness
Dirt biking in the wilderness can be a very tough task but worth it. When planning your trip, the hardest thing to do is find a place for all your gear. Therefore, better preparation before leaving the house is mandatory.
Dirt biking is a fun activity that allows you to access all the remote areas in the wilderness. Plus, being secluded is an exceptional way to surround yourself with nature, but you will have to sacrifice some luxuries. Dirt camping is just the same as any normal camping trip; the only difference is that you will have to pack really light.
Make sure you carry some food, a sleeping bag, and a tent. A sleeping bag and compact tent can be easily strapped to the bike, and the other things can fit in your backpack. 
You should pick your camping site correctly and stay away from private land. Some folks don't like people setting up camp in their properties, so you have to be careful. 
It is best to do some essential research about your destination before the trip and find the best area to camp.
Dirt Bike Camping at a Lodge
Things will be a bit easier when camping at the lodge than if you were to camp in the wilderness. Lodges are usually equipped with lots of amenities that can make camping easier. 
Camping in the lodge can be fun, but it has some drawbacks. One of the main drawbacks is that the camping site will be crowded. So, if enjoying some quiet time was your goal, then this is the wrong place to camp.
There are some rules in the lodge that you must follow, and the worst part is you must pay an admission fee. Some lodges have cabins for people to rent, so that you can opt for the cabins or the camping site. A lodge may also have other amenities like a dining hall and bathhouse. 
Another benefit of camping in a lodge is that you will have more than enough supply of clean water. Some lodges even have a small cooking site for campers, while others prefer preparing the food for the campers.
Camping at the Lodge vs. Camping on Trails
In my opinion, camping in the wilderness, mountain, or trail is way better than camping in the lodge. Dirt biking on trails and wilderness have their own benefits and disadvantages. So if you love nature and want to experience the joy of camping, you should avoid the lodges.
If you're going to spend the entire night sleeping on the ground, you must do it correctly. This means pitching the tent in a secluded place and having a peaceful night with close friends and family members. 
So, instead of denying yourself an exceptional camping experience, you should try camping on the trails.
But if you want a stress-free trip, you should go to a lodge instead. If you have any health complications that can hinder you from sleeping outside, you can rent one of the cabins in the lodges.
Final Thoughts
If you're a dirt biker, you must love tackling new terrains and traveling long distances to discover new trails. If you haven't done it yet, dirt bike camping is something you definitely must try. To make it a great experience, be sure to prepare for it well. Pack everything you'll need for the trip and don't forget some fuel and some tools.