Do They Make Motorcycle Helmets with Windshield Wipers?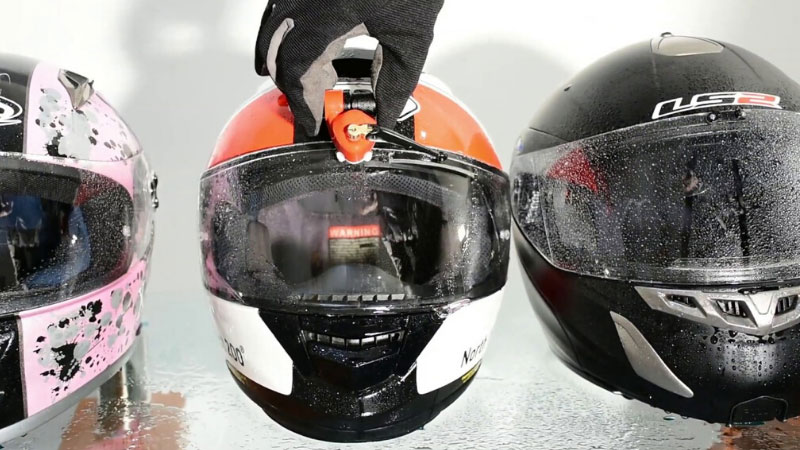 the what's ahead of you is quite risky, so you end up getting trapped in the bad weather.
What if someone made wipers to help wipe clean your helmet visor and windshield on the fry, just like those used on a car?
That would definitely be a BIG leap in the motorcycle world!
Problem solved!
If you have ever wished that helmet visors could feature a wiper that enables you to clear the water on your visor or windshield on the go, then you'll be glad to know that someone just did it.
A Briton by the name Adam Aarons has come up with RainPal, a helmet visor wiper, to solve the age-old motorcycle problem of rain water blurring your vision when riding your motorcycle.
This device is simply a mini electric wiper that you fit on your helmet and control with a hand button to keep your visor clear when riding in the rain.
RainPal Visor Wiper—Background
The motorcycle helmet wiper is basically an electric device comprising a lone wiper, spring loaded shaft, and a mounting plate that enables you to hassle-freely mount it on your helmet, right above the visor.
Note that the wiper's mounting plate has a suction cup that ensures it securely stay in place throughout your ride while enabling you to easily remove it when not in use.
You might be wondering…will this wiper stick create more problems by blocking my view once I install it on my helmet?
The answer is NO!

The wiper is extremely thin (exact measurements are: 1.3cm by 1.3cm) to ensure it doesn't obscure your vision in any way. The wiper shaft too is pretty thin to further ensure they don't block your view. Adam actually states that his wiper is the thinnest on the market to date.
The slim wiper comes armed with a motor, LED, and other crucial electronics it requires to operate smoothly.
It also comes with a wireless kit which you simply fit on your motorcycle handlebar and use it to control the wiper while on the go.
It's powered by replaceable batteries which can serve you for up to 90 minutes continually or up to 180 minutes when the system is set to 2 second delay mode.
Keep in mind that this little device has undergone tests at speeds as high as 160km/hr. (100mph) to prove its suitability for use in motorcycles helmets.
Adams states that the visor wiper is constantly undergoing updates to make it even better. For instance, the machine now has the ability to squirt water to help you clean your visor while on the go, just like your car's washer!
Regarding the price, this helpful little machine goes for under 100, making it highly affordable to all motorcyclists.
Since the release of RainPal, other players have emerged in the market with their helmet visor wipers. A good example is the WiPEY wiper—a Snap-On device that utilizes an electric motor to wipe your visor clean when riding in rainy conditions.
Though these devices are from different brands, they have the operate in a similar manner, so it's just a matter of which brand you want to buy from.
Does The Visor Wiper Work with All Helmets?
Absolutely! The helmet visor is designed to work with all motorcycles' helmets, including that best modular helmet you bought the other day J
However, you'd want to check a few things to ensure your helmet is ready for the visor.
Firstly, your helmet should come with a visor. This is simple because you'll be attaching the wiper to the visor. Moreover, you won't need a visor wiper if your helmet doesn't have the visor. What will you be wiping anyway?
You'll also need to ensure that the visor surface has no obstacles or holes, e.g. the air ventilation holes, as these can affect the mounting process (think suction cups).
Both Wipey and RainPal, the two most popular visor wipers on the market today, are 100% compatible with all helmets types from all helmet manufactures. They can work with full face, modular, dual sport, open face, and even the bluetooth helmet.
Verdict
One of the proofs that motorcycle world keeps evolving is the introduction of motorcycle helmet wipers into the market. These slim electric devices easily attach above your visor to help you wipe clean your visor so that you clearly see what's ahead of you when riding in drizzly or rainy weather.
Since this device comes with a control button that you mount on your bike handlebars, you can operate it while on the go, making your life even easier.
Riding in the rain has never been safer, comfortable, and more enjoyable!