Extend Your Riding Season with a Tour Master Synergy Vest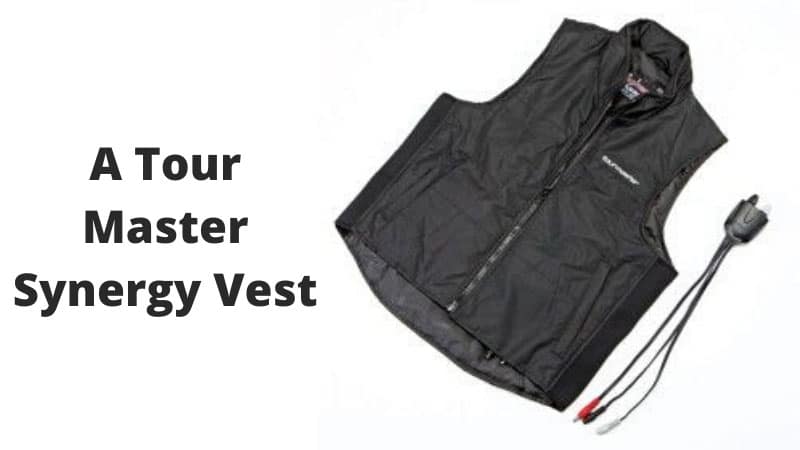 With cold weather approaching, many motorcyclists begin thinking about the process of winterizing their rides. There is something sad and semi-permanent about the act. There is a way to delay the mechanical hibernation or even forego it altogether. Heated riding apparel can extend the riding season almost indefinitely.
Products like the Tour Master Synergy Electric Vest can expand your two-wheeled fun well into most winters. While all heated accessories – gloves, pants, even socks are wonderful; keeping the core warm is the most vital. For this, a heated vest is just the ticket. The Tour Master vest is a 12-volt plug-and-play garment. It has a remarkably unobtrusive design that the company calls "Synergy".
It is much less bulky than many older designs. The heating elements are made of light-weight and flexible carbon fiber, and the vest is designed to fit comfortably under your protective apparel. An extended collar covers one of the most vulnerable areas to the winter blast – the neck.
One Competition Accessories customer gave a very helpful review of the Synergy Vest's effectiveness and fit:
"The vest has worked out great. I've been able to cut down on the bulking riding clothes giving me greater freedom of movement. I chose the vest over the jacket for two reasons, price and amperage. Typically the temps are in the low 40's in the mornings during January and this vest has allowed me to run with just my jacket over it. I should have bought a size smaller.
I have a 42 inch chest which reads as a medium on the size chart. But the vest has elastic side panels so I could have bought a size smaller and the vest would have fit more snugly. The vest has to fit snugly to transfer its heat through whatever you are wearing to your skin."
It should be mentioned that heated riding garments are not just a comfort item. Motorcycling is a multi-faceted activity that requires whole-body dexterity. Keeping the muscles and joints warm and flexible while riding in cool or cold weather is important to riding safety. If you are thinking about trying electric riding apparel, a heated vest is the logical starting point.
The Tour Master Synergy Vest includes all wires and plugs for connection to your bike. Remember that you will need either a cigarette or "BMW" style outlet on your motorcycle. The vest retails for $140.