Eyeride Denali III Motorcycle Sunglasses: A Review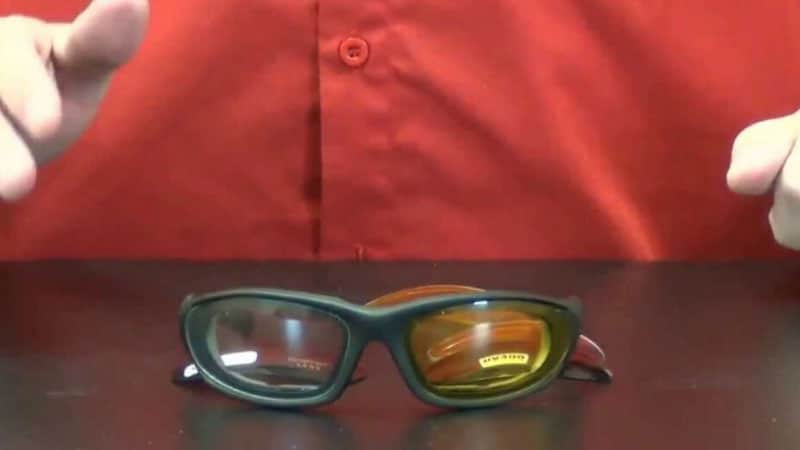 ---
It's amazing how many features a company can fit into such a simple product. The Eyeride Denali motorcycle sunglasses are well made, and offer plenty of features in addition to UV protection.
Denali Lenses
The Eyeride Denali motorcycle sunglasses are a pretty good buy, despite the fact that they only come with one dark set of lenses. With the Eyeride Denali III glasses, you get the same quality pair of specs, but with three lens options. Dark, smoke, and clear.
In order to switch the lenses out, you'll have to read Denali's extremely complicated directions... Step one, push. Step two, done.
It might feel like you're going to break the glasses the first time you do it, but that's just because you probably aren't used to exerting force on a pair of glasses. The lenses snap off and snap back on with ease, once you stop being afraid of breaking the Denalis.
The one downside to this simple method is that I keep putting fingerprints on my lenses.
Wind
The Eyeride Denali III motorcycle glasses give you great vision during any time of a day or night, but the glasses also do a pretty good job of blocking out the wind. I'm not a big fan of glasses that have that extra bit of padding, but it's not a distraction on the Denalis.
The padding also doesn't distract from the look. A lot of padded glasses stick out a little further from the face than necessary, but I didn't have that problem with the Denalis. The glasses fit well, hugged my face, and kept the wind running through my balding head of hair and not into my eyes.
The Little Extras
What really sold me on the Eyeride Denali III motorcycle sunglasses were the little extras. Eyeride obviously put a lot of thought on how to package these glasses. They come in a hard zippered case which could easily be thrown into a tank back without worry. The case also has a velcro patch on the inside to hold the lenses that you aren't using. If you just can't spare the space to take the entire case, you could easily throw the pouch into a pocket.
Eyeride got it right when they made their Denali motorcycle sunglasses. With the Eyeride Denali III motorcycle sunglasses, they added a few nice extras so that you can cruise whether its morning, noon, dusk, or midnight.