FirstGear's Kenya Jacket is sleek, functional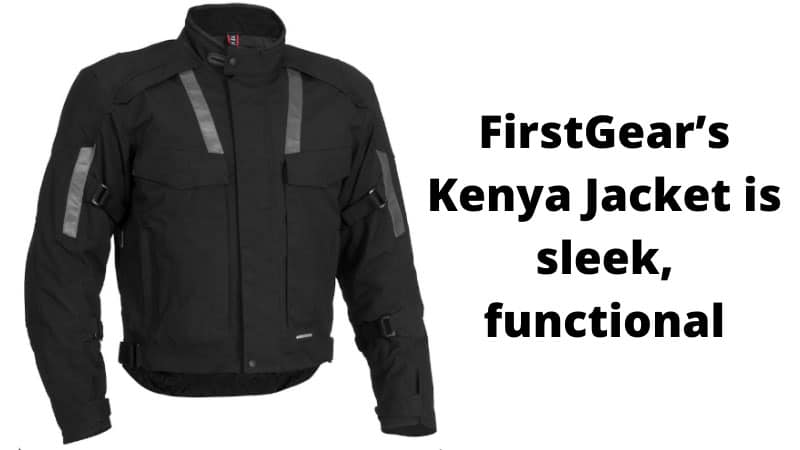 ---
Motorcycle Jacket
FirstGear's Kenya Jacket
JACKET INFO
---
Stylishly sleek and eminently utilitarian down to the smallest detail, FirstGear's latest iteration of its popular Kenya Jacket appeals to even the most discerning rider. And, at a suggested retail price of $279.95, this classic appeals to every budget.
Made of strong 600-denier nylon, the Kenya is lightweight while providing superb abrasion protection. The Kenya offers a generous fit and classic lines in sizes up to 3XL Regular and 2XL Long. The waterproof, breathable Hypertex™ outer shell keeps you dry and comfortable in bad weather and features underarm, back, chest and sleeve cuff zipper-vents, allowing humidity to escape.
Key features
The Kenya's removable insulated liner provides extra warmth during colder seasons. The fleece-lined Thermoneck™ extends to the neck and chin and stows back into the jacket when not in use.
The Kenya offers CE-approved armor and EVA foam back pad; numerous storage pockets and reflective paneling; an adjustable waist, cuff, and collar; a conjunction zipper that allows for attachment to pants; and YKK® waterproof zippers on all exterior closures to guard your belongings from Mother Nature.
Also included is a FirstGear standard – inside phone pockets in both the outer and inner shells. The Cargo Storage System™ is concealed under the front pockets. Multiple compartments provide ample space for all the necessities of the road while two front-side pockets add additional storage. There is also a clip-on bungee lanyard for keys.
Elements of Style
FirstGear products never sacrifice form at the expense of function and the Kenya's look certainly matches its road-worthiness. For a custom fit, riders can make adjustments to the waist, sleeve cuff and collar through the use of hook-and-loop Velcro closures. The collar tab is finished wet a soft, padded tipping and can be tucked inward when not in use.
Most importantly, all FirstGear products have a "full" or "American" cut and the Kenya is no exception. There is nothing quite so bad as resembling an overstuffed sausage and the Kenya's ample space through the shoulders, torso and waist allows riders of all shapes and sizes to move comfortably while looking good.
The Kenya comes with a two-year limited warranty.
Firstgear Kenya Jacket-Reviewed by Vertical
I personally bought one of these jackets from Cycles 128 in their accessories parts department a month or so ago. It replaced an old Hein Gericke I have had for years.

The first thing I noticed was how light it was, extremely comfortable and the neck wrap around warmer that folds into the lining is a great idea.

I normally like to put my gloves over my jacket but the wrist straps allowed and even more comfortable fit on the inside.

And to top it off it was only $250 or so bucks. I feel the protection in place just incase something happens and I hope it is waterproof I have not really been caught out yet.

Good jacket I have to say.