A timelime of Harley-Davidson motorcycles – BikersRights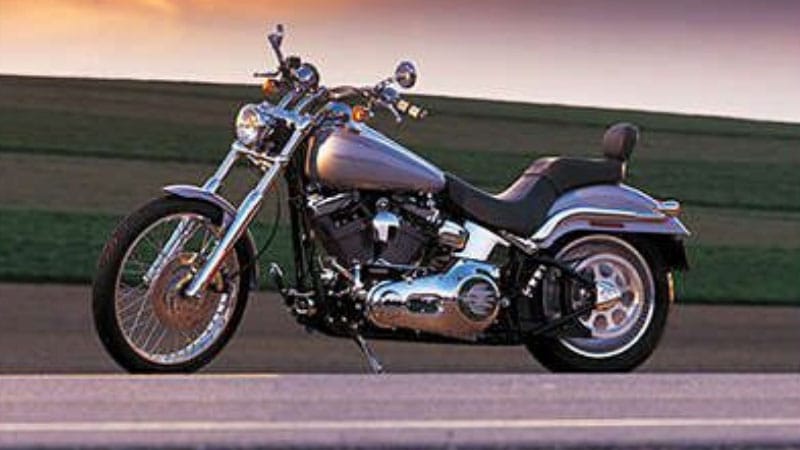 A timelime of Harley-Davidson motorcycles, from the iconic American motorcycle manufacturer's humble beginnings to the present day.
1900s
1904 – First real Harley-Davidson, a 405 cc loop-frame, competes in a motorcycle race at Milwaukee State Fair Park.
1907- Prototype of a 45-degree V-Twin engine is shown at the Chicago Automobile Show. The 880 cc V-twin produced about 7 hp.
1910s
1914 – Production of Harley-Davidson motorcycles jumps tremendously with introduction of the 1,000 cc F-Head V-twin. Like many bikes at the time, the F-Head featured an IOE (intake over exhaust) configuration.
1917-1918 – Harley Davidson contributes 15,000 motorcycles to U.S. military forces during WWI.
1920s
1922 – F-Head V-Twin now available in 1200 cc.
1925- First "Teardrop"-shaped gas tank appears on a Harley.
1929- 750 cc Flathead D model is introduced to compete with the Indian 101 Scout and Excelsior Super X.
1930s
1930 – Flathead V-twin increased to 1200 cc.
1936 – The Knucklehead 1,000 cc V-twin replaces the Flathead as the top-of-the-line model. Originally referred to "OHVs" these engines became known as Knuckleheads by the 1960s due to the distinctive shape of the rocker boxes.
1940s
1941 – 1210 cc Knucklehead introduced in the F and FL models.
1942 – The Harley-Davidson XA is developed for military use. It was based on the BMW R71, featuring a 750cc flat-twin across the frame and shaft-drive. Only 1,000 models were made and the XA remains the only shaft-driven Harley.
1948- The Panhead 1000 cc and 1200 cc V-twins replace the Knucklehead, earning its name from the rocker covers that look like upside-down pans. Both the "Captain America" and "Billy Bike" motorcycles in Easy Rider featured Panhead engines.
1949 – A FL with Panhead engine and new front suspension is released as the Hydra-Glide.
1950s
1955- The Harley-Davidson Hummer, a 125cc two-stroke, is produced after Harley acquired the design of the German DKW RT 125 as part of the WWII war reparations.
1957 – First Sportster is introduced as the XL. It came with either an 883 cc or 1000 cc Ironhead (named after the cast iron heads) OHV engine.
1960s
1965- Electra Glide is the first "big-twin" Harley equipped with an electric starter.
1966 – Shovelhead V-twin replaces the Panhead with a ten percent power increase.
1970s
1970 – The Sportster XR-750 dirt tracker is created in response to rule changes in the AMA Grand National Championship. This bike has won more races than any other in AMA racing history.
1980s
1984 – 1340cc Evolution ("Blockhead") engine replaces the Shovelhead in Harley's big V-twin bikes as one of the companies most reliable engines to date.
1984- Harley releases the FXST Softail. The bike was designed to look like the classic hardtails of the pasts, while still providing rear suspension hidden under the transmission.
1986 – Sportster Evolution engine (883 cc, 1100 cc, and 1200 cc) introduced with four camshafts (one per overhead valve).
1990s
1991 – Dyna Chassis introduced with the FXDB Sturgis. These traditionally-styled bikes featured big-twin engines and coil-over suspension as opposed to the Softail's hidden suspension.
1993- All Sportsters transition to belt-drive.
1999- Twin Cam 88 ("Fathead") 1450 cc engine replaces the Evolution except in the Softail family.
2000s
2000 – The single-cylinder Buell Blast is released by the Harley-Davidson subsidiary, Buell.
2000- Twin Cam 95 engine available at 1550 cc.
2001 – A new family of cruiser bikes called the VRSC (V-Twin Racing Street Custom) is introduced with the V-Rod. The V-Rod uses the Revolution engine developed in conjunction with Porsche for the VR-1000 Superbike. Unlike Harley's other V-twins, the Revolution is set at 60-degrees and features liquid cooling.
2003- Twin Cam 103 engine with 1,690 cc introduced. 2007- Electronic Fuel Injection becomes standard on all lines.
2007- VRXSE: V-Rod "Destroyer" is a non-legal production drag racing motorcycle designed to run a quarter mile in under ten seconds.
2008- Sportster XR1200 pays homage to its dirt-tracker heritage with Evolution engine tuned to produce 91 horse power.
2009 – Harley redesigns entire touring range. Changes include new frame, new swingarm, revised engine-mounting system, and 6-gallon tank.
2010s
2012 – Twin Cam 103 becomes standard on most models, except the Sportster and 2 Dyna Models.
2012- FLD Dyna Switchback introduced as the first Dyna-series bike to use FL-style forks.