The Best Heated Motorcycle Grips Review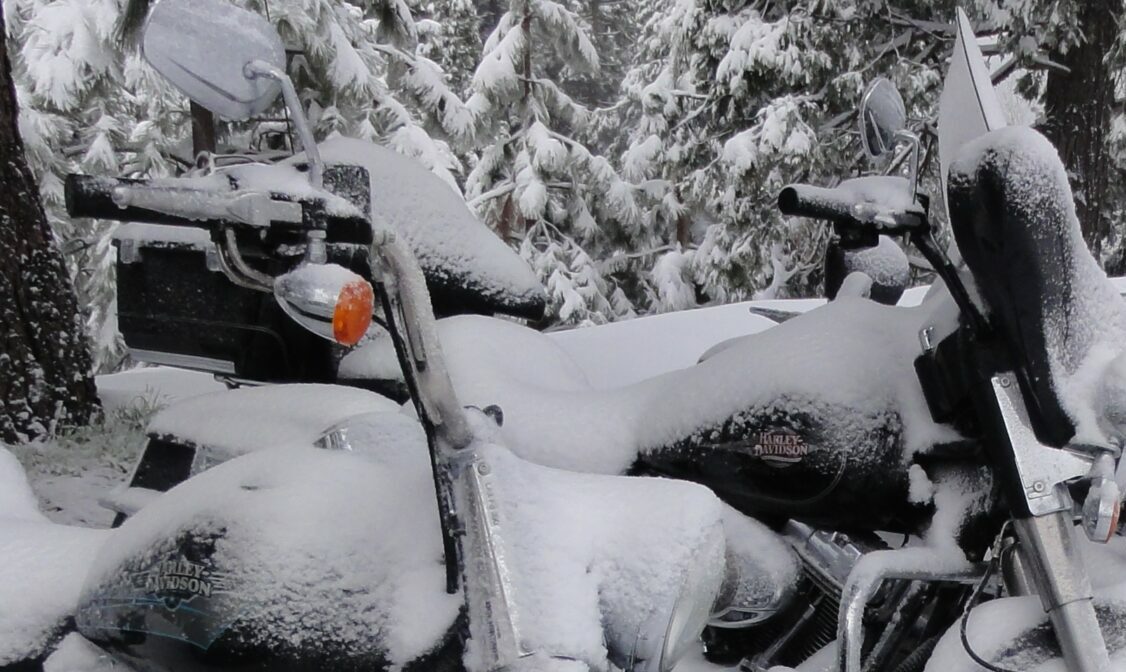 As you get into winter and the days become colder, you can add heated grips to your bike for added warmth.
They allow you to wear lighter weight gloves when the weather is just a bit chilly and may even allow you to ride comfortably in temperatures where you might otherwise take a car. The combination of heated pads and handguards can make winter riding on adventure bikes genuinely enjoyable.
The choice of heated grips; however, is wide and varied, and not every rider can make the best buying decision. So, in my heated motorcycle grips review, I have considered all the important features you have been looking for.
Top Pick
Oxford Heaterz Premium Heated Grips are our top pick. These overgrips have been innovatively designed to keep your hands warm and comfortable in low-temperature environments. They are compatible with all 7/8-inch handlebars, easy to install, and come with five heat settings for optimum performance.
Here are Our Best Heated Motorcycle Grips Reviews:
1. Oxford Heaterz Premium Heated Grips — Overall Best
Have you been looking for ergonomically engineered heated grips for cold winter riding? Oxford OF692Z fits the description.
Specs
This model has three versions suitable for street and adventure bikes: the tour, the sport, and the adventurer. The adventurer is the longest, measuring 5.2 inches end to end, and can be trimmed to 4.8 inches. The sport is 4.8 inches and trimmable to 4.5 inches. The touring is 4.7 inches long and can be trimmed to 4.4 inches.
Oxford Heaterz grips are designed to be installed on a 7/8-inch bar as well as conventional throttle, which is typically one inch in diameter. Most motorcycles are like that, but there are a few that have an unusually larger throttle tube under the original grip.
They feature premium silicone cables that are exceptionally flexible in colder weather. The rainproof switch and waterproof connectors improve long-term durability. You've got five heat settings, which is great because you get to choose the optimal operating temperature. The LED lights inform you of the selected setting.
But here is the thing guys, this model may not fit the ATV application.
Verdict
Crank up the heat with these high performing grippers from Oxford. Just make sure they fit your motorbike.
Overall Rating: 4.7
2. WonVon Electric Heated Grips Handlebars
These heated grips from WonVon are ergonomically and creatively designed for easy installation.
Specs
These uniquely designed grippers are 5.51 inches long and 0.86 inches in diameter, making them compatible with 7/8-inch handlebars.
They are made of premium quality plastic, which is great because the material is corrosion-resistant, comfortable to the touch, and can function up to 122 degrees Fahrenheit. They are aggressively grooved for superior anti-skid performance and safer cruising in colder weather. With adjustable temperature settings, you can easily find the ideal heat level during a ride.
You've got a strategically positioned on/off switch for ease of operation and an LED status light just next to the switch.
But the thing is, some models may come with shorter cables.
Verdict
With these grips, you will get optimum performance for temperatures of up to 122 degrees Fahrenheit and modifications may not be necessary.
Overall Rating: 4.7
3. Heat Demon 215049 Heated Grips — Best Clamp-On Design
These impressive heated grippers easily clamp-on to your twist throttle with ease.
Specs
They come with a clamp-on design, which is great because you don't need adhesive to create a more permanent attachment. They also offer a superior fitment with 7/8-inch handlebars.
Made from high-quality rubber, the grips have superior temperature-resistance, dampening properties, and comfort. You've got a three-position round rocker switch that is creatively made for easy and quick heat level adjustments. The grips heat-up fairly quickly to temperatures of up to one hundred and sixty-seven degrees Fahrenheit.
The heavy-duty cables feature durable housing that doesn't rip open easily. They are also long enough for easy installation.
What I don't like about this model; however, is the quality of the switch, which isn't long-lasting.
Verdict
With this model, you get good quality heated grips at a reasonable price tag.
Overall Rating: 4.5
4. Koso Apollo Heated Grips — Best High-End Model
Have you been looking for intelligently designed and operated motorcycle heated grips? Look no further than this great model from Koso Apollo.
Specs
These innovatively engineered heated grips are suitable for all 7/8-inch handlebars. You've got an innovative thumb switch that is ergonomically made to simplify the operation of the pads. The switch is programmed to display five LED lights when pressed for ease of use. Each light represents a temperature setting.
The premium quality rubber used to make the handles is extremely temperature and abrasion-resistant. They are uniquely grooved to provide non-slip traction in dry and wet conditions.
What I truly like about this model is the plug and play wiring connections, which makes installation extremely easy.
But the thing is, these warming pads may end up draining your battery faster than you had imagined.
Verdict
These pads are intelligently designed to make operation easy with just a simple press of your left thumb.
Overall Rating: 4.5
5. Bike Master Heated Grips
These creatively made heated grippers clamp onto your bike, assuring a secure attachment without the need for adhesives.
Specs
The stylish, open-end construction makes this model elegant and functional. The highly efficient design generates warmth faster compared to conventionally heated grippers. The five-level heat control settings accurately adjust the temperature to prevent overheating. The premium quality rubber material is very effective at resisting cold weather. The heavy-duty grooving offers a comfortable and secure grip.
To install, you have to remove the necessary parts of your bike to expose the battery. You need an existing connection to tap into. Run the wiring harness from the battery to your handlebars and secure the ground lead to the battery
They offer outstanding thermal performance at lower temperatures. They deliver an output of approximately one hundred and forty degrees on a low heat setting and about one hundred and ninety degrees on a high setting.
What I don't like about these grips; however, is the fact that they are a bit harder.
Verdict
This model is a game-changer for anyone who likes to ride in the cold winter weather. But they may feel a little bit tough at first.
Overall Rating: 4.4
6. Heat Demon 210019RR External Heated Grips
If you have been looking for heated-pads that are designed to fit all metrics regardless of the throttle type or handlebar size, then look no further than this model.
Specs
These grips are available with two different switches, plastic, and metal toggle switches. They are both three-position switches that give you high, low, and off. As far as fitment goes, these are a universal fit option that will work with any twelve-volt motorcycle. Keep in mind that they usually draw around three amps maximum when on a high setting.
To install them, you will have to remove the existing grips off your motorcycle and attach the self-adhesive panels to your handlebar. So, they will go under your left side grip directly on the handlebar and then under your throttle grip on top of the tube.
As far as wiring is concerned, you have about three wires and there is a nice wiring diagram included with the kit.
My only major concern with this model is the switch, which may require you to drill a half-inch hole somewhere on your bike.
Verdict
These pads will fit most handlebars thanks to their unique design. They also provide superior warmth in colder conditions.
Overall Rating: 4.4
7. E-Bro Hand Heated Molded Grips
Have you been looking for a highly versatile design that offers superior fitment for twist-grip throttles and thumb throttles? Look no further than E-Bro.
Specs
The grips measure 5.5 inches long with a diameter of 7/8-inch, which is great because the measurements are compatible with most handlebars.
It is fitted with an advanced electronic thermostat that is highly power efficient. This unique feature helps prolong the serviceability of the battery. They can heat up to temperatures of 167 degrees Fahrenheit and stay warm for temperatures as low as 122 degrees Fahrenheit. The third gear switch; on the other hand, allows for safe and convenient temperature adjustment.
The handles are made of nitrile-butadiene rubber that is highly temperature and oil-resistant. Both the plastic and metal parts of the grips are corrosion-resistant.
But the thing is, they may fail to fit firmly on some motorcycle handlebars.
Verdict
These grips are super easy to install for different applications and they heat up pretty fast.
Overall Rating: 4.1
8. IZTOSS Universal Motorcycle Heated Grips
With these amazing heated grips from IZTOSS, you will never have to worry about overvoltage. They also fit most 7/8-inch handlebars in the motorcycle industry.
Specs
These heavy-duty warmers are innovatively engineered to fit handlebars that have a diameter of 7/8 inches. The handles are made of Kevlar fiber, which is great because the material is strong and can withstand high temperatures. The Kevlar is also abrasion-resistant and non-slip.
With this model, you have three temperature settings to choose from. So, you can conveniently adjust the heat levels to suit your needs as you ride from warmer to colder roads or off-road tracks.
What truly takes my breath away are the creative methods of installing the switch. You don't have to drill holes into your bike. Instead, you can use the 3M adhesive to paste the switch on the handlebar or use a mounting holder to position the switch beneath the rearview mirror.
But here is the thing, some models may come without the instruction manual.
Verdict
These warming pads will not disappoint. But you need some expertise for a successful installation.
Overall Rating: 4.0
9. Keenso 12V Universal Motorcycle Heated Grips
Have you been looking for good quality heated pads to keep your hands warm riding in the cold without breaking the bank? This amazing pair from Keenso fits the description.
Specs
These heated pads have universal compatibility, which is great because they provide a good fit for handlebars of all motorcycles on the market.
The heat-resistant covers are made of good quality material that warms up pretty fast. They have good heat retention to ensure your hands are warm and comfortable throughout the ride. The pads are controlled by an adjustable three-position switch that allows you to adjust the heat level optimally.
The kit, on the other hand, is easy and quick to install, all you have to do is wire it to a positive cable from the ignition.
But the thing is, the housing of the wires is thin, making them vulnerable to breakage.
Verdict
These heated grips are flexible and adhesive, which means they will fit snugly without causing any loss of control or warmth.

Overall Rating: 4.0
How to Choose the Best Motorcycle Heated Grips
You will hardly run short of the heated grips to choose from. But! How do you know which model is best for your application? Here are the key things you can consider during your search:
Brand and Compatibility
When looking for the best motorcycle heated grips, you must find the ideal brand. Some bikes need brand-specific grippers for the perfect fitment without too many adjustments. I would prefer to consider a brand with universal compatibility. Most motorcycle handlebars in the industry have a diameter of 7/8-inch. In addition to the brand, consider grippers that are compatible with 7/8-inch bars.
Adjustable Temperature Settings
They might be compatible with your handlebars but are they up to the task of keeping your hands warm in the cold weather.
The best motorcycle heated grips should have revolutionary heating elements that deliver heat faster for your application. The temperature controller should be adjustable for optimum heat settings. Most models have three temperature settings, but there are a few with five heat levels. You don't have to tolerate a higher temperature when not needed. Instead, you can go lower or higher for an optimum setting.
High-Quality Materials
Handle material matters a lot. In each of my heated motorcycle grips review, I have stated the handle material to help know what you should expect in terms of performance and comfort. Four key features can help you choose high-performing handlebar warmers, including temperature, corrosion, impact, and abrasion resistance.
The handles must have reliable low-temperature resistance, usually up to 122 degrees Fahrenheit. This will guarantee the warmth you so desperately need in colder weather. The handles should be able to resist rust and corrosion, especially if you will be riding in humid conditions. They should be able to withstand and resist abrasion in case of a crash. There are several materials you can consider, such as plastic, rubber, and Kevlar.
Rubber is the highest performing, followed by Kevlar and plastic. While still on the subject of handle materials, the next important consideration is grooving. Consider handles with anti-skid grooves for enhanced gripping, better throttle control, and reduced fatigue.
Installation
This is where things get a little bit interesting when looking for handlebar warmers. Always go for a model that comes with a complete installation package. I mean, all the accessories must be available, including cables, switch, controller, and instructions manual.
Not unless you are an extremely experienced expert mechanic, an instructions manual is a must for correct installation. You need to know how to drill a hole to install a switch and how to open the various parts of the handlebar to access old grips. Some models may come with sophisticated wiring than others. You may even have to tap the positive line.
Some heated grips have a clamp-on system that doesn't require any adhesive for a permanent attachment. Others come with 3M adhesive for easy attachment over the handlebars.
Special Features
Some advanced designs come with special features that you can consider. First, consider LED lights that display the selected temperature settings. This will make it more practical for you to adjust heat levels on the go in the cold. Second, consider overvoltage protection for added safety. Third, consider an integrated switch that is easily accessible with one of your fingers for easy operation without lifting your hand.
Final Thoughts
For this roundup, the winner is Oxford Heaterz Premium Heated Grips. What makes these grips stand out is the fact that they are available in three different lengths. You've got the 5.2-inch, 4.8-inch, and 4.7-inch. Each length can be trimmed for customized installation. They are widely compatible with all 7/8-inch handlebars with minimum modifications.
The Oxford brand engineers are well-known for their craftsmanship for more than three decades. Soft grippy rubber offers superior control and comfort. Using gloves is easy thanks to the tactile and raised silicone buttons. The battery saving mode ensures the grips don't drain your battery when you forget to switch them off.