Helmets: A Style for Every Ladies Style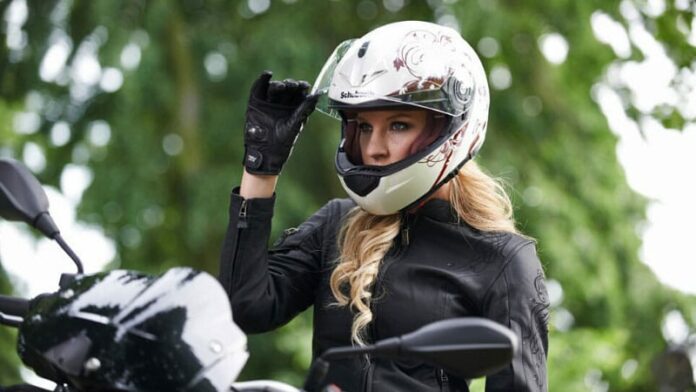 I always knew I was a full face type. I like my chin the way it is, I like going fast and normally I am on one wheel; so complete coverage is just my style. But when you're on the market for a helmet, you may not just know your style, so here is some helmet food for thought.
Half helmets are just that, a half helmet covering the top of your head and forehead. They are secure with a strap under your chin.  You can normally buy a aftermarket shield, but most people choose the alternative of approved eyewear. Take caution when choosing eyewear to go with your half helmet, once you hit 50 mph, you will understand why. Half helmets are a cheap, natural-feeling route to head protection. You will find DOT approved half helmets, but consider the not protected area of your face; namely your jaw and checks which are anything but immune to road rash and impact.

Three-quarter helmets are another options for those who like the wind on their face. Shields are more common with this style of helmet. Three-quarter helmets offer more protection than half helmets and are a great option for commuters or city-riders.

Full face helmets are my recommendation for anyone hitting high speeds or going on long trips. They are the safest and offer the most protection.  They clearly all come with a shield and don't require eye wear beyond that. Beyond safety full face helmets are also quieter, which your long term hearing will thank you for.
Modular helmets are a nice blend of ¾ and full face helmets. Modulars are full face helmets that offer a flip up front piece, which effectively makes them a ¾. Great for touring where riders need full protection but also benefit from ¾ style for stops and city routes. One thing to consider with modulars is that they normally are heavier and louder than a classic full face. Depending on your agenda, the pros and cons vary from person to person.

Beyond facts in form, these helmets also carry strong style suggestions, but don't let that sway your decision. Think beyond what all your friends wear and choose a helmet that's right for you.