Homemade Motorcycle Wheel Chock: 5 Amazing Ideas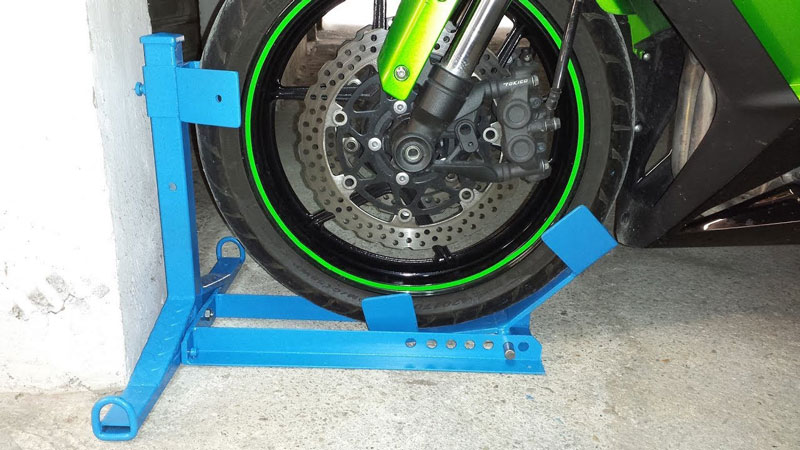 A motorcycle wheel chock is an important piece of equipment that helps you safely store or transport your motorcycle. It features a slot for the front wheel to keep it from turning and potentially causing your bike to tip over.
If you're the handy type, this quick guide will show you some top homemade motorcycle wheel chick ideas you can make at home. The DIY projects usually cost less than what you might pay for the store-bought models and work well.
Let's discover these amazing DIY projects…
1. A wooden DIY motorcycle wheel chock
photo: indianmotorcycles.net
Probably the easiest and cheapest way to come up with a DIY motorcycle wheel chock involves making one from wood. No welding or cutting wires are required for this project, which makes it pretty easy for beginners.
You'll spend just a fraction of what you'd have paid for a commercial model when coming up with this item. If you have a wood workshop, simply gather the scrap woods lying around from your previous wood projects. You'll also need to get some pocket hole screws and carpenters glue to help you stick the wood pieces together.
The following video demonstrates how you can come up with a wooden motorcycle wheel chock.
2. DIY Heavy Duty Motorcycle wheel chock
photo: instructables.com
As you might have already discovered, the best motorcycle wheel chock models with heavy-duty design on the market quire expensive. But you can make one on your own and save quite a significant amount of money.
For this particular project, you'll need to use heavy-duty metal like steel, which is the same metal used to constrict the heavy-duty models on the market.
You'll also need tools like welders, torches, and grinders for this job. Note that these tools require some experience, though. This is a complicated project, making it more suited for advanced handymen.
For the dimensions, tools, materials, and all other necessary info you need to come up with this heavy-duty wheel check, download this pdf.
3. Front and rear motorcycle wheel chocks
If you want to achieve maximum security for your bike when transporting it, you might consider creating both the front and rear wheel chocks.
This project shows you how to come up with a wheel chock for each wheel for approx. 10 US dollars. This project is quite easy for beginners, and it'll take about 30 minutes to come up with a chock.
The materials needed for the job are also readily available, e.g., 2x4 boards, hex bolts, washers, wood screws, lock washers, nuts, etc. making this DIY project hassle-free to work on.
More info about this DIY motorcycle wheel chock: https://www.sportbikes.net/threads/homemade-wheel-chocks.447759/
4. Homemade freestanding wheel chock
If you don't want a wheel chock that requires you to bolt or screw it to the floor of your truck or trailer, or even garage, you might consider this freestanding model.
photo: workshopaddict.com
The model will cost you approximately $30 in materials, meaning it'll save you tons of money. It'll take you about 4-5 hours to build. You'll need a cheap flux core wire feed welder, drill, 4.5-inch angle grinder, and bench vice. You can use your preferred type of metal cutting tools and welder.
photo: workshopaddict.com
Download this pdf to access all the freestanding wheel chock dimensions and list of materials required for this project.
5. A double motorcycle wheel chock
In case you want to store or transport up to two motorcycles, then you should consider building a dual wheel chock that holds two bikes into position to prevent them from turning side to side or forward when in storage or transit.
The benefit of this kind of chock is that it prevents you from investing in or two separate chokes or making two separate chocks, which can seem to be a lot of work.
This particular chock system is created using metal; you can use rectangular tubings plus nylon straps.
Click this url for more details on how to come up with a double wheel chock: http://www.tlzone.net/forums/open-forum/85687-homemade-wheel-chock-pics.html#post1123964
Conclusion
Instead of buying commercial motorcycle wheel chocks, you can build your own models in the comfort of your garage or workshop. The benefit of constructing your own shocks is that they cost less than the store-bought models and are customized for your specific bike tires.
The above DIY projects will give excellent ideas for coming up with a fully functional homemade motorcycle wheel chock that helps easily carry out your motorcycle repairs, store, or secure it for safe transportation to your desired location.