How Fast Does a 110cc Dirt Bike Go? [Answered]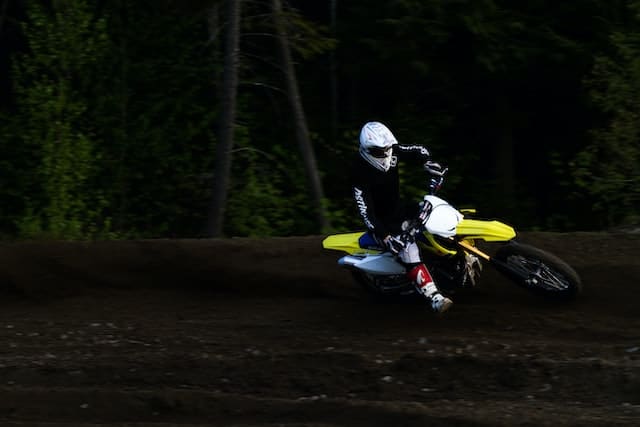 In this article, I'll show you how fast a 110cc dirt bike can go, including the factors to consider while measuring its top speed. You'll also discover the fastest 110cc dirt bikes available in the market and some of the best ways to improve their power.
It's important to note that every make and model's speed varies. Since dirt bikes are good at balancing their speed, certain modifications to increase horsepower could work fairly well. 
I have spent over a decade reviewing dirt bike models. Therefore, I can help you make an informed choice if you are looking to purchase a 110cc dirt bike!
How Fast Does a 110cc Dirt Bike Go on the Dirt?
A 110cc can attain speeds of between 45 mph and 55 mph on the dirt. However, newer and more expensive models promise a higher speed of about 60mph. If the bike is tuned for higher speeds, it might reach over 60 mph.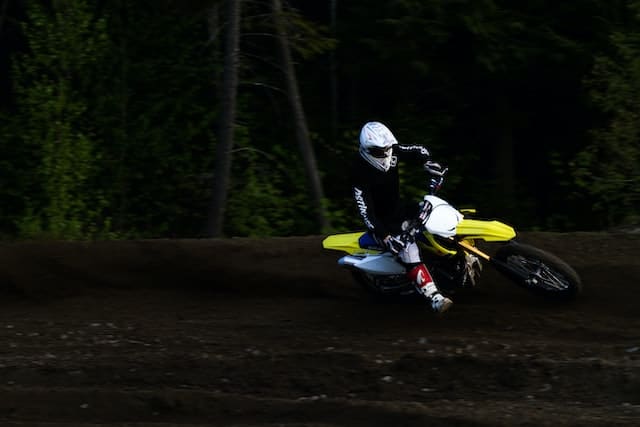 It's important to note that the speed depends on how the engine's power. To achieve the highest speed for hard enduro, motocross racing, or trail riding, try to get a 4-stroke dirt bike. To achieve maximum speed, you should improve your horsepower strength. You should also install a proper air filter or radiator and get appropriate tires.
How Fast Does a 110cc Dirt Bike Go?
A 110cc dirt bike can achieve an average speed of 45 mph to 60 mph, depending on its make and model. The fastest 110cc dirt bike in the market today is the Yamaha TT-R110E and the Honda CRF 110F.
Dirt bikes can also reach a speed of 70 mph or more with modifications. This speed is quite fast, especially for kids or smaller-built adults just getting started on dirt bikes. 110cc dirt bikes can accelerate fast depending on their tuning or engine capacity, and other variables can also affect their speed, including age, weight, rider experience, and other factors. 
Now, let's look at factors to consider when measuring the top speed of a 110cc dirt bike.
Engine Type
The type of engine you choose will influence the bike's efficiency and how much fuel it consumes.
A 2-stroke engine consumes more fuel and is less efficient than a 4-stroke engine. This is because these engines use a dual cylinder to push air through the valves and will lose air-fuel mix through the exhaust opening. Dirt bikes with 2-stroke engines are lighter and are low maintenance. They are also easy to handle and thus more suitable for beginners or novice motocross racers.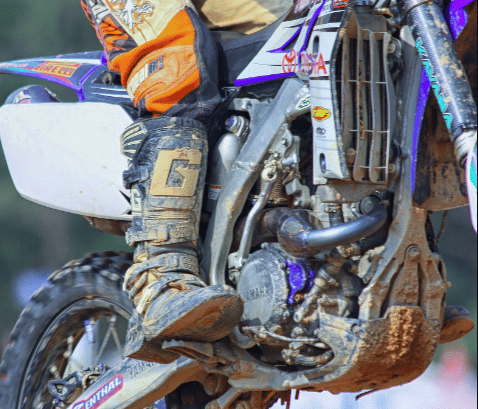 On the other hand, a 4-stroke engine consumes less fuel and is more efficient. It uses a quad-cylinder system to push air through the valves while eliminating any air-fuel loss. 
Dirt bikes with 4-stroke engines produce more torque and are much faster, making them ideal for experienced riders. These bikes tend to run quieter and smoother than those with 2-stroke engines.
Specifications
A bike with good features will best suit your specific needs. For instance, a dirt bike with an efficient catalytic converter ensures a good emission system, especially on a V-twin engine.
A 4-stroke engine also provides more power but requires more torque to move faster. A 2-stroke engine, on the other hand, powers fast, making transmission and the start quicker.  
Dirt Bike Brand
Different dirt bike brands have modifications for different riding experiences. The comfort, power of your bike, and how well it can handle rugged terrain all depend on its brand.
Not only that, but top-brand models have quality materials and performance components. Their design allows them to balance and handle top speeds well. The brands might be costly, but if your budget allows, choose them, as you will get value for your money.
Dirt Bike Age
New dirt bikes have faster combustion, top speed, and good engine sound. They are fast and durable, making it easier for them to take on rough terrains.
However, an old dirt bike will require more maintenance due to frequent breakdowns. Also, the speed will be incomparable to a new bike due to poor acceleration. These may arise as a result of a worn-out spark plug.  
Rider and Passenger Weight
Dirt bikes are made of lightweight materials, which might limit the weight they can carry.
The 110cc dirt bike has a weight limit of about 250 lbs. If you are overweight, consider getting a bike with a different weight capacity. A heavier weight will strain the tires, reduce acceleration, and slow down the bike. 
Also, if you have a passenger, ensure your combined weight is within the dirt bike weight limit. You can also consider adding suspensions to the bike, which might hold the extra weight.
Rider Experience
Your experience on dirt bikes will determine how fast you can ride. Riders with more experience are more likely to ride a 110cc dirt bike faster.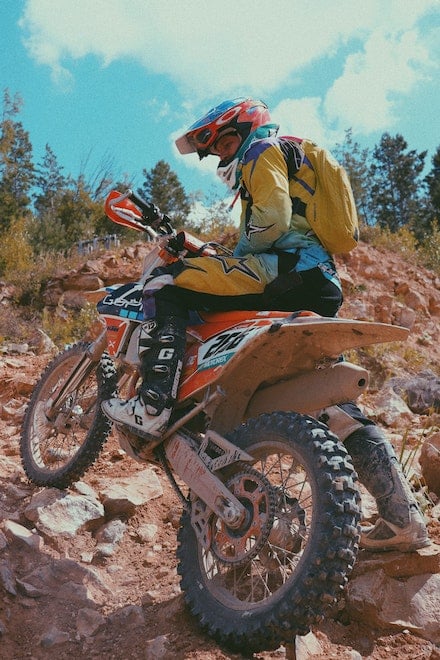 Experience means you gain more confidence, get more skills, and avoid minor mistakes. It makes you able to ride faster without being nervous and jittery.
Ensure you take your time to master the bike before hitting the road on your dirt bike. See that you master steering and how to get on and off the bike properly. You can also perfect your riding style, such as crouching to deflect the wind.
Dirt Bike Weight
A heavier 110cc bike can be more challenging to control, especially for a 10-year-old rider.
Additionally, a heavier bike will have a slower acceleration. It will need more horsepower and torque to overcome the gravity of its weight.
This is why a 2-stroke dirt bike is ideal for motocross riding, while a 4-stroke dirt bike is not. The additional weight reduces the top speed of a bike.
Track Surface
A bumpy or hilly terrain will require more horsepower for the hills and a slower speed to go down the slopes.
Muddy terrain slows down the bike as they are sticky, and riding on icy or snowy surfaces may make your bike trip. Also, curvy roads or surfaces with rocks require constant braking to make turns and avoid obstacles.
Top Speed and Performance
The stock power on a 110cc dirt bike influences how the bike operates. However, good maintenance on your bike can ensure you get the best out of it.
Get a set of good tires to ensure your treads grip the road properly for improved performance. Also, ensure you lubricate the dirt bike often and use the best fuel quality, such as high-octane gasoline.
5 Best Fastest 110cc Dirt Bike 
We compiled a list of the fastest 110cc dirt bikes with the best model behind the brand. These are competitive machines from Yamaha, Honda, Kawasaki, Suzuki, and Orion Powersports.
Before buying a 110cc dirt bike, consider the terrain surface and what riding you will do. Whether hard enduro, casual, motocross, trail riding, or dual sport.
Here are high-speed 110cc dirt bikes to make your experience more exhilarating.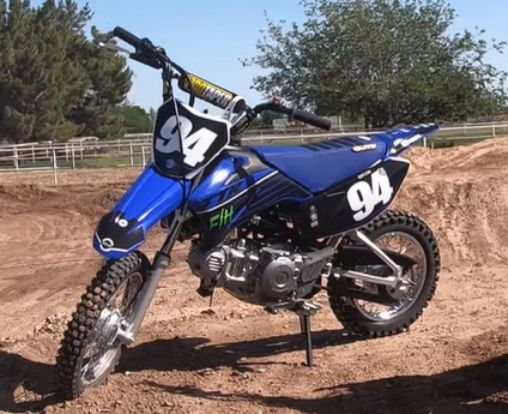 The Yamaha TT-R110E is faster and gives the most horsepower on our list. It is also light, with a seat height of only 26.4 inches and a weight of 159 lbs, making it easier to handle by pre-teens or teenagers. It also has a softer travel suspension and a longer wheelbase to climb steep or rocky surfaces.
The TT-R110E has an electric start and automatic clutch transmission, so getting it started won't be a problem. Not only that, but it doesn't have a throttle limiter, so it will not limit your bike's power or speed. It can produce enough power for adult riders as well.
This 110cc dirt bike has more ground clearance and additional trail, making it look bigger than the other bikes.
2. Honda CRF110F – Easy to Ride At Fastest Speeds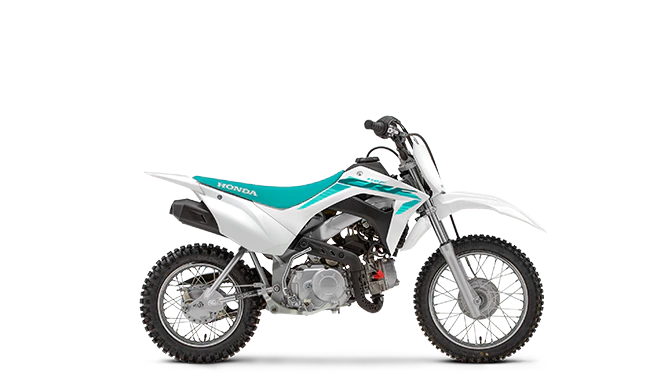 Unlike Yamaha TT-R110E, Honda CRF 110F is easier to ride, even at the fastest speed. It has a crisp throttle response, the engine is manageable, and its features are friendly enough to help kids nurture their riding skills. You will not feel an abrupt lurch even on rocky terrain when riding.
The bike has an electric start and an air-cooled, single-cylinder engine. On top of that, it has an automatic clutch to make changing the gear easy.
There is also an adjustable throttle limiter for those looking to regulate the bike's speed for smaller kids. It is reliable but quite heavy, with a weight of 169 lbs. Also, the seat is about 25.9 inches in height and might be suitable for kids 10 to 16 years of age.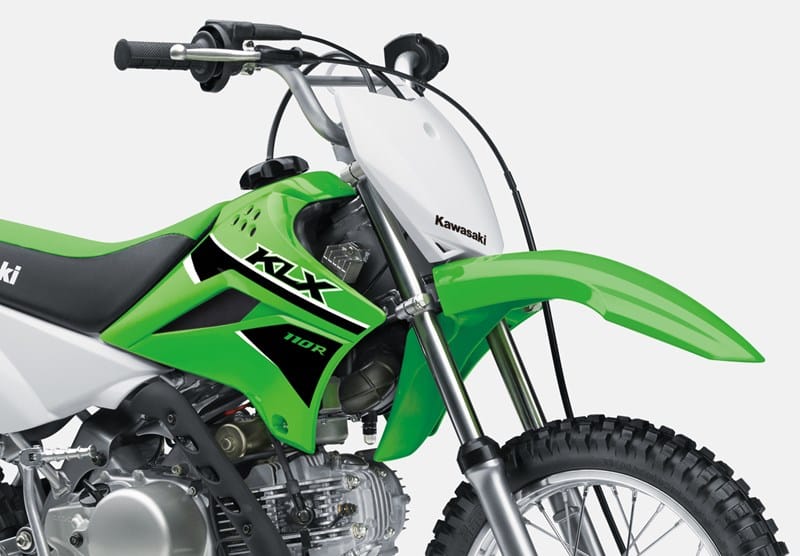 Kawasaki KLX110R has an air-cooled four-stroke engine with an electric start. This bike is popular as it offers a very soft suspension, even for adult riders. It uses an automatic clutch, and you can regulate the speed using a throttle limiter.
With a full gas tank, the weight is about 167.5 lbs, and each rider gets to sit on a seat height of 26.8 inches. The ground clearance is also an inch higher than all other 110cc dirt bikes for effective handling during top speeds. Moreover, Kawasaki KLX110R comes with an oil filter and has the best lugging power.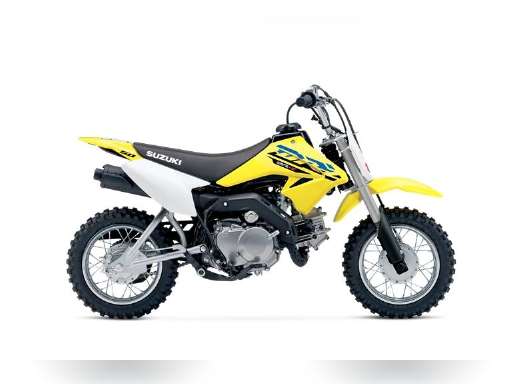 Suzuki DR-Z110 is an off-road/enduro model. It has a single-cylinder, four-stroke motor engine tuned to generate receptive, easy-to-control power.
This dirt bike is thrilling to drive, given its gutsy drive train and smooth power delivery. Its bodywork and steel frame make it ideal for both teenage riders and smaller adults new to dirt bikes.
The Suzuki DR-Z110 dirt bike has a front suspension for road holding and comfort. Its braking system is at the front and the back to produce strong stopping power. Moreover, it weighs 141.1 lbs, and its seat height is 25.6 inches.
The Orion RXB-110cc semi-auto dirt bike is also perfect for teenage and small adult riders. It is steadily built, runs great, and works well for the price.
The bike has an air-cooled single-cylinder engine and hydraulic forks that absorb shock to ensure a smooth ride. It comes with a throttle limiter, so you can easily control how fast it goes. Also, Orion RXB has a new racing-style seat with a height of 26.75 inches.
With a weight of 137 lbs, this bike is the most lightweight on our list. It is easy to handle and control, even by 10-year-olds.
You may also like to read our article on How Fast Does a 450cc Dirt Bike Go
4 Ways to Improve the Power of your Dirt Bike
Here are a few things you can do to make your bike perform even better.
1. Use a Higher-Quality Fuel
Poor oil quality could cause your engine to perform poorly. A higher quality fuel, however, translates into a higher engine performance. While higher octane gas is expensive, it gives the best performance. Therefore, if you're willing to spend a little more money, I'd highly recommend choosing this type of gas. Additionally, consider fueling your bike at stations that are always busy. Such stations constantly replenish their fuel supply and always have the freshest oil.
2. Modifying Your Factory Clutch
By modifying your factory clutch and swapping it for a clutch manufactured for racing can increase your bike's ground power for better control and acceleration. Many beginner bikers prefer keeping the factory clutch, but it's worth noting that changing it can greatly improve your bike's overall performance. The swapping procedure is simple, and you can change it in a few steps. 
3. Open the Valves
More airflow into the engine system implies more engine combustion and more engine efficiency.   
Opening the valves ensures that more air flows into the engine system. To achieve this, you can install a high-performance camshaft. The shaft ensures your valves are open for a long time, increasing your engine air intake.
Additionally, adjust the carburetor to get the right air and fuel mixture for the engine. For a 4-stroke engine system, you can increase the compression ratio by altering the piston to reduce the combustion chamber size.
4. Improve the Exhaust
You can change the muffler depending on the engine type to make the engine breathe well. For a 2-stroke engine, a pipe can work for it, while for a 4-stroke engine, adding a slip-on is ideal.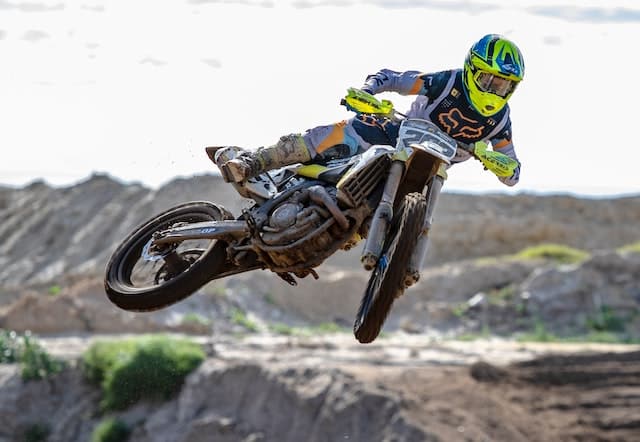 Changing the muffler is fairly easy, and if you are a beginner, you can do it in less than 15 minutes. However, if you feel uncomfortable changing it, you can have it changed at your local shop. You can even change the entire exhaust system to make your bike sound better.
What Safety Gear Do You Need For Riding A 110cc Dirt Bike?
One of the key components of proper riding gear is a helmet. In case of an accident, your head and face will be protected. When buying a helmet, ensure you get one that fits you perfectly so as to prevent injury in the future.
It is best to have a good protective jacket and a pair of riding pants.
Also, get a pair of gloves and good riding boots to keep you safe and warm on your ride.
Final Thoughts
110cc dirt bikes are great for kids ages 10 to 16 and even smaller adults who can fit these bikes. As you can see, 110cc can achieve top speeds depending on its make and model. Regarding the fastest 110cc dirt bike, the Yamaha TT-R110E is our best overall. It produces the most horsepower and is easier to handle than other 110cc dirt bikes. Also, it is suitable for kids and adult riders, but you can lower its speed to fit novice riders. Pro Tip: It is essential to go for 110cc dirt bikes with performance modifications and safety features. This is especially helpful for small riders. However, 110cc may be slow for adult riders, so they are better off riding more powerful engines ranging from 230cc to 450cc or more.