How Much Do Kids Dirt Bikes Cost? Plus Tips on Finding the Best Deals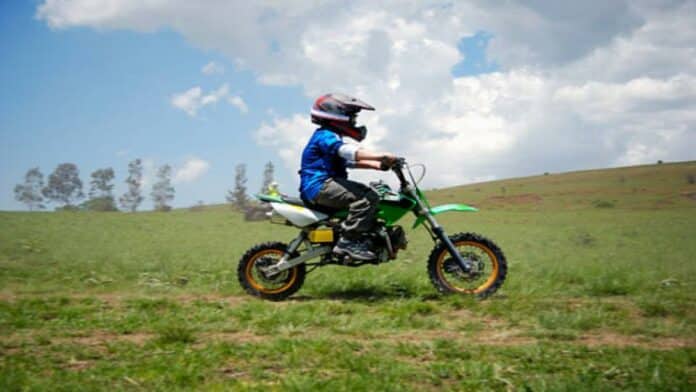 Buying a dirt bike for kids isn't a straightforward process. From performance to safety, there are many factors to consider. For many, the cost is also a deciding factor. With this, many of you are probably wondering – how much are kids dirt bikes? 
There is no single best answer to the question regarding the cost of dirt bikes for kids. It depends on several factors, including the brand and features. 
Read on as we talk about its average price as well as some examples of kid's dirt bikes and their cost. 
How Much Are Kids Dirt Bikes? 
On average, kid's dirt bikes cost anywhere from $250 to $1,500. The cheaper ones are those with electric motors, which are simpler to use but less powerful. Meanwhile, the higher-end options are motorized dirt bikes with more powerful engines with prices starting at $1,500. 
Some Examples of Cheap Dirt Bikes for Kids
Confused with too many options available? Below are some of the products worth considering. 
Looking for a starter bike that is ideal for young riders? This is one option that should be on your radar! It is economical, but that does not mean that it compromises performance. 
Among others, one of the best things about this dirt bike is the 50cc, two-stroke engine with a single-cylinder arrangement. Even if it is made for new riders, it is powerful. It conquers even challenging conditions without too much effort. Another thing that makes the engine great is the air-cooled system, which will prevent overheating. 
Aside from the engine, this dirt bike is also impressive because of the welded frame. It increases the stability of the bike even in harsh terrains. This way, it is easier for the rider to maintain balance without losing the element of fun. 
As for its performance, the dirt bike has a top speed of 25 mph. However, that will depend on different factors, such as the skills of the rider and the terrain conditions. The dirt bike has a speed governor on the right handle, so you can set a speed limit. 
Best of all, it comes with several accessories, so you can enjoy the best bang for the buck. Your purchase is inclusive of gloves, goggles, and face masks for a safe and comfortable ride. 
Pros
A great choice for starters

Has a powerful air-cooled engine

Comes with accessories
Cons
Assembly can be quite tricky
Let young riders experience the thrill of riding this dirt bike. It is EPA-approved and environment-friendly. No need to worry about toxic emissions and loud noise. 
Another good reason to pick this product is its ease of assembly. Right out of the box, you don't have to exert a lot of effort in assembling the different components. Within a short time, it is ready for a ride. 
Additionally, it has lots of features that are indicative of safety. For instance, it has a solid frame that can keep up with the challenges in every ride. More than being sturdy, the frame also helps in keeping the dirt bike stable. Plus, the dirt bike has front and rear disc brakes. They are highly responsive, making it easy to stop the dirt bike when necessary. 
Looking at the technical specs, you will have more good reasons to choose this product. It has a maximum speed of 18 mph. Meanwhile, the load capacity is up to 160 pounds. It is also notable because of the 400cc four-stroke engine. 
Lastly, you will get a free pre-paid return label that is good for up to 60 days. This means that you do not have to worry about the cost of sending it back to the seller in case there is any problem. 
Pros
Comes with a solid frame

Easy to assemble

Includes a pre-paid return label
Cons
With a two-stroke 50cc engine, this is another dirt bike that is ideal for little riders. When delivered, it is already 85% pre-assembled. It includes the necessary hardware, so you don't have to worry about putting the pieces together. 
The dirt bike has front and rear disc brakes, which are highly responsible when braking. This makes it easy to control even for young riders. Not to mention, it has a solid construction, which also contributes to its safety. 
While it is made for kids, it has great technical specifications. The dirt bike comes with a top speed of 24.9 mph. Meanwhile, it has a fuel tank capacity of 0.45 gallons, a maximum weight capacity of 160 pounds, and a minimum age limit of six years old. 
Pros
Arrives 85% pre-assembled

Comes with responsive brakes

Uses high-quality materials
Cons
Factors that Affect Prices of Kids Dirt Bikes 
Earlier, we mentioned that the prices will range from $250 to $1,500. Nonetheless, take note that these are not absolute numbers. Different factors will have an impact on the specific price, including the following: 
Brand: The more popular the brand, the more expensive the dirt bike will be. If the price is not a concern, look for brands like Yamaha. They have high-end models that are equipped with the latest technologies to promote the comfort and safety of little riders.
Size: Smaller dirt bikes are often cheaper than larger ones. If it is for younger users, chances are, it will be more affordable. The larger the bike, the more components are used and the more powerful it becomes. Hence, it can also mean being costlier. 
Specs: Looking at the technical specs is also a must to determine the price of the bike. One of the most important is the engine. The higher the specs are, the higher the cost of the dirt bike will be. From engine displacement to horsepower, look at the numbers. 
Comfort: If you want a more comfortable bike for kids, you should be ready to spend more. This means having better suspension and thicker seats, among other things. These added costs will drive the price up.
Where to Buy Dirt Bikes for Kids 
Looking for dirt bikes for little riders? Below are some of the top places that you should check out.
Amazon 
When it comes to online marketplaces, Amazon is perhaps one of the most popular. You can buy from the official store of the manufacturer or third-party sellers. It is easy to compare prices. The best thing is that you can read reviews and learn from the real-life experiences of other people. This makes it easier to narrow down the possibilities. 
Craigslist 
Like Amazon, Craigslist is another online store with tons of great deals for kid's dirt bikes. You can easily filter your searches based on different parameters, such as your budget. It also allows setting up notifications, so you will immediately know once there is a price that meets your budget. 
Facebook Marketplace 
While there are tons of social media platforms, Facebook is one of the most popular. It is not just a place to catch up with friends and family, but it is also where you can buy dirt bikes. The marketplace has tons of deals for every budget!
Physical Stores 
Visiting physical shops is another great way to shop for dirt bikes. It is time-consuming, but the good thing is that you can inspect and try the bike before purchase. This can give you a better idea of its overall quality. 
Tips and Tricks for Buying Kids Dirt Bikes
Find the best deals on the market without compromising power and performance. Here are some tips to keep in mind. 
Do Your Research 
While it is tempting to immediately purchase the first dirt bike that you see, this should not be the case. Take the time to conduct your research not only about the product but also about the seller. 
If possible, have a list of at least three choices. Go beyond the price when comparing them. Read reviews and ask around for genuine recommendations. 
Know the Return Policy 
Especially if you are buying online, know the terms and conditions for returns and exchanges. You might be disappointed with the quality of the actual product upon receiving it. Hence, there should be a way to return it to the seller and get a refund if necessary. 
Match With Age 
Not all dirt bikes for kids are the same. Aside from price, another important consideration is the size, which should match the age of the user. The height and the weight should follow the recommendations of the manufacturer for the best experience. Even the size of displacement of the engine should complement the age of the rider. 
Conclusion 
Dirt bikes for kids cost $250 to $1,500 on average. The specific price will depend on several factors, such as the brand and features of the dirt bike. The higher the technical specs are, the more expensive it will be.