How Heavy Is a Moped? Weighing the Different Types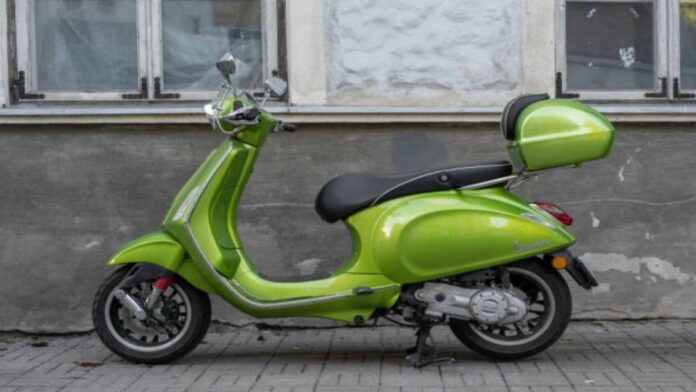 Nimble, low maintenance, low gas consumption, and ease of use—these are some of the reasons why a lot of people love mopeds. Mopeds are perfect for getting around short distances. On top of that, they are not as noisy as motorcycles. 
Aside from being more affordable than motorcycles, they're also pretty slow. This makes them the best for folks who don't like high-speed motorbikes.
However, many people find it hard to differentiate between mopeds and scooters. For one, mopeds are the lightest two-wheeled motor vehicle in the market, even weighing less than scooters. I'm sure you're wondering, how much does a moped weigh? Let's address that query and more in this post. 
What Is a Moped?
A moped is a small-sized motorbike with fewer stringent licensing requirements compared to other vehicles. 
The term "moped" refers to a similar vehicle but with both an engine and bicycle pedals. But they are way faster than bicycles, and the main difference between mopeds and scooters is that the latter is powerful. Plus, mopeds have fewer licensing requirements than scooters, motorcycles, and even vehicles.
Some mopeds come with step-through frames, while others have a motorcycle frame design. A motorcycle frame includes raised fuel tanks (situated between the head tube and saddle) and a backbone. 
Some unique mopeds even resemble a motorized bicycle. Most mopeds resemble a standard motorcycle, but they come with a crankset and pedals, which can be used instead of or with the motor drive.
Mopeds are defined as motorcycles that can be pedaled or have low-powered engines. The safety associated with mopeds is quite controversial, and most jurisdictions have their definition of a moped. They have legislation regarding the driver requirements, sizes, and maximum speed a moped can attain. 
In some states, a moped is defined as a low-powered vehicle that should be 4 or 3 wheeled. Some countries define a moped as all motorcycles with an engine capacity below 100cc.
Moped Vs. Scooter: What Is the Difference Between the Two
They're usually hard to tell apart, so let's check out the differences between a moped and a scooter. 
Scooters and mopeds are both famous two-wheeled motorized vehicles. Originally, mopeds were like a bicycle with pedals, and that is how they got their name "motor + pedal." 
The main difference between the two is their motor and their size. Scooters are generally bigger than mopeds in size and resemble smaller motorcycles. Scooters also come with a platform for you to rest your feet. 
Other key differences include:
Size of Motor
Mopeds have a different sized motor compared to that of a scooter. Scooters come with a bigger engine than all the different types of mopeds. The capacity of mopeds motors is less than 50cc while than of scooters ranges from 50cc to 150cc. This means that scooters are bigger in size, heavier, and cost more than mopeds.
Maximum Speed
Mopeds are slower than all the different types of motorcycles, including scooters. This is why you don't need permission to ride it on the highway. On the other hand, you need permission to ride a scooter on roads. The maximum speed of all mopeds ranges between 30 and 35 miles per hour. The top speed of scooters ranges between 50 and 90 miles per hour.
Frame Design
Mopeds have a light motorcycle frame with or without pedals. Scooters have step-through frames and an exceptional platform for your feet. Scooters don't come with feet pedals and are not required to come with pedals. Their unique frame plays a key role when it comes to the overall weight of the moped.
Insurance
Mopeds are cheaper to insure than scooters, especially since they have a modest maximum speed, less power, and smaller engine. Therefore, they are considered 'lower risk' even for beginners. But compared to a full-sized bike, mopeds and scooters are more cost-effective, especially when it comes to insurance.
Scooters and Mopeds Laws
In the U.S., each state has its own laws pertaining to riding mopeds and scooters. 
Here are some points where these laws differ:
Minimum age requirement: The minimum age for operating these two-wheeled vehicles differs from one state to another. But in most states, anyone under 18 years of age can operate a moped or scooter.
License: In most states, you'll need a permit to ride a scooter or moped, while in other states, you won't need one. You can find out more in our post about license requirements for mopeds or scooters
Helmets: most jurisdictions require everyone to wear a helmet when riding these vehicles. But regardless of the law, it's always a good idea to wear a helmet when riding a two-wheeled motorbike. 
The minor distinction between scooters and mopeds has triggered some friction with the law, especially when it's on the borderline. So, the only way to be sure is by checking the legal requirements for operating and owning these two-wheeled bikes.
Emissions
While these vehicles are considered superheroes for fuel consumption, their emission levels are low. Remember, motorcycle emissions in the U.S. are worse than those produced by vehicles. Motorcycles have 45 times more nitric oxide, three times more methane, and five times more carbon monoxide emissions.
On the other hand, motorcycles, including mopeds, emit less carbon dioxide than vehicles. Therefore, if you're environmentally conscious, you should ask how much emission a moped produces before buying it.
How Much Does a Moped Weigh?
Now, on to our main question: how much does a moped weigh? Generally, the average weight of most mopeds is about 185 lbs. But there are different types of mopeds that vary in engine capacity, materials used to make them, and weight. 
Mopeds with an engine capacity of about 250cc weigh about 621 lbs, while the lightest ones weigh about 185 lbs.
Therefore, the bigger the engine, the heavier the moped will be. Some high-end mopeds are made using lighter materials; consequently, they are lighter and still powerful enough.
What Are the Weights of Different Types of a Moped?
There are different types of mopeds in the market and they vary in design, speed, size, and style. Plus, all the manufacturers of mopeds have produced a number of models for the last few years that vary in engine capacity. So here are some of the different types of mopeds in the market:
50cc Gas Moped
Manufactured by Lun Jin, this 50cc moped, also referred to as the JL5A, is an exceptional moped that can be used in 50 states. The 50cc gas moped comes with a 50cc, 4-stroke, single-cylinder, and air-cooled engine. It also comes with automatic transmission and can attain a maximum speed of about 37 miles per hour. 
The JL5A is a lightweight moped and has a small fuel tank that can only hold 1 gallon of fuel. This unit is usually driven upright and has a kick-start/ electric starting system. Some of its standard components on these mopeds are 10-inch tri-spokealloy tires and a hydraulic disc brake. 
The 50cc Gas mopeds weigh about 185 lbs. They also have a wheelbase of about 47inches and a carrying capacity of 220lbs.
XM-150 Gas Moped
If a 50cc moped doesn't work for you, then you can try the XM-150. 
The XM-150 is a reliable two-wheeled vehicle that comes with a 150cc, 4-stroke engine. The XM-150 comes with an exceptional electric-kick starter and a remote-controlled starter. 
Since this moped is more powerful than the 50cc moped, it has a higher maximum speed. It also comes with a massive fuel capacity of about 1.75 gallons. Unlike the 50cc mopeds, the XM-150 can attain a top speed of about 60 miles per hour.
This moped also comes with a 7AH, 12-volt battery for its electric starting system. It also has exceptional belt-drive systems, variable-speed controlling throttle, and weighs about 279 lbs. This moped also comes with a carrying capacity of about 360 lbs. and cushioned forks. It also has a spacious storage space below its spring-loaded seat.
Jonway MC_50CRP Mopeds
This moped is designed after the design of the retro Vespa. Jonway MC_50CRP moped has a 4-stroke 50cc engine with a clutch-less automatic transmission. Therefore, it doesn't require gear changing; plus, it has a maximum speed of about 30 miles per hour. 
The Jonway MC_50CRP moped comes with either electric or kicks start starting system, while its battery capacity is 12-volt. Compared to the XM-150, it does have a smaller fuel capacity of about 1.5 gallons.
This unit comes with rear and front drum brakes and steel frame. It also has spring-activated front suspensions and mono-shock rear suspensions as well as a smaller weight capacity than the XM-150. 
The Jonway MC_50CRP moped has a carrying capacity of about 185 lbs and weighs about 220 lbs.
250cc Trike-Chopper-Road-Warrior Mopeds
If you want a powerful moped then you should go for this 250cc two-wheeler. 
This is one of the most potent mopeds in the market, with a capacity of about 250cc. The 250cc Trike Chopper road warrior moped comes with a double-cylinder, 4-stroke engine. It also has a manual transmission system. These mopeds also come with electric starting systems.
While its battery capacity is still 12volts, its maximum speed is about 70 miles per hour. The 250cc Trike Chopper road warrior moped also has a fuel capacity of about 2.2gallons. 
The 250cc Trike Chopper road warrior moped is a powerful bike with rear and front disc brakes. It also comes with rear suspension double-swing front arm suspensions. These mopeds come with reinforced steel-tube frames. The 250cc Trike Chopper road warrior moped is considered the heaviest of the other kinds of mopeds. 
This moped weighs about 621 lbs. It has a carrying capacity of about 380 lbs. When we compared carrying capacities, the motorcycle weight limit is higher than a moped.
Why Do Mopeds Vary in Weight?
There are many reasons why the weights of mopeds vary, with the main one being the purpose of the moped. Sport mopeds tend to be very powerful, thanks to their vast engines and sturdy structure. Therefore, they will weigh more than a standard commuting moped.
What Are the Things That Add Weight to a Moped?
A moped is composed of numerous parts but some components are heavier than others and play a vital role in the overall weight of the moped. So here are a few key components that add the most weight to the moped:
Engine
The engine is the first and most crucial part that adds weight to the moped. Like with motorcycles, the engine is the heaviest part of the mopeds. The engine capacity of most mopeds ranges between 50cc and 250cc. Therefore, you will notice that mopeds with more significant engines are heavier than those with smaller engines.
Panniers
Other than being common for adventure bikes, some mopeds models come with panniers. Panniers can add the weight of the moped, especially the old-school panniers that were made from steel. 
The panniers made from steel can weigh about 10 pounds when empty. But when you add the stuff that you carry every day, its weight can increase immensely. Things like a spare helmet, chain, fuel, and some extra oil can increase your moped's weight.
The Material Used to Make the Mopeds
Technically, the materials used to make a moped aren't components, but they play a crucial role in their weight. This is actually the main difference between modern and old mopeds. 
In the past, most bikes were made using steel, which is reliable, super robust, but quite heavy. But over the last few decades, technology has evolved, resulting in the introduction of lighter and more durable materials.
Therefore, modern mopeds are made using lightweight, durable materials. In most cases, a considerable amount of material used to make mopeds is plastic, which makes them lighter. This makes the mopeds cheaper to manufacture and easy to maintain.
FAQs
When were mopeds classified as vehicles in the U.S.?
Before the 1970s, mopeds were barely used in the U.S. due to the many legal restrictions in most states. But after Serge Seguin wrote his thesis on the usage of mopeds in Europe, he received some mopeds. 
Serge also received a small amount of cash from Motobecane to help promote mopeds. So after lobbying congress on mopeds benefits, he was able to get 30 states to create a classification for these two-wheeled vehicles.
The first mopeds produced by American firms like the American Machine and Foundry wouldn't exceed 30 mph. But when it comes to fuel consumption, they were the best option. These mopeds could cover 220 miles on a full tank of fuel. And thanks to the energy crisis of the 1970s, mopeds grew in popularity at a speedy rate. In fact, by 1977, over 250,000 Americans owned a moped.
What is the maximum engine capacity allowed by most states?
Initially, the required top speed for mopeds was 30 mph, which means that the maximum engine capacity is 50cc. Therefore, even if your moped can exceed 30 mph, you can't exceed this speed in most states.
Which states allow mopeds with bigger engine capacity on their roads?
The only state that allows mopeds with bigger engine capacity in the U.S. is Kansas. Kansas allows its citizen to legally operate mopeds with a maximum engine capacity of about 130cc. On the other hand, some states require mopeds to have pedals.
Can I ride my moped if I have a driver's license?
Despite being lightweight and less powerful than a scooter, they can be dangerous on public roads. Therefore you require a driver authorization card or driver's license to operate mopeds.
How much do Tao Tao mopeds weigh?
Tao Tao mopeds are 50cc gas street legal two-wheeled vehicles that can attain a maximum speed of about 35 mph. The Tao Tao moped weighs about 225 pounds.
How many miles can a 50cc moped on a full tank?
On average, a 50cc moped is a fuel-efficient vehicle that can help you move around town at a maximum speed of 35 mph. Plus, with a full tank, you can cover an average of about 100 miles, which is quite a lot if your plan is moving around the town.
How much gas can a 50cc moped hold?
The answer to this question varies with brand and model, but their tanks can support between 2 and 3 gallons on average. Plus, the idea of covering about 10 0miles with only 3 gallons of fuel can be pretty enticing.
Conclusion
There is a wide range of motorcycles in the market, with the lightest ones being scooters and mopeds. Of the two, the moped is the lighter two-wheeled vehicle that requires no license to use. The lightest ones weigh about 185 lbs, while the heavy ones weigh about 621 lbs.