How Much Does a Motorcycle Cost?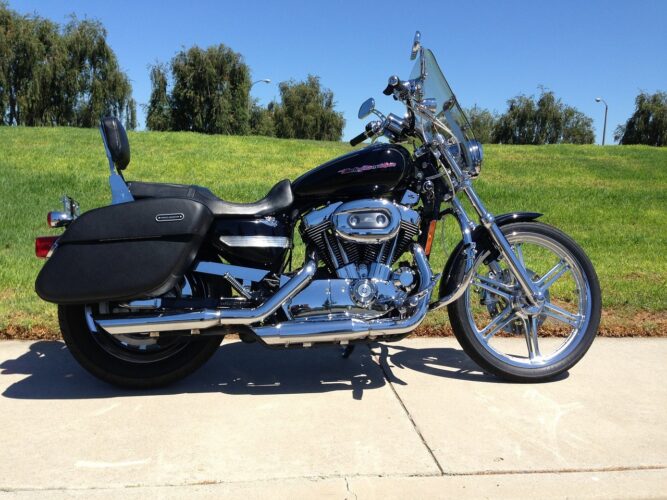 How much does a motorcycle cost? This is a pretty tough question that does not have a direct answer. 
There are many options on the market and you can always find one that suits your budget. Nevertheless, high-performance and heavy-duty options are more expensive. The more you spend, the more you get. 
There are also varieties of things you need to consider when buying a bike, as this will determine how much you will spend on a bike. You should also consider your preference and level of experience to avoid overspending on a motorbike. Beyond the actual cost of the bike, you should also consider the costs of the upgrade. In this guide, we will answer some of your questions regarding the cost of a motorcycle. How much is a motorcycle these days? Read on to see the prices of various motorcycles. 
How much does a motorcycle cost?
There are several categories, brands, and classes of motorcycles on the market, each with a distinct price tag. A motorcycle is available at almost every price bracket. Several alternatives are available, and you can always find one that fits your budget. The amount of money you will spend on a bike will be determined by your choice. However, high-performance and heavy-duty models are more costly.
The Cost of Cruisers
Cruisers are heavy-duty motorbikes and they usually have forward foot pegs and high handlebars. As the name implies, these bikes are for cruising; they are not designed for speed. Cruiser bikes are also known for larger V-twin engines, low riding position, and raked out front forks. Cruiser motorcycle tires is not as costly as you would expect.
Many people do not buy cruisers for performance, because that is not what it is built for. People do not even purchase it for the practicality of moving from one point to another. Rather, investing in a cruiser is about buying into that carefree lifestyle. This is not a bike for new riders because of the riding position. The bike is not easy to handle and it can be tiring at high speeds; it is mainly suited for cruising. Cruiser bikes are divided into three categories – entry-level, mid-level, and high-level. 
Entry-Level Costs
There are many entry-level cruiser bikes out there, and you can get one between $5,000 and $8,000. However, you might not be able to find an entry-level American cruiser within that price range. Some very popular cruisers within this price range are the Suzuki Boulevard (at about $5,499), Honda Rebel (about $4,190), and Kawasaki (about 6,999). The difference in their prices also means something, as they do not provide the same performance and styling. 
Mid-Level Costs
The next category is mid-level. You can find this level of cruisers between $8,000 and $12,000 and they come with many great features and better performance. A few examples of cruisers that fall in this category include the Triumph America, which costs $8,400, the Harley-Davidson Sportster Seventy-two, which costs $11,099, and the Victory Gunner, which costs $12,999. 
High-Level Costs
The next category of cruisers are high-level cruisers, and they are more expensive. These are the luxurious cruisers that cost a fortune. A few examples of them are the Indian Chief Classic that costs $18,499 and the Harley-Davidson Softail Deluxe that costs $18,549. 
The Cost of Standard/Street Bikes
Standard and street bikes have the largest range of body designs and styles. These bikes are designed for riding on the street. Standard motorbikes are also known as bikes without fairing (plastics used in covering the frame and engine) or naked bikes. 
Street bikes are mostly naked and they do not need to be aerodynamic, which is what the fairing is for. Almost all manufacturers produce these standard/street bikes, and this makes it easy to find a budget-friendly option. However, the prices of these bikes vary depending on the power of their engine and other things. 
Entry-Level Costs
Standard street motorbikes are not expensive, especially entry-level options. With as low as $3,500 you can find a good bike that will work for you. In this category, you can find standard bikes between $3,500 and $8,000. The Honda CB300F costs as low as $4,000, the popular Yamaha FZ-07 costs $6,990, and the Suzuki GSX-S750 costs $8,000. All these are great entry-level standard street bikes. 
Mid-Level Costs
For mid-level standard street bikes, you can find a good one from $8,000 to $12,000. A few examples are the Kawasaki Z1000 that costs $11,999 and the Triumph Street Triple that costs $9,400. 
High-Level Costs
If you are looking for something fancy and luxurious, this is where you will find it. However, you should get ready to spend some cash too. There are luxurious street bikes in this category and they do not come cheap. A few examples of these are the Aprilia RSV4 RR that costs $16,499, the BMW R1200R that costs $14,095, and the Ducati Diavel that costs a whopping $18,795. 
The Cost of Touring Bikes
If you want to go on a long-distance ride, a touring bike is your best option. These bikes are designed to keep you comfortable on long-distance rides. They come with cozy seats that ensure good sitting postures. In all the categories of bikes, touring bikes are the heaviest and largest, as most of them come with additional accessories to ensure you enjoy your road trips. You can tour with these bikes for long hours and even days on the road; that is what they are designed for. 
Touring bikes usually come with large storage compartments for storing small items, a large windshield for protection, and generous fuel storage capacity. They feature an upright riding position to ensure you remain comfortable all through your ride. The price of this bike varies from one brand to another. The price also depends on the features and accessories they come with. 
Entry-Level Costs
These bikes are on the higher end of the price spectrum. The cheapest harley davidson you can get an entry-level touring bike is between $9,000 and $15,000. Some popular options on the market are the Honda NM4 that costs $10,999 and the Kawasaki that costs a little less at $8,999. 
Mid-Level Costs
For this category, you can find a touring bike between $15,000 and $20,000 – this is the price range the majority of touring bikes fall in. One of our favorite bikes in this category is the BMW R12000RT, as it revolutionized the touring industry. The BMW R12000RT costs $18,145. Other examples are the Kawasaki Vulcan 1700 Voyager ABS that costs $17,399 and the Harley-Davidson Touring Road King that costs $18,749. 
High-Level Costs
If you have a lot of room in your budget, then you can cruise with the top touring bikes. In this category, the minimum you can purchase a bike with is $21k. Some of the most popular bikes in this category are the Harley-Davidson Touring Electra Glide Ultra Classic that costs $23,549, the Honda Gold Wing Audio Comfort Navi XM that costs $26,900, and the BMW K 1600 GTL that costs $23,200. 
The Cost of Sportbikes
If you are looking for high speed and performance, then sportbikes are the best bikes for you. These bikes usually come with a very powerful engine, full fairings for aerodynamics, and a lightweight frame. They offer a high foot position and a forward-tucked seating position. 
Sport bikes are not suitable for learners because they are very powerful and somewhat difficult to control. Only experienced and professional riders can control them with ease. However, some manufacturers are now making small, new rider-friendly sportbikes. These bikes are also very affordable. 
Entry-Level Costs
Entry-level sportbikes do not cost a fortune. You can get a sportbike for as low as $4,500. The Yamaha R3 costs only $4,990 while the Kawasaki Ninja 300 costs $4,999, and they come with many great features. There are also a bit pricier models such as the Kawasaki Ninja 650 that costs $7,199 and the Honda CBR500RR that costs $6,499. 
Mid-Level Costs
There are more powerful sportbikes in this price range. In this category, you will find sportbikes ranging from $10k to $15k. The Yamaha YZF-R6 and the Honda CBR600RR are nice sportbikes and you can get them for about $11,500. Other great options are the Kawasaki Ninja ZX-10R for $14,999 and the Suzuki GSX-R1000 for $13,899. 
High-Level Costs
In this category, the price of a sportbike is from $15,000 and above. Some models are very expensive and can cost up to $40k. You can get the Yamaha YZF-R1 sportbike for $16,500. If you want something more luxurious, you can go for the Ducati Panigale R with a price tag of $34,700. 
The Cost of Dual Sport and Adventure Motorbikes
If you are looking for a highly versatile and lightweight motorbike for your off-road trips, you should go for dual-sport motorbikes. These bikes are also super safe and comfortable, and you can ride them on the streets. 
They have a higher center of gravity, lightweight frames, and small engines. The lightweight nature, small engine, and maneuverability of dual sport bikes make them a great option for new riders. These bikes are also affordable, which is why many new riders start their career with them.
Entry-Level Costs
With as low as $5k, you can get a good dual sport bike. However, to get more value, you would need to spend more money. Some of the popular models on the market are the Yamaha WR250R that costs $6,700, the Suzuki DRZ400S that costs $6,599, and the Kawasaki KLR650 that costs $6,599. 
Mid-Level Costs
In this category, your budget should be between $8,000 and $12,000. You will get an amazing dual sport bike with this price range. Some very popular models within this price range are the BMW F700GS that goes for $9,995 and the Suzuki V-Strom 650 ABS that goes for $8,399. There are several other great models from other brands in this price range. 
High-Level Costs
There are also some very expensive dual sport motorbikes. In this category, your minimum budget should be $12k. Some models to consider include the BMW F800GS that goes for $12,295 and the Triumph Tiger 800XC that costs $12,500. There are also more expensive models such as the legendary BMW R1200GS that costs $16,600. 
The Cost of Off-Road Motorbikes
These are an entirely different breed of motorcycle. Off-road motorbikes are designed for rolling over gravel trails, gulping through muddy paths, and jumping over dirt hills. They are designed to counter any terrain, regardless of how rough it is. These bikes come with a very high seat and they feature a super lightweight design. They also have a high center of gravity. 
Nevertheless, these bikes are not allowed on the streets. These bikes do not have the features of street bikes such as a horn, mirrors, turn signals, and headlights. As such, they are not street-legal. 
Entry-Level Costs
Off-road bikes or dirt bikes are some of the most affordable bikes on the market. You can get an off-road bike for as low as $2k. A few examples are the Kawasaki KLX110 that goes for $2,300 and the Honda CRF125F that goes for $2,800. However, the higher the capacity of the engine, the higher the price of the machine. The Honda CRF250L is for $4,999 and the Yamaha TT-R230 goes for $3,990. 
Mid-Level Costs
In this category, you will find bikes ranging from $5000 to $8,000. The KTM 250SX goes for $6,800 while other top models such as the Honda CRF250X goes for $7,400 and the Yamaha WR250R goes for $6,700. However, there are more KTM motorbikes in the dirt bike segment and you will find many of them within this price range. 
High-Level Costs
Even in this category, you will still find affordable off-road motorbikes. High-level off-road bikes will not leave a hole in your pocket even when you are looking for a high-performance or heavy-duty option. Some popular models on the market are the KTM 450 SX-F and you can get this for just $9,299. There is also the BETA 480 RR that delivers a lot of power and great performance, and you can get this one for just $9,499. The market is full of other great models with reasonable price tags.
You can also check out Biker Right's Pit Bike article.
Expenses of Motorcycle Ownership
The Motorbike
How much does a motorcycle cost? We have already broken down the cost of different types of motorcycles. You can get beginner bikes anywhere from $3,500 to $10,000. If you are looking for more standard models, you should be ready to spend between $10k and $40k.
Safety Gear
After purchasing a bike, you will have to purchase some safety gear. Your safety is very important, especially when riding a bike on the road. When riding a motorbike, the least protective gear you will need is a helmet. You need to opt for a DOT and ECE compliant helmet, and they usually cost from $70 up to $300 or more. 
Safety boots, gloves, jackets, and pants are also very important, and these will cost you a few hundred dollars. According to some seasoned riders, a standard set of gear should cost you about $1,500. 
Insurance
Many motorcycle riders usually ignore this part, but we strongly advise you do not. Insurance is crucial, as it protects you in the event of an accident where your bike is damaged or you get injured. Insurance can also cover theft, medical bills, dents or damage, and more. In some states, insurance is mandatory and it is required by the law. For motorbikes, the average cost of insurance is between $200 and $600 per annum. 
Repairs and Maintenance
Every motorbike requires regular maintenance such as chain maintenance, oil changes, and more. You should run maintenance checks every 5k to 20k miles depending on the type of bike. This maintenance usually costs about $1,000 per year. You do not have to wait until your bike develops a problem. 
Permit and License
You cannot drive a car without a driver's license, and motorbikes are no different. You need a motorcycle license to drive a bike. Getting a license is pretty cheap, as it will not cost you more than $50. However, you might spend some cash on a couple of safety courses. These safety courses might cost you about $100. 
Gas
This is one expense you have to make regularly. You cannot go anywhere without fueling the bike. The average motorcycle gets about 55 miles per gallon (mpg) and the average rider covers about 4,500 miles in one year. The average national gas price is about $3 (AAA), which means you can spend up to $250 on gas in a year. 
Compared to a car, is it cheaper to own a motorcycle?
Final Thoughts
So, how much is a motorcycle? The cost of a bike depends on a series of factors. The price of a bike is also not fixed; it can fluctuate depending on the condition, type, brand, and time of purchase. The specs, the value of the insurance you choose, accessories, and customization of the bike can ramp up its price. 
The price of a motorcycle solely depends on what you are looking for. There are different types of bikes on the market and they are designed for different purposes. In general, your budget is what you need to consider when buying a bike. If you want to go for the best bike on the market, there are too many options and you might run out of money too. Hence, you should consider your budget and pick an option that suits it.