How Much Is a Dirt Bike?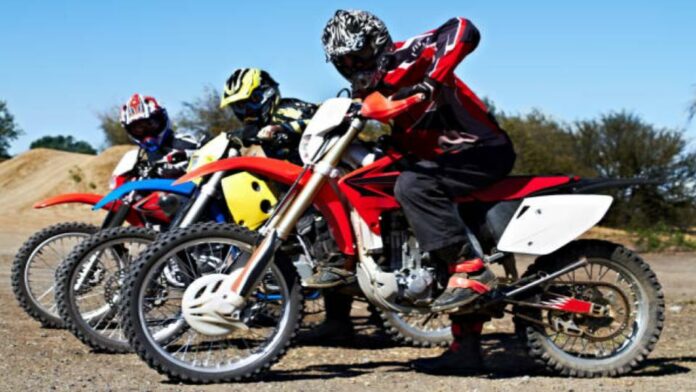 Riding in the woods, over the mountains, and offroad trails are one hell of an exhilarating experience. Aside from relieving stress, you get that sense of freedom and sheer joy whenever you ride off the road. You could go on limitless fun outdoor adventures on your dirt bike, whether you're exploring on your own or with your buddies. 
Dirt bikes are not just for recreation. If you want to improve your riding skills, then a dirt bike is a great motorbike to have. But the question is, is a dirt bike affordable? How much do you need to own one of these, and which one should you buy? Also, what's the cheapest dirt bike for a beginner?
Before you commit to a certain dirt bike model, let's first check out the prices of dirt bikes available in the market for you to see which one best suits your budget as well as your skill level. 
How Much Does a Dirt Bike Cost?
New dirt bikes by KTM, Yamaha, Beta, and other popular brands cost an average of $8,000 to $9,000. They have the sleekest designs and the latest technologies. If you are an expert rider, you are guaranteed to enjoy dirt biking with these bikes.
There are lots of dirt bikes available, so you can definitely get one that's within your budget. You don't need to buy a powerful Yamaha or KTM if you are a newbie. You can find used dirt bikes for as low as $2,000 if you have a smaller budget. As a beginner, you are likely to fall or even crash your dirt bike, so it's a good option to buy an affordable and reliable dirt bike if you are still learning. 
Though new dirt bikes are more expensive, nothing beats the riding experience with them. If you have enough dollars for a new dirt bike, you may check out these bikes.
KTM 250SX-F
This is a 2019 model from KTM. At about $9,000, KTM 250SX-F has great features that offer an awesome off-road biking experience. It has a resonator that improves the engine performance. Its slimmer exhaust reduces the noise while the capacity of the gas tank supports heavy racing.
KTM 250 XC
The 2019 model of this powerful dirt bike has updated features for optimum performance and costs around $9,000. The new frame allows you to have greater control of the bike while riding. Besides, the presence of an airbox and air boot protects the air filter from soiling. In addition to the improved battery, this dirt bike has some great kicks.
Husqvarna TE150
Priced at $8,500, this dirt bike is ideal for trail riding. Its design offers comfort to riders. Husqvarna TE150 is an excellent choice for long off-road rides.
Yamaha YZ250F
This model is a powerful dirt bike with excellent performance. The dirt bike price is $8,299 and it is nothing compared to the impressive features. It is the best choice if you love dirt bikes with much power and sleek design.
Beta 125 RR
If you love lighter dirt bikes, then go for the 2019 Beta 125 RR. Priced at $7,999, this bike offers a great bang for your dollars. When trail riding, this dirt bike will give you faster and better performance.
Honda CRF250R
This 2019 model of dirt bike brings excellent quality for your off-road biking. It offers greater handling, allowing you to easily steer the bike around tight bends. Honda CRF250R also has a side exhaust pipe for improved performance. This one costs around $7,999.
Kawasaki KX250
It is a lightweight dirt bike with exceptional capabilities and costs about $7,800. It is the ideal option if you need a dirt bike that you can easily control off-road.
Kawasaki KX450
Priced at $9,300, this Kawasaki KX450 dirt bike is an upgrade to other models from Kawasaki. It has great features and allows greater stability when riding over rough tracks.
Choosing the Right Bike for Off-Road Riding
It is difficult to get all the qualities you want in a particular model of a dirt bike. The cost isn't the only factor you have to consider. The performance and maintenance of the bike are also things you need to think about.
Don't buy a dirt bike just because of its sleek design. You need a dirt bike that will be fun to ride and will offer great performance over time. Before you pick a bike for your off-road riding, you have to consider the following.
Dirt Bike Cost
Needless to say, dirt bike prices are a top consideration when choosing a bike. The four-stroke dirt bikes cost more than their two-stroke counterparts. Opt for a four-stroke dirt bike if you require great performance from a bike. However, a two-stroke bike will be ideal for an occasional rider.
If you're looking for the cheapest without compromising quality, these inexpensive dirt bikes are for you. You can also check out the best bikes under 500. 
Riding Experience 
An experienced rider can handle a powerful bike better than a beginner. If you are a first-time rider, you will need a dirt bike with a smaller engine to get used to off-road biking. It is easy for beginners to handle smaller bikes as bigger dirt bikes may be intimidating to the rider.
Size
If you're a beginner, don't go for a big dirt bike. That's because beginners tend to learn to ride faster with smaller rides. However, do note that a rider's weight can affect the suspension if the bike is too small. You could bang the handlebars or have your knees tucked under your jaw while riding. Choose a bike that balances your weight when you sit on it. You can control it as you gain more experience.
Balance
Besides the dirt bike prices, balance is necessary for bike riding. The toes of both feet should touch the ground when you sit forward on the bike if the ride fits your stature. When only the tip of your toes touches the ground, then you know that the dirt bike is too large for you. If your feet are flat on the ground, the bike is small. Don't select a bike you can't sit comfortably on or have to stretch to access the hand controls.
When choosing a dirt bike, it's not enough to just ask how much a dirt bike costs. When it comes to off-road rides, you should be sure that the dirt bike is suitable for you.
Types of Dirt Bikes
Before you picture what your bike should look like, it's best to first learn about the different types of dirt bikes for off-road biking. Check out the bike features before you select a ride that will meet your needs.
Trail Bikes
They are ideal for long rides on rugged terrain and not for racing at high speed. Due to their low suspension, they can't absorb much impact from jumps. You can ride this type of dirt bike on various dirt surfaces.
Motocross Bikes
These dirt bikes are purposely built for high-speed racing on tracks with beamed corners and jumps. They are lightweight and lack features such as kickstands, speedometers, and electric starters that can add to their weight. Though they have the required suspension and power, motocross bikes are not the best option for trail riding.
Enduro Bikes
They are designed for longer races that involve off-road racing and street racing. Unlike motocross bikes, they have mirrors, headlights, silencers, and turn signals. However, they are not suited for long-distance roads.
Dual-sport Bikes
This group of dirt bikes can run on both asphalt surfaces and rough terrain. They have features that enable them to perform better on dirt surfaces than street bikes. Also, they are quieter and smoother on asphalt surfaces than other dirt bikes. However, they are heavier than motocross or enduro dirt bikes.
Before you head out to the bike shop, find out if you need a license before you can buy a motorcycle. 
Final Thoughts
Bike prices depend on the type of ride. On average, they cost $7,000 to $8,000. The sleekness of the design and the technologies integrated into a dirt bike contribute to how much a dirt bike costs.