How to Become a Motorcycle Mechanic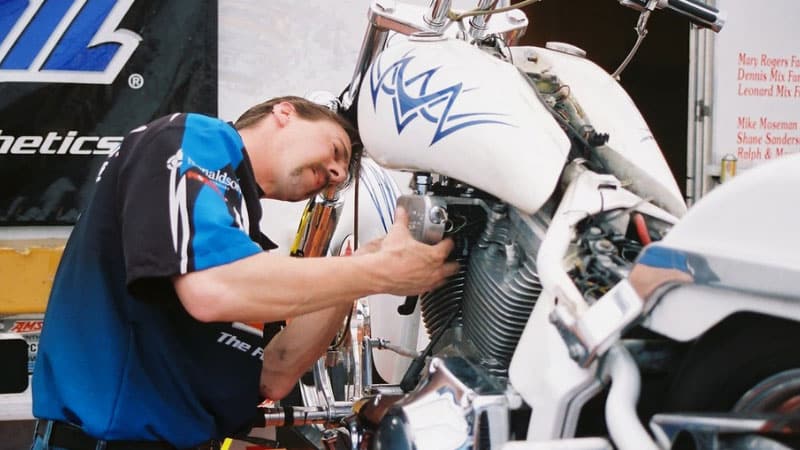 Motorcycle mechanics are the wizards who do maintenance, repair, and servicing of motorcycles. As bikers, we can't do without them.
Even the most experienced biker will now and then encounter a problem he can't solve on his own and has to take his motorcycle to a mechanic.
Does this job appeal to you? If it does, read on. We'll tell you what to do and what you will need for you to become a motorcycle mechanic.
What Motorcycle Mechanics Do?
Let's first define the responsibilities of a motorcycle mechanic.
As we've said, they maintain, repair, and service motorcycles, mopeds, and scooters.
They diagnose problems that a motorcycle may have.
They use hand tools and power tools to carry out repairs on the machine, to rebuild engines, replace parts, and repair brakes, transmissions, drive chains, and so forth.
There are many other tasks, including oil changes, custom installations, general maintenance, dismantling engines, overhauling electrical systems and engines, and so forth.
All these are skills you will need to learn. Are you good with machines? Do you think you can handle these duties? Are these competencies you feel are within your natural grasp?
You also need to have strong problem-solving ability. Every day customers will bring problems that you either have never encountered or haven't encountered in quite that way. As a mechanic, you will have to continuously come up with creative solutions to solve these problems.
You will also need good people skills, mainly for handling customers, but also if you are working alongside other motorcycle mechanics.
Education and Training
If you want to become a motorcycle mechanic, you will need a high school diploma or at least a GED. This is enough to get you a training position.
To have a good selling point as a motorcycle mechanic, enroll in a motorcycle mechanic training program.
You can check out your local community college or vocational schools in your area for programs tailored to motorcycle mechanics.
Some motorcycle manufacturers also offer motorcycle repair classes.
If you want to gain knowhow on how to one day run your own shop, consider taking an associate degree in business or management.
Get training in areas such as motorcycle maintenance, suspensions, engines, and microcomputers.
Aim to learn as much as you can about the inner workings of a motorcycle. Being a motorcycle mechanic is a job you have to earn. The more you know, or can do, the higher your chances of being employed or getting customers.
Don't limit your study to the engines and the conventional parts of a motorcycle. Learn about the computer parts too. Technology is evolving and you should too.
Certification
Some states require that you get certified in motorcycle mechanics. This may entail having to pass a state exam. Confirm with your state's licensing board if this is true for your state.
Such programs typically take about 12 to 18 months. Many of them require an internship and coursework.
The courses include starting systems, fuel systems, electrical, electricity, ignition, and exhaust and emission control.
Motorcycle manufacturers like Honda, Harley Davidson, and BMW also offer certificate programs to their employees.
When marketing yourself to employers or customers, a certificate will get your foot through the door, give you the chance to sell yourself. This is before you build your reputation.
Experience
Education, training, and certification are great, but when it comes to this field, what employers and customers treasure more is what you can do for them.
Experience is key. Get your hands dirty in the field. If you can get an apprenticeship at a motorcycle repair shop, go for it. Hands-on experience proves to potential employers and customers that you have what it takes.
Conclusion
Do you enjoy working with your hands? As a motorcycle mechanic, you will be doing most of your work with your hands.
You don't have to be passionate about motorbikes, but many motorcycle mechanics are themselves riders. Being a rider gives you an intimate understanding of what your customers need.
If you want to be in high demand as a motorcycle mechanic, prioritize constant education. Learn as much as you can about motorbikes and new technologies in motorcycle design and manufacturing. Working with skillful, experienced motorcycle mechanics is another good way to increase your knowledge and skill.