How to Build a Dirt Bike Track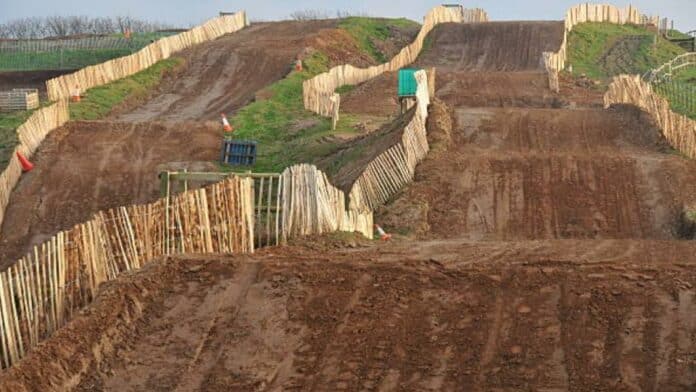 There is nothing more exhilarating and fulfilling for bikers than to ride a dirt bike on a track. But traveling a very long distance to access a full-sized track can be pretty challenging for some. Thus, many riders choose to build their own dirt bike tracks.
A full-size track can help you perfect your skills, but so will a short track. A short track can help you improve your skills and even help your kids learn how to ride a dirt bike.
The good news is that it's pretty easy constructing a motocross track. If you have ample piece of land and a perfect design, you're on your way to making your own track.
If you want to know how to build a dirt bike track, keep reading.
But first, let's go over…
Different Types of Tracks
Before you start constructing the track, you need to know that there are four types of tracks. These are motocross, single-track, supercross, and endurocross. A supercross features vast jumps and tight corners, while a single track has a flowing line. Endurocross has jumped, but they are made using obstacles like rocks, logs, and tires.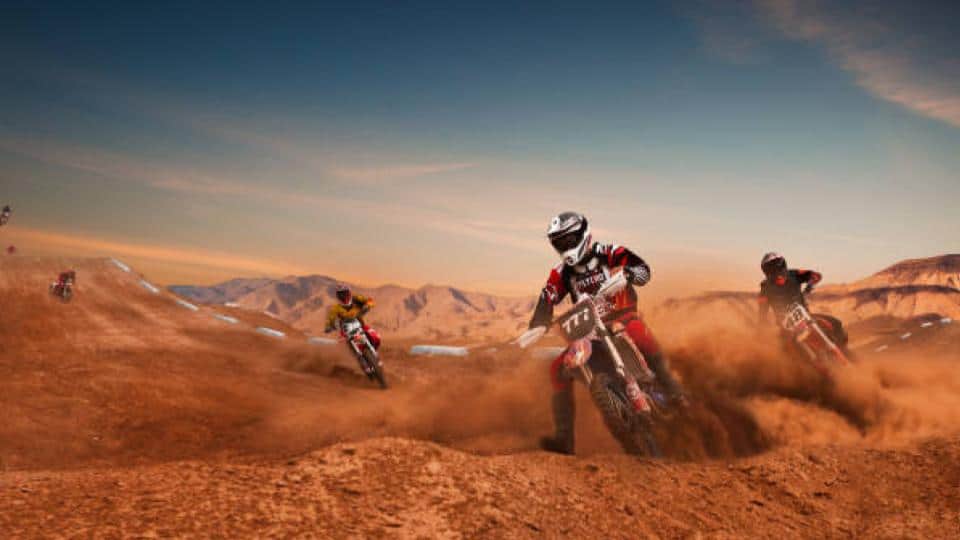 A motocross track requires over 0.75 acres of land because it has many corners and jumps. On the other hand, Endurocross tracks need around 0.5 acres of land. Endurocross track riding is all about riding over obstacles and not speed. If you're building a single way on your property, you may need more than 0.75 acres of land. After picking the type of track you need, you can proceed to the construction process.
How to Build a Dirt Bike Track
Unfortunately, we are not all blessed with a vast backyard that can be carved into an exceptional track. If you only have a small piece of land, you've come to the right place.
We are going to show you how to construct a simple motocross track. Remember, building a modern, state-of-the-art circuit can be quite costly and require ample space.
Preparations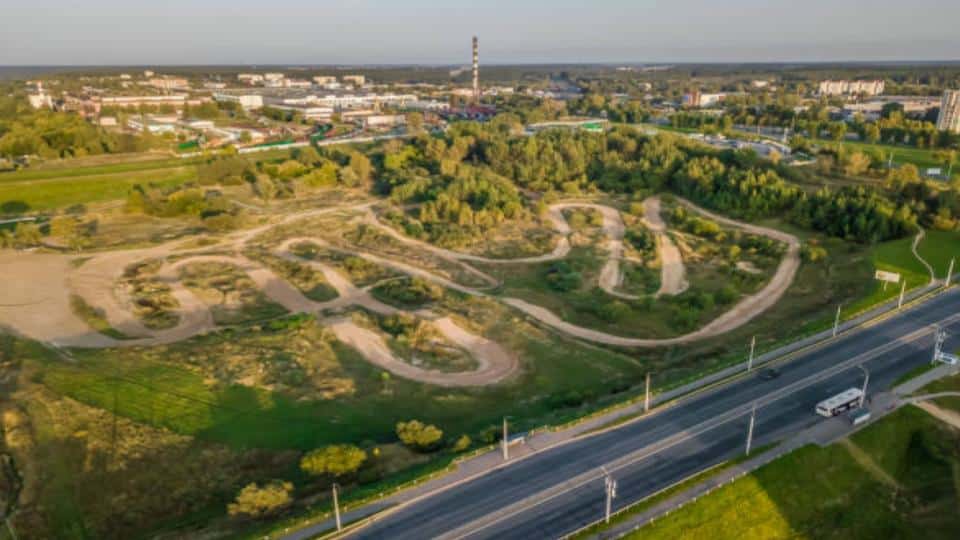 Before you start constructing your track, you should first sort out the following things:
Find out if you will require a permit to build a track.
The noise restrictions in your hometown
Will the dirt biking track disturb your neighbors?
Where can you get some water for the new track?
Will you require insurance coverage?
Is the landscape good enough for constructing the track? When talking about the landscape, we are talking about trees and loose rocks.
Determine the Space Needed
Generally, when it comes to motocross tracks, size matters. The bigger the land area, the better your track will be. However, this doesn't mean that you can't build a track on a small size of land. Some free space in the backyard can also accommodate an exceptional track.
An acre of land may seem small, but it can surprise you, especially if the track is for your children. But the minimum requirements for a course include:
If you need a starting area and a five-lane track, then the width of the land should be 200 ft.
The minimum length of any track has to be 400 ft.
Leave enough about 20 ft between the lanes and 15 ft space between the lanes and your fence.
Consider the Surrounding Space and Your Neighbors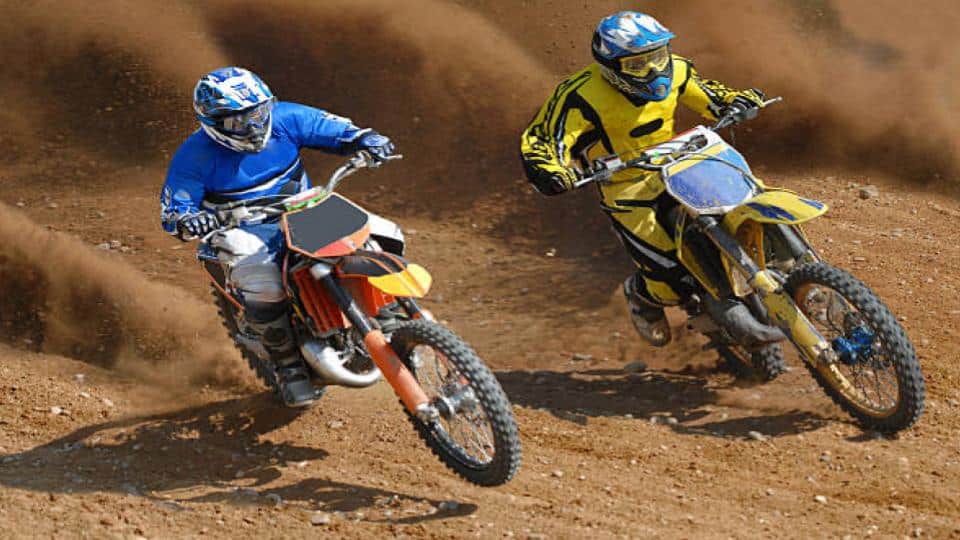 Dirt bikes are loud motorcycles that can disturb your neighbors, so you need a huge place in a perfect location. After all, the noises can disrupt their quiet day, and they may end up reporting you to the authorities. Remember, most folks don't like the noises produced by dirt bikes.
It can be very frustrating if you close down your track after using it for a month; therefore, the location matters.
When picking the site, you have to consider the dust and noise produced by these bikes. You may have to put up a fence to help control the noise and dust, but before doing all these, make sure you talk to your neighbors.
Access to the Tracks and Parking Space
When designing the track, you need to create a parking space. This is crucial if you plan to open it to other dirt bikers. Motocross riders usually have trailers and big machines that can take considerable space. So, you should make room for a parking space on a flat surface.
It would help to consider the trucks and excavators that you will need to build and maintain the track. So it would help if you made it easier for these trucks to maneuver all over the trails.
Dirt biking tracks are designed for the long term, but you may need to upgrade them in the future. So, make sure you leave more than enough space for the trucks and bulldozers to move around.
Trespassers
It would help if you also considered the likelihood of getting trespassers. If you don't live near the track, you can't monitor it and chase away trespassers. But if you don't, the trespassers may get injured and try to sue you.
Generally, the trespassers can't blame you if they get injured while using the tracks without your permission. However, some folks can claim that you didn't install a poster on the gate or fence to warn trespassers. To avoid issues like these, make sure to put on a sign on your track.
You may also need to add your address and name on the poster to be considered legal in some states. You can even add some surveillance cameras.
Insurance
As mentioned earlier, dirt bike racing can be dangerous, especially when racing with your buddies or your children. Accidents happen in every race, so make sure you protect yourself by getting insurance cover. You can even talk to a lawyer about the consequences of people getting hurt on your property.
You may be tempted to forgo the cover because you will be sharing it with your pals who can't sue you. But it's always a great idea to protect yourself since you don't want to be held liable for the accidents.
Remember, some riders will look for errors in your track instead of blaming themselves and sue you. So instead of waiting for the track to be finished first, you should get the coverage right away.
Designing the Track
The best way to design any dirt biking track is to move around the land and demarcate it using ropes. Look for some natural jumps that you can incorporate into the design.
Check if some trees or hedges can be used when building the berms. Needless to say, you should put all the natural features to good use.
After getting a clear image of your track, you can draw the design on a piece of paper. But make sure you account for the trees, obstructions, and the size and length of the lanes.
If you plan on having races on the track, you should leave enough space for overtaking.
Drainage
Unless you plan to build the track on the hillside, you need to create a reliable drainage system. Remember, water can find its way to the lower part of the track and erode the land.
Therefore, you should do more research on drainage control and erosion. With the right understanding of drainage systems, you'll never have to worry about water damaging your tracks.
The best solution is raising the tracks and leaving some space between the tracks where water will flow into. You can even drain the water from the tracks using culverts.
Check If the Space Has Any Underground Utility
Before building the track, you need to check if there are any utilities underground. You could be surprised to find transmission lines in the region. Fortunately, these utilities are signposted, but you should still check since some signs may have fallen off.
You can also contact the underground locator hotline and find out if there is anything beneath your land.
Building a Dirt Bike Track
The essential part of any track is dirt, so you need to find out where to get clay-based dirt since will require more than 3,000 cubic yards of clay for this project.
If your land is on a hilly or sloppy region, then you may have some free dirt for your tracks. But before you start the construction process, you need to make sure you have all the necessary machinery.
Make Sure You Have All the Equipment
To build an exceptional track, you require some proper machinery. Some of the must-have machines and tools include a bulldozer, water truck, bucket loader, and a measuring tape, among others.
An excavator can also help make your work easier. This machine will vary with the size and type of track you plan on building.
You can hire a professional to help with the construction process or learn to use most of the equipment. Ensure you have all the necessary tools and equipment before starting the job.
Build the Jumps
Every dirt bike track needs some whoops and jumps, so you have to consider the landscape when designing the track.
The jumps and whoops can consume a considerable percentage of the dirt, so you should use huge boulders or logs to build the jumps. Next, fill up the jumps with some dirt, and you're good to go. Make sure that you include the proper transition between the jumps.
The jumps should be long and pleasant so that they may not throw you around. The right proportion of height to length should be 1:3 (1 height and 3 for the length). Therefore, if the height of the jump is 6 ft, then its length should be about 18 ft. The jumps should also be broad enough for more than two lanes for you to use.
The entire process should take about four days, depending on the soil type, your machinery, and who is operating the machines.
If you have to clear the land before building your tracks, you may take more time. The clearing process can take about three days. But if you have a powerful bulldozer and an experienced operator, you can build the track on three acres of land within seven days.
Make Sure Everything Is Okay
The main things you have to keep in mind when building a track are deciding the length of the tracks, the type of track, and constructing it. Therefore, you should focus on your plan and design. The design will determine the outcome of the entire process. After finishing, you can walk around the track and make sure all the jumps are okay, and the tracks are even. Don't forget to sort out the drainage issues and leave more than enough space for the parking and maneuvering around the tracks.
Conclusion
Full-sized dirt bike tracks are exceptional, but do you know that you can improve your skills even on a smaller track? A small-sized track can provide you with the best place to teach your kids dirt biking. Fortunately, you can build a mini dirt bike track in your backyard using simple tools. But first, you have to get some permits and insurance cover. Plus, with dirt bikes being too loud, you have to find out the noise restrictions in your region.