How to Get a Motorcycle License in the US?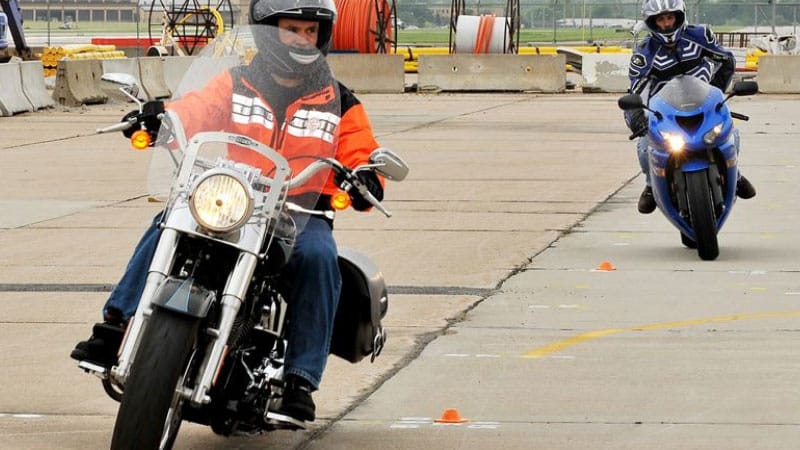 The thrill of riding your two-wheel machine is comparable to none. It becomes even more fun and addictive when you twist the throttle on the freeway.
Just like an automobile, however, you'll need to get a valid motorcycle license for you to enjoy operating your motorcycle on the freeway and other public roads.
But if it's your first time getting a motorcycle license in the US, you might not have a clue how to go about it—where to begin, what the requirements are, and so on.
We've got your back, though!
In the following guide, we'll hold your hand through all the crucial steps you should take to get a valid motorcycle, scooter, or moped license in any state.
Requirements for Getting A Motorcycle License in the US
FIRST things first…it's important to note that the motorcycle licenses in the US are issued by individual states, not the federal government.
And all the states recognize each 'other's license when dealing with non-resident age requirements.
Let's delve into more details on what you require to get a motorcycle license…
Age Requirements:
Age is crucial in determining who can ride a motorcycle across all the states. If 'you're aged 16 years and older, then you should count yourself lucky as you can ride a bike in just any state.
For young riders aged below 18 years old, you need to have a motorcycle permit to allow to operate your machine legally.
You'll need to meet these requirements to get the permit:
If 'you're 16 years and older (remember the exact age depends on state), then you qualify to get a motorcycle riding license. You'll need to take some tests and training as discussed in our training requirements section (keep tuned in).
We looked up the information for age requirements for California and found out the following…
For California:
Want to know the age requirements in your specific state? Get more info here.
Training Requirements (optional):
Before you obtain your motorcycle license, you might consider taking an approved motorcycle training class.
This is especially true if 'you're an absolute beginner rider or if you want to sharpen your riding skills and become a better rider on the road.
This course is, however, optional. It lasts for approx. 2-4 days—and involves working in-person with an instructor who teaches you EVERYTHING you need to know about to get that license. You'll learn things like motorbike anatomy, motorcycle-specific traffic laws, proper riding gear, safe riding strategies, and special defensive maneuvers, e.g., swerving.
Can you guess the key BENEFIT of taking this course?
Well, this is it—you might get a waiver and skip taking the written exam or the road test, or even both!
BUT…keep in mind that you must take a government-approved motorcycle training course for you to enjoy these benefits.
This reliable website will help you easily and quickly find a government-approved motorcycle class near you.
The only downside of this course is that it's a bit expensive. You might need to cough out around 200-500 depending on where you reside and how much material the course covers.
REMEMBER…on passing this course, you'll get a certificate which you can take to your motor vehicle bureau. If they accept it in place of a road test, then it could be your lucky day as you can directly apply for a motorcycle license.
Test Requirements:
Though the test requirements might vary from state to state, they all have a typical 3-step procedure as outlined below…
Step #1. Take a written test: This test opens your doors to get a motorcycle 'learner's permit that lets you practice riding your motorcycle on public roads.
Topics covered in this test include basic motorcycle terminologies and techniques, road rules, state laws, and best safety practices.
Going through the resources at your local DMV website will provide you with all the info you need to adequately prepare for this test.
Step #2. Practice your skills on the road: After obtaining the permit in the previous step, 'you're now allowed to practice riding your motorbike on private and public roads.
During this stage, you might be restricted to practicing in daylight hours only. 'You're also restricted from carrying any passenger, and a licensed motorcyclist MUST supervise you.
Some states might require you to log a given number of supervised hours, especially if 'you're under 18. In this case, the one supervising you will be in another motorcycle within a given distance.
NOTE: Since the requirements at this stage vary by state, we suggest that you go through your local DMV website.  Here, you'll get to understand what rules you need to follow when practicing your skills.
Step #3. Take a skills test: The last step to getting fully licensed as a motorcyclist involves taking a road test. Here, you'll need to display your ability to maneuver (brake, accelerate, safe and quick turns, etc.) your bike on a closed course or any other secluded area.
Some states might also require you to demonstrate real-world skills—where you get out there to the streets and interact with other motorists.
Consult widely on what you need to bring during the road test. In the past, examiners have failed bikers who 'didn't bring all the required items, forcing them to reschedule.
Generally, you'll need the following:
Again, be sure to check what your examiner expects you to bring to the motorcycle road test.
How Much Should You Pay for Motorcycle License?
After passing the road test, you'll need to fill in some papers and pay some fees for the motorcycle license processing or for 'driver's license endorsement.
And this brings us to our next discussion…
How much do you need to pay for the license?
The amount you need to pay to get that motorcycle license will vary widely, depending on the state, 'rider's age, whether 'you're looking for an endorsement or license, and so on.
That said, you 'don't expect the cost to be more than $50.
Quite affordable, right?
'Here's an example of cost for getting a motorcycle license in Texas…
Motorcycle endorsement: $16
Motorcycle license: (under 18 years old): $16
Motorcycle license (18 years old or more): $18
How Long Does It Take To Get a Motorcycle License in the US?
The process for obtaining an appropriate motorcycle license will last for several weeks.
However, keep in mind that this duration varies from driver to driver. If you complete your motorcycle safety course and pass your motorcycle riding exam, you might get your license faster.
The time 'it'll take to process your license might be another factor affecting how fast you'll get your license.
Young riders might take longer to obtain a license since 'they're required to have a 'learner's permit for a given period of time. A good case is California, where riders under 21 need a learner's permit for up to 6 months before they can take the road test.
Quick TIP: If you decide to take the motorcycle safety course, then you might be able to skip the written test or road test, or both. This simply shortens the period in which you obtain your motorcycle license.
How Hard Is It To Get a Motorcycle License in the US?
In our opinion, the process 'isn't hard as long as you adequately prepare for all the tests 'we've discussed in this guide.
If you ask riders who have gone through the whole process, they'll tell you that the only part that might feel a bit challenging is taking a road test.
But again, this part shouldn't stop you from obtaining that license if you prepare well ahead of time.
We have outlined some quick tips below to help you easily pass your driving test:
Can You Ride a Motorcycle With A Driver's License?
No. Absolutely No!
In all the 50 states, you'll need a motorcycle permit, endorsement, or license for you to freely and legally operate your motorcycle on public roads.
The motorcycle permits are usually meant for riders under 18 years of age in most states. The minimum age for getting a permit is around 15-16 years. Note that you'll need to complete a 'driver's education course and pass written motorcycle exam and vision tests for you to get a permit.
If you already have a 'driver's license, then you'll need a motorcycle endorsement—where an additional credential is added to your regular driving license. This will grant you the legal right to operate your motorcycle, scooter, moped, etc., on public roads.
Nearly all the states offer riders with a regular DL the option for getting a motorcycle-only license or a motorcycle endorsement.
A good example is Florida…
If you already a regular driving license and wish to drive a two or three-wheel motorbike with 50cc engine or more in this state, then you must have an endorsement on your DL or a motorcycle-specific license. The fee for endorsement in Florida is $7.
NOTE that you can get a motorcycle license without a driver's license in the United States.
Possible Penalties for Riding a Motorcycle Without License in the US
Have you ever wondered what could happen if you decided to ride your motorcycle on public roads without a motorcycle license?
Well, as you can easily guess this would be treated as breaking the law and would attract fines and even jail time—in nearly all states.
A good example is the California state. Here, the action is punished as misdemeanor or infraction. If ruled as the former, you'll face a fine of up to $1000 plus spend up to 6 months in jail. Oh boy!
Another excellent example of what riding without a motorcycle license can land you in is Florida. The state will fine you up to $500, put you on probation for up to 6 months, and make you serve jail time of 60 days!
Needless to mention, these are just a few examples of harsh punishments for lack of valid license.
Your state could have even harsher laws, so we advise you to secure your motorbike license to save yourself from this hell.
Final Thoughts
Hopefully, you now understand what it takes to get a motorcycle license in the US. After passing all the necessary training and tests, filling out some paperwork, and paying the license fee, 'you're ready to get your motorcycle riding license.
You might get a temporary license as you wait for the permanent one to be mailed to you or you can get the permanent one right away.
Remember you can use a valid state-specific license to legally ride in any other state you wish. In case you move to a new state, you might need to go through the whole process of obtaining a new license for that state.
With a valid motorcycle license, and by adhering to all the licensing requirements, you'll not only be avoiding hefty fines but also jail time.
Remember to carry your license with you every time you're riding your motorcycle.