How to Grease a Ball Joint Without Fitting?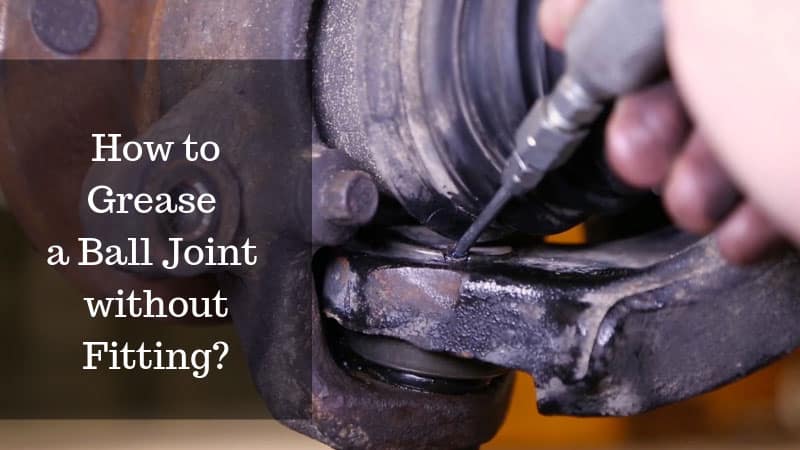 Maybe you have one of those cars from the late 80s or early 90s and have had it for a while. Then all of a sudden, you notice that it started to create some kind of squeaky noise. Don't worry; we have all been there.
People always hated greasing ball joints because of the dirty nature of the job. But the particular solution to get rid of your problem is not a very complicated one.
Greasing the ball joint will make your car last longer even if you are not willing to replace the old one. Therefore, time to get the needle, inject some grease, that is all you need to solve the problem for a few years.
Today I am going to discuss the way to help you with that problem. Let us start with the discussion about the tools and complete instructions on how to grease a ball joint without fitting.
Tools That You Need to Grease A Ball Joint
Grease Injector Needle
The grease injector needle appears with a screw that allows the grease gun operator to contact flush type or hard to reach hydraulic type fittings. It includes a grease zerk.
You have to attach the adaptor with your grease gun. In general, the grease zerk needle adapter features a quick disconnect and heat treated with a chrome finish for easy cleanup.
Try the 18-gauge stainless steel featured grease injector needle for a better experience.
If you are looking to save a little bit of money, then a hand-operated grease gun is a good option.
This type of grease gun will put less pressure on the seal of the ball joint. Some hand-powered grease guns have certain features that prevent grease leakage.
You will need a high temp featured grease to work with the ball joint. It will be better to try Lucas Oil 10301 Heavy Duty grease. It is waterproof, temperature stable, and long-lasting.
Hose for Grease Gun
A flexible hose is a solid choice for hard-to-reach areas. Try to buy a standard one that will work on both small and large grease gun.
Do not forget to check the high air pressure holding capacity while purchasing one for yourself.
Instruction to Grease a Ball Joint Without Fitting
1. Check the Boot
At first, get the tire off. Your boot is most likely dusty because of its age. If it is torn, you need to replace the boot with a new one. If not, you are good to go.
Clean off the boot and joints with the rag that you have bought before. Otherwise, grease will ooze out from between the needle. It will help the lubricant to enter inside quickly and will solve a lot of future problems.
2. Prepare the Grease Gun
If you have an old grease gun, you will need to clean up your grease fitting which is placed on the end of the weapon. Then take the grease injector needle adaptor and just snap it down inside there.
This part of your job is going to be a little tricky. Try to be careful with your fingers while attaching the injector needle.
Remember to tighten the needle injector adapter. But not so much that you cannot open it later. Now you have a needle on the end of your grease gun.
Check out if your grease gun has a "coupler" at the end of it or not. Is it adjustable? If yes, then try loosening it to make the process stress-free. Remember to use the grease gun hose while connecting the injector needle.
Some people think that an old injector needle can be an okay option for this operation. But I will suggest you try a new one whenever you are greasing a ball joint. Now that you are done with the initial preparation, we can move on to the next step.
3. Inject Your Needle into the Boot
Typically, you would see a grease fitting setting on top of the boot, and you have to pump the grease in there to blow it up. But since you are looking at a guide to oil the ball joint without fitting, you probably don't have one.
So, what you are going to do is put the inject needle right through the side of the boot. We are choosing the side option because it will help the new grease to get into the bearing that is placed inside the ball joints.
It is going to be a little tough because there is a tight bear inside the boot. Try applying more pressure to put it in. Now that your small needle is inside the boot, we can move on to the next step. Great job!
4. Start Pumping with the Grease Gun
This is the most fun part of this job. Connect your grease gun hose with the injector needle adaptor.
Pump slowly with breaks in between each pumping. Be consistent with the process until the grease pours around the boot. Make sure to observe the dust boot while pumping with the grease gun.
You will need to pump a few times to fill the inside of the ball joints with grease. After some time, you will see the grease inside will begin to swell.
Wipe off the overflowed oil with the rag. You will need to open up the grease injector needle after sometimes and clean the adaptor with the cloth.
But this is only applicable when you are using an old grease gun. A new one will not have this problem.
Make sure the needle does not get stuck inside the boot. Then start pumping again after cleaning. Do not hurry while pumping the grease into the boot. It will take a little time to swell up the boot with grease.
The entire procedure is a bit slow. So, stay patient. You should see the oil start to come out of that needle hole afterward.
5. Eject the Needle
Now it is the time to eject the needle from the Injector. Eject the injector needle adaptor and clean any kind of excess grease with your rag.
Put the needle inside the packet it came with, so you can use it at a later time. As it is stainless steel material, it should prevent any sort of corrosion or dust buildup.
6. Driving Test
Finally, the moment of truth arrives. Before riding the test-drive with your car, wipe away extra things and elements that you do not need right now.
Clean up all your tools if you don't want to create a mess. Now that it is all done and dusted let us take the keys and go for a ride.
Driving around the block is all fine, but if your regular commute is a dirt road, driving through that path will give you better results.
After getting back to your garage, take a look at those ball joints and see if anywhere grease is leaking. If it looks right then congratulations, you have passed the test.
Cautions
Remember, it is not a permanent fix. The greasing method is a temporary method to fix the squeaking problem in your car.
It can extend the life of what you have, but it cannot make it go away entirely. They make a fixture that you can plant on the grease gun.
Later, you can slip it in the bottom or top of the rubber boot and put grease on the ball joint. You might have to take the nut off. You should do it after the ball joint is installed.
Some say to drive the thing until the ball joint becomes loose and replace the whole assembly with a new one. It may seem costly, but in the end, this does not have any risk. I mean at least not technical risk.
You know, you are always at risk while driving. So, be careful while enjoying your ride. I suggest you change the ball joint with a part that comes with a jerk fitting for relaxed preparation.
If you do not have a flexible coupler on the grease gun, then you should get one. Avoid using powered grease guns. Those can result in unfortunate situations, such as unexpected holes in the ball joints.
A hand pump is an excellent way to stick with. Besides, a hand pump is a more cost-efficient way to dive in.
Keep the hole as small as possible while pumping with your grease guns because the big hole will create an air leakage problem after the grease inside dried.
And that will come up with the same problem after you complete the greasing procedure.
Do not forget to buy a flexible hose. The flexible hose can easily puncture the boot and keeps pressure off the needle.
Frequently Asked Questions
Are Worn Ball Joints Dangerous?
Yes, it can be quite dangerous. Because, a worn ball joint causes suspension damage, inspection failure, and breakage of related parts.
It might make your front suspension come apart while driving, so the wheels move in whatever direction inertia takes them. That can lead to a fatal accident.
What happens if I don't replace Ball Joints?
If you don't want to replace your ball joints, then get ready to experience some serious issues.
The old ball joints cause mysterious clunking noise or drifting steering. Once they are worn-out, it will seriously affect your steering and suspension. However, you do not need to change the ball joints if it is new.
Do You Need to Grease New Ball Joints?
I would say it will be a wise decision if you grease your new ball joints. At least I will always grease a new one after the installation.
Greasing a new ball joint will make it stronger and extend its lifetime because there is a minimal amount of grease inside.
I suggest you do so after the first installation. Follow the instruction card.
What happens if a Ball Joint breaks?
When a ball joint breaks, you will hear a mysterious noise inside your car wheel.
Your car tire will wear-out since your alignment will be broken, and you will feel the car getting out of control.
If the ball joint breaks completely, it can be separated, and things can turn sour quickly. The wheel will stop being nice and can even steer you off the road. It can be serious.
Broken ball joints will seriously affect the steering and suspension. It can even result in your wheel falling off the car.
How does a Zerk Fitting work?
A zerk fitting is also known as grease fitting or Alemite fitting. The zerk fitting is made of metal and used to feed lubricants in different parts of a machine.
It has a small captive bearing ball that moves back and forth against the force of a spring. Here, grease plays an important role. It creates helps to move the bearing ball back and forth.
The procedure allows lubricants to pass through a channel. When the pressure stops, that bearing ball will return to its closed position.
The bearing ball prevents dirt from entering the entire system.
Final Thoughts
A ball joint is a vital part of the car suspension. So, it is mandatory to take care of its health. Some people ignore grease an old ball joint. They prefer to replace the existing one with a new one.
While that is a wise decision if you can afford it, you can extend the lifetime using the process mentioned above. Sometimes the injector needle itself causes to puncture the rubber boot.
Greasing the ball joint cannot bring 100% noise-free experience. Maybe with movement and heat, the grease works its way into the joint.
The worst thing that can happen to a car-lover is damaged ball joints. If a ball joint locks up the movement that it absorbs, the result will be catastrophic. But now you do not need to worry because you know how to grease ball joints without fitting.