How to Paint A Car with Spray Paint?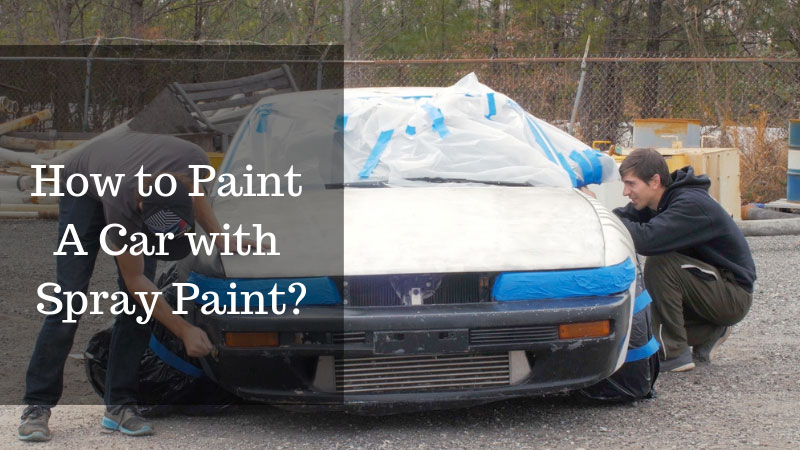 Looking into our daily life; a vehicle is by all accounts one of the most significant things which are regularly cherished by its owner.
Every person who owns a car searches for convenient ways to make it more beautiful and coloring it is undoubtedly one of them.
However, painting a car is quite costly, so is there any solution to that expensive painting? Yes, there's undoubtedly a replacement, and that's a spray paint that's cheaper as well as efficient for vehicles. Spray painting sounds thrilling, but it's not like wall painting.
Before you start painting your car, it is imperative to understand which color you want to use so that later you won't have any regrets. Moreover, it is better to use a light primer for a light-colored car and dark primer for a dark-colored vehicle.
Removal of a few tiny components from the vehicle sometimes makes painting much more comfortable.
You can, therefore, remove your lights, reflector, hood, trunk, license plate and possibly door latching components softly. It will make you more comfortable to paint them individually.
There are certain things you need to paint your car, so let's see what those necessary materials are.
Things You Need to Begin With
A car you where you are about to show your artistic skills
A Sandpaper (600 grit, 1200 grit, and 1500 grit)
Painters tape
Clear paint
Spray gun and air compressor with a bigger nozzle
Towel
A primer
Warm soap water
Dry and ventilated area is suitable
Preparing the Car Surface
A smooth car surface is the most significant procedures of spray paint. There are a few steps given below: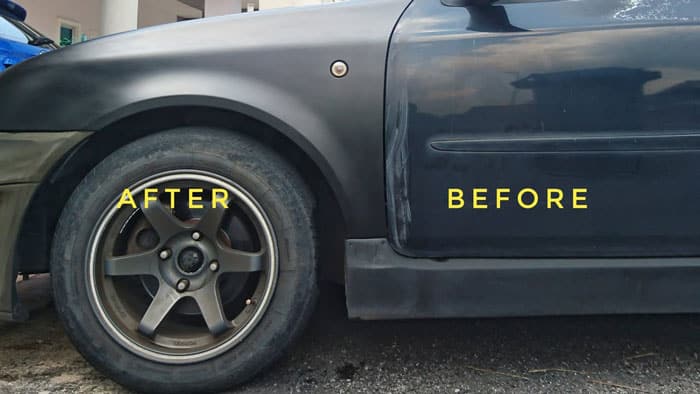 1. Using Sandpaper to Remove the Painting
First of all, you have to rub the entire metal portion of the car with 600 grit sandpaper, and you can use both sides of the paper.
After a while, you will notice most of the paint peeling away, and when it's done, you will switch to 1500 grit sandpaper.
It is wise to look for the rusted area because these needed to be sanded off properly. This procedure might take a bit long time, but this will exactly help to look at your paint far better.
2. Repairing Holes
Before any painting, it is quite necessary to fill up the gaps. Sometimes rubbing rusted areas might leave holes in the car.
You can easily cover up those holes by puttying it. It is somewhat practical if you squeeze the putty into the hole until it's fully covered. Remove the extra putty with a putty knife if required.
Before rubbing the car with 1200 grit sanding paper, it is compulsory to let the putty dry, at least for one hour. You can find the car putty from any nearby hardware store or online stores.
3. Dry Cloth to Clean the Car Surface
Now you should clean the car surface with a dry cloth, especially remaining dust and peeled off paints. Cellulose thinner might be very helpful for you if there is any dirt which is hard to wipe off.
For example, wax. Wax can be easily dissolved by it. When it's dissolved, you can wipe the cellulose thinner.
Moreover, as it is highly active so it should be used in a well-ventilated room because inhaling it might cause harm to someone. You can get cellulose thinner from any nearby hardware shop.
Tips: if you want to remove paint for your car tires then read "How to Remove Paint from Tires?"
4. Covering Areas That You Aren't Willing to Paint
There are few areas you certainly don't want to paint such as window, side windows, car bumper, wheel rim, and window frames.
To save them from your painting, all you have to do is cover them with painter's tape. You can easily rip off the tape and cover those areas. Painters tape will be available on any hardware store.
Besides, if you are concerned about your floor, it's always a great option to lay paper under your car.
Priming the Car
1. A Well-Ventilated Area to Use Spray Cans
A sheltered area is often preferable to use spray cans as aerosols are more likely to work best in the warm, dry, and ventilated place.
If possible, ignore the humidity because it makes the paint drying more difficult. You are not supposed to keep anything near your car which you don't want to paint on.
Furthermore, for your personal safety, wear a dust mask and goggles so that you don't have to face any difficulties during the process.
2. Applying Primer
Now you are about to apply three coats of primer and there should at least 15 minutes between each layer. You better apply the primer from 25 centimeters (9.8 in) away.
You need to spray all over the area you are about to cover so quickly push the spray button and move across the region. You must apply at least three coats, and the time interval between them should be at least 15 minutes.
To avoid the paint to drip, one thing you can do is apply light layers of paint. When you finish your final coat, it will take a minimum of 24 hours to dry properly.
3. Smoothing the Primer Coat With 1200 Grit Wet and Dry Paper
To make the primer coat smooth, rub the area with wet sandpaper as long as the layer doesn't seem stable. The large area might require multiple sanding papers to get a perfectly smooth coat.
4. Cleaning with warm and soapy water
To clean the excess dust, you will need warm soapy water. Gently remove the dirt by using it and rinse off the car. You may use a dry cloth or let the air dry it.
Spraying the car
1. Preparing the Can
It's essential to shake the can at least for 3 minutes before you spray because by the time pigments of paint might get separated so shaking can help them to reunite.
However, you don't need to shake it for so long if you've done it within the previous 12 hours. In that case, it is fine to stir for only 1 minute.
2. Testing the Paint
It is always a wise decision to check your spray can before you use it in your car because sometimes it is possible to get inconsistent.
For that result, you have to shake it again. Hold the can at least 25 centimeters away from cardboard and you can try on it.
Besides, it will help to understand the exact pressure you need to put on the button.
3. Spraying the Paint onto The Car
Distance should be around 25 centimeters (9.8 in), and it is crucial to hold the can parallel to the vehicle.
You keep moving your arm at a consistent speed so that your coat goes better. Besides, you should keep the momentum the same to get the perfect layer.
4. Applying Minimum Coats with Appropriate Break
To get a perfect painting; it is better to use multiple layers. Between each coat, you should at least maintain 10 minutes of a time interval.
You might find the paint a bit sticky, which is absolutely fine because it will actually help to stick the next coat.
Besides, if your coating still seems patchy, it's better to apply another coat after 10 minutes later.
Before you use clear paint, you have to wait for a minimum of 30 minutes as the previous layer needs to dry.
5. Spraying Clear Paint
You should use horizontal motion to spray a coat of pure paint. Gently push the button and move across the area you have already painted.
This coating will help your car to survive UV rays. Before riding on the vehicle, keep it dry for 24 hours.
Final Thoughts 
Painting your car with spray paint can be regarded as one of the most useful ways to think about it. One of the best things about spray painting is that you can color your vehicle however you want it to be and you can get your favorite colored car at a much cheaper cost.
In this article, all the processes of painting the vehicle with a spray are extensively described, which could be very helpful to you. The best outcome you can imagine will surely come from following these measures.
Besides, there are a few things you need to be careful about as we're sure you don't want your favorite vehicle to be ruined. In that case, if after painting your car you're disappointed, it's a better idea to wait until the paint is dry because if you rush and attempt to remove it instantly, it could cause more harm to your car's surface.
To get the best quality finishing, you should spray small areas of the vehicle each time. If you're worried about your fingers, the best way to do this is to purchase some spray handles. This product will definitely offer you a better outcome, and it's also inexpensive.
Finally, if you want to make your car as shiny as new, our advice is to go for it and try some spray paint cans, and we're sure that if you follow all the procedures correctly, you won't regret it at all.