How to Remove Paint from Tires?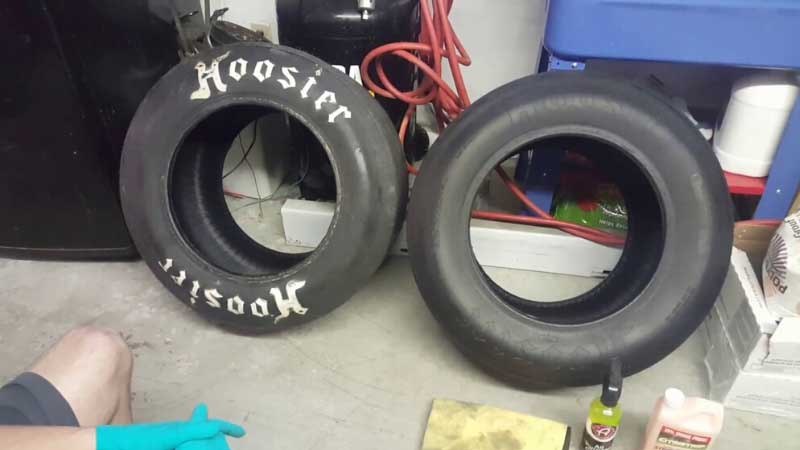 When spraying your car, it is often recommended that you cover your wheels to avoid spraying on the tires. However, if you forgot to cover the wheels and the damage is already there, it time to think of the best and easy way to remove paint from the tires.
The process is often easy if you use the right gear and follow the procedure carefully. When you are not keen while removing paint from tires, you may even end up replacing the tire.
This can be done using basic household ingredients like vegetable oil, baking soda, and lemon juice. They will efficiently remove the paint and will not harm your tire in any way, unlike when using other products.
However, before getting busy with the paint removal process, you must ensure to dedicate at least a day for the task. This will yet, be determined by the paint and how deep it has gone on the tire.
Related Tips: You can see our spray paint for wheel buying article that can help you choose to spray paint.
The Appropriate Procedure Of Removing Paint From The Tire
The first step to remove paint is ensuring that you have drenched your tires completely with water. Water helps in loosening the paint residues on tires, hence making it easy for your ingredients to penetrate and remove the paint at ease.
Once you have drenched it fully, then using a brush with scrub bristles, scrub on the paint marks vigorously to ensure that the paint particles are evenly loose. This way, it will be easy for you when you start applying cleaning ingredients on the paint spots.
Step 2: Sprinkle Your Ingredients
While your tire is still wet, start by sprinkling baking soda all around, especially in places where the paint is present. On top of that, apply lemon juice. This juice will activate the scrubbing power of baking soda hence make it easy for the paint spots to drop off completely.
Once you have mixed the ingredients evenly, use the bristle brush to scrub the paint. Apply the mixture again and use it as much as they need to ensure it penetrates deep on the pant. Rinse your tire off with water after you have noticed the paint stain chipping off.
Depending on how deep the paint might be, you will be forced to repeat the procedure a couple of times to ensure that all paint debris falls off faster. Additionally, repeating guarantees that even if you have previously missed a spot, you will get it with the second or fourth round.
Step 3: Spray Vegetable Oil
Paint stain can get stubborn and difficult to wash off by only using lemon juice and baking soda, and this is where vegetable oil comes in.
After rinsing your tires with a lot of running water, spray vegetable oil evenly and let it sit on the tires for at least two to four hours. This will allow the oil to break and degenerate the paint.
After that period, drench the tires in the water again to promote oil greasiness, then scrub with a brush. The best thing with this mixture is that it will not only help in removing the stain but will also leave your tire shining and looking as new.
This way, you will not only get the paint off but also give your wheels a brand new and shining look. The oil also makes your tire retain its original state and guarantees it does not get cracks or wear out faster. This is also a better way of extending the longevity of your tires and giving you the ultimate power.
On the other hand, if you drive your car through a road that has been repainted recently, your tires will catch on that paint quite first. However, this should not be an issue. Such paint adapts to the tire rubber and will eventually fall off.
If the paint gets on the sides of the tire, then it will not easily drop off while driving. At this point, it is essential to take appropriate measures to get to shape.
First Step: Wash With Water and Soap
Water and soap are often ideal ways of cleaning stains from surfaces. However, for this to work, you must ensure to scrub the tire well with either a brush or sponge. This will help to loosen the paint debris from the sides of the tire.
Second Step: Use Tar and Bug Remover
Removing road paint is a complicated experience, and it requires more than just washing with soap and water. Ensure to apply tar and bug remover on top of water and soap to ensure that all paint debris falls off.
Rinse the residue with running water and repeat the soaping procedure then brush. The more you repeat the procedure, it loosens the paint and hence allowing your tire to retain its initial glory.
Once all paint has been washed off, dry the tire with a lint-free tower that is completely dry. Apply tire shine on the sidewall to ensure that you give your tire a shiny finish. The liberal amount helps in protecting your tire surface from attracting or catch dust as well as minimizing chances of road debris from sticking on your tires.
Therefore, you will not only enjoy smooth and quality rides, but also you will not have to deal with the issue of paint or other debris on the road.
Conclusion
If you don't clean paint from your tires within time, it will not only disfigure the look of your tire but also increase its wear and tire. When the paint dries on your tires, it leads to the development of cracks on your tire.
Eventually, you will have to replace the entire wheel, and that might be so costly to you. Also, ensure to dedicate as much time as possible for the exercise.
Paint is quite complicated, and it takes as much time to pearl off. Therefore, if you choose to remove it by washing the tire, ensure you are ready to go through the process and maintain your tire quality. Additionally, ensure to have all the necessary products required to get the job done without affecting the quality of your tire.