How to Tell If a Motorcycle Helmet Is Too Small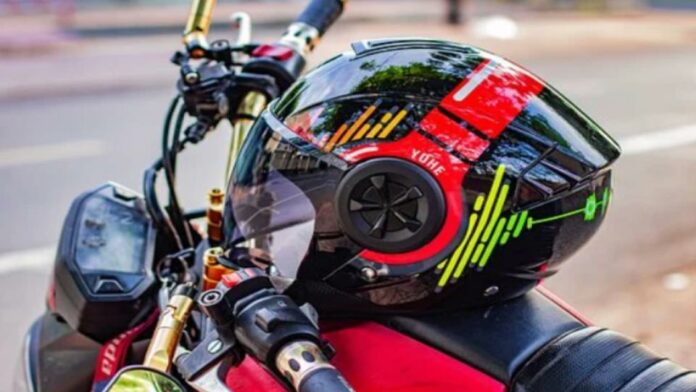 What is the importance of wearing the right size of helmet?
A motorcycle helmet that fits correctly will help protect your head in case you get into an unexpected crash. It usually features a foam material inside and a plastic shell outside. The heavy-duty strapping system will ensure that it stays on when you fly through the air.
Motorcycle helmets range in sizes from extra-extra-small to 5xlarge for adults, and you've also got specified youth sizes.
Getting the correct size is crucial to ensure that your head, especially the brain, is well protected. But do you know how to tell if a motorcycle helmet is too small? Here are a few tips that can help you.
How to Tell If a Motorcycle Helmet Is Too Small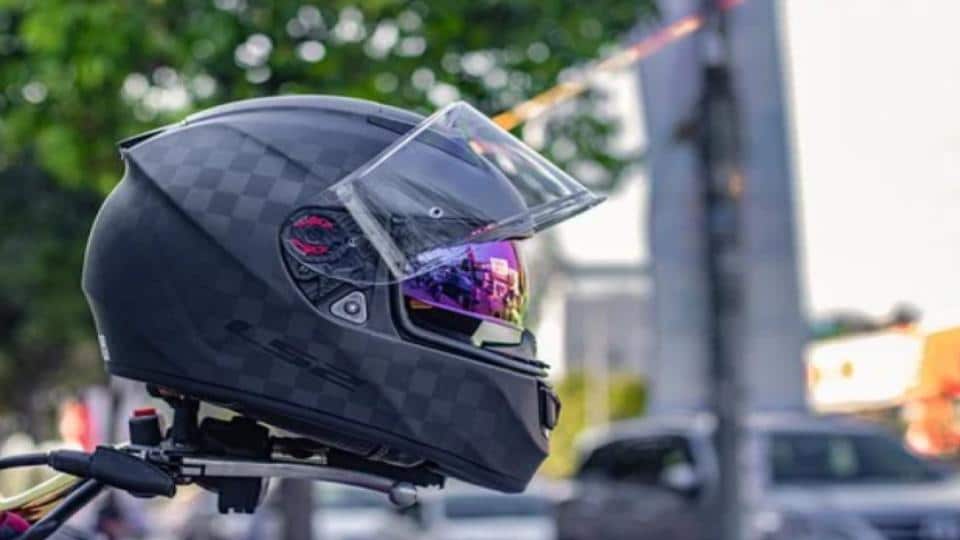 There is more than one way to tell if a new bike helmet is too small, including:
Doesn't Fit Snugly
A helmet has to fit snugly for it not to be too tight. When you are wearing a helmet for the first time, make sure it is slightly loose to allow some movement. In other words, you shouldn't feel tight cheeks.
A small model will not allow you to slightly move your head sideways or up and down when the strapping is loose and you are holding the helmet in one position. On the other hand, we also urge you to avoid loose-fitting headgear because it will move around when the strapping is tightened. When you are unaware, it may feel too noisy when riding against the wind, and it could come off in a crash.
Pressure Points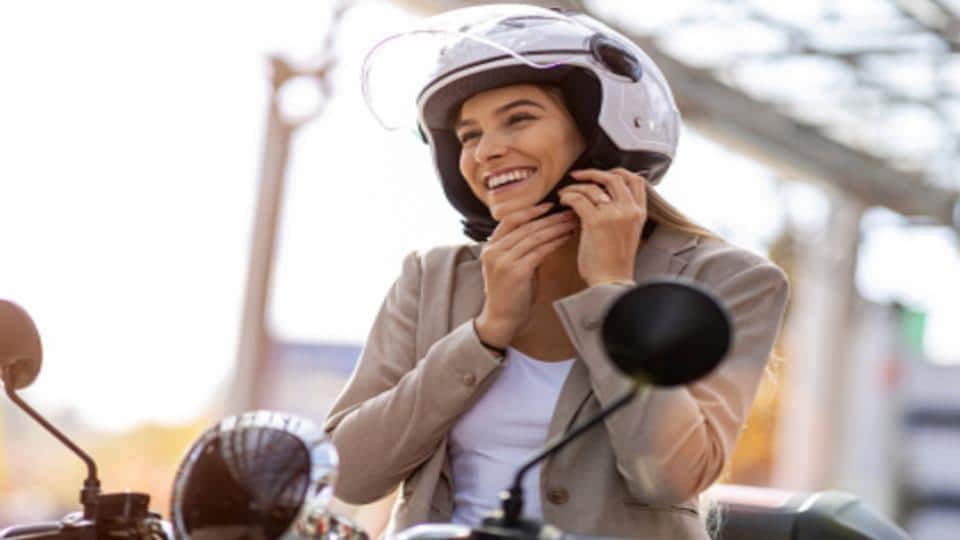 In addition to helmet hair, are you experiencing discomfort and painful pressure points? You will certainly experience this problem if you buy a small headgear for your head shape. Any pressure point discomfort on the sides suggests that the helmet is not only small but also too oval. Pressure points in the back of your head at the base of your headgear could mean that the headgear is not long enough. Before taking it for a ride, you should first try on the helmet indoors for about 30 minutes to see if it feels okay.
Red Forehead
Some people may claim that a red forehead is a typical mark of wearing a new motorcycle helmet. Others may even be worried that they have a skin condition. But that is not usually the case. A red forehead is typically a result of wearing the wrong headgear for your head shape.
This is something that new riders usually encounter because of lack of experience. If you have an intermediate oval-shaped head and you wear a round oval helmet, you will surely get a red forehead. You could reshape the foam material for a better fit, but you may interfere with the design and comfort features of the headgear.
What Is Your Head Shape?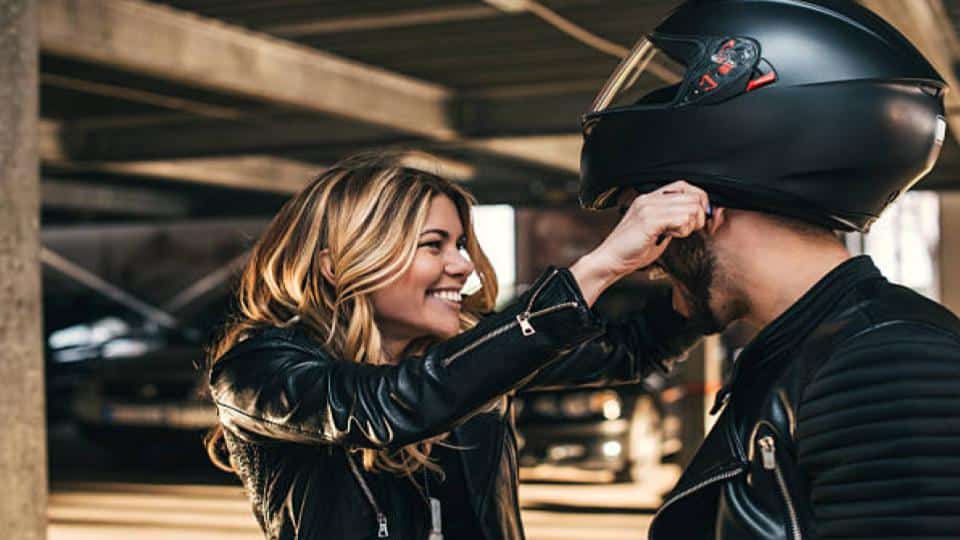 ​One of the biggest issues most new riders face when buying a motorcycle helmet for the first time is getting a design that is compatible with their head shape.
The shape of the headgear is very important. You may try to change the liners from a medium to a small size to see if that would help. Still, all these adjustments will not help if you are wearing the wrong shape. So, let's look at a few head shapes to help you decide on a design that is best for you. The three general head shapes that helmets are classified by are intermediate oval, long oval, and round oval.
With a round oval head shape, the front-to-back measurements are almost the same, and the width from ear to ear is about the same as the length of the head.
The intermediate oval shape is the most common. With this shape, the front-to-back head measurement is a little longer compared to the ear-to-ear measurement.
With a long oval shape, the head shape is usually longer from the forehead to the back of the skull versus ear-to-ear.
Once you are aware of your head shape, you can easily find a helmet that is not too small by trying on as many matching models as you can. Keep in mind that every head is unique and you will find some brands and models that will simply not work with your head. You are looking for a snug fit with no pressure or painful areas.
How to Measure Your Head for the Right Size
You can avoid buying helmets that are too small by taking correct measurements of your head. A soft tape or a string and a tape measure will suffice for this activity.
Step 1: Measure the Widest Part of Your Head
Take the soft tape and run it around the widest part of your head, which is going to be about a quarter to a half-inch above your eyebrow line. But if you don't have a handy measuring tape, you can use a string. Make sure you pull the string real tight because if it has any flex in it, you will not get the right measurement.
Step 2: Compare the Measurement to the Sizing Chart
Once you have that measurement, you can compare it to the sizing chart. Each product usually comes with a size chart, which you can normally find on the product page. A typical chart will provide you with the following information: size, hat size, and head measurement range in inches or centimeters.
Step 3: Choose the Ideal Shape
As we discussed earlier, the shape of the headgear is very important in addition to the size. Make sure you choose a helmet that will fit snugly without causing any painful or uncomfortable pressure points on your head.
Step 4: Try Out the Helmet
It is always advisable to buy a motorcycle helmet from a local store. This way, you will have more than enough time to test and check for all the signs that indicate a motorcycle helmet is too small.
If you buy online, make sure you try out the headgear immediately after you receive the shipment. This will allow you enough time to ride with the headgear and feel whether or not it is too small. You can make good use of the return policy if the helmet size turns out to be incorrect.
When fitting the helmet on your head, make sure the forehead and the cheeks fit snugly. There shouldn't be a gap between your forehead and the brow pads. When you put on a helmet for the first time, you need to check the space around the crown of your head. You don't want to have any extra room. If you can fit two fingers in there that is too much room. If the fit is too tight to the extent that you feel uncomfortable, then that is too small. You want constant pressure around your cheeks. A very small helmet will press excessively on your cheeks. You will feel the liner pushing on your cheeks.
What Other Things Should I Consider Apart From the Size and Fit?
Apart from checking whether or not the helmet fit is the right size, you also need to consider safety standards.
The best helmet that guarantees superior protection in a crash is one that meets the minimum safety standards. Every helmet that is to be used on the road has to be DOT-compliant. Look for the DOT sticker, which can be outside or inside the helmet.
A DOT-compliant headgear has been tested for impact, retention, penetration, and peripheral vision. It is expected to have excellent shock-absorbing capacity and has a chin strap capable of withstanding stretching or breaking. The helmet will be able to withstand a strong blow and can provide superior peripheral vision, usually 105 degrees.
Final Thoughts
By now, you should be able to know how to tell if a motorcycle helmet is too small. The telltale signs of using a helmet that's too small include uncomfortable fit, painful pressure points, and a red forehead.
It's important to find a helmet with a snug fit and comfort. This way, you get full protection on the road in case you get into an untoward accident.
A motorcycle helmet that fits properly may be a bit tougher to put on, but it will fit comfortably without making your pressure points uncomfortable. When you move the helmet side to side, you have to feel your facial skin moving with the headgear. You want a little bit of pressure on your cheeks but not too much.
As pointed out above, remember to try on a new helmet for about half an hour or so. If you get hot spots on the pressure points within that time, then it is probably going to get worse.
Once you find a helmet that fits your head perfectly, you should be more confident when you ride your bike.