How to Wear Glasses with Motorcycle Helmet?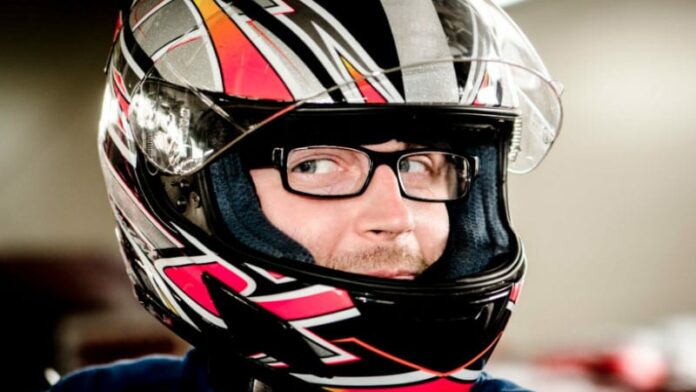 If you wear glasses and also own a motorcycle, you might have already figured out that wearing glasses with a helmet isn't as easy as it might appear.
As you try to wriggle your glasses through your lid, the expensive frame might snap and leave you disappointed. And if you're lucky and they get though, you become a victim of regular niggling of your glasses, which causes a lot of discomforts and can even distract you from your bike.
In this guide, you'll uncover the secrets to correctly wearing your glasses, sunglasses, or goggles with your helmet, as suggested by experts.
How to wear glasses with a motorcycle helmet?
To wear glasses with a helmet, you will have to get motorcycle-friendly glasses or ensure that you have the right glasses and helmet fitment so that the helmet and glasses fit perfectly well. You can also get motorcycle goggles if you're looking for the best motorcycle glasses for protection from wind, insects, or flying debris.
How To Wear Prescription Glasses With Motorcycle Helmet?
If you wear prescription glasses, then this is your part. This section will show you how to ensure you comfortably put on your glasses plus your helmet when riding your motorcycle.
To achieve that, you need to do the following:
Get glass-friendly helmet
Firstly, you need to ensure you get the right helmet that you can wear with your prescription glasses.
Look for a model that comes with cutouts or groves in the temples to help accommodate your glasses. Such a helmet helps keep the glasses' arms from hitting your templates and touching the back of your ears as this can be painful.
As for the type of helmet to use, the flip-up (modular helmet) and open-faced helmets give you an easier experience when wearing glasses than the full face helmet models.
Look for motorcycle-friendly glasses
You should also ensure you get the right glasses for comfortable wearing with your motorcycle helmet.
The ideal glasses should feature straight, thin arms to enable them to snugly fit under your helmets while ensuring they don't bend behind your ears, irritate, and make you feel pain.
If possible, get glasses that come with padded rims and arms. These will give you an even more comfortable experience when wearing glasses with helmet.
Ensure you achieve the right glasses-helmet fitment
You'd also want to ensure your helmet and glasses fit each other perfectly well. You don't want the padding along your brow dragging your glasses and creating pressure on your nose bridge. Needless to say, this can become a dangerous distraction.
Ensure the spectacles feel snug into position before you take off.
NOTE: We highly caution you against wearing your prescription glasses over your motorbike helmet straps. Wearing them in this manner can make them flex and possibly get damaged. Wearing your glasses in such a manner also makes you look funny.
How To Wear Goggles With Bike Helmet
If you're looking for the best motorcycle glasses for wind, then you should get motorcycle goggles.
A well-made pair of wearing goggles maximum protection to your eyes against the wind, insect, flying debris, and other particles that could cut short your riding enthusiasm and even result in a crash.
Or you might be using prescription goggles, which let you see clearly when riding.
To comfortably wear your motorcycle goggles with helmet, we highly recommend you to pair them with the right model helmet. And the right helmet model is the open face helmet.
As you already know, this type of helmet only protects your head in case of a crash but leaves most parts of your face exposed. The goggles help safeguard the remaining part of your face and tend to work well with the open face lids.
For comfortable goggles-helmet experience, make sure you get goggles with an adjustable strap made of leather or fabric material.
How To Wear Sunglasses With Motorcycle Helmet?
So you don't wear prescription glasses but still want something to shield your eyes from the sun UV rays when riding on a sunny day?
In that case, you'd want to go for sunglasses.
Again, wearing sunglasses with motorbike helmet can be pretty challenging, just like the perception glasses.
There has been an ongoing on whether you should wear your sunglasses under or over your helmet.
According to experienced motorcyclists, the correct way to wear sunglasses with a helmet is to first put on the helmet and then put the sunglasses over outside the straps.
This way, you can easily see outside of the glasses. 
Moreover, you can struggle-freely put then on or take them off without bothering the helmet.
Contrary to some riders' opinion, wearing your motorcycle sunglasses inside your helmet straps isn't a wise idea. Putting them on this not only looks goofy but also makes them hard to take off.
However, there are exceptions when you can put your sunglasses inside of your motorcycle straps. For instance, if your sunglasses feature thin temples, then you can put them inside the straps without causing irritability or difficulties.
Final Verdict
Wearing glasses with a helmet can prove tricky when you don't know how to do it correctly. It can make you feel uncomfortable and irrigated and even affect your focus on the bike.
Follow our tips in the above guide on how to correctly wear your prescription glasses, motorcycle goggles, or sunglasses with your helmet to ensure you have a more comfortable ride while enjoying maximum eye and head protection.